The Best Brownie Recipe With Chocolate Frosting
Let me introduce you to the best brownie recipe ever. With a creamy chocolate frosting, make a big batch of these homemade chocolate fudge brownies and you'll make any chocolate lover's day (or year).
Welcome to the best fudge brownie recipe! I use this homemade brownies recipe when I want to make a big batch of brownies all at once, as it makes anywhere from 30-40 servings. I promise that these brownies are fudgy and moist with a deep chocolate flavor. They're finished off with the perfect spreading of creamy chocolate frosting. Although I have several brownie recipes in my personal collection, this one is a favorite of both of the men in my house.
Fortunately, these homemade brownies are super easy to make from scratch. You just have to slowly combine all of the ingredients (I bet most are sitting in your pantry right now) and then bake your brownies for about 25 minutes. Once cool, top them with the creamy chocolate frosting, which is also very quick and easy to make.
If you're like me and think the fewer dishes the better, whip up the big batch of brownies in one large bowl and then wash that same bowl to make the icing in to lessen the mess. Aside from that, you'll just dirty up an 18×13 baking sheet (this is a standard half-sheet size), like this. I buy these in two packs for about $15 at Sam's Club and I have been using them for years – they are the best baking sheets I've ever had.
Alright, I think it's time we make a big batch of chocolate fudge brownies, what do you think?
Recipe Ingredients
All-purpose flour
Sugar
Cocoa powder
Salt
Vanilla
Butter (a lot)
Eggs (a lot)
A wee bit of milk
How to Make the Best Brownie Recipe Ever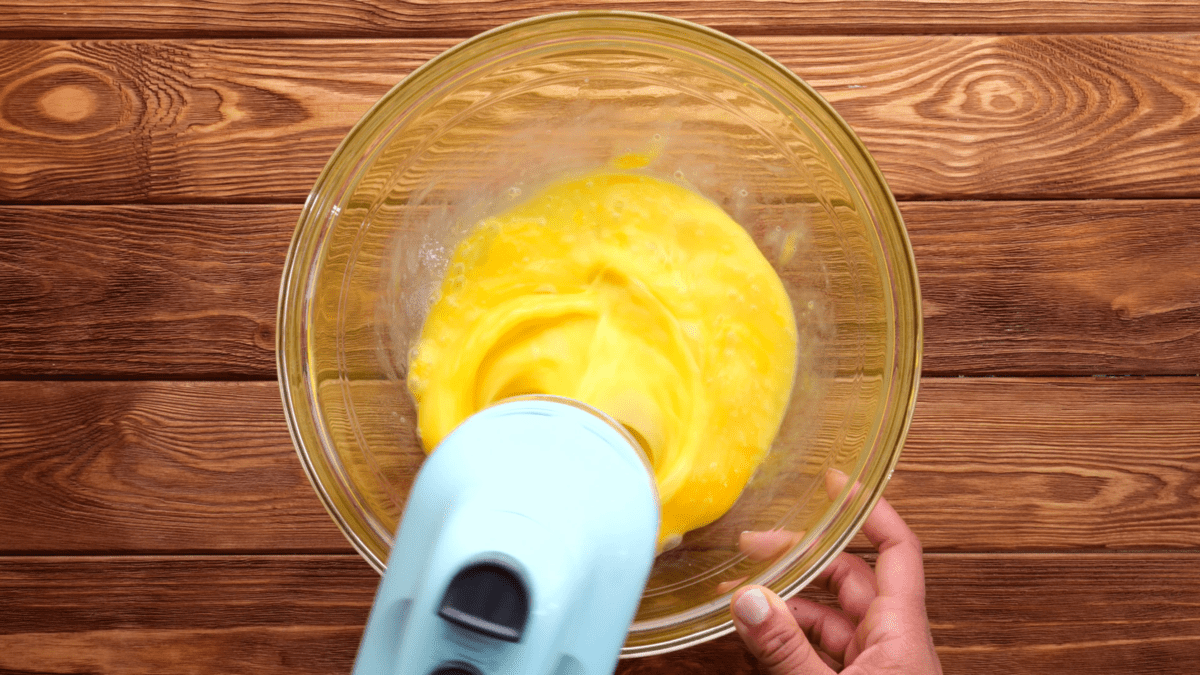 Melt your butter however you see fit to melt it and set it aside to cool a bit.
Put your eggs in a large bowl. Beat the eggs up with an electric mixer. By the way, if you have a stand mixer this batter will just fit in that bowl so go for it.
Add in sugar, cocoa powder, salt, and vanilla extract. Beat for about a minute or until it's good and blended.
Add in the flour, melted butter, and milk and beat again until well combined and a good brownie batter is formed, scraping down the sides as needed during the mixing process.
This is my finished batter. If this recipe was just for the batter, I'd call it "luxurious brownie batter". But this recipe is not just for the batter because you don't really eat raw brownie batter with a spoon because we live in a fallen world. And that is all I will say about that. ~sniff~
Spread into a greased 18 x 13 half sheet pan (I just spray it with nonstick cooking spray).
Bake at 350 for about 25 minutes.
Make sure the middle is set and done before you remove it from the oven. I know this doesn't seem like a lot of time but your batter is kinda thin here and spread out over a large area.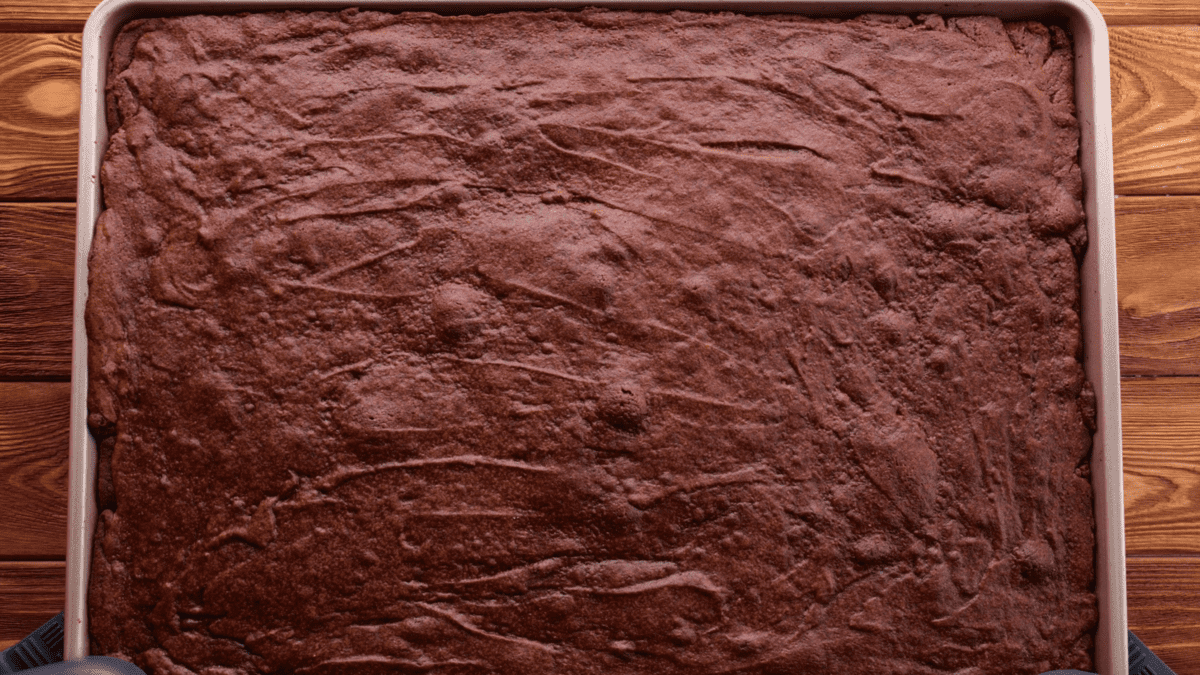 These are my cooked brownies. Hi, brownies!!! (y'all wave at my brownies)
How to make the creamy chocolate frosting for brownies
Now clean out that mixing bowl and make up your icing.
(I can't believe you didn't wash it while the brownies were baking. Okay, totally believe that. Batter bowls have gone for days in my house without being washed. It gives my sink purpose though so I don't fret. Never a bad thing to give something purpose, right?).
For the frosting, just put everything in the bowl and beat the heck out of it with an electric mixer until it is smooth and creamy. Y'all have seen me beat the heck out of things before so I'll spare you the pictures.
Let your big batch brownies cool a bit and then spread the icing on them.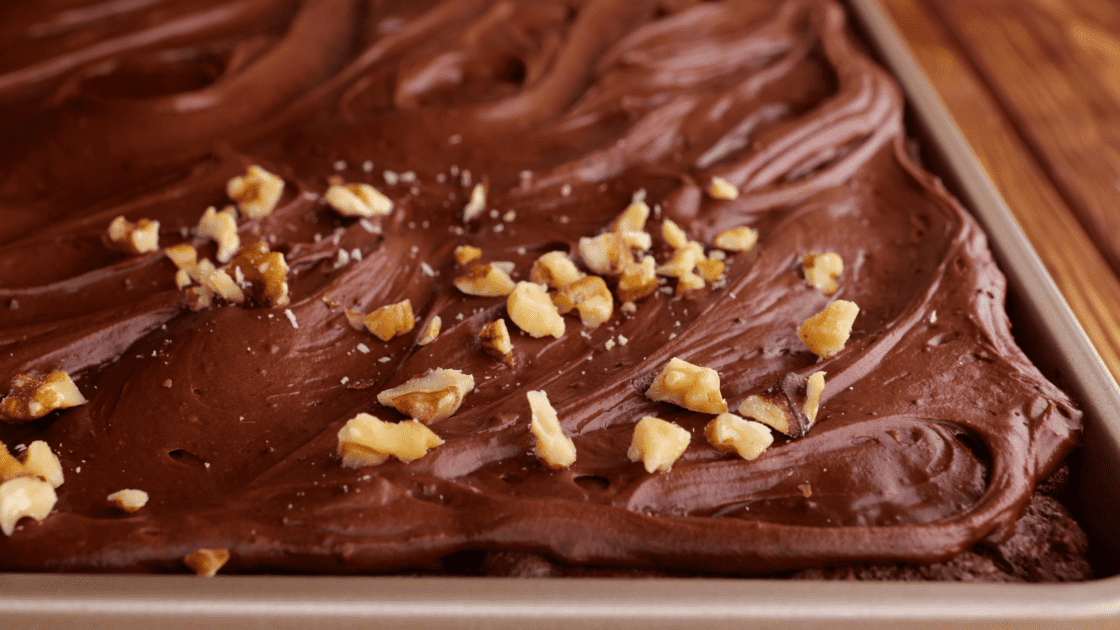 Sprinkle with nuts immediately after icing, if desired.
I usually don't use nuts because they are outrageously expensive and it seems 9 out of 10 kids are allergic to them these days, but today got the better of me, and I just *NEEDED* walnuts on top of my fudgy brownie. I gave in to my desires. Back to that fallen world thing, I am a fallen creature. But I feel better now so can we move on from this instead of focusing on my failures, mmkay?
Here, have a taste of the best brownie recipe ever.
Storage
Because of the frosting, you'll want to store your brownies in an airtight container in the fridge for up to 5 days. You can also freeze the brownies in an airtight container for up to 3 months. Thaw overnight before serving.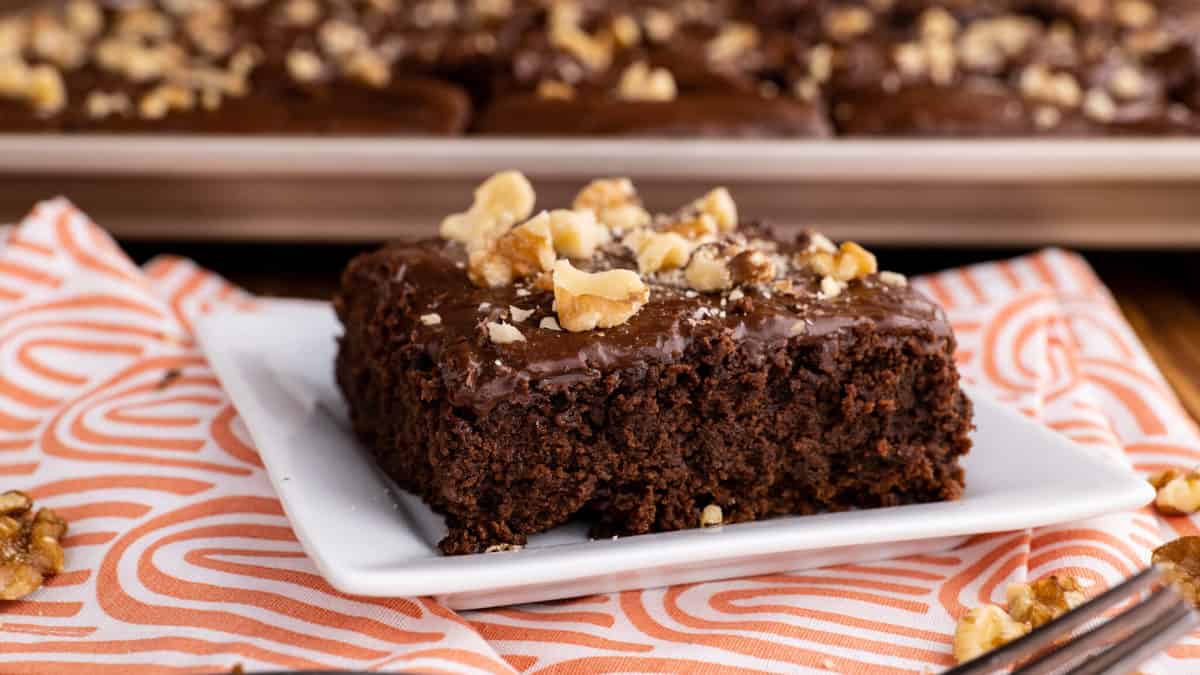 Recipe Notes
If you want to make a smaller amount of brownies, you can half this recipe yourself and make it in a 9×13 baking dish, but I don't recommend that. Instead, I suggest you just make this big batch brownies recipe according to my instructions and then share the brownies with folks. We have a severe shortage of people who share brownies in our society!
If you use self-rising flour, the brownie batter will overflow the pan and make a mess in your oven. And if you use a smaller-sized pan from what I am using, your brownie mix will overflow the pan either in a big way or small way (depends on the size of the pan) and make a mess in your oven.
I promise you'll live if you use salted butter. The extra salt won't be noticed and might even add a nice little touch. Just don't bother adding the salt listed in the ingredients.
If you use skim milk, almond milk, rice milk, buttermilk, evaporated milk, goat's milk, etc in place of the whole milk I am using, you'll be fine in the brownies and most likely in the icing. I'd try to use the richest milk I could in the brownie frosting if I were you. I use whole milk but have used two percent before and the earth did not shift on its axis.

Enjoy your

with a scoop of

Make this brownie recipe the best for you by adding in one cup of any of the below:

crushed nuts: peanuts, walnuts, pecans, or almonds.
dried fruits: dates, cranberries, or raisins.
shredded coconut
chocolate chips or chocolate chunks

(because there's no such thing as too much

)

.
diced marshmallows
peanut butter chips
Because you can never bake too many brownies:
Peanut Butter Brownies with Peanut Butter Fudge Icing
Valentine's Day Brownies With Frosting
Ingredients
7

large eggs

4

cups

sugar

2

cups

cocoa powder

2

teaspoons

salt

1

tablespoon

vanilla extract

3

cups

all-purpose flour

2

cups

unsalted butter

melted and cooled

1/2

cup

milk
Icing ingredients
4

cups

confectioner's sugar

2/3

cup

cocoa powder

1/2

cup

butter

melted

1/2

cup

milk

1

teaspoon

vanilla extract
Instructions
Place the eggs in a large bowl and beat with an electric mixer until broken and blended, about a minute.

Add the sugar, cocoa powder, salt, and vanilla extract to the eggs and beat until well blended.

4 cups sugar,

2 cups cocoa powder,

2 teaspoons salt,

1 tablespoon vanilla extract

Add the flour, melted butter, and milk to the brownie batter and mix until well blended, scraping down sides as needed.

3 cups all-purpose flour,

2 cups unsalted butter,

1/2 cup milk

Spread into a greased half sheet pan (18x13) and bake at 350 for about 25 minutes, or until set in the center. Allow the brownies to cool slightly before icing.
To make chocolate frosting
Place all of the ingredients in a mixing bowl and beat with an electric mixer until smooth and creamy. Spread onto the cooled brownies.

2/3 cup cocoa powder,

1/2 cup butter,

1/2 cup milk,

1 teaspoon vanilla extract,

4 cups confectioner's sugar
Nutrition
The world would be a better place if more people made brownies and shared them with others. ~Christy