Tie Dyed Cheesecake Brownies
I first started making Tie Dyed Cheesecake brownies when my son was in elementary school, over ten years ago. With just a few gel food colors, I could always impress him with brownies to match any occasion! Over the years I've made them in Minecraft colors, Dr Who colors (it is possible), and more. Today I'm showing you a beautiful blue color combination that is perfect for Frozen fans, any winter gathering, or even Hanukkah!
These super impressive brownies are easy as can be to make, too. You'll be just as impressed as the folks who get to eat them!
To make Tie Dyed Cheesecake Brownies, you'll need brownie mix* and ingredients to make them according to the package, two shades of gel food coloring**, vanilla, egg, cream cheese (check out our easy recipe for homemade cream cheese here), and sugar.
*You can absolutely make these homemade. However, this brownie mix is amazing and I've been using it for years now. This is in no way sponsored, I don't do any work with this brand, but I'm passing this on because y'all need to know! I'm known for my brownies – and this is how I usually make them! Why is this mix so good? 1. It tastes homemade. 2. It's very fudgy, not dry at all, and the perfect fudge density for a brownie in my opinion. Whenever I make it, folks tell me they're the best brownies they've ever had and I get asked for the recipe!
**You can use regular food coloring in this but gel food coloring is much prettier and will lend more vibrant colors without adding much at all. You can get gel food coloring at Walmart, craft stores, etc. The Wilton brand food coloring is gel as well so if that is what you find first it's just fine.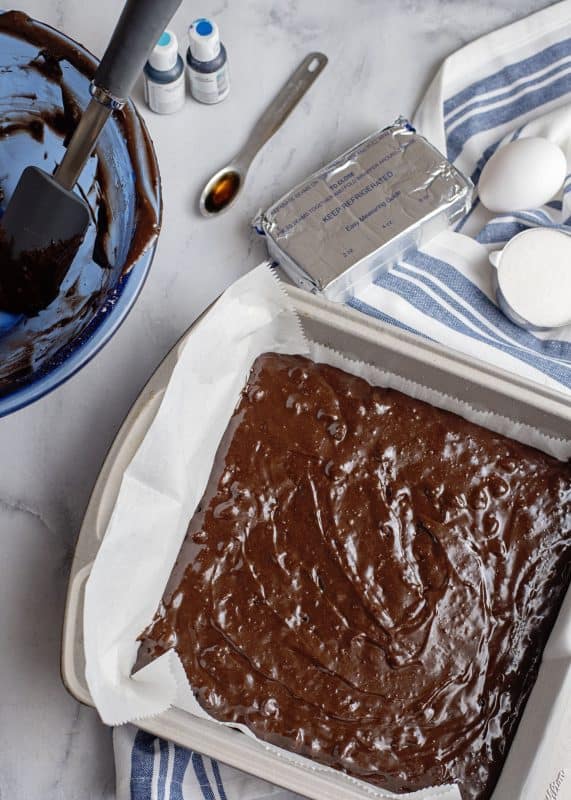 Prepare brownie mix according to the package and place in a greased or parchment lined 8×8 baking dish.
Place room temp cream cheese, sugar, egg, and vanilla in a medium mixing bowl and beat until smooth and well mixed.
Divide Cream cheese mixture into three parts. Leave one undyed and stir in each of the blue shades into one bowl until blended.
Place dollops of cream cheese all over the top of your brownies.
Gently swirl with a butterknife, being careful to just swirl but not stir so much that you blend. It should look about like this.
Let them cool a bit before cutting and then admire your beautiful cheesecake brownies, that are as pretty as they are yummy!
See why I brag on this mix so much? Seriously, it's perfect.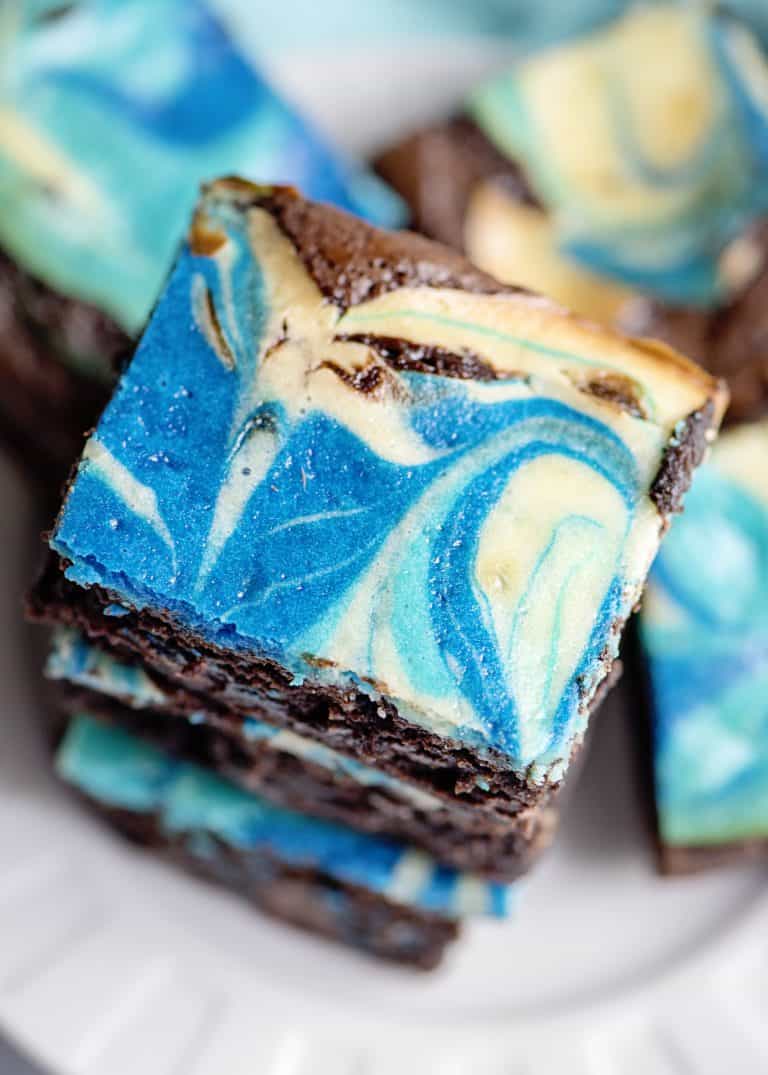 Look at all those beautiful details! Now eat 'em up!
Ingredients
One box Ghiradelli Brownie mix

and ingredients required on package

8

ounces

cream cheese

well softened and at room temp

1

egg

1/4

cup

sugar

1/2

teaspoon

vanilla*

two shades of blue gel food coloring*
Instructions
Prepare brownie mix according to package directions. Spread batter into greased or parchment lined 8x8 pan.

In large bowl, combine softened cream cheese, egg, vanilla, and sugar. Mix until smooth and creamy with electric mixer.

Divide cream cheese mixture into three bowls. Tint two of the bowls the different shades of blue (one shade per bowl) and leave one white.

Using a spoon, put dollops of each color all over top of brownies (see post for photos). Take a butter knife and gently swirl icing until blended and looking like tie dye.

Bake at 350 for 30 minutes, or until set in the center. Allow to cool completely before cutting into bars.
Can also do this in muffin papers to make individual brownies. Just put a dollop of each color cheese cake mixture on top of brownie batter in each muffin cup. Bake approximately 20- 25 minutes, or until set in center.
*See post for notes on where to find these ingredients
Nutrition
Click here to follow me on Instagram
This recipe featured on Meal Plan Monday and Weekend Potluck