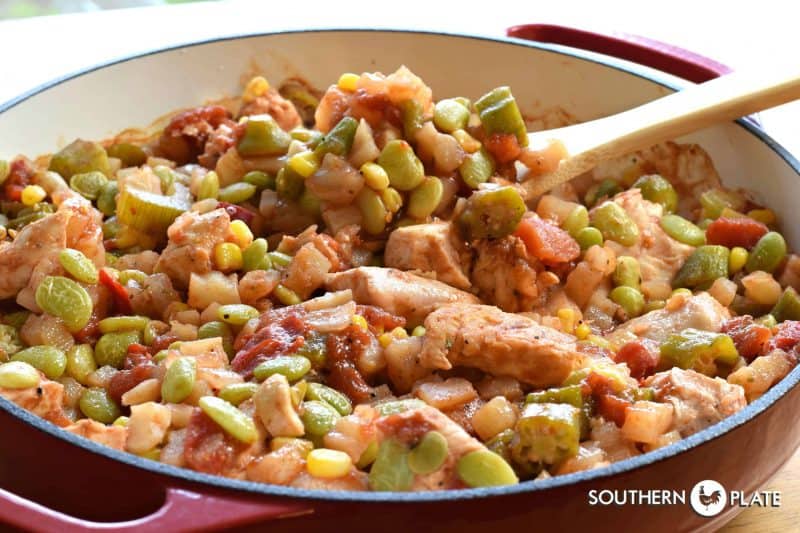 I've decided to do a series of posts on my little family, highlighting each member with a story or memory of their life. 
Today I'm going to tell you about my baby girl, Katy and then we will get to this delicious Brunswick Chicken Bake!
I can't tell you how many years I prayed for a daughter. And, oh my little sunshine girl!  She was born with twinkles in her eyes and a face of peace and joy. She was the best baby, spending most of her time smiling and just wanting to be held. We happily obliged, babies are for holding after all!
I want to digress and tell you a little story from one of our friends who had a new baby girl about a year ago. They had hoped for a home birth but ended up having to go to our massive hospital. After their daughter was born every time this one nurse came in someone was holding that sweet baby and the nurse eventually remarked "If you keep holding her you'll be holding her for the rest of her life!"
Without missing a beat the daddy looked down into his newborn daughters face, smiled, and said "That's the plan!"
We were those parents, too :). It was especially enjoyable for us because Brady had been my colicky baby and having been a first time parent then, but with a few years experience under my belt now, this just felt like a breeze.
But there was one thing about my girl that served as a lesson to me early on, sort of God's way of saying
"She is your daughter but she is going to be her own person"
, and that is what I am going to talk about today.
You know that saying "A sweater is what child wears when its mother feels cold?" well that is certainly the case in our house. I am one of those people who could happily sleep beneath fifty quilts at night, while my husband is more of a single sheet or very lightweight blanket type guy. I thought THAT drove me crazy, until I discovered that Katy is more of a no-blanket-at-all type person!
As soon as she was too old to swaddle, I'd put her in her crib, cover her up, and even in her sleep those legs would immediately shoot straight up into the air until they were free of the blanket, and then fall back down on top of it.
No matter how many times I repeated the process of covering her up, the same thing would happen.
I can't tell you how many times I have covered that child up over the last ten (almost eleven) years but I can tell you that each time was fruitless. I'd lay in my bed at night, fretting over it, wondering if her feet were cold and convinced they were, only to get up and slip into her room, covering her up as gently as I could. Without fail, every single time, she'd be uncovered by the time I got to the door.
This has been our dance for over a decade now.
So last night, I went into her room and looked down on that happy little face, full of joy and peace even in her sleep, and smiled at seeing one of her legs still covered up. Almost as if on queue she flicked that leg out and pushed the covers off.
And I was reminded that her life is not mine to live but just to be a part of.
And I smiled at her stubbornness and how true she is to herself. Even in her sleep.
So I kissed her forehead.
Thanked God for my daughter.
And pulled the covers up for the zillionth the time 😉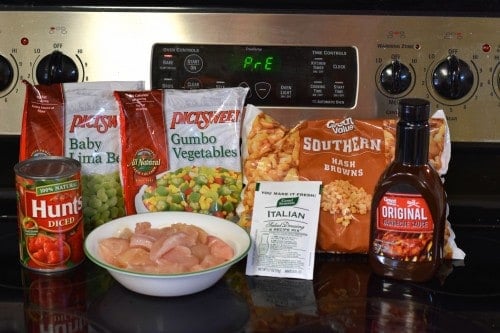 Today's recipe is quick to put together and a one dish meal with the flavors of our favorite stew.
To make this recipe, you'll need: Frozen baby limas (unless you just hate limas, then use some other vegetable that you have a better relationship with), frozen gumbo vegetable mix (unless you just hate gumbo vegetable mix, then use some other vegetable mix that you have a better relationship with), frozen southern style hash browns (the cubed ones. If you hate hash browns, its time to start examining your issues with veggies at this point), Diced tomatoes, Italian Dressing mix, BBQ sauce, and some chicken. 
Take all of your ingredients and stir them together in a large bowl until well mixed. 
Now whenever I use frozen limas people are always surprised they don't have to cook a lot longer but usually folks are thinking about dried beans and these are dried, they're frozen, So think of them like you would other frozen veggies.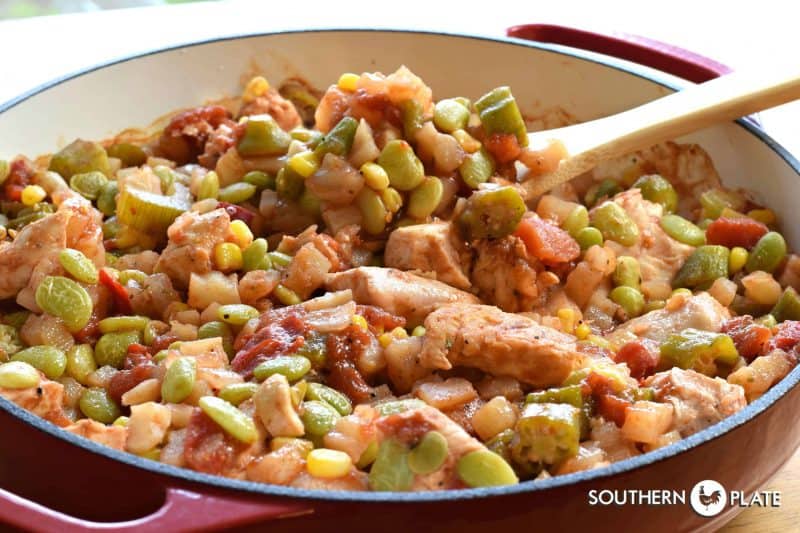 Pour this into a 3 quart baking dish or 9×13 pan. Cover with foil. Bake at 350 for 45 – 60 minutes, or until chicken is done and vegetables are tender. Before serving, stir this again really well to evenly distribute the sauce.
Ingredients
3

cups

frozen cubed hash brown potatoes

2

cups

frozen baby lima beans

12

ounce

bag vegetable gumbo mix

or mixed veggies of your choice

14

ounce

can diced tomatoes

1/2 - 1

cup

BBQ sauce

depending on how much flavor you want to add

pouch Italian dressing mix

0.7 ounces

1-2

pounds

raw chicken

cut into bite sized pieces
Instructions
Place all ingredients in a large bowl and stir until very well mixed.

Pour into a greased 3 quart casserole or 9x13 pan and cover with foil.

Bake at 350 for 45-60 minutes or until veggies are tender and chicken is cooked through. Stir well before serving.
"The natural state of motherhood is unselfishness. When you become a mother, you are no longer the center of your own universe. You relinquish that position to your children." 
~Jessica Lange
You might also enjoy this recipe! Mexican Chicken Casserole
Yum