How To Make Chicken Noodle Casserole
This recipe is available in a printable recipe card at the bottom of this post.
This Chicken Noodle Casserole is a kid favorite wherever it's served, and my husband seems to get just as excited! The ingredients are simple so it's a great last minute supper for busy evenings.
With a few shortcuts, you can have this all on hand as a shelf stable meal, too! I'll put those instructions below and a link to my other shelf stable Bags to Dishes meals as well.
Warning: this is ridiculously delicious. This chicken noodle casserole has no right to be this simple and taste this good.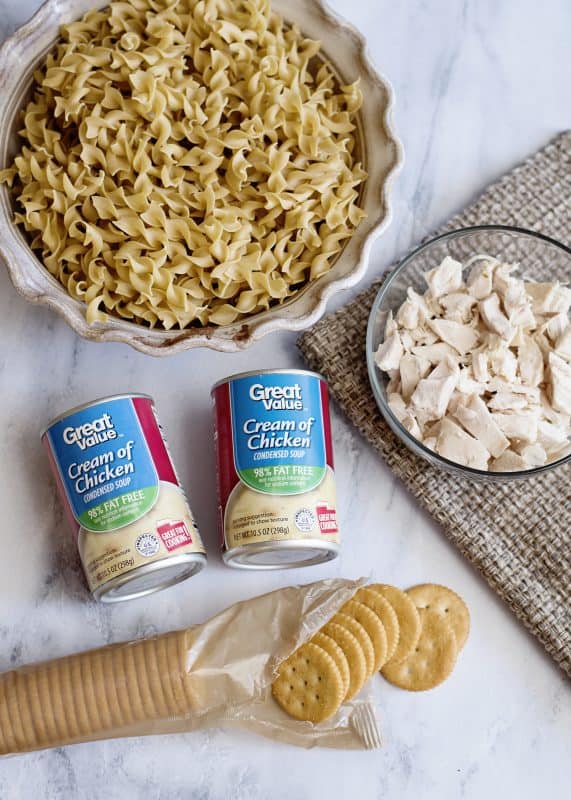 The Ingredients you'll need for Chicken Noodle Casserole are:
Egg Noodles
Cooked chicken*
Milk (not pictured)
Cream of Chicken Soup
An optional topping of round crackers
Butter
This picture shows fat free but I usually use regular Cream of Chicken. You can use your favorite or you can make cream soup from scratch using this recipe. You can also make your pasta from scratch and even raise and process your own chicken if you like – but I've found few purists willing to go much further than the homemade cream soup :).
*I sometimes pick up a rotisserie for a quick lunch and save the rest of it for this chicken noodle casserole. You can also just use a large can of cooked white meat chicken in water, drained.
Cook egg noodles until just done, being careful not to overcook. Drain well.
Place soup, chicken, milk, and cooked pasta in a bowl.
Stir that all up really good.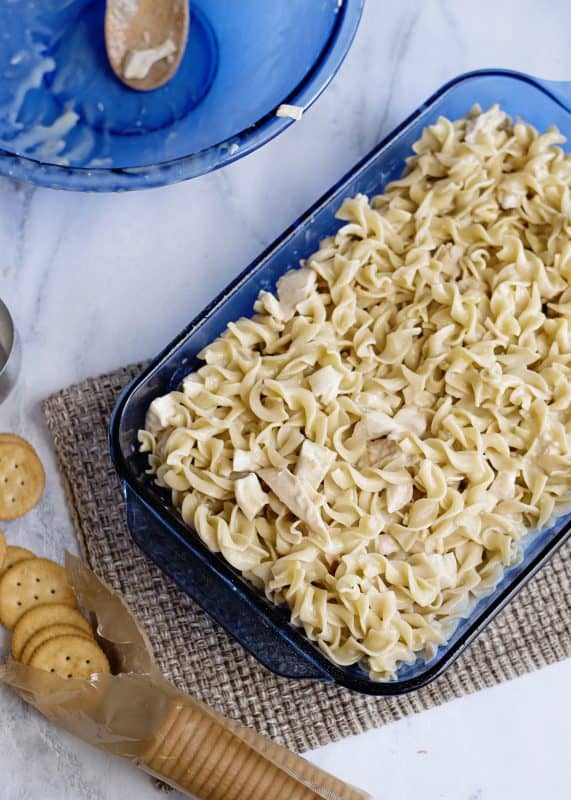 Spoon into a 9×13 casserole dish that has been sprayed with a little cooking spray.
If you want to add a little topping to make it prettier, stir together 1/2 a sleeve of crushed crackers and 1/2 a stick (1/4 cup) of melted butter.
Sprinkle this over the top. Bake at 350 for about 20 minutes.
I like to serve this with a low carb veggie such as roasted asparagus or green beans. YUMMO
Ingredients
1

package

egg noodles

2

cans

cream of chicken soup

1/2

cup

milk

fresh or canned

2

cups

cooked chicken (or a large can of chicken)
Optional
1/2

sleeve

Ritz Crackers, crushed

1/4

cup

melted butter
Instructions
Cook egg noodles according to package directions until just done, careful not to overcook (I like to undercook them by a minute or two). Drain.

In large bowl place hot egg noodles, cream soup, milk, and chicken, Stir until combined. Pour into greased 9x13 pan.

Optional topping: Crush 1/2 sleeve Ritz crackers and stir these crumbs together with 1/4 cup melted butter. Sprinkle over top of casserole in baking dish.

Bake, uncovered, 20 minutes at 350. Serve hot.
Notes
To make this a shelf stable meal: 
Place 2 cans of cream of chicken soup, a 12.5 ounce can of chicken, a 4 ounce can of evaporated milk, and a package of egg noodles into a large zipper seal bag along with a printed copy of this recipe. Click here to read about my Bags To Dishes meals.
Nutrition
Bloom where you're planted, even if you don't get to pick the field.
~Shared with me by my friend, Karen Terry.