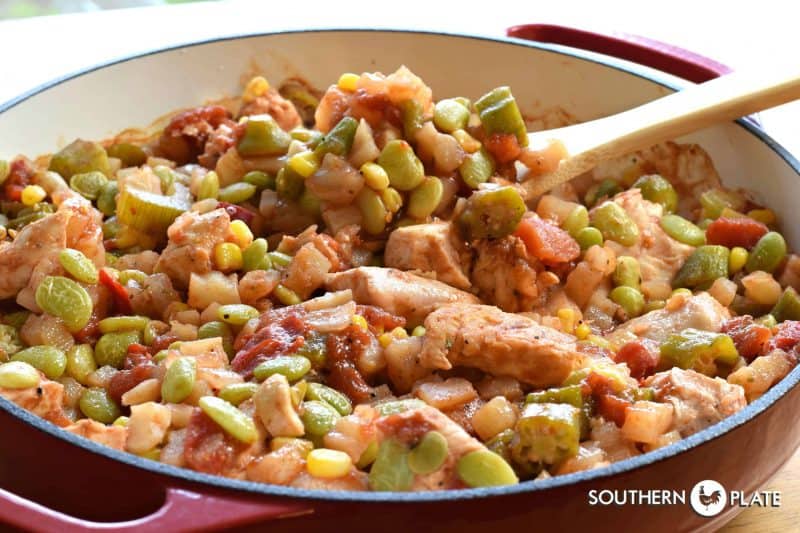 .
Today's recipe for Brunswick Chicken Bake is quick to put together and a one dish meal with the flavors of our favorite stew.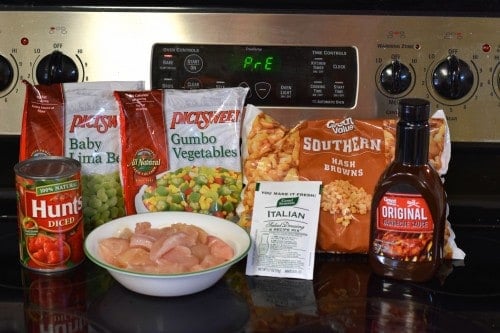 Recipe Ingredients:
Frozen baby limas (unless you just hate limas, then use some other vegetable that you have a better relationship with)
Frozen gumbo vegetable mix (unless you just hate gumbo vegetable mix, then use some other vegetable mix that you have a better relationship with)
Frozen southern style hash browns (the cubed ones. If you hate hash browns, its time to start examining your issues with veggies at this point)
Diced tomatoes
Italian Dressing mix
BBQ sauce
Chicken
Full recipe with ingredient amounts and instructions are in the printable recipe card below. Keep scrollin'
Take all of your ingredients and stir them together in a large bowl until well mixed.
Now whenever I use frozen limas people are always surprised they don't have to cook a lot longer but usually folks are thinking about dried beans and these are dried, they're frozen, So think of them like you would other frozen veggies.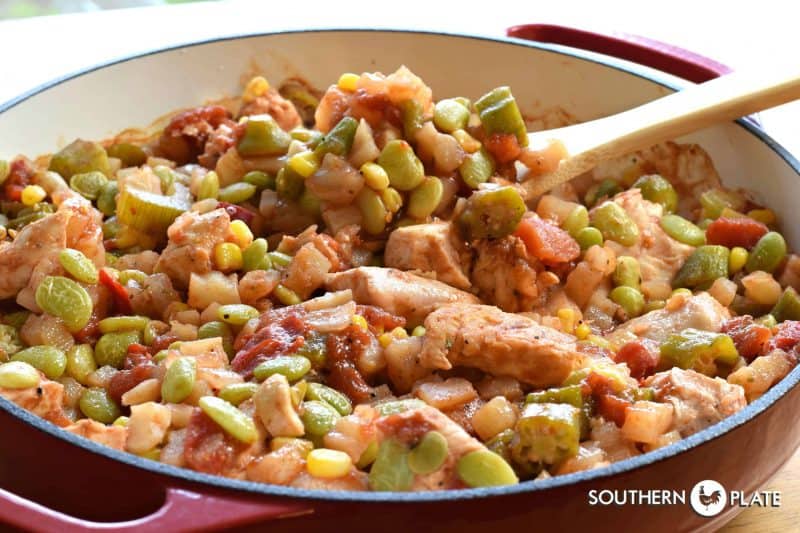 Pour this into a 3 quart baking dish or 9×13 pan. Cover with foil. Bake at 350 for 45 – 60 minutes, or until chicken is done and vegetables are tender. Before serving, stir this again really well to evenly distribute the sauce.
Ingredients
3

cups

frozen cubed hash brown potatoes

2

cups

frozen baby lima beans

12

ounce

bag vegetable gumbo mix

or mixed veggies of your choice

14

ounce

can diced tomatoes

1/2 - 1

cup

BBQ sauce

depending on how much flavor you want to add

pouch Italian dressing mix

0.7 ounces

1-2

pounds

raw chicken

cut into bite sized pieces
Instructions
Place all ingredients in a large bowl and stir until very well mixed.

Pour into a greased 3 quart casserole or 9x13 pan and cover with foil.

Bake at 350 for 45-60 minutes or until veggies are tender and chicken is cooked through. Stir well before serving.
Nutrition
You may also enjoy this other Brunswick stew we call
Here are some other chicken recipes for y'all:
Chicken Kabobs Recipe In The Oven
Chicken Lettuce Wraps Recipe – So Good!
Broccoli Cheese Stuffed Chicken Breast
"The natural state of motherhood is unselfishness. When you become a mother, you are no longer the center of your own universe. You relinquish that position to your children."
~Jessica Lange