Brunswick Chicken Casserole
Boasting the same flavor profile as a Brunswick stew, this easy Brunswick chicken casserole recipe includes tender chicken and vegetables in a deliciously-seasoned barbecue sauce.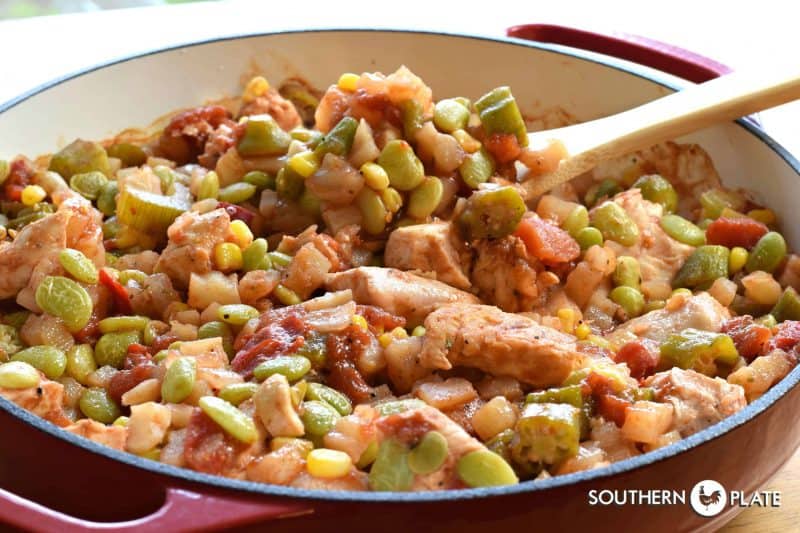 Have you tried my
Alabama camp stew
(a.k.a my traditional Brunswick stew recipe) yet? If so, this Brunswick chicken casserole recipe is for you! It has the same flavors as the family-favorite chicken Brunswick stew, which is truly a Southern staple. Here's what else I love about this recipe:
It's so easy to make. One of those recipes where you dump all of the ingredients into a large bowl, give them a stir, and then transfer them to a casserole dish to bake. That's it!
The ingredients are so simple yet flavorful. You're gonna need frozen baby lima beans, a frozen gumbo vegetable blend, frozen Southern hashbrowns, diced tomatoes, barbecue sauce, diced chicken breast, and a dry Italian dressing mix. Can you taste it already?
This Brunswick chicken casserole is the perfect hands-off weeknight supper. It's got everything you need in a hearty and filling main dish, like chicken, vegetables, and seasonings. Gotta love that!
The leftovers are freezer-friendly. Although I don't know about y'all, but we rarely have casserole leftovers in this household with hungry mouths to feed!
It's so easy to adapt and you can add different veggies, meat, or flavorings. But more on that is below.
Have I convinced y'all to try this casserole now? Head to the bottom for some suggestions on how to make this recipe work for you and your family.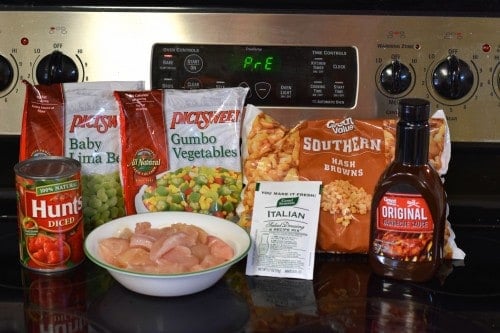 Recipe Ingredients
Frozen lima beans
Frozen gumbo vegetable mix
Frozen Southern hash browns (the cubed potatoes variety).
Diced tomato can
Italian dressing mix
BBQ sauce
Diced chicken breast
How to Make Brunswick Chicken Casserole
Take all of your ingredients and stir them together in a large bowl until well-mixed.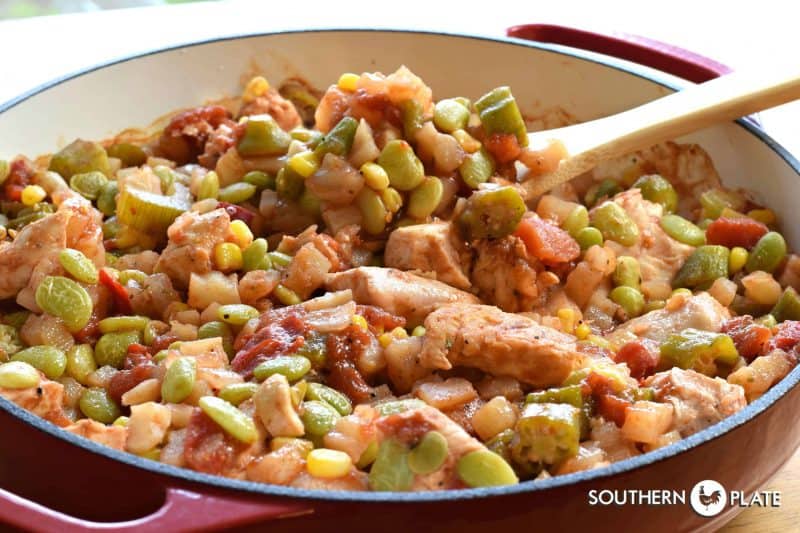 Pour this into a 3-quart baking dish or casserole dish and cover with foil.
Bake at 350 for 45 to 60 minutes or until chicken is done and vegetables are tender.
Before serving, stir it again really well to evenly distribute the sauce.
Storage
Store leftover casserole in an airtight container in the fridge for up to 3 days. Simply reheat them in the microwave.
You can also freeze leftovers for up to 3 months. Thaw them overnight in the fridge before reheating them in the microwave.
Recipe Variations
Let this recipe work for you… here are some variations:
Swap the lima bean packet for the frozen or canned beans of your choice, like butter beans, black beans, chickpeas, kidney beans, or cannellini beans.
Swap the gumbo vegetables for a different frozen mixed vegetable blend. The gumbo mix includes celery, corn, bell pepper, and okra. But some other vegetables that work include carrots, parsnips, cauliflower florets, diced mushrooms, frozen peas, and green beans.
Use the meat of your choice. You might like to use shredded rotisserie chicken, diced chicken thighs, or any leftover cooked chicken really. Otherwise, use canned shredded chicken breast, pulled pork, or beef, as you'd use in a traditional Brunswick stew recipe. Another option is sliced andouille sausage or a combo of sausage and chicken for a gumbo casserole.
Add some heat, with 1/4 teaspoon of cayenne pepper or a drizzle of hot sauce.
Another way to add heat is to use a fire-roasted diced tomato can instead.
Add some spices to give it more of a gumbo flair, like 2 teaspoons of Cajun seasoning, Old Bay seasoning, or Creole seasoning.
Add a cornbread topping like Miss Paula Deen, using a corn muffin mix.
Recipe FAQs
What goes with Brunswick chicken casserole?
This is the perfect main dish as is. But if you like, you can serve it with a side dish like cornbread, jalapeño cornbread muffins, Dutch oven bread, buttermilk biscuits, or homemade dinner rolls. It also works great served on a bed of rice, like a plate of chicken gumbo. Another option is to add a garnish of chopped green onion or fresh parsley.
You may also like these comforting chicken casserole recipes:
Chicken and Smothered Okra Casserole
Cheesy Chicken Broccoli Casserole With Rice
Ingredients
3

cups

frozen cubed hash browns

2

cups

frozen lima beans

1

12-ounce bag

gumbo vegetable mix

1

14-ounce can

diced tomatoes

1/2 to 1

cup

BBQ sauce

1

0.7-ounce packet

Italian dressing mix

1 to 2

lbs

boneless skinless chicken breast, cut into bite-sized pieces
Instructions
Place all ingredients in a large bowl and stir until very well mixed.

3 cups frozen cubed hash browns,

2 cups frozen lima beans,

1 12-ounce bag gumbo vegetable mix,

1 14-ounce can diced tomatoes,

1/2 to 1 cup BBQ sauce,

1 0.7-ounce packet Italian dressing mix,

1 to 2 lbs boneless skinless chicken breast, cut into bite-sized pieces

Pour into a greased 3-quart casserole dish or 9x13 baking dish and cover it with foil.

Bake at 350 for 45-60 minutes or until veggies are tender and chicken is cooked through.

Stir well before serving.
Nutrition
"The natural state of motherhood is unselfishness. When you become a mother, you are no longer the center of your own universe. You relinquish that position to your children."
~Jessica Lange