The full, printable recipe for Preston Rolls can be found at the bottom of this post.
I wish, so badly, that you could smell these rolls right now. If you were here, you wouldn't even have to lean in because my entire house smells like freshly baked yeast rolls. My entire house smells like warm, homemade yeasty bread.
And it is heaven.
These rolls were brought into the family by my mother's stepsister, Wanda. Wanda married into the Preston family and these were the rolls that Preston's family had at every meal they could. Many old Southern families have a recipe similar (or identical) to this one with various names. No matter what you call it, this roll recipe is revered and loved today for the same reasons it was so loved in the days of the life of a busy farm wife. They are made with a from scratch recipe but with a shortcut that allows you to make the dough on the weekends and store in your fridge for up to a week to have fresh, risen yeast rolls even on busy weeknights.
For this recipe you'll need: all purpose flour, solid vegetable shortening, eggs, salt, lukewarm water, hot water, and three packets of rapid rise yeast.
Note: I use Red Star rapid rise yeast. I have never had good luck with Fleishman's (the yellow packet), it only works for me about 50% of the time (although some people do swear by it) but I've never had the Red Star not work so I just thought I'd throw that out there in case you had a choice.
Your water needs to be hot, boiling if possible. Combine the shortening and hot water and stir until the shortening is melted.
Pour all three packets of yeast in a bowl. Add 1 cup of warm (not hot) water and stir until yeast is dissolved.
When dealing with yeast breads, it is important that your water be warm but not hot. A good rule of thumb is to think "baby bath water", that is the temperature you are going for. If you've ever given a baby a bath, you know exactly what I'm talking about :). If you haven't given a baby a bath before, go for good and warm but not hot, just a little above lukewarm.
Let your yeast sit for five minutes and make sure there are some little bubbles on top, that means your yeast is alive and active.
After five minutes, your yeast is considerably cooler, add your eggs and stir really well.
In a separate large bowl, stir together flour, salt, and sugar.
Pour yeast mixture into large bowl and stir really well until a dough is formed.
Place a lid on this or seal it with plastic wrap and place in the refrigerator. Before you go to bed, punch the dough down a bit and punch it down again the next morning.
However, when you punch it down it is not going to be huge because the refrigerator coldness really slows the growth of the yeast, which is why this recipe works so well.
Two hours before you want rolls, take out as much dough as you like and place on a floured surface. This is a little more than half of my dough – this entire recipe makes about two dozen but the beauty is that you can make just a few at a time if you like and have homemade rolls all week long!
Knead this just a few times by pressing it into a ball and then flattening it a little bit with the heel of your hands. Repeat that twice and you're good.
Pat it out to about 1/2 inch thickness, or as thick as you want. These are closer to an inch because I wanted big old tall rolls :). I was also photographing this at 6:00 am and getting hungrier with every picture!
Cut them out with a biscuit cutter or drinking glass.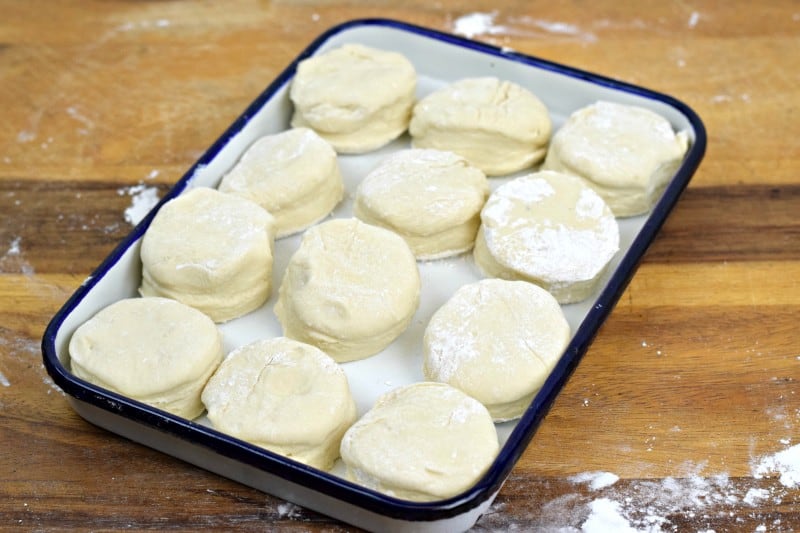 Place on a greased baking sheet or pan, cover, and set aside to rise for two hours.
Okay, now lets talk about this amazing biscuit/roll pan here. This is one of my favorite pans for rolls and such. It fits a dozen perfectly and is ideal for brown and serve rolls (we love those things, too!). This is an enamel quarter sheet pan, 7.5 x 10, and is actually sold in the art department. However, it is porcelain coated and perfectly safe for food – other pans like this are sold in the kitchen department. I learned about these from food stylists who worked on my first book and you'll see them in Come Home To Supper. You can also see this tray back on a post for my Amish Revel Bars that I did in 2013. I bought this one on Amazon for less than $10 with free shipping. To see it, click here. They only had 20 available when I posted this so if that size is sold out, click here to see one that is just 1/2 inch smaller.
I love my 9×9 Brownie/Cornbread Pan (as seen on my Cornbread Pan Sandwiches Post). I have a big 13 x 17 one, too. And I'm not admitting to anything but I may or may not have it in a traditional jelly roll pan size trimmed in red. If you want to see that one, that I may or may not be looking at on my kitchen table right now, click here. We would be here all day if I went over my enamelware collection so I'll just move on now.
Here is the pan with a package of brown and serve rolls – just to show you the size a little better…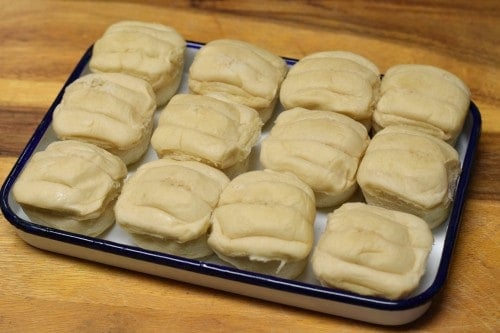 Now back to Preston Rolls!!!!
Two hours later….
Look at these beautiful rolls! Now you can put them straight into the oven or you can do one of two things:
Brush them with melted butter to help them brown a little bit
Brush them with a mixture of one whole egg and a tablespoon of water to get them nice and golden (that is what I did for this post).
Lil' secret: Sometimes I sprinkle a few grains of coarse salt on top of each one, too :).
Bake these at 425 for 15-20 minutes, or until golden.
This is the part where I remember to tell you that if you have my first book, this recipe is on page 230. 🙂
Lets talk about how your kitchen smells right now: Like the best granny from the old days has come to visit and spent weeks making fresh bread for you to enjoy, hot from the oven and slathered in freshly made butter, each day. Think I'm kidding? Just try this recipe and see.
These are wonderful anytime but my favorite time to have one is as soon as they are just cool enough to get out of the pan without burning the tar out of yourself, while steam is still rising from the bread and the kitchen is filled with the smell of hot yeast bread, fresh from the oven.
Ingredients
1

cup

boiling water

1

cup

shortening

3

pkgs Rapid Rise Yeast

I use Red Star

1

cup

lukewarm water

2

eggs

6

cups

all purpose flour

1/2

cup

sugar

1

teaspoon

salt
Instructions
At least a day before you want the rolls:
In a bowl or 2-3 cup measuring cup, place shortening and pour boiling water over. Stir until shortening is melted. Allow to cool slightly while you do the rest.

In a separate medium sized bowl, stir the yeast and lukewarm water together until yeast is dissolved. Set aside.

Mix eggs into yeast mixture. Once the shortening has cooled a bit, pour that into the yeast mixture as well and stir well.

In a large bowl, stir together flour, sugar, and salt. Add in yeast mixture and stir until a dough is formed. Cover this and place in the refrigerator. Before you go to bed, punch it down and punch it down again in the morning.
Two hours before you want rolls
Remove the amount of dough you want to use and place on a floured surface. Knead it just a few times (by pressing it into a ball and then flattening with the heel of your hand, then repeating two more times) and then pat it out to about 1/2 inch thick. Cut out rolls with a small biscuit cutter or drinking glass. Place on greased baking sheet and cover, allowing to rise for two hours.

Bake at 425 for 15-20 minutes.
if you'd like your rolls to appear more brown on top, brush them with melted butter or a mixture of 1 whole egg and 1 tablespoon of water. This is purely optional.
This dough will keep in the refrigerator for up to a week.
Nutrition
If you'd like to see my family roll recipe, Jordan Rolls, which are ready from start to finish in an hour, please click here.
When a child learns to walk and falls down 50 times, he never thinks to himself,
"Maybe this isn't for me."
~Unknown