From time to time someone will feel put out by the stories and writing I share on my recipes. If you would rather have just the recipe for Cheesy Bacon Pull Apart Chicken, there is a super simple solution: Just scroll down to the bottom :). 
We have these coupons that we bought as part of a fundraiser for something or another that my niece was involved in. Anyway, they are Domino's pizza coupons so while I am writing my book, we've started getting carryout pizza on Saturday nights. You know, big weekend plans and all that…
Well, the past few times my husband has gone after our little half price pizza, he has come home with a tiny box of this cheesy pull apart chicken stuff, sprinkled with bacon. Apparently, this has become his weekly treat. I gotta admit, it is pretty good. Seeing as how he has grown to love it so much, I decided to make my own version, so that is what I am sharing with you today. As with most homemade things, you get twice as much for half the price, which is always a plus!
Another thing I want to talk about today is my son, Brady. Many of y'all have been with me from the beginning of SouthernPlate.com and have watched him grow over the years. You've really been a big part of his life as I shared photos, cute things he said, his recipe ideas, and little special moments. But in the past few years, there has been less and less of Brady on my blog to the point that sometimes I worry that y'all might think we stuffed him under the couch :).
Well, in reality, this happened….
Little stinker head went and grew up on me.
The fact is, my sweet little boy has grown into an amazing young man. He's almost sixteen now and his interests have shifted from Transformers to Drumline. He plays marching snare and a few other percussion instruments and this year he even ran cross country (practice to help him run away from me wanting to kiss him, no doubt). He is doing very well in high school, finishing up his second year of Latin and planning on going the AP route through graduation. When the time for college comes (which will be in the blink of an eye!), he wants to get a degree in Software Engineering with a minor in Journalism, which makes me very happy because he has become a wonderful writer.  Maybe someday he will let me share some of his writing with you!
These are some photos I got off of his phone this morning. I said "Babe, I need some photos of you. Do you have any good ones on your phone?" He replied "Sure, it's in there on my desk. Just look through and get whatever you want."
Yeah. He's just that awesome.
So that is the outward stuff, let me tell you a little more about the man that he is. Man. How did my baby grow into a man? I struggle between being proud and feeling heartsick over it. As much as I miss my sweet little boy, though, my heart is even more proud of the person he is today.
Brady's waters have always run deep. "Old soul" is what folks often told me when he was just a boy and it holds true still today. He is a deep thinker, compassionate, and highly intelligent. He has a quick wit and a great sense of humor. He lives a fascinating life and each day I see him working hard to reach the goals he has set for himself.
But as he has grown, his story has become his own and in most cases, that story is no longer mine to tell. Aside from an occasional picture or glimpse into our lives together, you just don't see a lot of Brady around SouthernPlate because he is busy with the business of his life, growing and becoming who he is meant to be. And while I miss that, it also warms my heart and keeps a perma-grin on my face to watch this young man contribute to the world around him.
~takes a deep breath and blots her eyes~
And now to steel myself and move on to the recipe…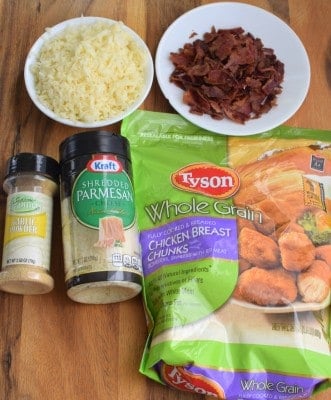 You'll need: Shredded Mozzarella, Turkey Bacon, Shredded Parmesan, Garlic Powder, and Chicken nuggets of some kind*.
*You can make your chicken bites from scratch (maybe make this recipe the night before and double it so you have extras in the fridge) or buy them in the store to save money. Any type of chicken nugget or popcorn chicken will do but I went for Chicken Breast Chunks so we'd have that wonderful bite of actual pieces of non-formed chicken.
Technically, the Domino's version of this has tomatoes in it somewhere. However, I've never tasted or spotted any form of tomatoes in it. I don't know if my Domino's leaves this out, if my eyesight and taste buds have joined together and decided to fail me completely, or if the aliens are eating all the tomatoes out of our order before Ricky gets it home, but I've never spied even the tiniest tomato particle. So I made this based on what I have tasted.
 Arrange your chicken chunks on a baking sheet as closely together as you can, but not really on top of each other. Bake this in the oven at the temperature and time listed on the package directions.
If you are using leftover chicken that you made the night before (these chicken strips would be excellent for that, don't fret over them being strips vs. nuggets), just place them on a baking sheet and put them in a 350 oven for about ten minutes.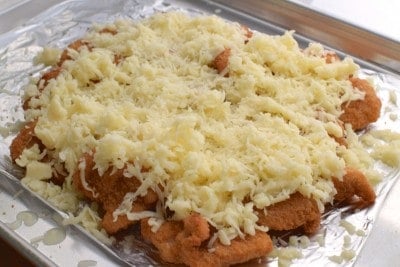 Remove from oven and give them a very generous sprinkling of mozzarella and parmesan. Then, sprinkle garlic powder over all.
Top with turkey bacon.
Return to oven for about 5 minutes, or until cheese is fully melted.
Enjoy!
Ingredients
About 1 pound chicken chunks

nuggets, or popcorn chicken*

2

cups

shredded mozzarella

1

cup

shredded parmesan

You can use the powdered kind too, if you like

3-4

strips turkey bacon

crumbled (You can also use turkey bacon bits from the grocery store if you like)

1

teaspoon

garlic powder
Instructions
Remove from oven and generously top them with mozzarella and parmesan. Then, sprinkle garlic powder over all. Top with crumbled bacon.

Return to oven for about 5 minutes, or until cheese is fully melted.
Notes
*The chicken used for this recipe can be frozen, fresh, or leftover but they should be fully cooked and merely reheated for this recipe.
Nutrition
 "Jesus was one child who actually knew more than his parents, yet he obeyed them."
~Gayland Anderson