This sticky chicken recipe is one of those dishes that, somedays, you just gotta have.
Sticky Chicken has been around about as long as folks have been cooking. The recipe has evolved and been tweaked over the years but the flavorful sticky marinade that clings to the chicken is still every bit as good as folks remember from the days when Granny used to make it for Sunday dinner.
This recipe for sticky chicken is pretty simple, mix up some ingredients, bring them to a boil, pour them over chicken pieces and bake. It's a home run with kids as well as adults, too!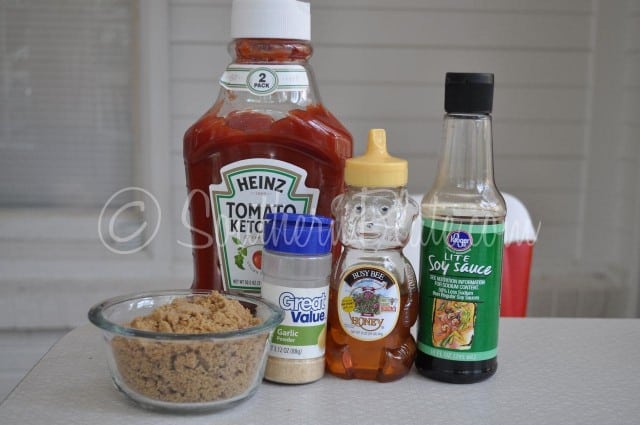 The ingredients for the Sticky Chicken recipe are:
Brown sugar (dark or light, whatever you have)
Garlic powder
Ketchup
Honey
Soy sauce
You're also going to need about 3-5 pounds of bone in chicken with the skin still on it. For my boneless Sticky Chicken Recipe click here.
Traditionally, folks use legs and thighs for this but my Kroger had bone in split chicken breasts for buy one get one free – so I have two HUGE Chicken breasts halves that cost me a few dollars and that is what we're using!
How to Make Sticky Chicken
Put everything (except the chicken) in a sauce pot and stir it up really good. Place over medium high heat.
You can do medium heat but I like to get things rolling.
Patience is a virtue and all that but I find that my patience is best used in dealing with people, critters, and my spotty internet connection.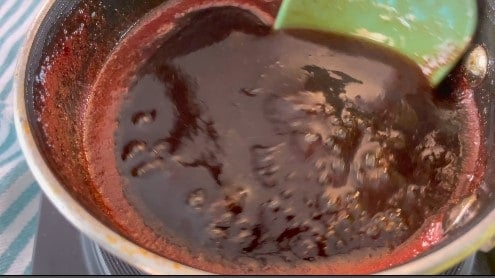 See how that's boiling? Bring the sauce to a boil like this. Then remove from heat.
Place your chicken pieces in a 9×13 baking dish and pour all of the sauce over.
Place this in a 350 degree oven and bake, uncovered, for 90 minutes total.
After 45 minutes…flip all of the chicken over in the dish.
An hour and fifteen minutes into cooking, flip pieces again and baste with some of the sauce in the pan. Bake another fifteen minutes.
NOTE: cooking time is the same if you use legs and thighs.
Booyah! Sticky chicken!
What Can I Serve Sticky Chicken With?
Whatever you like! But here are some side suggestions:
Cheesy Chicken and Broccoli Rice Casserole
Broccoli with Homemade Cheese Sauce
remove
Ingredients
3 -5

pounds

bone in chicken with skin

folks usually use legs and/or thighs

1

cup

ketchup

1

cup

honey

1

cup

brown sugar

1/2

cup

soy sauce

1/2

teaspoon

garlic powder
Instructions
Preheat oven to 350.

In a sauce pot, combine ketchup, honey, brown sugar, soy sauce, and garlic powder over medium heat.

Bring it just to a boil while stirring. Remove from heat.

Arrange chicken pieces in 9x13 dish. Pour entire amount of sauce over chicken, turning pieces with tongs to coat.

Place in oven, uncovered, for 90 minutes, turning after 45 minutes.

Fifteen minutes before cooking time is up, flip pieces once more and baste with sauce.
Video
Nutrition
You may also like these chicken recipes:

Best Barbecue Sauce and Boneless Sticky Chicken

Don't judge each day by the harvest you reap,

but by the seeds you plant.

~Robert Louis Stevenson

Submitted by Diane. Submit your quote by clicking here.