If you're on Facebook of Pinterest, I'd sure appreciate it if you have time to use one of the buttons above 🙂 Thank you and be sure and drop a howdy in the comments below!
This is one of those dishes that, somedays, you just gotta have. Sticky Chicken has been around about as long as folks have been cooking. The recipe has evolved and been tweaked over the years but the flavorful sticky marinade that clings to the chicken is still every bit as good as folks remember from the days when Granny used to make it for Sunday dinner.
This recipe for sticky chicken is pretty simple, mix up some ingredients, bring them to a boil, pour them over chicken pieces and bake. It's a home run with kids as well as adults, too!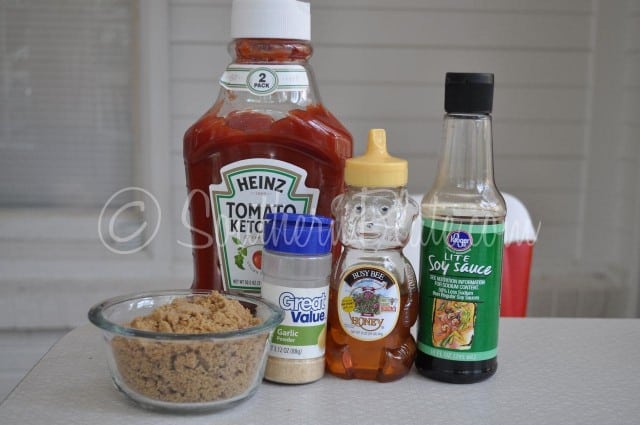 You'll need: Brown sugar (dark or light, whatever you have), garlic powder, ketchup, honey, and soy sauce. 
You're also going to need about 3-5 pounds of bone in chicken with the skin still on it.
Traditionally, folks use legs and thighs for this but my Kroger had bone in split chicken breasts for buy one get one free – so I have four HUGE Chicken breasts halves that cost me about $2.50 and that is what we're using! 
Put everything in a sauce pot and stir it up really good. Place over medium high heat. 
You can do medium heat but I like to get things rolling. 
Patience is a virtue and all that but I find that my patience is best used in dealing with people, critters, and my spotty internet connection.
Bring it just to a boil and then remove from heat. 
Place your chicken pieces in a 9×13 baking dish and pour all of the sauce over. 
In my last post, we sang Leslie Gore around about this time. So today, we need to sing Buddy Holly.
Every day, it's a getting closer! Going faster than a roller coaster! love like yours will surely come my way. hey hey hey hey hey!
This has nothing whatsoever to do with Sticky Chicken so I'm not even gonna try to tie it in.
If staying on point was a requirement of my job, I'da lasted one blog post.
Not good with the whole monotony thing. I gotta sparkle a bit 🙂
If you tuned in to the Leslie Gore Video in my Fried Dill Pickles Post and now my Buddy Holly video you may be wondering why someone born whenever I was born (sometime in the past 20-50 years or so) is such a huge fan of music from an era I wasn't actually present in.
Simple: I have exquisite taste in music.
Oh, and also My Mama and Daddy took good care of their records :). My brother, sister, and I spent half of our childhoods rocking out to Leslie Gore, Buddy Holly, and then Elvis. In between we were big fans of Disco Duck just to keep it well rounded.
What music did you listen to growing up?
I'd love to hear about it in the comments below!
Place this in a 350 degree oven and bake, uncovered, for 90 minutes total.
After 45 minutes…flip all of the chicken over in the dish.
An hour and fifteen minutes into cooking, flip pieces again and baste with some of the sauce in the pan. Bake another fifteen minutes.
NOTE: cooking time is the same if you use legs and thighs.
Booyah! Sticky chicken!
This dish was extremely difficult to photograph because I really just wanted to eat it.
"Click click, ok, photo session is done! Let's eat!"
I'm serving some green beans with it (recipe coming soon) and simple Mahatma Saffron Rice. Rice goes great with this because the chicken is so flavorful.
It's almost newsletter time again!
Each Friday I sent my email subscribers a newsletter with links to the week's most popular recipes, latest recipes, inspiring quotes, Q&A, and more! If you'd like to subscribe by email click here.  No one will ever see your email but me and I typically send anywhere from 2-4 emails a week.
Sticky Chicken
Ingredients
3 -5 pounds bone in chicken with skin (folks usually use legs and/or thighs)
1 cup ketchup
1 cup honey
1 cup brown sugar
½ cup soy sauce
½ teaspoon garlic powder
Instructions
Preheat oven to 350.
In a sauce pot, combine ketchup, honey, brown sugar, soy sauce, and garlic powder over medium heat.
Bring it just to a boil while stirring. Remove from heat.
Arrange chicken pieces in 9x13 dish. Pour entire amount of sauce over chicken, turning pieces with tongs to coat.
Place in oven, uncovered, for 90 minutes, turning after 45 minutes.
Fifteen minutes before cooking time is up, flip pieces once more and baste with sauce.
UPDATE: Can I make this with boneless skinless breasts?
I've had so many people ask this question that I finally got around to trying it last night. I threw a few boneless skinless chicken breasts in the baking dish with my bone in, skin on pieces. I basted it just like the other pieces and flipped and cooked it the same way. It was good and it can certainly be done but it doesn't come out like sticky chicken. You'll have a good tasting chicken breasts, but the sauce doesn't stick to it or form a glaze on it. You're pretty much just cooking chicken in the sauce. It is good, but it really isn't sticky chicken. I would suggest holding out until you have the bone in/skin on pieces 🙂
Don't judge each day by the harvest you reap,

but by the seeds you plant.

~Robert Louis Stevenson

Submitted by Diane. Submit your quote by clicking here.
Yum