Chocolate Pound Cake with Fudge Glaze
This easy chocolate pound cake recipe is an old-fashioned Southern favorite that's always moist and perfect for any occasion. Pair your chocolate pound cake with glaze for the ultimate chocolate dessert.
I have received a lot of requests for recipes in the past, but Grandmama's chocolate pound cake with glaze is the one cake that I am asked to make most often. It's just a good old-fashioned chocolate pound cake recipe from my Grandmama that is sublimely soft and moist on its own. But when you add Grandmama's rich and decadent fudge glaze (what the old folks called boiled icing), it becomes a favorite to all, especially chocolate lovers.
So, what is boiled icing? Traditionally, this means you make it in a pot on top of the oven and it is brought to a boil to thicken it. Truly it is very much like making fudge, but we use a timer instead of a thermometer to trust it gets to the right temperature.
Have you ever had your granny make one of those cakes that when she cut into it, the icing cracked and broke off in huge fudge chunks? THIS is THAT icing! I make a peanut butter version of it, too.
It's just a good old timeless homemade chocolate cake recipe that's made using simple ingredients you probably already have sitting in your kitchen. I hope you get to try this cake's melt-in-your-mouth deliciousness soon.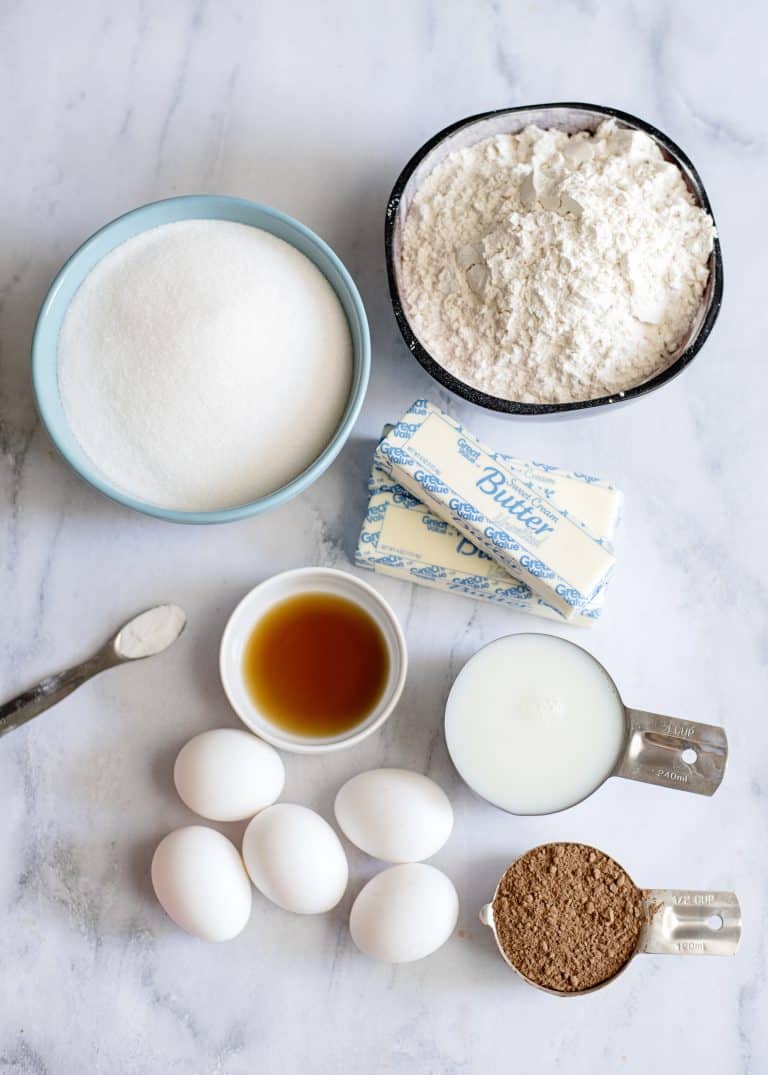 Recipe Ingredients
Chocolate Pound Cake
Milk
All-purpose flour
Sugar
Baking powder
Vanilla extract
Cocoa
3 sticks of unsalted butter
5 eggs
Chocolate Fudge Icing
Milk
Sugar
Cocoa
Unsalted butter
Shortening
Vanilla extract
Salt
Now let's get to baking…
First, preheat the oven to 325 degrees. Then grease and flour your pan.
How to Grease a Cake Pan To Keep Batter From Sticking
What I do is fold a paper towel, put it over my hand and dip it into the shortening, then smear it all around. Take a bit of flour and pour it into the pan and move your pan around, patting it a bit, to get the flour to coat the sides. Then I turn it upside down and shake out the excess flour into the trash can.
Cream butter (which should be at room temperature) and sugar with mixer until light and fluffy. Above is what "light and fluffy" looks like.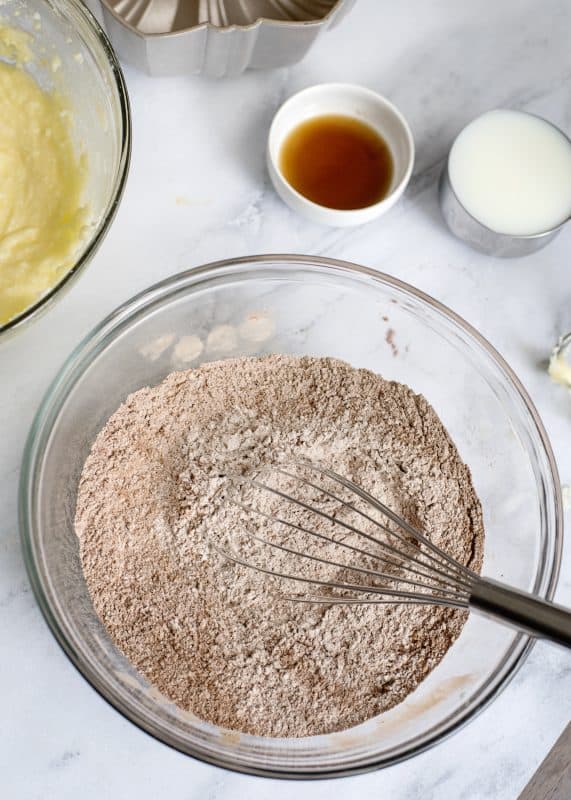 In a separate bowl, stir together the baking powder, flour, and cocoa powder.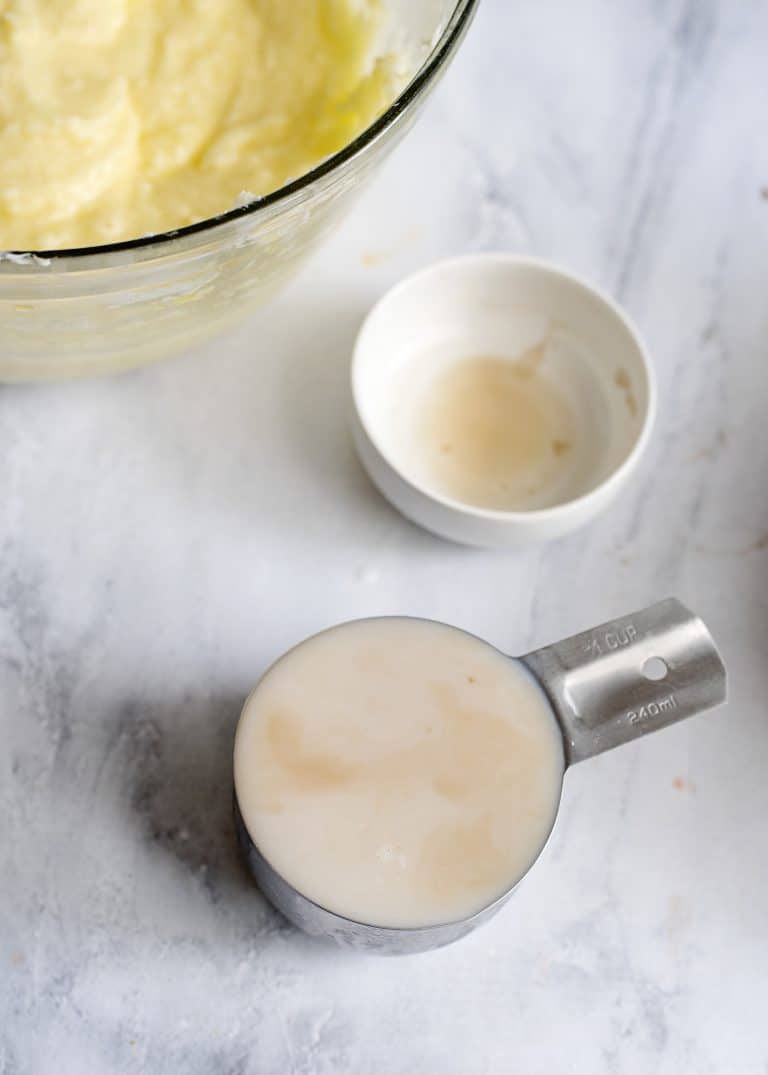 Add vanilla to milk.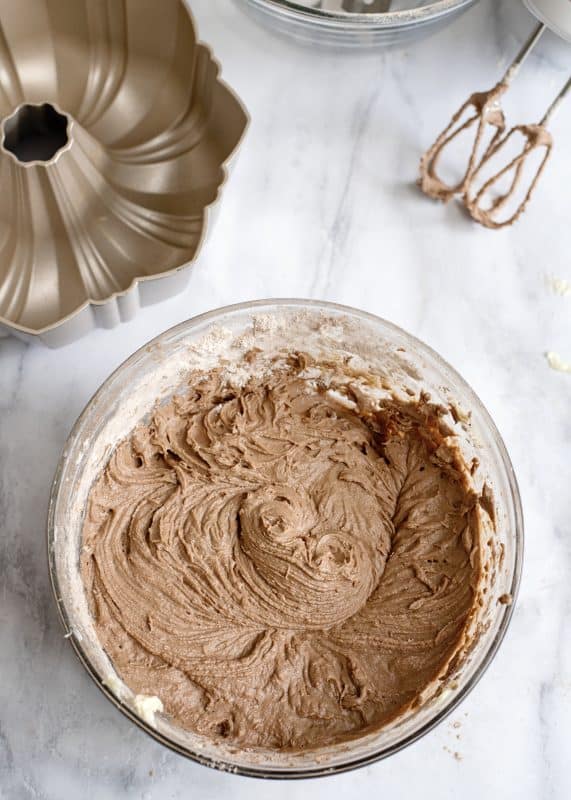 Alternately add milk and dry ingredients to the creamed butter and sugar mixture, mixing after each addition.
Add eggs, one at a time, to the cake mix while still running the mixer.
Spoon chocolate pound cake batter into the prepared pan and spread it out a bit.
Place this in the center of the oven and bake for 1 hour and 20 minutes.
Remove the chocolate bundt cake from the oven and let it sit for 10 minutes.
Turn out onto cooling rack. Let cool completely while mixing up the icing.
How To Make Fudge Glaze
Place milk, sugar, butter, shortening, and salt in a heavy saucepan over medium-high heat.
Stir continuously while bringing to a boil.
Once it reaches a rolling boil, stop stirring and allow it to boil on its own for 2 minutes.
Remove the chocolate fudge icing from heat.
Add cocoa powder and vanilla.
Stir until well blended.
Keep stirring icing a minute or two until it cools just a bit. I sometimes stick the bottom of my saucepan in a bowl of cool water to speed the process.
Now act quickly!
Use a large spoon to spoon the icing over the chocolate cake or just pour directly from your saucepan. It will begin to set up rather quickly.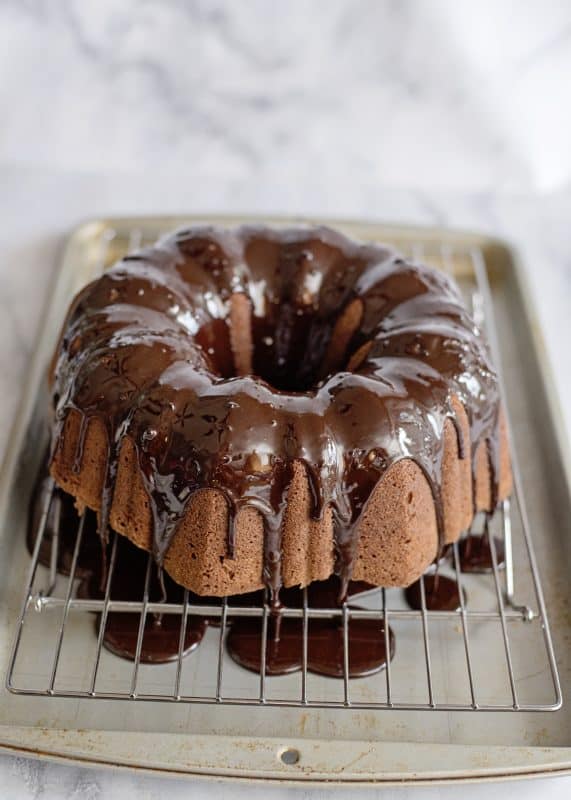 Allow the cake to sit until the icing hardens a bit.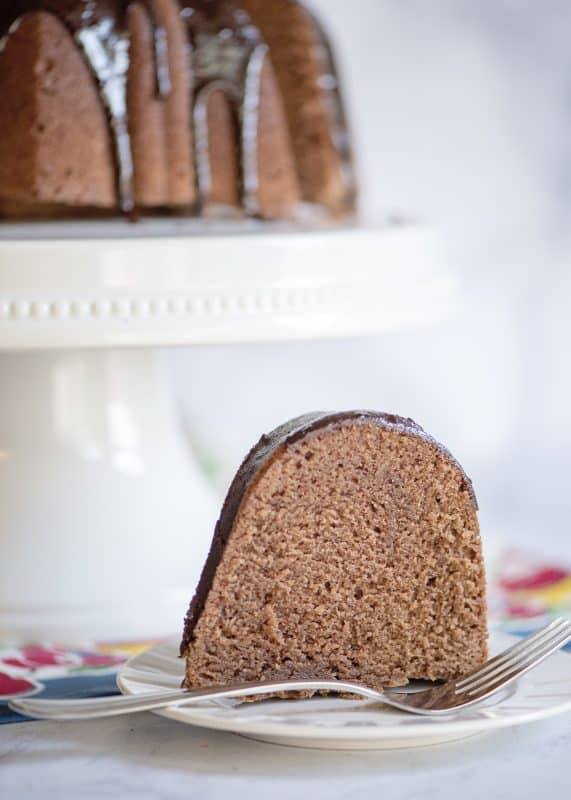 Dig in and enjoy this chocolate bundt cake recipe from the old days!
Storage
I recommend storing leftovers in an airtight container at room temperature for up to 3 days. You can then transfer any remaining slices to the fridge, where they will last another 3 days.
You can also store cooled slices of cake in an airtight container (or double wrapped) in the freezer for up to two months. Thaw in the fridge or at room temperature before serving.
Recipe Notes
Make sure all ingredients

for this

are at room temperature before you begin.
If you want to skip the chocolate glaze, I'll forgive you! Here are some other serving suggestions:

Serve the chocolate pound cake with a dusting of powdered sugar.
Opt for a dollop of whipped cream or a scoop of vanilla ice cream

with a drizzle of

syrup

.
Serve with some fresh berries.

If this isn't enough chocolate flavor for you, add a cup of semisweet chocolate chips to your chocolate pound cake batter!
I recommend using natural unsweetened cocoa powder, regular cocoa, or Dutch-processed cocoa powder.
To know if your chocolate bundt cake is cooked, insert a toothpick in the center, between the inner and outer edges. if it comes out clean, you're good to go!
Recipe FAQs
What do I do if I don't have a bundt pan?
Fear not! This chocolate pound cake with glaze tastes delicious no matter the pan you choose. You can instead use 2 8-inch cake pans or 3 6-inch cake pans. Just keep an eye on your cakes, as they might cook faster in separate pans. You can also use a 9×5-inch loaf pan.
You might also enjoy these other delicious cake recipes:
Easy Birthday Cake Recipe From Scratch
Fresh Strawberry Cake With Cream Cheese Icing
Ingredients
Chocolate Pound Cake
1 1/2

cups

butter

3

teaspoons

vanilla extract

3

cups

sugar

1/2

cup

cocoa

5

eggs

1/2

teaspoon

baking powder

3

cups

all-purpose flour

1

cup

milk
Fudge Glaze
1 1/2

cups

sugar

7

tablespoons

whole milk

1/4

teaspoon

salt

2

tablespoons

shortening

1

teaspoon

vanilla extract

2

tablespoons

butter

1/2

cup

cocoa
Instructions
Preheat oven to 325. Grease and flour bundt pan and set aside.

Cream butter in a large mixing bowl. Add sugar and beat until light and fluffy. Add eggs, one at a time, beating well after each addition.

1 1/2 cups butter,

3 cups sugar,

5 eggs

In a separate bowl, stir together the flour, cocoa, and baking powder. Measure milk and stir vanilla into it. Add milk and flour mixture alternately to the cake batter in the mixing bowl, mixing after each addition.

1/2 cup cocoa,

1/2 teaspoon baking powder,

3 cups all-purpose flour,

1 cup milk,

3 teaspoons vanilla extract

Pour cake mix into the prepared pan and bake for one hour and 20 minutes. Let the chocolate cake cool for 10 minutes before removing it from the pan and allowing it to cool completely before adding glaze.
Fudge Glaze
For the glaze, combine the sugar, cocoa, milk, shortening, margarine, and salt in a heavy saucepan. Bring to a boil, stirring constantly. Once it reaches a rolling boil, allow it to boil without stirring for two minutes. Remove from heat and add vanilla. Stir until cooled just slightly.

1 1/2 cups sugar,

7 tablespoons whole milk,

1/4 teaspoon salt,

2 tablespoons shortening,

2 tablespoons butter,

1/2 cup cocoa,

1 teaspoon vanilla extract

Spoon over the cooled cake.
Nutrition