We are going to get to this delicious Apple Pound Cake but first, do you ever have one of those days where you just feel a little bit defeated, a little bit battle weary, and you kinda just want to hide in a hole but life won't let you? We all have those from time to time, they're par for the course of us being humans. I'm grateful for those days, though, because going through them helps me to be able to recognize when someone else is there – and that is when I can be the most helpful.
You know the great thing about that? It takes so little to perk someone right up. A sincere smile with eye contact, someone taking the time to give you a hug and say "Hey, hang in there, this too shall pass."
The tiniest gesture from a good hearted person can shine through like a solar flare when you're feeling a little darkness in your heart.
In the past years I've come to realize that sometimes God shows us our own needs to help us realize that they are other people's needs as well. So if you've ever needed someone to comfort you, to tell you that you're doing great, to give you a hug and tell you they're proud of you…that is your cue to do that for someone else.
Be the person you need for someone else today.
And now that I've gotten that off my chest, on to apples and this Apple Pound Cake 🙂
This is an old fashioned cake that really has the texture and taste of a pound cake with apple-y goodness tossed in. Although the traditional ingredients for pound cake aren't there – there is far less sugar and no butter, you'll still get the feel and taste of pound cake with the dense moistness.
The apple pound cake itself is clean and simple in flavor, just slightly sweet and not enough to fight with the apples for the main attraction. This is a great treat to have with coffee or as an afternoon snack. Oh who am I kidding? It has fruit so it can TOTALLY count as a breakfast, too!
You'll need: Sugar, vegetable oil, orange juice, baking powder, vanilla, eggs, all purpose flour, cinnamon, and about five apples.
I'm using a mix of Gala and Granny Smith but whatever you have will work just fine.
Place sugar, flour, eggs, baking powder, oil, vanilla, and orange juice in a large mixing bowl.
Blend with an electric mixer until smooth and well blended.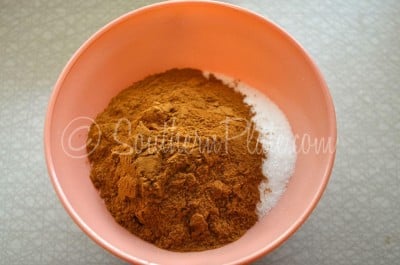 In a small bowl or cup, combine sugar (see exact amounts at bottom of this recipe) and cinnamon.

Stir them together until they're mixed up good.
Grease the living daylights out of your bundt pan.
Last week my friend Jyl got her first ever bundt pan and called to tell me about it. I was kind of surprised she hadn't had one before because I think they're just the bees knees. She asked if I greased mine with shortening and flour or if I just used cooking spray. I replied "I never use cooking spray in my bundt pan, I always use crisco and flour to make sure it comes out of the pan easily." I really truly thought I was telling the truth because in my head, that is what I do. Then I started doing this tutorial and reached for the baking spray and sprayed this pan until it cried uncle – and I felt bad because I realized that I hadn't been truthful with Jyl, although I didn't mean to.
So Jyl, I'm sorry. I was telling you the best way to do it – I just prefer the lazy way 🙂
Oh Wait, do y'all watch Duck Dynasty? I know a lot of you do. Mama and I had lunch with Kori Robertson and her Mama this past weekend so I thought I'd share the photo in case you missed it on the Southern Plate Facebook Page. They are what Southerner's refer to as "plain old people" which is one of the highest compliments you can pay to someone who is "famous" and "known". It means that they are good hearted and hold others in higher regard than themselves, and that they don't put on airs. They are both as friendly, gracious, and kind as the day is long. I can't say enough good things about them.
My brother and sister were having cow fits wanting us to get something autographed for each of them so I hooked them up, how do you like this? ~giggles~
Anyone with siblings will get a giggle out of this one. I haven't decided which one I'm going to give it to yet…
Back to the cake
Pour in half of your cake batter and top with half of your chopped apples.
Generously sprinkle those with half of the cinnamon sugar mixture.
Then top with the rest of your cake batter.
Now add the rest of your apples to the top and sprinkle them with the remainder of the cinnamon sugar mixture.
Bake at 350 for about an hour to an hour and ten minutes.
This is what it looks like after about fifteen minutes.
It was pretty cool looking so I took a photo in case any of y'all are as easily amused as I am
While that is baking let me tell you what Mama and I were up to this past weekend!
We went to the Lifeway DotMom conference in Birmingham, Alabama and I wish all mothers could go to one of these! It was SO encouraging and just gave mothers a weekend of being built up, enriched, and encouraged.
Whoops! Is that the oven timer?
Our cake is done!
Allow to cool in pan for ten minutes before turning out to cool completely.
Before serving, dust with confectioner's sugar.
Enjoy this dense, moist, and lightly sweet cake 🙂
Please note: This is not a really sweet cake, it is more filling like a coffee or pound cake. If you're looking for a sweeter apple cake, I suggest trying Apple Dapple Cake. Actually, the best thing you could do is make both! heehee!
Tune in to Facebook of your Email this week while we embark on APPLE WEEK! I'll be sharing delicious apple recipes with you each day!
To subscribe by email, click here.
To join us on Facebook, click here. 
Ingredients
Cake
3

cups

all purpose

plain flour

2

cups

sugar

1

tablespoon

vanilla

1

cup

vegetable oil

1/2

cup

orange juice

4

eggs

3

teaspoons

baking powder
Filling
1/2

cup

sugar

3

tablespoons

cinnamon

5

medium apples

peeled and chopped
Instructions
Generously grease a bundt pan and preheat oven to 350.

Combine all cake ingredients in a large mixing bowl and mix with electric mixer until well blended and smooth.

Pour half of batter into bundt pan. Top with half of chopped apples.

Stir together 1/2 cup sugar and 3 tablespoons cinnamon. Sprinkle 1/2 of this over the apples.

Pour remaining batter over apples and top this with remaining apples and remaining cinnamon sugar.

Bake at 350 for 1 hour to 1 hour, 10 minutes. Allow to cool in pan for ten minutes before turning out to cool completely.

Dust generously with confectioner's sugar before serving.
"Good nature will always supply the absence of beauty ;

but beauty cannot supply the absence of good nature.

~Joseph Addison
Yum