Hey, howdy, hey, welcome to another new recipe! This, of course, is one of my favorite kind of recipes. Dump the stuff on a pan, toss it, and cook it. A dish with many flavors simplified and made on a single sheet pan, with the ability to make plenty for a crowd or just your family.
I LOVE fajitas and my favorite part is the onion and bell pepper blends. Funny enough, my husband hates that part so I usually end up eating his share of the veggies and he ends up eating part of my share of the meat. Our daughter often eats just a plain tortilla but she's slowly coming around and expanding her horizons a bit. Until then, my job is to prepare supper, not to cater it, so they learn real quick to find something they like out of each spread and if that ends up being plain tortillas, so be it. 
These fajitas are sure to be a new favorite because of how easy and good they are, but before I dive into the recipe today, I want to talk about disappearing southern accents, particularly in my kids because many of my readers have noticed this from my son's YouTube channel.
If you want to jump right to the recipe, click here. . If you want to visit a while, grab a glass of tea and get comfy.
Both of my kids had fairly strong southern accents when they were little. They spent most of their time around family and we lived in a town on the outskirts of the town we live in now, which was pretty much populated by native Alabamians – so their friends had southern accents as well. That was our "normal". When Brady was in fourth grade and Katy was only three or four, we moved to Huntsville, AL, the city I was born in.
Huntsville is a wonderful city, especially for families – or folks who want to find a job, or singles, or anyone who wants the advantages of a city without the disadvantages of traffic and crime. We have the U.S. Space and Rocket Center, Marshall Space Flight Center, Redstone Arsenal, and more PHD's per capita than any other part of the country. It's basically a city of rocket scientists and engineers and it's a great place to live.
The only thing missing in Huntsville is the southern accents. They've slowly faded as it has become a more global city. We have people from all over the world moving here for the job market, arsenal, and NASA opportunities and it has helped to add a level of diversity and some wonderful opportunities.
But most of my kid's friends are not from here and as they spend time with one another the accent has been homogenized to a great extent. Another culprit for the disappearing southern accent is voice recognition electronic devices such as Siri. If you have an accent, have you ever tried talking to Siri? Even I have learned to slow down, make my words clipped and more precise, and basically alter or forcibly diminish my natural way of speaking as much as possible in order to be understood.
So is that a bad thing? Well, yes and no. I certainly don't mind hearing other accents. In fact, I find them fascinating, and the sound of my child's voice is a blessing no matter how it sounds. I find it funny how two generations can sound so very different. From a historical standpoint and from a heart standpoint, I have to admit that my heart smiles and my mind is taken back to my childhood days whenever I hear someone with a strong southern drawl. I miss it and I treasure it. At the end of the day, it is what it is. Life goes on regardless of whether "there" is a one or two syllable word, and I'm blessed to be able to live it.
Here is a video of my kids back when they still had accents. I had to enhance the audio some to be able to hear them. Note that at this age my Katy did NOT have an inside voice and her voice is pretty high pitched. It drove us all crazy but she grew out of it (thank goodness). You can hear Brady better a few seconds in when he takes over recording and begins narrating. Listen to how he rounds his words, drops the "g" on the end of them, and adds in syllables to simple terms like "there" and such. To hear how he sounds now (it is a striking difference), click here to visit his Youtube Channel OR click here to see my favorite video that he has done lately. 🙂
No matter how you sound, I think we can all agree that the accent of our mothers and grandparents brings back memories of our childhoods and in today's world, those memories of simpler times become all the more sweeter. And no matter what type of accent you grew up hearing, I hope your heart gets to hear it again whenever you need it most in your life.
Let's make some fajitas.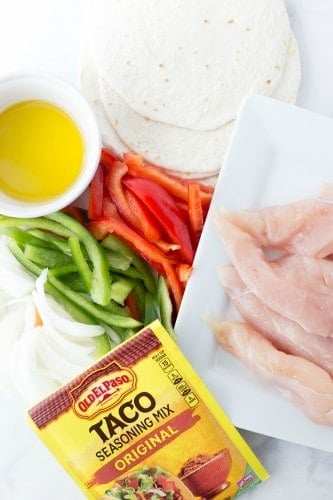 Ingredients are simple: Onion, Bell Peppers (any color you like), Chicken Tenderloins (about 2 pounds), a little bit of Olive Oil, and a package of your favorite taco seasoning mix.
Slice your onions and peppers and place them, along with chicken, on a rimmed baking sheet. Drizzle with Olive Oil and then toss to coat. You'll use about 4-5 tablespoons of oil.
Sprinkle ingredients with taco seasoning. Toss one more time to coat and you're ready to cook these!
Bake at 400 degrees for 25-30 minutes or until chicken is done. Serve on flour tortillas and enjoy!
Printable recipe below!
Ingredients
1

onion

1-2

bell peppers

approximately 2 pounds raw chicken tenderloin strips

1

packet taco seasoning mix

4-5

tablespoons

Olive Oil

or however much you like
Instructions
Slice bell peppers and onions. Place on large rimmed baking sheet along with chicken.

Drizzle with olive oil and toss with hands to coat. Sprinkle with entire packet of taco seasoning and toss with hands again to coat.

Bake at 400 for 25-30 minutes, or until chicken is cooked through. Serve on flour tortillas and enjoy a delicious low fuss meal!
You might also enjoy this recipe! Grandmama's Tex Mex Dip
Yum