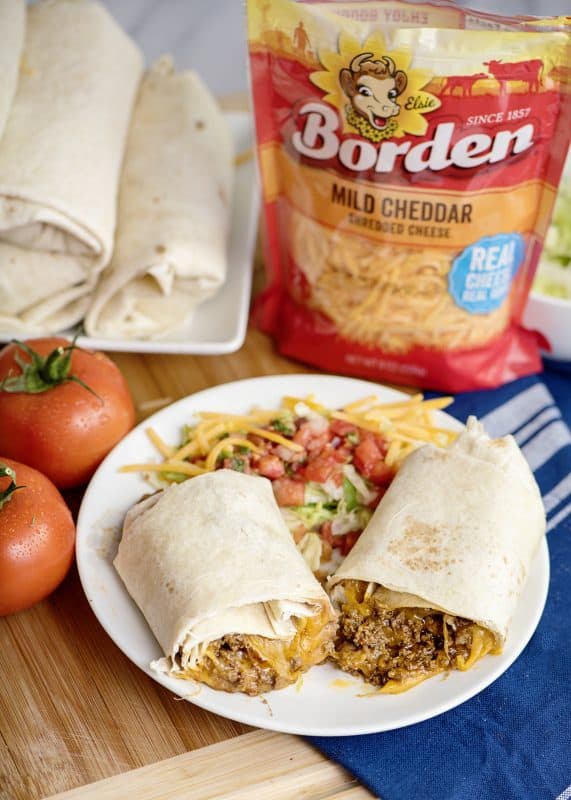 Today I'm teaming up with my friends at Borden ® Cheese to share a recipe that gets us through any busy season – and this time of year is the perfect example of that! We have so much going on: holiday parties, a son home from college with his friends coming and going, multiple houseguests, and lots of family dinner guests. In the hustle and bustle of the holidays, I rely on these quick and easy cheesy beef and bean burritos on those days where time gets away from me and supper sneaks up!
Make It Ahead of Time
By making a big batch of these ahead of time, not only do I save us money but I can add some fresh salsa and a salad and put a big family meal on the table in no time, regardless of how many people show up for that meal! Whether it's gathering in the kitchen to whip up the burritos or sitting down to enjoy the meal together, Borden® Cheese is the perfect addition to any family occasion during the heartwarming season.
You'll need: 20 large flour tortillas*, vegetarian refried beans, 3 pounds of ground beef, taco seasoning (three packs worth), and two bags of mild cheddar Borden® Cheese.
*You can use any size tortilla you like but I like to use large ones so that I can fold it in a neat little pocket, making it easier to eat.
Borden® Cheese also comes in Mozzarella, Mexican, Swiss, Sharp Cheddar, American, Colby Jack, and more. Their cheese is available as singles, shreds, chunks, slices, strings, and snack bars at major grocery stores and independent retailers across the United States.
Brown your beef in a large skillet, chopping up into fine pieces. Drain off any grease.
Add in 3 packages of taco seasoning and 3 cups of water. Bring this to a simmer over medium high heat and cook, stirring from time to time, until thickened.
Remove from heat and allow to cool slightly while you assemble ingredients.
I like to add some fresh salsa to mine and if we are going to be eating them fresh, I add lettuce. However, I make sure not to add lettuce to any we will be freezing.

We are going to add lots of Borden® Cheese!
In the very center of your burrito, place a good spoonful or two of refried beans.
Top that with a few spoons full of seasoned ground beef.
and a generous handful of Borden® Cheese.
Like this.
Did you know that Borden ® Cheese comes from American owned family farms?
Now I fold up the bottom…
And then the top.
and then I fold over each side
to make a little pocket where all of the ingredients are fully contained.
Now we have a perfectly folded burrito that won't dump the contents into our lap as we eat it!
Repeat until you've made twenty burritos.
At this point, I like to freeze them. There are a few ways to do this.
I place some in individual small freezer bags for quick grab and go meals. Others, I place in gallon size freezer bags and lay these bags flat with the burritos not touching until they are fully frozen so they don't get stuck together. You can also separate them with waxed paper in the bag as well.
To reheat, all you have to do is place a frozen burrito on a microwave safe plate and microwave for about two minutes.
And ooey, gooey, cheesy goodness is ready whenever you need it!
In a season of rich foods and sweet treats, never underestimate the comfort of a cheesy beef and bean burrito!
This is exactly why my mother makes a big Tex Mex meal for our December holiday dinner at her house. I hope you get to make some of these soon. They can be life savers, sanity savers, and season savers.😉 Enjoy!
Ingredients
20

large

flour tortillas

3

pounds

ground beef

3

packets

taco seasoning

2

14 oz cans

vegetarian refried beans

2

8-ounce packages

Borden® Cheese Mild Shreds
Instructions
Place ground beef in large skillet and cook, chopping fine while doing so, over medium high heat, until fully cooked and no longer pink in the center. Drain off any grease.

Add taco seasoning and three cups of water. Bring to a simmer over over medium heat, stirring fairly often, until thickened. Remove from heat and allow to cool slightly.

Assemble each burrito by spreading about two spoons full of refried beans in the center of each burrito and topping that with about two spoons full of seasoned beef and a generous handful of shredded cheddar cheese.

Fold burrito up by folding each side into the center, according to directions and photos in this post. Place burritos into zipper seal freezer bags, not touching or separated by waxed paper, and freeze.

To reheat, place a burrito, uncovered, on a microwave safe plate and microwave for two minutes, or until heated through.
Nutrition
This post is sponsored by Borden® Cheese. All opinions are my own and my opinion is that cheese makes meals better. 😄
Make sure you follow Borden® Cheese for more cheesy goodness!