French Breakfast Puffs with Fresh Strawberries
French breakfast puffs are light and fluffy vanilla muffins with a deliciously buttery cinnamon-sugar topping. Serve with fresh strawberries for the perfect breakfast treat.
I'm sharing this easy french breakfast puffs recipe with you as part of my White Lily series. A family-friendly company, White Lily encourages folks to share their knowledge in the kitchen and help pass on their cooking heritage.
This recipe is perfect for that because my mother taught me how to make these when I was a little girl. They are a simple muffin, perfectly suited to a cup of coffee or juice, and especially delicious when paired with fresh fruit like I'm doing here.
Despite the name, french breakfast puffs are not French. The recipe first appeared in a Betty Crocker cookbook decades ago and immediately became a favorite Southern breakfast treat. They're super quick and easy to make and I bet you already have most of the ingredients at home.
The lightly cinnamon-spiced vanilla muffins are perfectly tender with a golden brown top, which we then dip in melted butter and cinnamon sugar. Serve them with some fresh strawberries and you have yourself a winning breakfast.
If you like snickerdoodle cookies or cinnamon toast, I just know you're gonna fall head over heels for these breakfast puffs as well. So let's make some french breakfast puffs today and make sure you share the results with someone you love!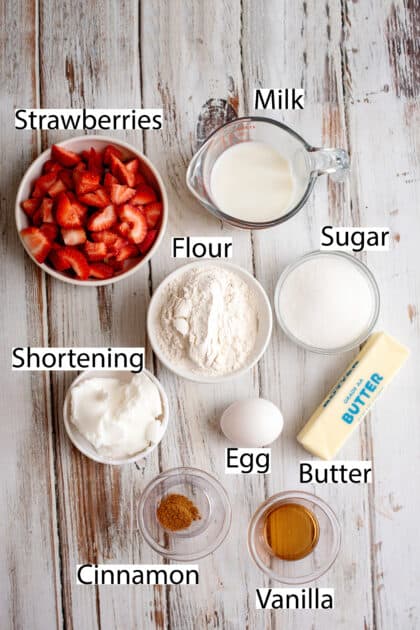 Recipe Ingredients
Self-rising flour
Ground cinnamon
Granulated sugar
Unsalted butter (or margarine)
Egg
Milk
Shortening
How to Make French Breakfast Puffs
Place 1/2 of the sugar, egg, and shortening in a medium bowl.
Mix.
You saw that coming, didn't ya?
Gradually add in milk, vanilla extract, and flour.
Or just dump it all in like I do.
Now mix that up.
Boom! Here is our muffin batter.
Spray a muffin tin with some cooking spray.
This recipe makes 15 but I fill mine a little more and just spread it out over 12.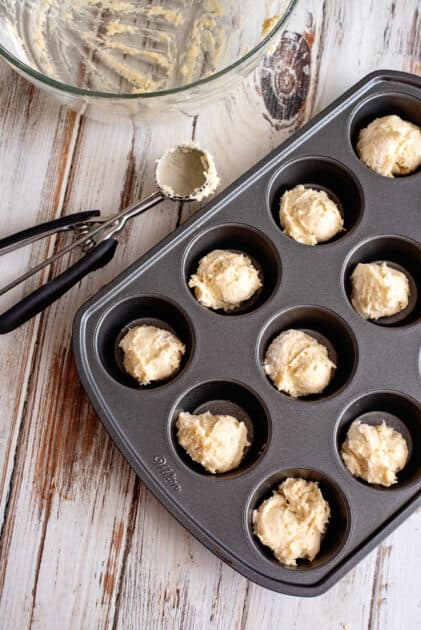 Divide batter evenly into each muffin cup and then bake at 350 for 20-25 minutes.
While those are cooking, wash and chop up some fresh strawberries if you'd like. Sprinkle them with a little sugar to taste.
Stir to coat and set aside for a bit so the strawberries can release their juices.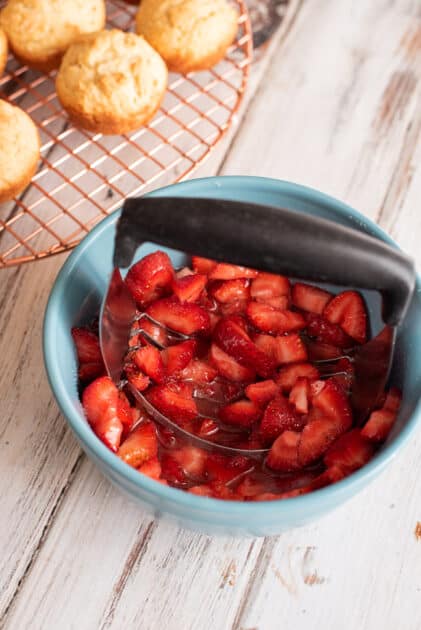 Then, to make them even saucier, smash them up a wee little bit with a fork or pastry cutter.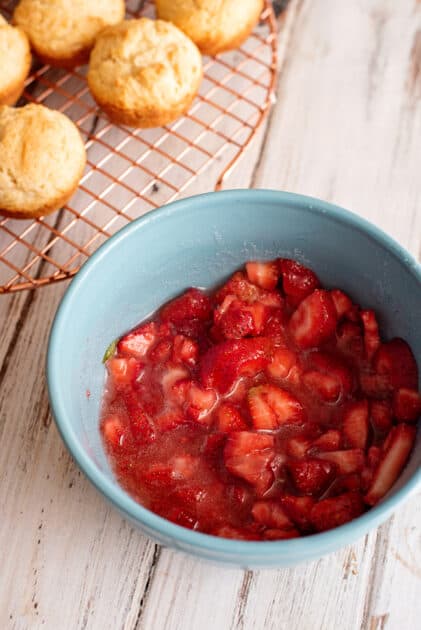 Like so.
Stir remaining sugar together with cinnamon and place in a small bowl.
Melt butter in another small bowl.
Dip the top of each muffin in the butter.
And then dip the buttered top into the cinnamon-sugar mixture.
Like this.
Serve warm muffins plain…
With fresh strawberries…
Or add some whipped cream!
Storage
Store puff leftovers in an airtight container at room temperature for up to 2 days. You can quickly reheat them in the microwave or air fryer.
You can also freeze them for up to 3 months. Thaw at room temperature before reheating as above.
Recipe Notes
The original recipe calls for ground nutmeg, and I note that I don't use it in my first cookbook (page 190), so I'll note it here as well. I don't personally like ground nutmeg (although I'm sure it's very nice and comes from a lovely family and all that), so I use ground cinnamon in its place.
If you

have

and

want to make mini french breakfast puffs, they'll take between 12 and 14 minutes to bake instead. They'll resemble delicious baked doughnut holes.
Instead of only dipping the tops, go ahead and roll the entire muffin in butter and then cinnamon sugar.
For nutty french breakfast puffs, add 2 tablespoons of finely chopped nuts to the cinnamon-sugar mixture.
Recipe FAQs
Can I double this recipe?
Absolutely! It's so easy to double this recipe and make 24 breakfast muffins. Enjoy!
Check out these other scrumptious muffin recipes:
Gluten-Free Banana Nut Muffins No Dairy or Eggs
Ingredients
1/2

cup

shortening

1/2

cup

sugar

1

egg

1 1/2

cups

self-rising flour

1/4

teaspoon

nutmeg

I substitute cinnamon

1/2

cup

milk

1

teaspoon

vanilla extract, optional
Topping
1

teaspoon

ground cinnamon

1/2

cup

or 1 stick of melted margarine or butter

1/2

cup

sugar
Instructions
Preheat the oven to 350 and grease 12-15 medium muffin cups (I just divide it among 12).

In the bowl of an electric mixer, beat the shortening, 1/2 cup of the sugar, and the egg thoroughly. Mix in the flour and nutmeg (or cinnamon as a substitute) alternately with the milk and vanilla (if using vanilla).

1/2 cup shortening,

1/2 cup sugar,

1 egg,

1 1/2 cups self-rising flour,

1/4 teaspoon nutmeg,

1/2 cup milk,

1 teaspoon vanilla extract, optional

Divide batter evenly among prepared muffin cups and bake for 20-25 minutes, until golden brown.

In a small bowl, mix the remaining 1/2 cup sugar and the cinnamon together. Immediately after baking, dip the puff tops in the melted margarine and then in the sugar mixture. Serve hot.

1 teaspoon ground cinnamon,

1/2 cup sugar,

1/2 cup or 1 stick of melted margarine or butter
Nutrition
"On days when warmth is the most important need of the human heart, the kitchen is the place you can find it"
~E. B. White
Submitted by Jackie. Click here to submit your own.
Special thanks to White Lily for sponsoring this post.