How to Make Ground Beef Stew
If you don't have time to visit today, just use that "Jump To Recipe" button above.
My Grandaddy loved stews and soups and this Ground Beef Stew was one of his favorites. He had a special bowl that he liked to eat stew out of and Grandmama always served him in that bowl.
I have one rule in my house about mornings, I don't care how early you get up as long as you wake up happy. From my experience it's not very difficult to do.
A Positive Attitude
A positive attitude will bring you happiness every time, so why not start your day off with one? Even if you find yourself having to go back in your own bedroom and come out again! ~grins~
And to make your day a little brighter, here is a fuss free, economical, and delicious beef stew to warm you from the inside out. I just love stew weather!

Ingredients you'll need:
Potatoes, Carrots
Onions
Diced tomatoes
Green Beans
Beef Bouillon Cubes
Ground Beef
1-2 cans of Spicy Hot V-8 juice
You can use beef broth in place of the bouillon cubes but I prefer them because they are less expensive and take up less space when storing them (a small container of these cubes makes about as much broth as twenty five cans of beef broth). You can also substitute some other bean of your preference for the green beans or add any number of other vegetables.
Stews are great to tweak and really make them your own. Play! have fun!
I decided to bring this stew to you using ground beef because it is so economical and most of us have it on hand. This stew is incredibly flavorful and easily adapted to what you have in your pantry and freezer.
I have one special ingredient that I do hope you'll try though, and that is Spicy Hot V-8 juice. This is what gives my stew such a full bodied flavor without me having to cook it all day and add a gazillion different spices. Don't worry though, it doesn't make it hot at all – I promise!
Have you ever had the beef stew from Cracker Barrel? To me, this ground beef stew made with spicy V-8 tastes a lot like that.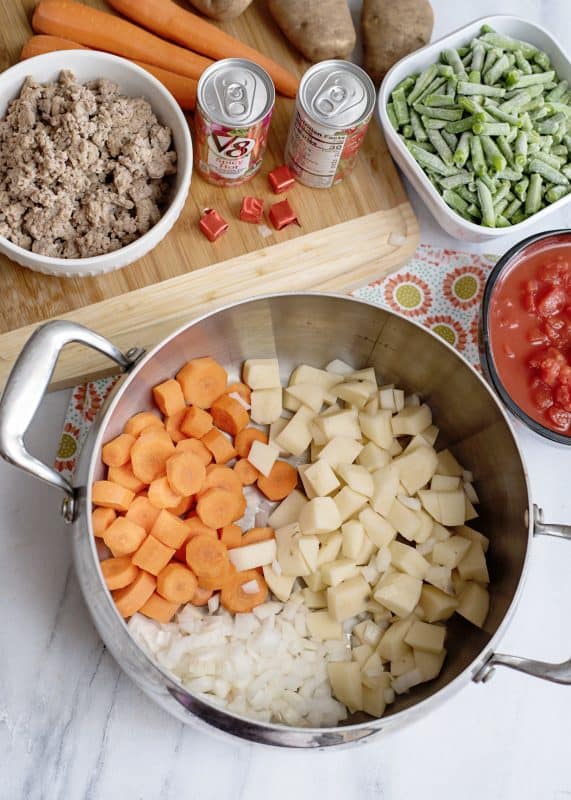 Peel and dice your carrots, potatoes, and onion. Place in a large pot.
As a shortcut you can use a 1 pound bag of frozen cubed hash browns for the potatoes. 🙂
Add can of tomatoes and bag of frozen green beans.
Exact quantities are in the printable recipe card at the bottom.
Add four bouillon cubes and two cups of water.
Add in Spicy Hot V-8 juice.
I am using two cans in mine but you can use one and taste it to see if you want to use the second.
I used two and it still wasn't hot, just very flavorful.
Bring this to a boil and then reduce heat and cover and simmer for an hour or so, until vegetables are tender.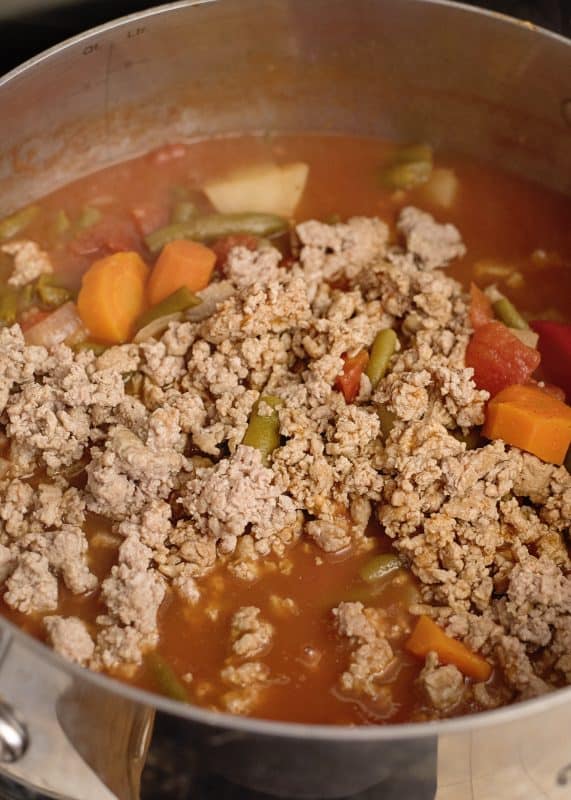 Add ground beef to complete your ground beef stew.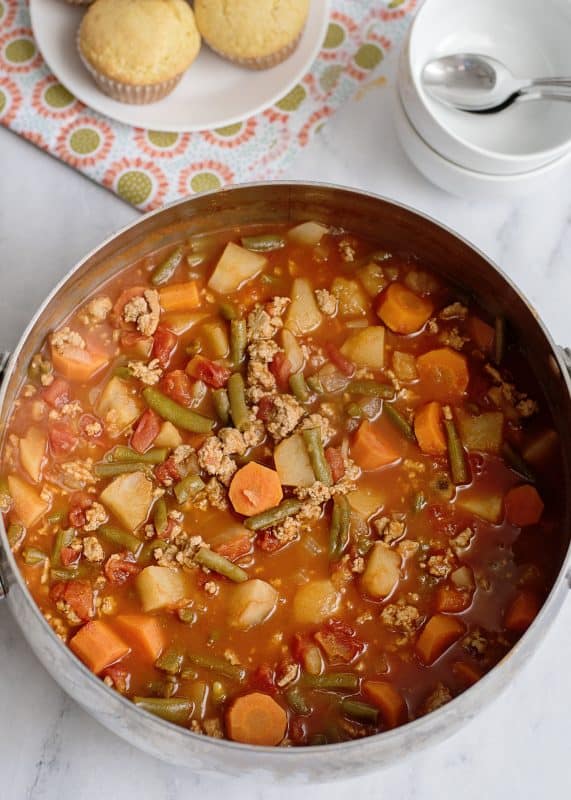 Stir in a teaspoon of salt.
You won't need any pepper because of the V-8 juice but you should salt it to your personal taste. I like to salt it shortly before serving because that gives me a chance to taste the finished product and see about how much it needs.
Serve with crackers or cornbread.
This ground beef stew freezes well so its still great to make if cooking for fewer people. I use those Rubbermaid sandwich size containers since they are shallow and it heats up easier for a nice lunch or supper for one or two. I hope you get to make this heartwarming meal soon!
Ingredients
1-2

pounds

ground beef, cooked and drained, or see note

2-3

Carrots

diced

1

Onion

peeled and chopped

5-6

potatoes

peeled and diced

2-3

cups

frozen green beans

29

ounce

can diced or crushed tomatoes

1-2

6 ounce

Cans Spicy Hot V-8 juice

I use two

2

cups

water

4

Beef Boullion Cubes

or 4 cups beef broth

1

teaspoon

salt

more or less to taste
Instructions
Place everything in a pot. Bring to a boil and reduce heat to simmering. Cover and cook for an hour or until vegetables are desired tenderness. Even better reheated the next day!
Notes
This can be assembled in the morning and put in your slow cooker all day on low.
If ground beef is lean, there is no need to cook it ahead of time, just crumble it up or break off bite size chunks and you can add it in raw. Otherwise, precook it and add in.
Freezes well. I freeze mine in sandwich size containers for easy reheating as single meals.
TIP: My beef is already browned and waiting happily for me in the freezer to save making another mess.
To see how I process large quantities of ground beef with ease, click here.
BE the change you want to see in the World.
Join me on Facebook by clicking here
By the way, you may also like these stew recipes"
Budget Friendly & Delicious Lentil Stew
This ground beef stew recipe featured on Meal Plan Monday
Yum