Hobo packets are such a quick, easy, and filling dinner option. In a foil parcel, we add tender ground beef, veggies, and a delicious marinade and simply bake it in the oven.
In my quest to give you a quick and easy dinner recipe each week, today I am bringing you hobo dinner foil packets. The name is weird, but the meal is anything but! These are traditional boy scout or camping meals and with good reason. Kids just love getting to "design" their own dinner and there is very little work for the adults. Do you know how you often feel you are running a short-order kitchen? Having to make four or more different dishes for special orders can be so very frustrating. One doesn't like onions, the other doesn't like carrots, yadda yadda yadda. Hobo packets make that easy.
These hobo dinners in the oven can also be easily customized to suit you and your family. Today in our hobo packets, I've got ground beef patties, potatoes, carrots, and onion in a delicious marinade. All you have to do is wrap all of it in a foil parcel, bake it in the oven, and dinner is served.
But you can also use ground chicken, ground turkey, or ground pork. Alternatively, use whichever veggies you like or make this into a great vegetarian meal simply by omitting meat and adding more veggies!
These hobo dinner packets tick all the boxes. They're cheap, quick, easy, healthy, and filling. There's truly not much else you could want in a main meal. So let's get assembling our hobo packets, shall we?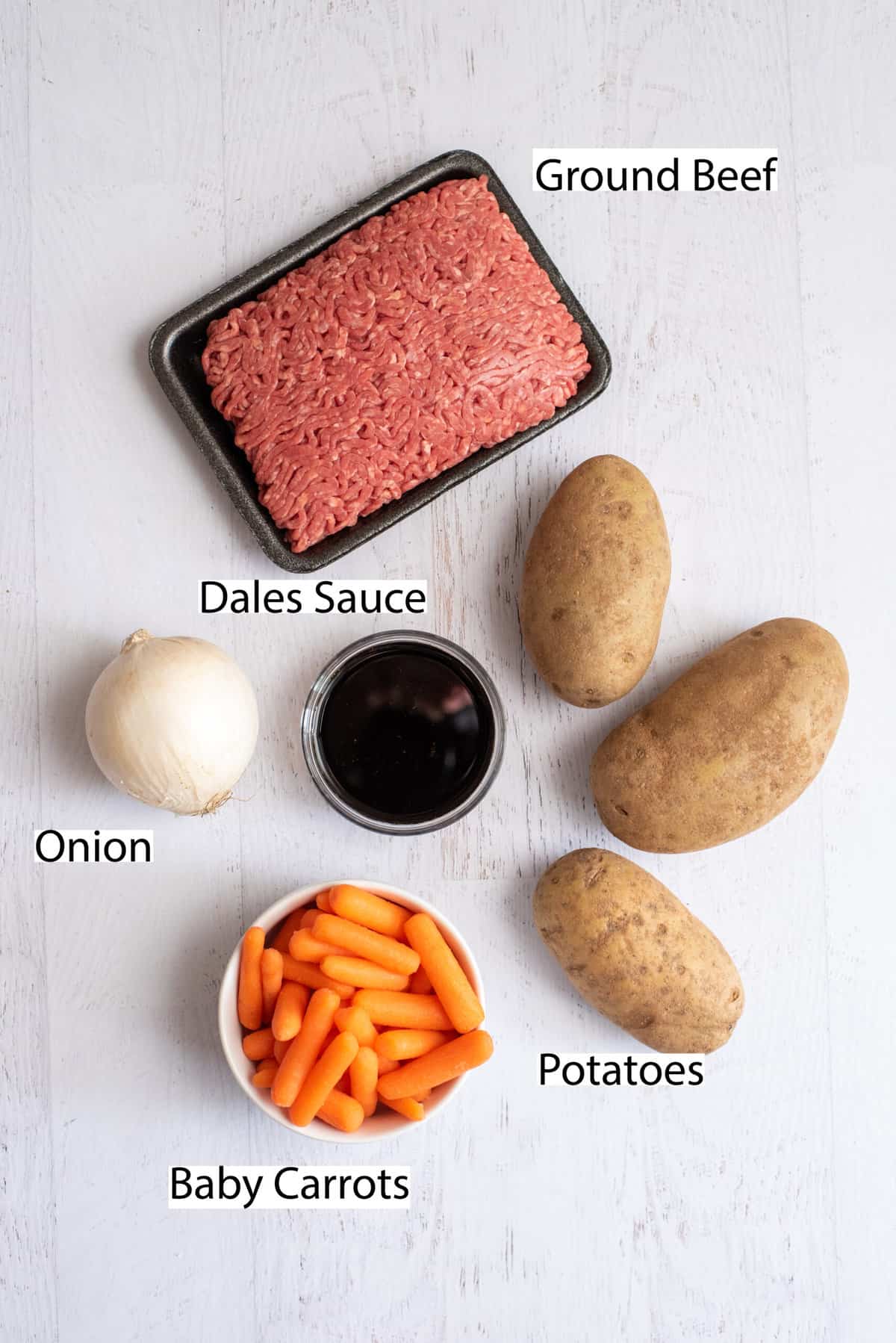 Hobo Packets Recipe Ingredients
Potatoes
Baby carrots
Yellow onion
Ground beef
Marinade/sauce (I am using Dale's Marinade and Sauce).
Helpful Kitchen Tools
How to Make Hobo Packets
Peel and slice onion and slice potatoes.
I don't peel my potatoes for this but you can if you prefer!
Make your hamburger patties by shaping the ground beef into a patty shape.
Tear off a large sheet of aluminum foil and place your beef patty in the center.
At this point, you can let your kids make their own if you like. Now that you've already placed the nasty raw meat so they don't have to touch it!
Put a few onion slices on top and then pull up the sides so it makes a bit of a bowl to hold the rest of our toppings.
Like this.
Now top with your potatoes…
And carrots.
If you would like to add sauce, add about two tablespoons now.
This will make enough juice to cook just fine without sauce if you want to just leave that out.
Now close that up kind of like a hobo sack!
I always add another sheet and close that up around it too, but you don't have to.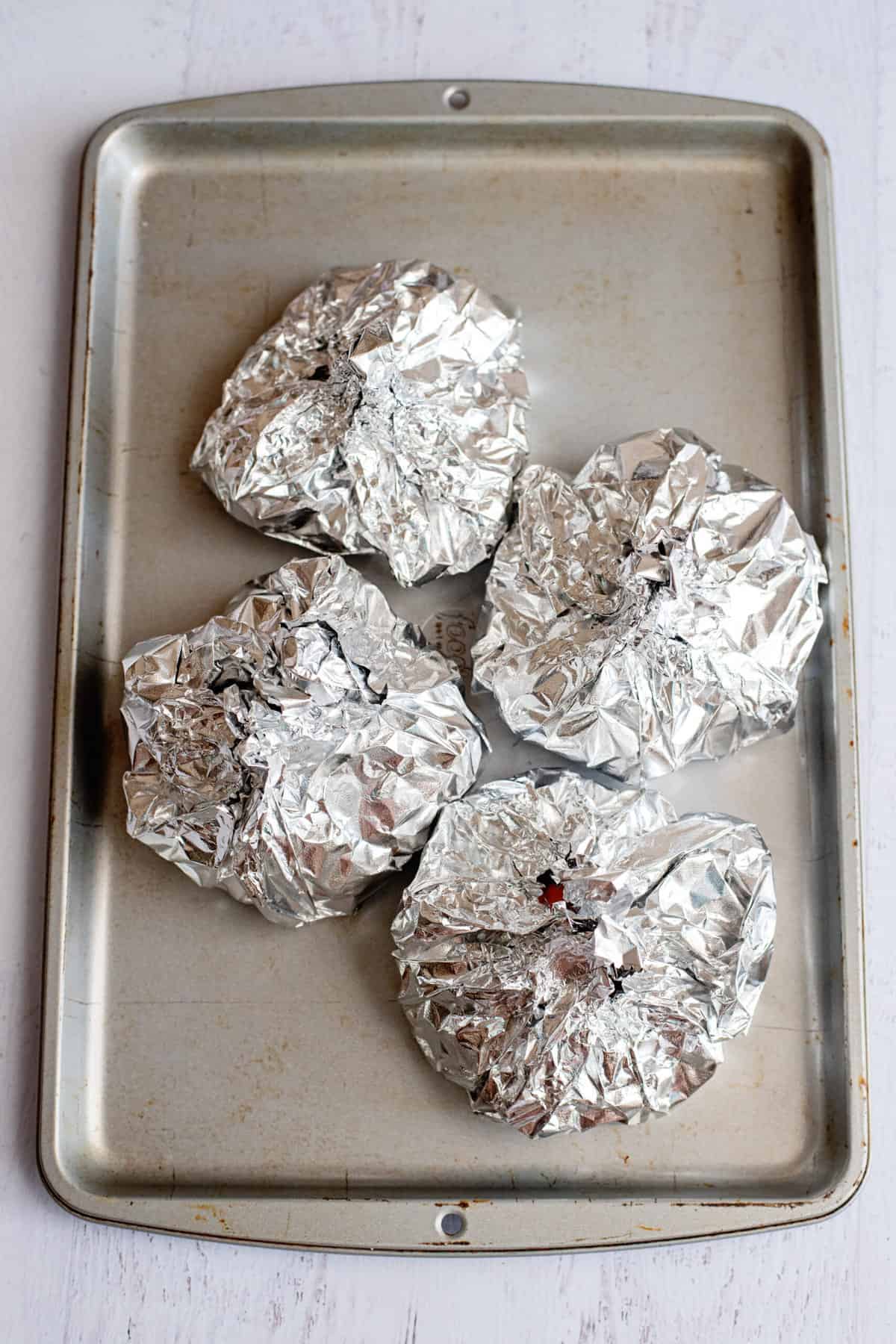 If I have one that is different or for someone in particular, I like to have fun with it.
This bunny rabbit is for my son and it doesn't have any onions in it.
Voila! Hobo packets!
Now, when it comes time to cook the hobo dinners in the oven, all you're going to do is place these in your oven, right on your rack, and cook at 350 for 45 minutes to an hour, until the meat is as done as you like and vegetables are tender.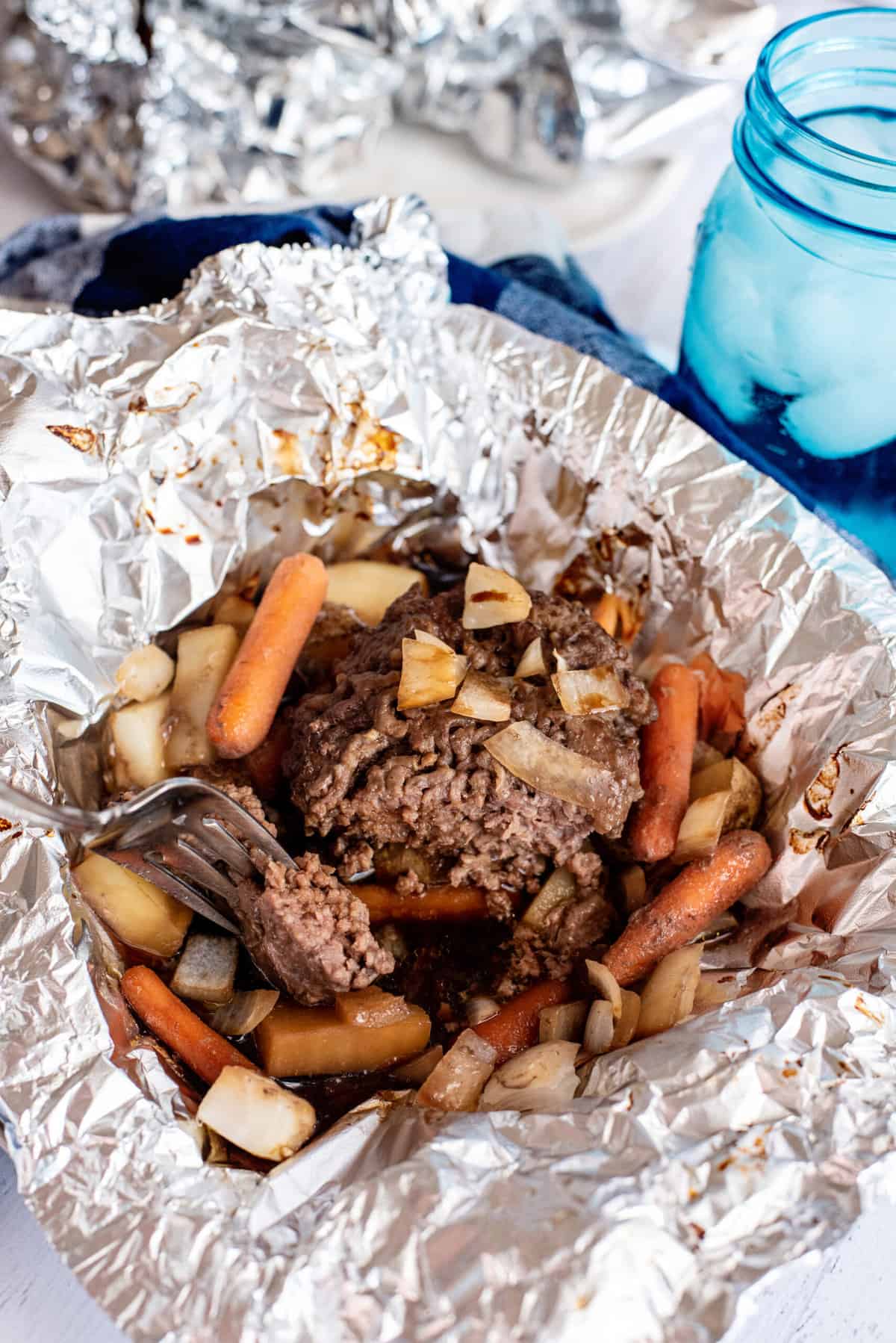 All of the recipes Mama and I have seen for hobo packets say to cook them for 20 to 30 minutes. But we've NEVER had ours be done in that amount of time!
Serving
I place the hobo dinner in a bowl and just open the packet up a bit and let folks eat right out of the packet!
I am so glad I have one of these left in the fridge! I'm popping it in the oven to heat up for myself now!
Hobo Packets Storage
You can store cooked or uncooked hobo foil packets in the fridge for up to 4 days. Then bake as instructed or reheat in the oven or air fryer.
Recipe Notes
If you don't have baby carrots, just peel and slice regular carrots.
Other great veggies to use include sweet potato, red bell pepper, sliced mushrooms, parsnips, and Brussels sprouts.
I recommend using a good baking potato, like Russet or Yukon Gold potatoes. Alternatively, use baby potatoes.
Instead of ground beef, you can use other ground meat as mentioned, or smoked sausage, steak, sausage cut into patties, or chicken breast.
Remember you can use any marinade or sauce you like, including homemade bbq sauce, ketchup, or this all-purpose marinade. The choice is yours! You can also leave it out or use cream of mushroom soup instead.
For extra flavor, add up to 2 teaspoons of your favorite dried herbs: Italian seasoning, garlic powder, onion powder, paprika, and/or dried thyme are all great options. I recommend adding this to the ground beef with salt and pepper, mixing it with your hands, and then shaping it into patties.
Add a cheese slice to the top of your hamburger patty when you place it in the foil packet if you like.
Recipe FAQs
Can I make hobo packets ahead of time?
Absolutely! You can make these in the morning or even the night before and then just pop them in the oven when you are ready! I have also made them from start to finish the day before and then just put the packets back in the oven to heat up for supper.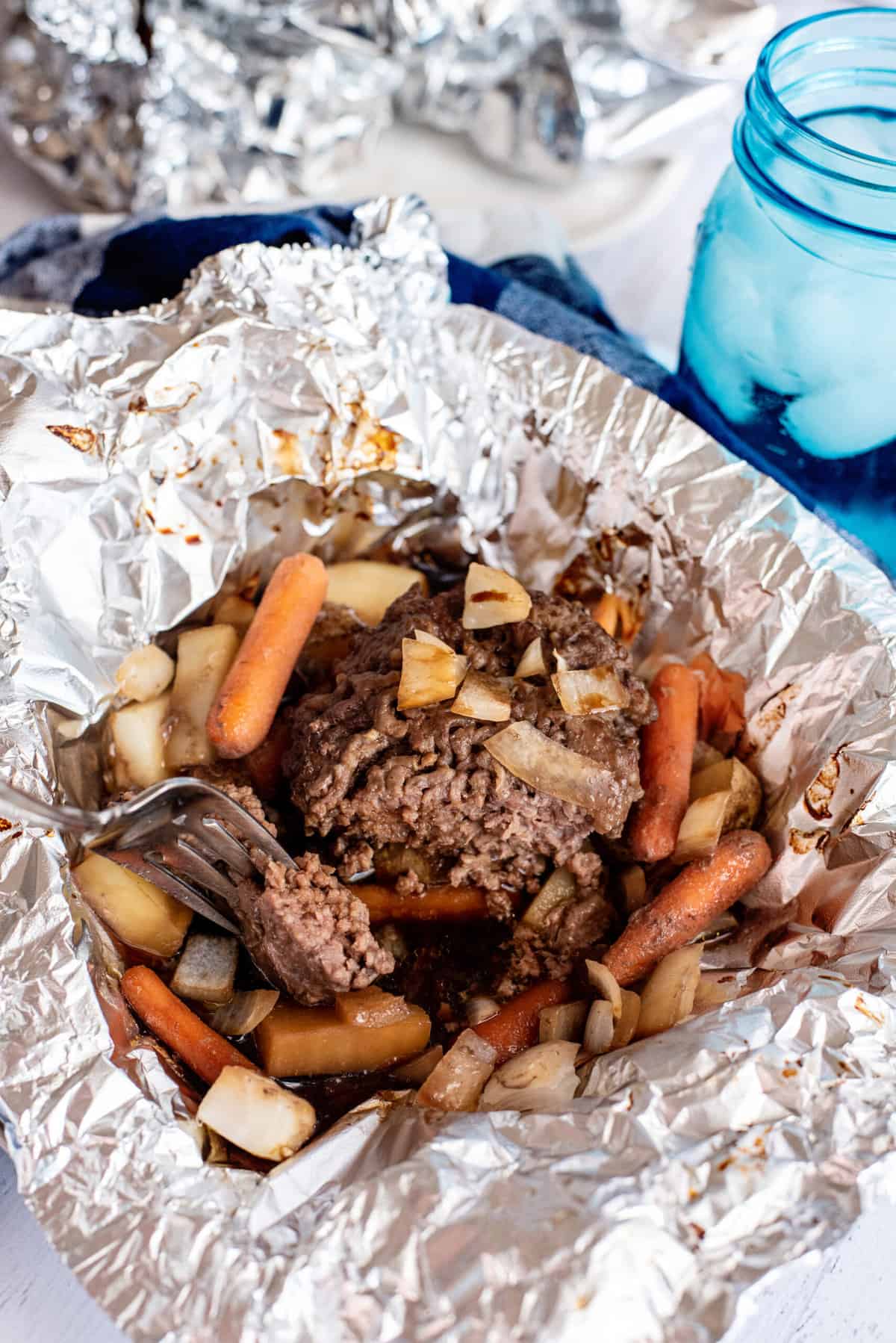 Ingredients
1

lb

ground beef

1

large

onion

4

large Russet potatoes

baby carrots

8

tbsp

Dale's Sauce, optional
Instructions
Make patties out of ground beef.

Peel and slice the onion. Slice potatoes into chunks.

1 large onion,

4 large Russet potatoes

Place each patty in the center of a large sheet of foil. Top with onion, potatoes, and carrots. Add sauce, if using.

1 large onion,

baby carrots,

8 tbsp Dale's Sauce, optional,

4 large Russet potatoes

Close the packet and seal it well. Bake it in the oven at 350 for 45 minutes to an hour until done.
Nutrition
You may also like these easy dinner recipes: