Low Carb Lasagna Stuffed Chicken
I was hankering from some lasagna today but wanted to make it low carb. So I drummed up this post from last year and simpler times. So forgive me for posting it again but I think I found this again for more than the low carbs. The message behind it helped remind me that in times like we have now, being present when we are around each other much more is just as important as being in the moment at an athletic event. I know I can just as easily get stuck in front of my devices (and for sure our kids do too) almost as much as I get stuck behind them. So here's a stroll down memory lane and then the tastiest Italian low carb recipe I have had in a while.
Ricky and I love low carb meals and this one is so good we sometimes don't even have sides with it! When we do, a nice side of fresh green beans or a salad work beautifully. With Brady away at college, this is one of my "meals for two" that I make and so this recipe is a smaller scale because most of my recipes are usually for around four people. Of course, you can double, triple, or do whatever you need to do to be able to make it for the number in your brood.
If you want to skip right to the recipe, scroll down to the first photo or scroll all the way to the bottom to the printable recipe card. If you've a mind to visit a spell, I have something to share that I think is vitally important for anyone who is a parent or knows a parent to read.
My niece is a cheerleader, an ice skater, and a gymnast. She is an incredible athlete. She competes and her team has developed a habit of winning. This is not the luck of the draw though, they work hard – for hours – every day. A few days ago my sister shared something she'd written with me. She texted it and said "can you clean this up?". I became the family proof reader and smoother outer shortly after I learned to read and write. Reading over it, I helped reiterate a point here or there, and sent it back to her, my heart still in my throat over what she'd written.
I called a friend to read it to her and could barely make it past the first few paragraphs before I had to stop, choked up. The truth contained in this cuts deep, and leaves a lasting impression – I hope. After that, I decided that I had to share it here (with her permission) in hopes that we will all take it to heart and share it with all the parents you know. I know I sure have.
~Be in the moment~
Over the years I have been that mom trying to capture all my child's moments on a device. I never realized all I was sacrificing by doing so. We have always been blessed to be part of successful cheer and football organizations so of course I wanted to capture that win for all to see.
This season started with a new cheer organization. It made us all nervous. We had always been part of a small family cheer gym that dominated every competition. This new gym came with new rules- one of which was no recording. We aren't even allowed to have our phone out when our child is on stage.
We are to be in the moment and cheer.
Honestly, I balked at first. Was a little frustrated that I couldn't catch that moment for all to see but in recent competitions I have come to notice something very important.
-It was stunning to realize what all I have been missing by having my phone in front of my face.
-More stunning, was the realization at what all my child has been missing by seeing a quiet mom with a phone in front of her face trying to get that perfect video.
I listen now as all the parents are screaming, cheering and jumping up and down. We watch as all the cheerleaders faces light up with excitement. I have watched our routine ignite with energy and the parents stay in the moment.
This weekend I watched as other teams performed. Hundreds of parents, just like I used to be, filming and trying to not move or make noise to catch that shot. It was painful to see who I used to be in them.
Entire audiences silent as their children performed.
Their athletes performances lacked the energy and zeal that ignites in a child when their parent, the person central to their universe, is standing before them cheering them on.
I'm sure their parents were just as excited as I was but the priority had shifted from encouraging their child in the moment they needed them most to recording the moment in silence to share later.
In many ways, when we do that, we are removing ourselves from the moment as well – whether consciously or unconsciously we decide that we will experience it later also.
But our kids wanted us there with them, as they lived it. They wanted to see our eyes on them instead of our screens, our smiles of pride right then, instead of later when we show a video to friends. There is a moment of connection, as each athlete scans the crowd for their parent and their eyes meet – I see fewer and fewer kids even looking to the crowds now, as we all look the same when we have a phone held in front of our face.
I'm grateful for the gift of the moment that I didn't realize I was missing.
My daughter scans the crowd now, and each time, we lock eyes, and the moment is made.
Fast forward to 2020 and we are seeing a lot more of our kids so I know I have to remind myself to not be stuck in front of the screen either. Be in the moment with them during online classes or after. Keep devices away from the table (I can get to my emails later). Getting stuck in front of the devices makes us miss precious moments as well.
And now, let's make some Low Carb Lasagna Stuffed Chicken!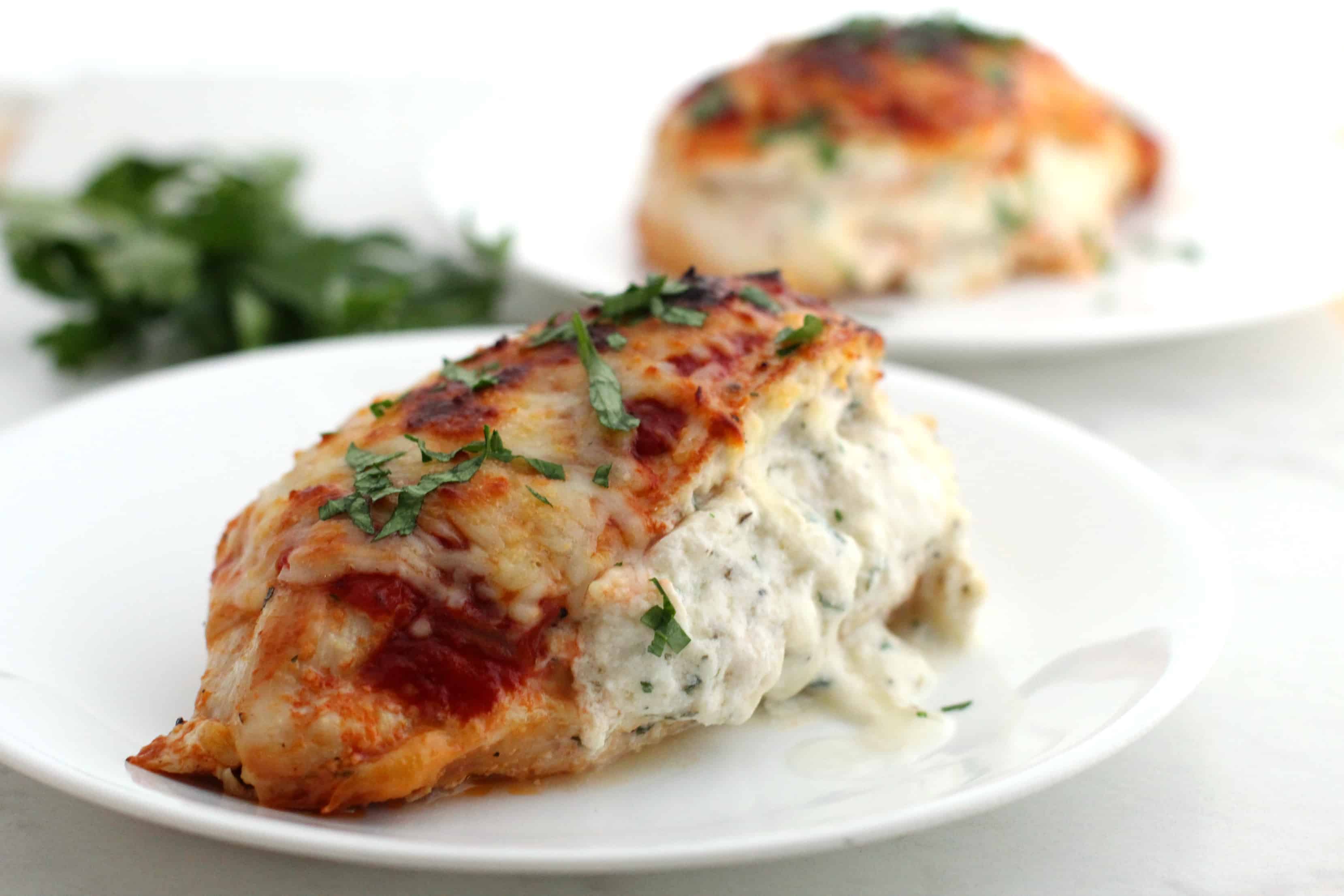 You'll need: 2 chicken breasts, olive oil, Italian seasoning, garlic powder, salt, shredded mozzarella, ricotta, marinara, salt, and pepper.
Note: You can use cottage cheese in place of the Ricotta if you like.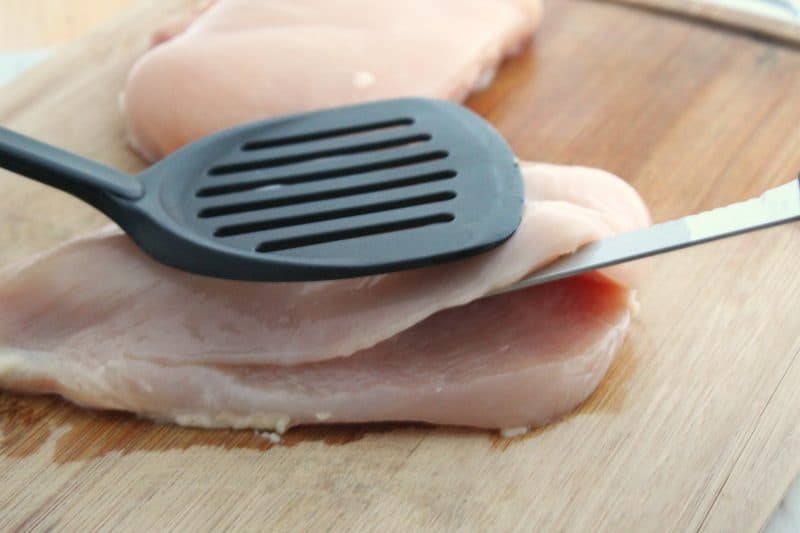 Cut each chicken breast about 3/4 through, being careful not to cut all the way through. You can use a spatula as pictured to hold that slippery sucker down and keep from cutting your hand in the process.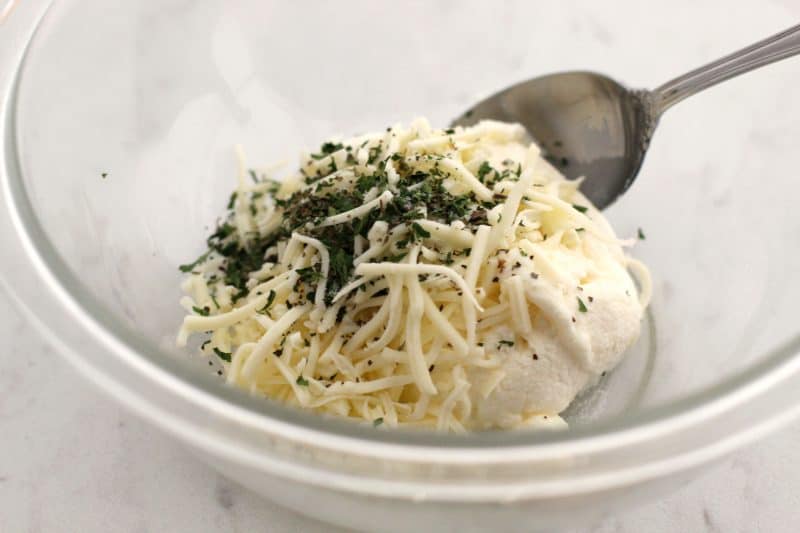 Place 1/2 of the mozzarella, all of the ricotta, Italian seasoning, and some salt in a small or medium mixing bowl and stir until well combined.
Stuff each chicken breast with the mixture. Then, sprinkle them with garlic powder and salt and pepper to taste.
Heat a couple of tablespoons of olive oil in a large skillet (oven proof if you have it) over medium high heat. Place chicken breasts in skillet and cook for about 5 minutes on each side, flipping once.
Top with marinara and remaining cheese.
Place this in the oven at 450 for 10-15 minutes, or until chicken is cooked through.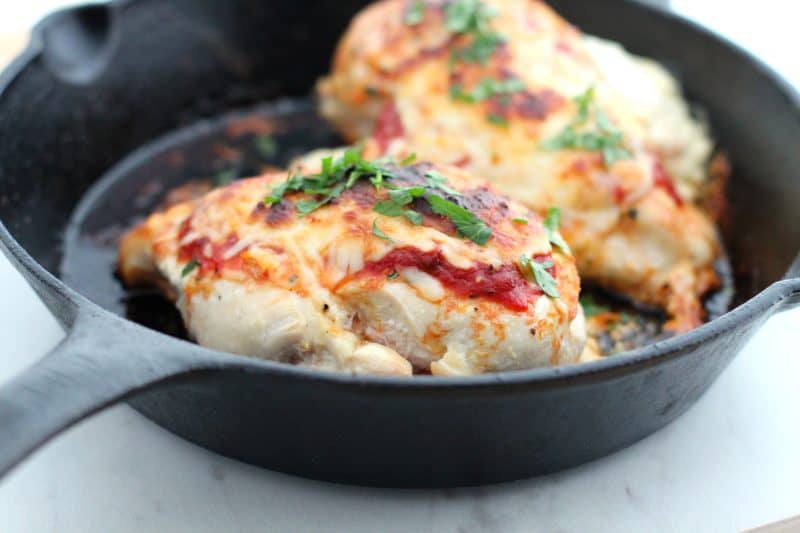 If you don't have an oven proof skillet, just transfer them to an 8×8 and put that in the oven, it'll work just fine.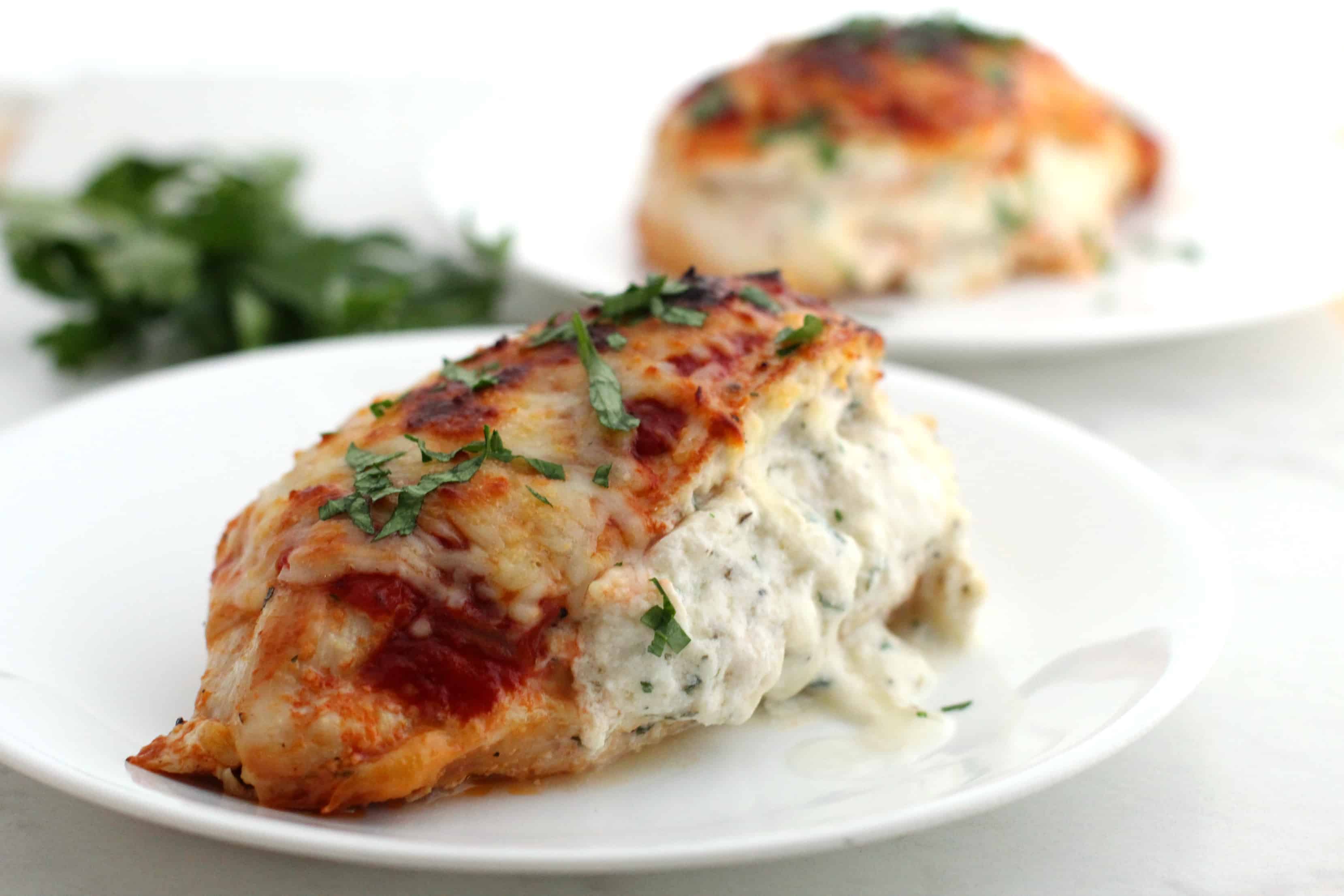 ENJOY!
See all of my Low Carb recipes by clicking here
Ingredients
2

boneless skinless chicken breasts

1

cup

shredded mozzarella cheese

divided

¾

cup

ricotta cheese

1

tbsp

Italian seasoning

1/4

teaspoon

salt

2-3

tablespoons

olive oil

1/2

teaspoon

garlic powder

Salt and pepper to taste for seasoning chicken breasts

½

cup

marinara sauce
Instructions
In a medium bowl, place 1/2 cup of mozzarella, all of the ricotta, Italian seasoning, and salt. Stir until well blended and then set aside.

Place chicken on a cutting board and carefully slice 3/4 of the way through the side with a sharp knife. An easy way to do this is to hold the chicken breast down with the flat end of a spatula. Be careful not to cut all the way through as your goal is to create a pocket.

Heat about two tablespoons or so of olive oil in a large skillet over medium high heat.

Stuff cheese mixture into the pocket of each chicken breast. Season the chicken breasts with garlic powder, and salt and pepper.

Place chicken in heated skillet and allow to cook for about five minutes before flipping to the other side and cooking for another five minutes.

Remove from heat and spoon marinara sauce over each chicken breast. Sprinkle the remaining mozzarella cheese over the top of this.

Place in 450 oven for 10-15 minutes, or until chicken is cooked through. If your skillet isn't oven safe, just transfer them to an 8x8 baking dish and place that in the oven instead.

ENJOY!
Nutrition
Serving:
2
g
|
Calories:
1199
kcal
|
Carbohydrates:
16
g
|
Protein:
96
g
|
Fat:
83
g
|
Saturated Fat:
35
g
|
Cholesterol:
327
mg
|
Sodium:
2344
mg
|
Potassium:
1521
mg
|
Fiber:
2
g
|
Sugar:
7
g
|
Vitamin A:
2176
IU
|
Vitamin C:
11
mg
|
Calcium:
991
mg
|
Iron:
4
mg
"It's easier to build strong children than to repair broken men."
~Fredrick Douglass
Follow me on instagram for behind the scenes photos!
Yum