Thank you for visiting Southern Plate and for checking out this recipe for Mouthwatering Meatloaf Burgers!
If you're on Pinterest or Facebook I'd REALLY appreciate it if you could use one of the buttons above, thanks!
If you ever want folks to get a wistful look in their eyes and set mouths to watering just mention a good old fashioned meatloaf sandwich. In fact, I know a lot of folks who make meatloaf just so they can have sandwiches the next day! I'm a fan of both but when I find myself hankering for a tender hunk of meatloaf on a bun, I just cut out the middle man and make these burgers. With all the flavor and texture of tender meatloaf, they hit the spot every time.
But before I show you how I make Mouthwatering Meatloaf Burgers, allow me to digress, if you will. As is so often my custom.
I sing. It's what I do. It's a huge part of who I am. I don't necessarily sing well but I can carry a tune and know when to stop if a note goes higher or lower than my voice is capable of going.
I can also remember anything if set to music. Back in my college days, I once had the name of every single muscle and bone in the human body set to tune within my head. Got an A on that paper but I bet the professor still wonders why I was bobbing my head as I filled in the answers.
So of course, my children have heard me singing from the time their ears were able to hear. I sing to the dogs, I sing to myself, I sing to the walls, I sing on the phone. When I'm not singing, I'm humming. When I'm not singing or humming, I'm rapping – which is a fun one to pull out because it embarrasses my son to no end.
It's no wonder that my kids are full of songs as well, especially my youngest, who is as bad as I am about putting anything and everything to music. She also plays piano by ear, something that I would have never believed if I hadn't of seen it first hand.
We have songs for folding laundry, songs for taking showers, and songs for finding the hairbrush in the morning (although I have to credit Larry the Cucumber with that one). If folks were to walk into our house sometimes they'd think they  had  stepped into an elaborate opera of untrained but good natured singers. My teenager has moved on from singing for the time being (it's a phase, he's a boy, you know how it goes), but he still spends a great deal of time composing music on his computer and playing french horn in the symphonic band at school.
Music is part of our lives and a constant source of joy.
When I was a girl my mother was the same way and spending my childhood around her just planted a song in my heart – so I like to think I've done the same with my kids.
It's a beautiful thing, music. A simple song has the ability to break our hearts in two or mend them together again.
A heart with a song is a stubborn heart. No matter what, that song is protected and no matter how long it goes unsung, the notes and words are quickly called to mind when they are needed most.
So now, no matter where life takes me or what pressures or trials I face, I still have my song within me. When the going gets tough, when the hope feels lost, my song rises up.
Rather than be defeated. I sing.
The same can be said for the spirit within us. We come out fighting, even when we're knocked down.
Even if we've stayed down far longer than the usual count. We just have to remember that we were meant to rise.
Remember your song today.
 and maybe sing it while you cook these Mouthwatering Meatloaf Burgers for supper…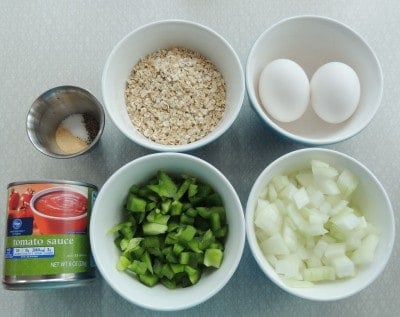 To make Mouthwatering Meatloaf Burgers you'll need:  Quick oats (old fashioned will work, too), eggs, chopped onion, chopped bell pepper, tomato sauce (can sub ketchup), and some seasonings: Salt, Pepper, and Garlic Powder.
And of course since this is meatloaf, you're gonna need some ground beef.
A few weeks back I did a post on dividing up ground beef in perfect little 1/2 lb, quick to thaw packages so I grabbed a few of those.
Meatloaf is, of course, a meat heavy dish, so I usually only cook a meal like this once a week because I prefer to stretch my ground beef to cover several meals in recipes like Taco Pizza, Skillet Lasagna, and Garden Skillet Supper. (Click here for 35 Ground Beef Recipes to help stretch your food dollar). But there are times when you just need some meatloaf and nothing else will do but a big old hunk of it!
Still, for this whole recipe – 4 generously sized burgers – we're only using 1+1/2 pounds of ground beef.
Place all of your ingredients into a large mixing bowl.
Now we need to mix this up. There are several ways of doing this but my favorite is to use my hands. This is by far the most efficient and quickest way to get a meatloaf mixed up . For anyone horrified at the thought of this I want to point out that hands are washable.
Just give 'em a good wash, dig in and mix this up, then wash them again. Voila! Clean hands AND meatloaf!
Whereas before, you had clean hands and NO Meatloaf. See the bonus here?
 When it's all mixed up it will look like this.
Shape that into four doughnut shaped patties.
We make them doughnut shaped because this helps the center to get cooked quicker, so we don't end up having to burn the outer edges while waiting on the center to cook. I do regular hamburgers this way, too.
As it cooks, the meat shrinks and the center hole closes up.
A close up shot of our gorgemous Mouthwatering Meatloaf Burgers
Place these in a large skillet over medium high heat until browned on both sides, about 5-7 minutes on each side.
Then, add 1 cup water to the skillet and continue cooking until juices run clear, about five minutes more.
Note: These will be more tender than traditional hamburger patties so be a little gentle with turning them until they get good and browned because then they'll hold together better.
Serve on your favorite bun, topped with this wonderful quick and easy burger slaw.
 There aren't a lot of photos of this because as I was holding the burger to take this shot, I looked down at my camera screen to see how it turned out and without even realizing it, took a big old bite out of this Mouthwatering Meatloaf Burger.
And boy was it ever good!!! 
 This burger  is tender and moist, just like a slice of your favorite meatloaf. Enjoy!
To get the Burger Slaw recipe, please click here.
Ingredients
Meatloaf Burgers

1

+1/2 pounds ground beef

can use lean or ground chuck

8

ounce

can tomato sauce

can substitute 3/4 cup ketchup

1/2

cup

quick oats or cracker crumbs

2

eggs

1/2

cup

chopped onion

1/3

cup

chopped bell pepper

1

teaspoon

garlic powder

1

teaspoon

salt

1/2

teaspoon

black pepper
Instructions
Place a large skillet over medium heat while you prepare the meatloaf.

Combine all ingredients in a large mixing bowl and mix with hands until well mixed. Form into 4 doughnut shaped patties.

Place in heated skillet and brown on both sides, about 5-7 minutes per side. Add 1 cup water to skillet and continue cooking until juices run clear, about 5 minutes or so.
Serve on your favorite buns. Preferably topped with ketchup and slaw (recipe for burger slaw coming later this week!)
The only normal people you know are the ones you don't know very well. 😉
~Unknown
Yum