Red Velvet Cupcakes Recipe Made From Scratch
There's nothing better than my red velvet cupcakes recipe made from scratch with cream cheese frosting. Every bite is moist, tender, and deliciously sweet.
This wonderful cake is usually made around the holidays but since it's gone mainstream I've seen red velvet cakes everywhere all year long. From those fancy-schmancy cupcake joints with the four-inch high icing to frozen yogurt flavors and it's even showing up in snack cakes! Still, I usually only make it around Christmastime at home out of well…habit, tradition…and a little bit of "well it never occurred to me to make it any other time of year!"
Now let me tell you something, I LOVE cake mixes and use them often. They are a lot of fun and a whole lot more convenient. HOWEVER, this from scratch red velvet cupcake recipe is above and beyond anything a cake mix could possibly produce so make time for a few extra minutes of work because I promise it will be well worth it! The combination of buttermilk and oil makes these red velvet cupcakes so unbelievably soft and moist.
Let's get cookin' some red velvet cupcakes!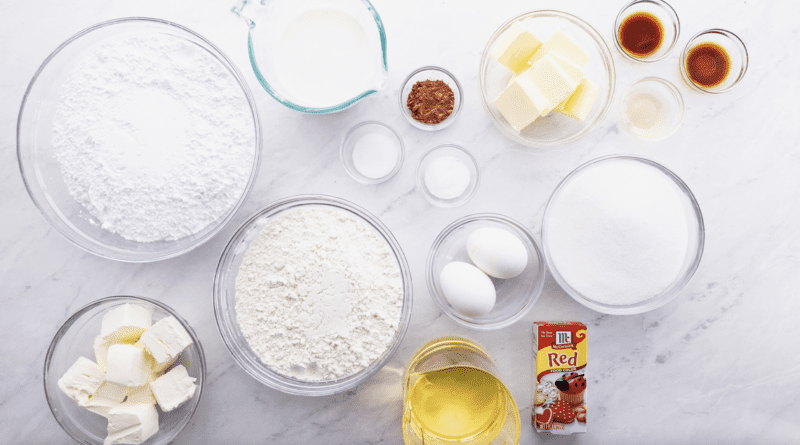 Recipe Ingredients
Baking soda
Sugar
Salt
Eggs
Red food coloring (you can also use beet powder for this as well)
All-purpose flour
Vegetable oil
Buttermilk
Vinegar
Cocoa powder
Vanilla extract
Cupcake papers
Place your flour in a medium bowl. Add the salt, baking soda, and cocoa powder. Mix that up!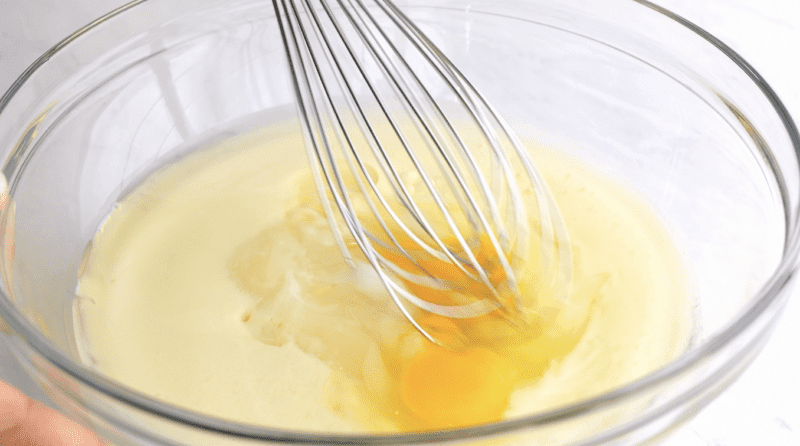 In a separate bowl, pour in the buttermilk, then add in the oil, sugar, vinegar, and eggs.
Stir that up really well.
Until it is kinda like this.
Now dump the wet ingredients into a large bowl and then dump your flour mixture on top of them.
Mix with an electric mixer until smooth and blended (about two minutes).
Add the red food coloring (0r beet powder) and vanilla extract.
Mix that up really well with the electric mixer again until it is deep red and fully blended.
Pour the cupcake batter into the cupcake papers in a muffin tin. Fill each cupcake liner about 3/4 full.
This red velvet cupcakes recipe will make about 18 cupcakes or so.
Bake at 350 for about 25 minutes, or until cupcakes spring back when lightly pressed with a finger in the center.
Allow them to cool before adding the cream cheese frosting.
The recipe and instructions for the cream cheese frosting are below in the recipe card, and it's really easy.
You just dump everything in a bowl and beat the mess out of it until it's smooth and creamy :). If you want to see how I make cream cheese icing, you can visit my chocolate velvet cake post for photos.
Don't feel like you have to put the icing on pretty as I did here. Although all I did was use a piping bag, I promise.
Anyway, just slather the icing on each frosted cupcake with a knife and just don't worry about it. ENJOY!
Storage
Store the red velvet frosted cupcakes in an airtight container for up to 3 days. You can leave them at room temperature but if it's warm where you live, pop them in the fridge so the frosting doesn't melt. Alternatively, freeze unfrosted cupcakes for up to 3 months and thaw overnight before adding frosting.
Recipe Notes
You can use this recipe to make mini red velvet cupcakes if you prefer. All you need is mini cupcake liners in a mini cupcake pan. Bake for 12 to 13 minutes.
Use this homemade recipe to make a red velvet cake instead. Pour the cake batter into a cake tin and bake for around 30 minutes instead.
If you need to make your own buttermilk, add a tablespoon of distilled white vinegar to 1 cup of milk and let it stand for 10 minutes.
Check out my other red velvet recipe ideas:
Red Velvet Cookies From Cake Mix
Ingredients
2 1/2

cups

all-purpose flour

1

teaspoon

unsweetened cocoa powder

1

teaspoon

baking soda

1

teaspoon

salt

1 1/2

cups

granulated sugar

1

cup

buttermilk

1 1/2

cups

vegetable oil

2

eggs

1

teaspoon

vinegar

1

teaspoon

vanilla extract

1

bottle

red food coloring

you can use beet root powder as well
Cream Cheese Icing
1

package

cream cheese

8 ounces, at room temperature

1/2

cup

butter

or margarine, at room temperature

1

pound

confectioner's sugar

1

teaspoon

vanilla extract
Instructions
In a medium bowl, stir together the flour, cocoa powder, baking soda, and salt.

2 1/2 cups all-purpose flour,

1 teaspoon unsweetened cocoa powder,

1 teaspoon baking soda,

1 teaspoon salt

In a separate large bowl, mix together the sugar, buttermilk, oil, eggs, and vinegar. Add the dry ingredients to the wet ingredients and beat on medium speed until well blended.

1 1/2 cups granulated sugar,

1 cup buttermilk,

1 1/2 cups vegetable oil,

2 eggs,

1 teaspoon vinegar

Add the vanilla and the entire bottle of red food coloring to the cake batter and mix again on low speed until well blended and uniform in color.

1 teaspoon vanilla extract,

1 bottle red food coloring

Line 2 12-cup muffin tins with papers. Fill each cupcake liner about 3/4 full with the cake batter. You will end up with 18-20 cupcakes.

Bake at 350 for 20-25 minutes, or until the center springs back when pressed lightly with your finger. Allow the cupcakes to cool completely before icing.
For Cream Cheese Frosting
Cream together the cream cheese and butter. Add the sugar and vanilla and beat with an electric mixer until smooth and creamy, scraping down sides as needed. Ice the cooled cupcakes.

1 package cream cheese,

1 pound confectioner's sugar,

1 teaspoon vanilla extract,

1/2 cup butter

Can be left at room temperature but I prefer them refrigerated!
Video
Nutrition
Oh wow! Here is a thought with an impact! Can you imagine?
"How would your life be different if…You walked away from gossip and verbal defamation? Let today be the day…You speak only the good you know of other people and encourage others to do the same."
― Steve Maraboli