Mashed Potato Cakes Recipe
Take your leftover mashed potato and make this crispy yet fluffy potato cakes recipe. They'll simply melt in your mouth!
Wondering what to do with the leftover mashed potato from Thanksgiving? I highly recommend transforming them into a serving of these flavorful mashed potato cakes. This old-fashioned potato cakes recipe is quick and easy to follow and you'll have a delicious new side dish in no time. Crispy on the outside but tender on the inside, these easy potato cakes are sure to be a hit!
Serve your potato cakes with turkey leftovers over the holidays or as a side alongside main dishes like meatloaf, roasted chicken, or beef brisket any time of the year. You can even serve them with bacon and eggs for breakfast or as an appetizer with apple sauce or sour cream for dipping. The choice is yours!
Recipe Ingredients
Flour (either self-rising or all-purpose flour; whatever you have on hand)
Cold mashed potatoes (don't use instant. Trust me).
Eggs
Helpful Kitchen Tools
To your mashed potatoes, add egg and mix up really well. Then add flour. Stir it up really well with a fork until well blended like this. It will be very thick and sticky.
You can also add some finely diced onion or green onion at this point as well.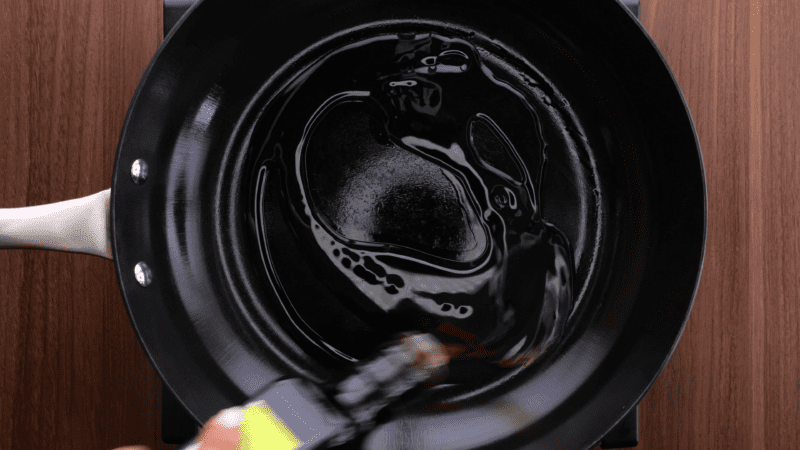 Heat just a little bit of butter or oil (about two tablespoons of either vegetable oil or olive oil, it doesn't take much) in the bottom of a large skillet and place over medium heat for two to three minutes, or until hot.
This is important because if you don't heat your oil first, your potato cakes will be greasy.
Scoop out heaping spoonfuls of potato mixture into the hot oil.
Dip the back of your spoon into the oil and then press down with it onto the mashed potato patties to flatten them a bit.
Fry until browned and then carefully flip them over and brown on the other side.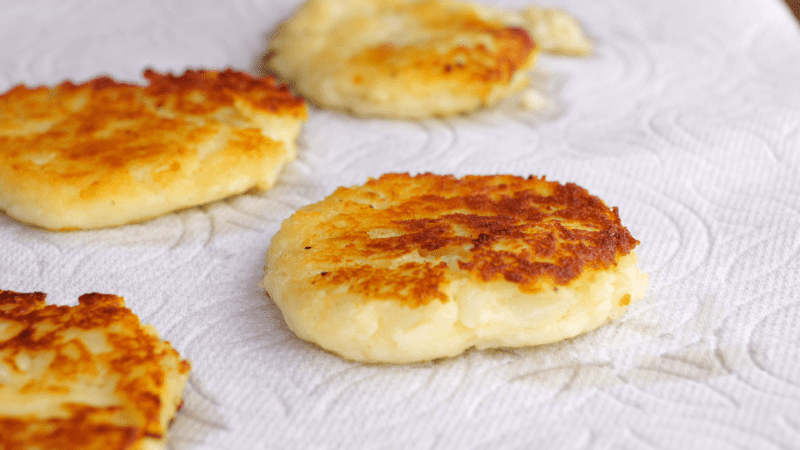 Once they are golden brown on both sides, remove them to a paper towel-lined plate and eat up!
Storage
Store leftovers in an airtight container in the fridge for up to 4 days. You can reheat them in the oven, the air fryer, or over low heat in a skillet.
You can also individually wrap your potato cakes in foil and store them in a freezer bag in the freezer for up to 3 months.
Recipe Notes
If you can't resist the addition of cheese, add 1/2 cup of parmesan cheese or shredded cheddar cheese to this potato cakes recipe.
Add some seasoning to your crispy potato cakes with dried herbs, like thyme, parsley, basil, or rosemary.

Alternatively, opt for spices like

or

.

If you want to sneak some veggies into these potato cakes, add some mashed cauliflower, chopped spinach, or finely shredded carrots.
I strongly recommend using real mashed potatoes. Save those instant mashed potatoes to thicken your stews and use them in the crust on my taco casserole recipe instead.
The flour and egg act as a binder to keep these together. But you can also refrigerate the batter before frying to ensure they don't fall apart.
There are several variations on this potato cakes recipe if you want to change things up! For example, add diced pepperoni and mozzarella cheese to your batter to make pizza potato cakes. You could also add leftover taco meat, cheese, and diced bell pepper for taco cakes. If you're feeling Greek-inspired, opt for sundried tomatoes and feta cheese.
Recipe FAQs
How do you serve this mashed potato cakes recipe?
This potato cakes recipe is the definition of versatile. Serve them as a side dish alongside any meat main course, like grilled chicken or pork chops. You can also enjoy them as an appetizer and dip them in ketchup, apple sauce, salsa, or make a homemade sauce with mustard and mayonnaise or sour cream. Another option is to serve them as a side with soup and green salad.
Can I make these potato cakes gluten-free?
Absolutely! Simply use gluten-free flour and you have yourself some gluten-free potato cakes.
Check out these other popular potato recipes:
Fried Potatoes Recipe (Steppin' Up The Flavor)
Greek Potatoes With A Twist: Meet Big Fat Greek Taters
The BEST German Potato Salad Recipe
Loaded Twice Baked Potatoes Recipe (Freezer Friendly)
Servings:
10
potato cakes
Ingredients
2

cups

cold leftover mashed potatoes

1

whole egg

1/4

cup

flour

all-purpose or self-rising

2

tbsp

finely diced onions

optional
Instructions
Mix the egg into the mashed potatoes with a fork until well blended. Add the flour and onions (if using onions) and mix well. The mixture will be very stiff.

2 cups cold leftover mashed potatoes,

1 whole egg,

1/4 cup flour,

2 tbsp finely diced onions

Pour approximately 2 tablespoons of oil into a cast-iron skillet and heat over medium heat.

Scoop out heaping tablespoons of mixture into the hot oil. Dip the back of a spoon into the oil and then the mashed potato mixture to flatten to about a 1/4-inch thick. By dipping the back of the spoon into the oil, the spoon will not stick to the potatoes, making flattening them much easier.

Fry until golden brown and then flip and continue to brown the potato patty on the other side.

Remove to a paper towel-lined plate to serve.
Notes
Note from Mama: I do not use onions in my potato cake recipe since my grandmother never did. It is strictly personal preference. But if you do, make sure to dice them finely so that they will cook in the short amount of time it takes for patties to brown.
Nutrition