If you're looking for an easy roast chicken recipe that results in the most flavorful and tender chicken and crispy skin imaginable, let me introduce you to my butter-roasted chicken recipe.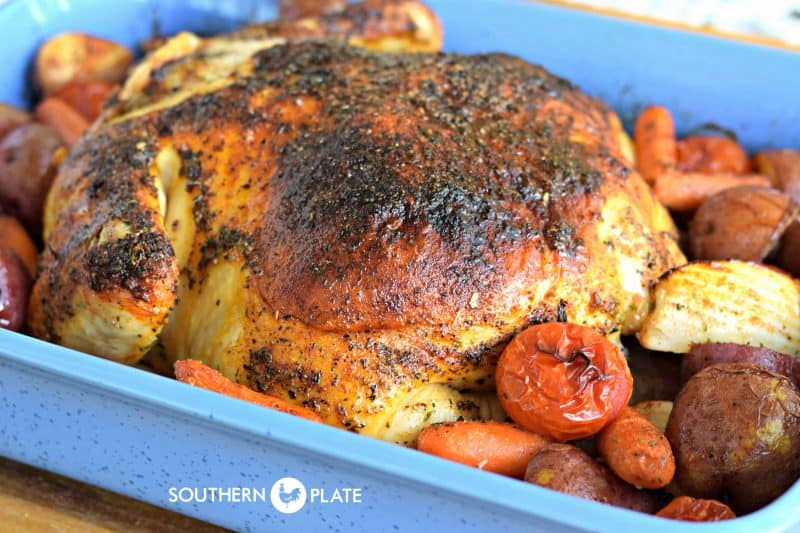 This butter-roast chicken recipe is a simple but wonderful main dish that's on regular rotation in my household. Why? Well, it's just so easy to make yet so delicious! Its preparation requires nothing more than putting the whole chicken in a pan, sprinkling it with some seasonings, and popping it in the oven.
The best part is the melted butter at the bottom of the pan, which it bakes in. We baste the chicken and vegetables periodically in the butter and this ensures the chicken is as tender as possible. Together with the seasonings, the butter also works to create a deliciously flavorful and crispy skin. The seasonings I'm using are a combination of dried herbs and spices like paprika, basil, parsley, and garlic powder, but you can use whatever flavor combination you want.
Speaking of, you can also use whatever veggies you have on hand or your family's favorites, too. It's so easy to make this main dish a family favorite. This is truly a one-pan meal as well that is so simple and easy but overwhelmingly delicious. Ready to give my butter-baked chicken recipe a go?
Recipe Ingredients
Whole chicken
Assorted vegetables of your choice
Unsalted butter
Kosher salt
Paprika (regular or smoked paprika works)
Dried basil
Dried parsley
Ground black pepper
Garlic powder
How to Make Butter Roasted Chicken
To start with, place a stick of butter in a baking dish/roasting pan and put that in the oven to melt.
Then, stir your seasonings together in a small bowl.
Once you melt the butter, place chicken in the baking dish.
Brush melted butter all over the skin and then sprinkle with seasonings.
Add all of the veggies you are using around your chicken.
I'm using some tomatoes, red potatoes, carrots, and onions.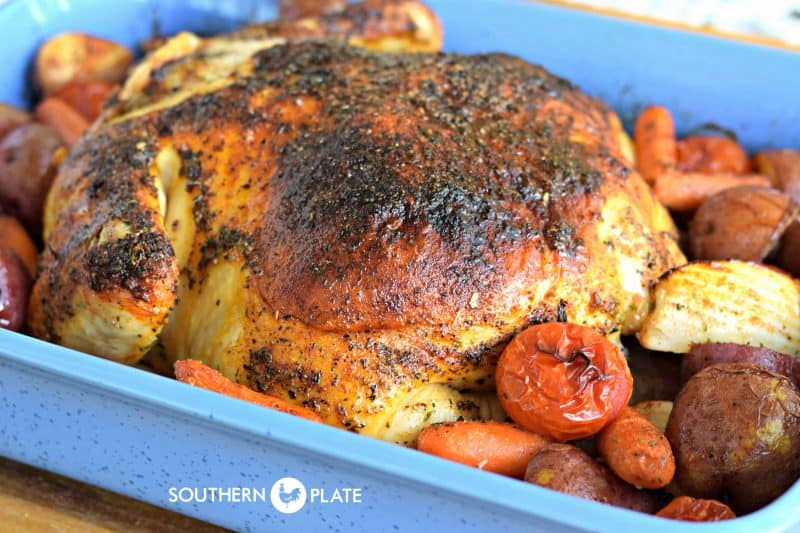 Now let's get to the roastin'
Now put this in a 425-degree oven (about the center rack), uncovered, for about an hour to 1.5 hours or until nicely brown on top and the juices run clear.
Baste the chicken a few times by dipping a brush into the butter mixture (a.k.a those delicious pan juices) in the roasting pan and brushing it over the veggies and chicken.
If the top starts getting overly brown, "tent" it with foil by folding it like a triangle and sitting it over the top so it doesn't touch the chicken.
Either way, larger chickens will need more cook time and smaller chickens will need less. These are good guidelines for a 3 to 5-pound chicken.
Storage
Store leftover butter roast chicken in an airtight container in the fridge for up to 4 days. You can serve cold or warm leftovers quickly in the microwave. I've included some ideas for your leftovers below.
You can also freeze baked chicken for up to 4 months. Thaw in the fridge before serving.
Recipe Notes
You can use any roasted vegetables of your choosing. Make this low-carb by using cauliflower, broccoli, asparagus, cabbage, or Brussels sprouts.
Either way, if your vegetables are large, cut them into bite-sized pieces so they cook evenly alongside the chicken.
You can also use any seasoning of your choice. I'd recommend not skipping the salt and paprika, but you can substitute the dried herbs for Italian seasoning or different dried herbs if you prefer. Rosemary and thyme are two other popular options.
For a garlic herb butter roast chicken,

first, omit the

powder. Then

dry with a

and rub a couple of minced garlic cloves into the chicken's skin before basting it with the melted butter to make garlic butter.
Recipe FAQs
How do you check the chicken is baked?
Here's how to check for doneness and make sure it is fully cooked in the center before removing it from the oven. You can stick a meat thermometer in it to do that (it should be at least 165 degrees). But I don't own one of those thermometers and don't ever care to because I have eyes that work perfectly well.
I just take me a knife and slice down in there real good. Then I use a fork to spread the cut open and see if it is done. You want all cooked chicken breast, no pink juices, and you're good to go. But make sure you get your cut deep because near the bone will be the best determination of whether or not your chicken is fully cooked. This baby is a little over 5 pounds and took about 1.5 hours, with it being tented with foil for the last 30 minutes.
How often should I baste my butter-roasted chicken?
I like to give my roast chicken a quick baste every 20 minutes or so.
What do you do with roast chicken leftovers?
Oh, the options are endless! Enjoy a roast chicken sandwich, add shredded chicken to your omelet in the morning, or make a delicious chicken casserole.
Check out these other chicken recipes:
Blackened Chicken Recipe With Cheese Topping
Grilled Chicken Tenders (No Grill Needed)
Crockpot Fiesta Chicken and Rice
Ingredients
1

whole chicken

3-5 pounds

assorted vegetables of your choice

1/2

cup

butter

1 stick

1.5

teaspoons

kosher salt

1

teaspoon

paprika

1

teaspoon

basil

1

teaspoon

parsley

1/2

teaspoon

black pepper

1/2

teaspoon

garlic powder
Instructions
Preheat oven to 425. Place butter in a 9x13 baking dish and put it in the oven to melt while it preheats.

In a small bowl, stir together all seasonings.

1.5 teaspoons kosher salt,

1 teaspoon paprika,

1 teaspoon basil,

1 teaspoon parsley,

1/2 teaspoon black pepper,

1/2 teaspoon garlic powder

Once the butter is melted, place chicken in the center of the pan. Brush the melted butter all over and sprinkle liberally with seasonings, reserving about a teaspoon for the veggies.

Arrange the vegetables around the chicken in the pan and sprinkle the remaining seasonings over them.

assorted vegetables of your choice

Place this, uncovered, in the oven for 1 to 1.5 hours, basting the vegetables and chicken with the butter mixture in the pan from time to time. Cover loosely with foil if necessary to prevent over-browning, until the chicken is fully cooked and the juices run clear.
Nutrition
Choose my instruction instead of silver, knowledge rather than choice gold, for wisdom is more precious than rubies, and nothing you desire can compare with her.
~Proverbs 8:10-11