Ham Pasta Salad With Ranch Dressing
This creamy and cheesy ham pasta salad recipe is the perfect spring and summer supper. Who can say no to a dish overflowing with tender smoked ham, pasta, lots of fresh veggies, and ranch dressing?
The question I've been asked the most this week amid record high temperatures is "What can I cook for supper that won't heat up the kitchen?". So I whipped up one of my favorite pasta salads to post for ya real quick. This one is filled with smoked ham (the smoked part is important), tomatoes, cucumbers, English peas (I guess that means they talk with a British accent), cheese, and bowtie pasta. It's all tied together with a creamy ranch dressing.
Fortunately, you don't have to spend a lot of time in the kitchen to whip up this quick and easy ham pasta salad recipe. Chop the ham and veggies while the pasta boils, then combine all of the ingredients in a mixing bowl. Pop it in the fridge for an hour or several to let all the flavors mingle and voila, that's how you make my creamy ham pasta salad.
Now, before we go further, I just wanna say these are my ingredients. But feel free to alter the recipe to use up what you have on hand or to suit your personal tastes. If you don't like cucumber, leave it out. Alternatively, if you can't get enough of carrot, pop them in. If this cold pasta salad doesn't suit your family's tastes, don't fret because they're not the ones making this ~grins~. It's good to be the cook!
Let's make supper.. or lunch… or a mid-day snack.
Recipe Ingredients
Bowtie pasta
Shredded cheddar cheese
Grape tomatoes
Frozen peas
Bell pepper
Cucumber
Ranch dressing
Smoked ham
How to Make Ham Pasta Salad
First, we're going to boil our pasta according to the package directions. Drain in a colander and pour running cold water over pasta, while stirring, until completely cooled. Allow the pasta to drain fully before pouring it into a large bowl.
While that's boiling, dice up your ham into nice bite-sized pieces or smaller, peel and chop up cucumber, and chop up your bell pepper.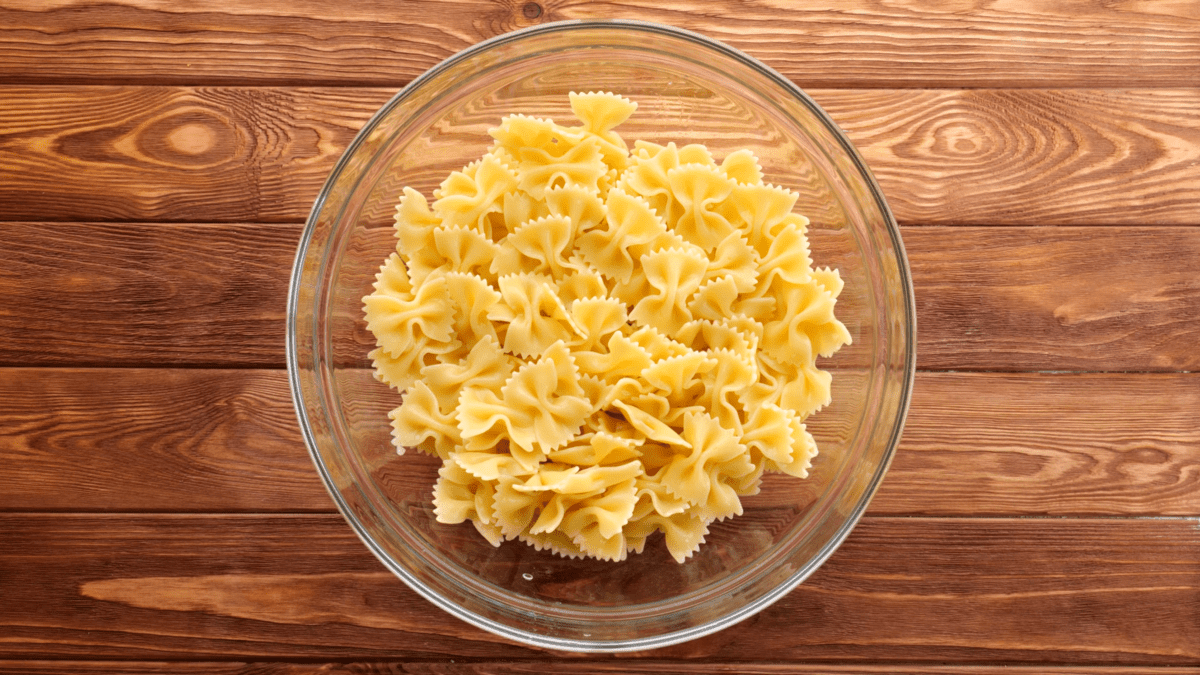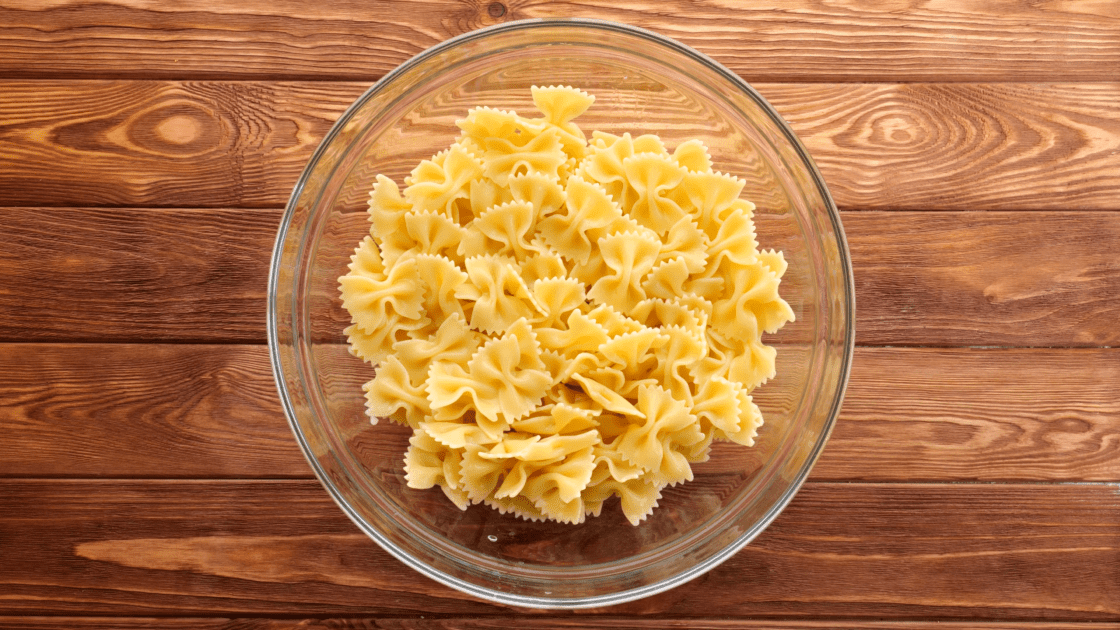 Now we're going to combine everything in a big ol' bowl. First goes the pasta.
Then add the ham…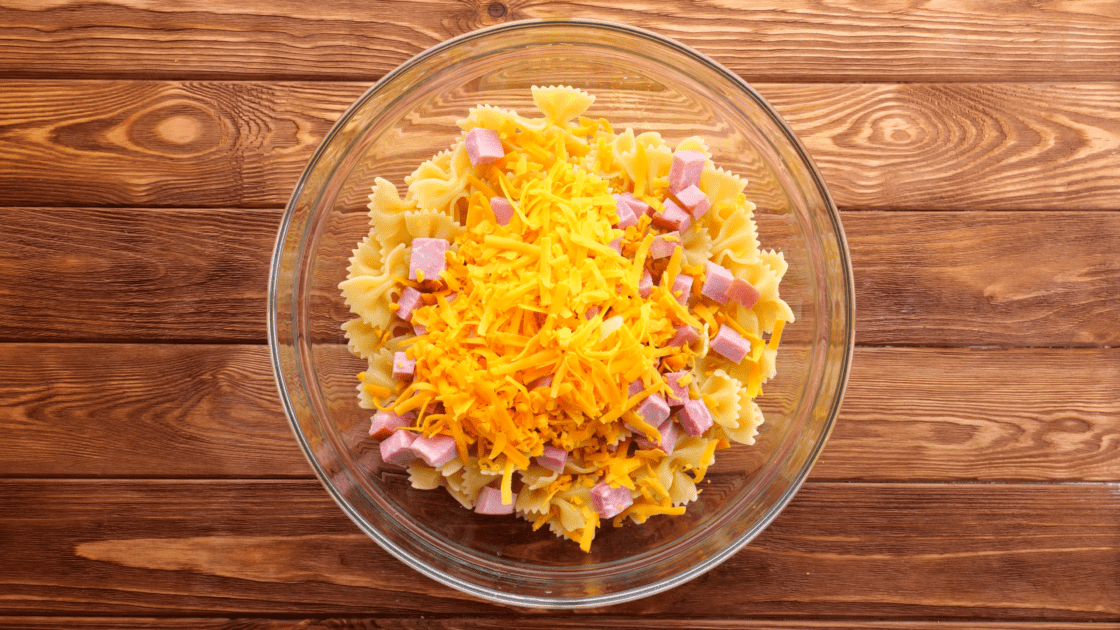 the shredded cheddar cheese…
the thawed frozen peas…
the cucumber…
the bell pepper…
the grape tomatoes…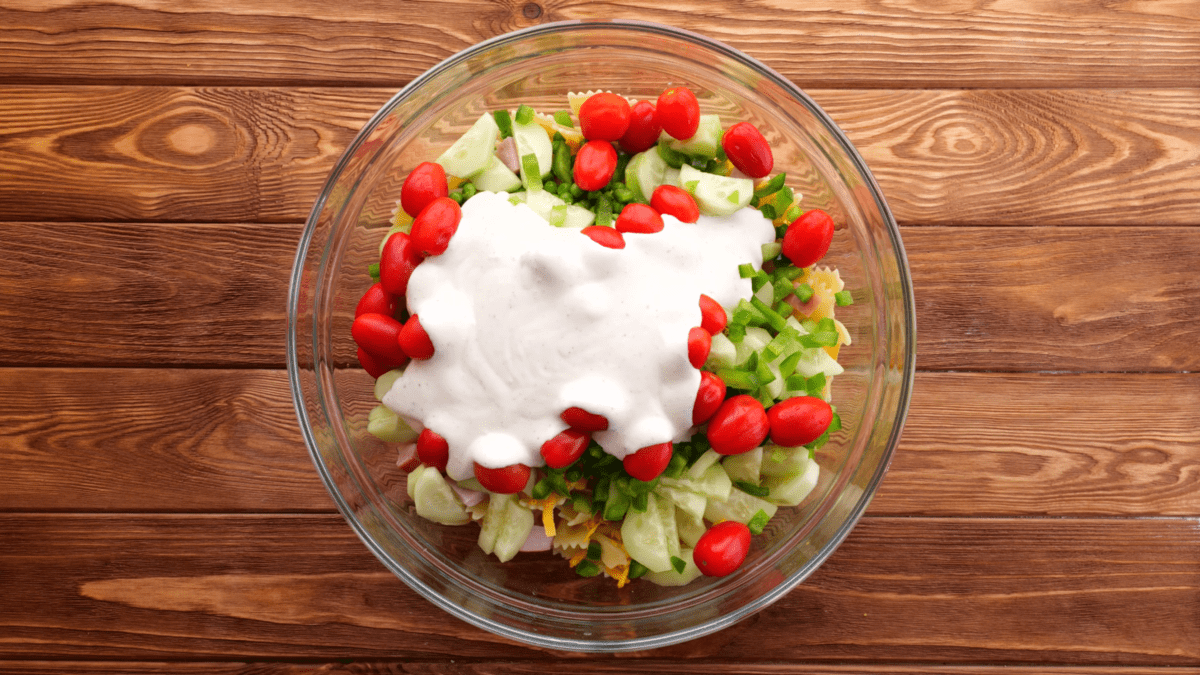 and finally, add in your dressing.
Now we're going to stir up our ham pasta salad really well.
Cover and refrigerate until chilled and ready to serve.
If you're hungry, eat some now and I won't tell.
Dig in!
Storage
Store leftovers in an airtight container in the fridge for up to 3 days.
Recipe Notes
There are so many ways to make this ham and cheese pasta salad recipe your own. Let's take a look:

Use whatever meat you like. This might be shredded chicken breast, rotisserie chicken, leftover turkey breast, leftover ham, or cooked bacon.
Add whatever frozen or fresh vegetables you like as well. Some other suggestions include corn, red onion or green onion, broccoli, and celery.
Use a different salad dressing. Many recipes opt for just mayonnaise or Italian dressing.
Use half cheddar cheese and half shredded parmesan cheese if you like.
For pickle fans, add 1/2 cup of drained dill pickle relish.
Use whatever small pasta you have on hand, whether that's elbow macaroni pasta, small shell pasta, or rotini.

Whenever I need smoked ham for a quick recipe, I just go to the deli counter and ask for a single slice that is about 1/2-inch thick. That is the perfect size for dicing up and using in recipes. The smoked ham adds a wonderful flavor to this meal.
You don't need to cook the frozen peas. Just let them thaw a bit while you prepare this and they'll be fine.
Check out these other sensational salad recipes:
Old-Fashioned Ham Salad Recipe
Recipe for Caprese Salad with Chicken and Avocado
Chicken Salad Recipe for Sandwiches
Broccoli Salad With Bacon and Raisins
The BEST German Potato Salad Recipe
Ingredients
1

box

bowtie pasta

1 pound

1-2

cups

diced smoked ham

1

cup

shredded cheddar cheese

1

cup

frozen peas

thawed slightly

1

peeled and chopped large cucumber

1/2

diced bell pepper

1-2

cups

grape tomatoes

1

cup

buttermilk ranch dressing
Instructions
Cook pasta according to package directions. Drain in a colander and pour running cold water over pasta, while stirring, until completely cooled. Allow the pasta to drain fully before pouring it into a large bowl.

Add all other ingredients to the large bowl and stir until well combined.

1-2 cups diced smoked ham,

1 cup shredded cheddar cheese,

1 cup frozen peas,

1 peeled and chopped large cucumber,

1/2 diced bell pepper,

1 cup buttermilk ranch dressing,

1-2 cups grape tomatoes

Cover and refrigerate until ready to serve. Keeps well for three days in the refrigerator.
Nutrition
In daily life we must see that it is not happiness that makes us grateful, but gratefulness that makes us happy.
Brother David Steindl-Rast