What do you get when you combine garden-fresh veggies, crispy crumbled bacon, homemade cornbread, and ranch dressing? This amazing crowd-pleasing Southern cornbread salad.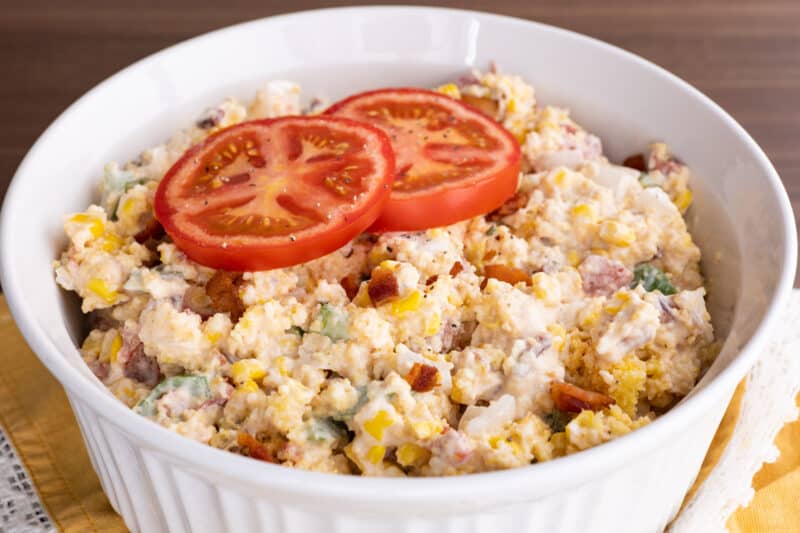 Cornbread salad is a wonderful old-fashioned Southern recipe that you need in your life! Thanks to follower, Linda Wood for sharing her amazing recipe with me. It's kind of in the same family as potato salad and definitely something you'd expect to find at a family reunion, potluck, or barbecue. Featuring garden-fresh vegetables, crispy bacon, homemade cornbread, and a mix of ranch dressing and mayo, I encourage everyone to make this cold and creamy salad this summer.
Now, one of the key ingredients of this salad is cornbread. While you can simply use a package of cornbread mix, here is my recipe for hot water cornbread and my dixie cornbread recipe if you're feeling traditional.
Recipe Ingredients
Onion
Corn
Mayo
Tomatoes
Bell pepper
Dry ranch dressing mix (optional)
1 pan crumbled cornbread
Crisp fried bacon
Helpful Kitchen Tools
How to Make Cornbread Salad Recipe Step By Step
Pour the ranch dressing mix into a bowl with mayo.
You can skip this step if you just really like mayo. But if you're like me and want a little something else or if you just love the taste of ranch, do what I'm doing here.
Then stir it up.
Dice up your tomato, onion, bell pepper, and drain your can of corn.
Dump all that in a big bowl.
Crumble up your cornbread and dump that on top of the veggies.
Add in your crumbled bacon.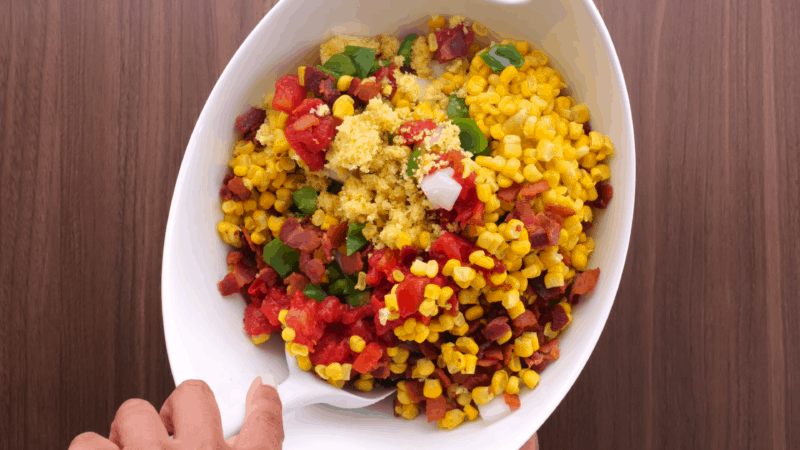 Stir well.
Add in the salad dressing mix. We went a little crazy with the mayo this time because my son likes that extra mayo, but feel free to keep it at 2 cups if you don't want as much mayonaise.
Stir that up really good until well coated. Now, cornbread salad is even better when made ahead of time, so cover your dish and refrigerate for several hours or until chilled well.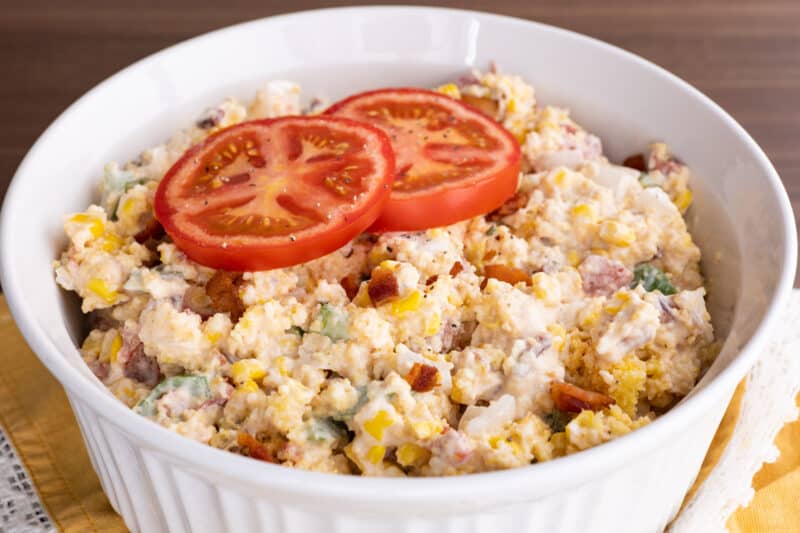 Garnish with beautiful sliced red tomatoes and serve cold.
DELICIOUS
Storage
This salad will last up to four days in an airtight container in the fridge. However, the cornbread does start to get mushy after only one day, so if this isn't your style it's best to avoid leftovers. Like most salads, you shouldn't freeze cornbread salad.
Recipe Notes
This recipe is great for using up leftover cornbread. Cut the recipe in half to make a smaller portion if you like as well.
The secret ingredient in my easy cornbread salad recipe is bacon grease! If you saved any bacon grease from your bacon, add one teaspoon to your salad dressing, but don't tell anyone because they'll react as if you'd told them you didn't like mayonnaise! I'm not going to put this in the recipe so only the folks who read this part of the post will know this little secret ingredient! It totally adds an extra KAPOW of flavor.
One of the best things about this salad is that it's so easily customizable. First, use whatever vegetables you have on hand. Then, don't be afraid to add drained pinto beans, shredded cheddar cheese, diced pickles, black olives, or even jalapenos if you prefer a kick! You can even top with a sprinkle of green onion if you have some handy.
For the best flavor, I recommend making this salad between one and six hours before serving.
Recipe FAQs
What goes well with cornbread salad?
Serve your salad alongside other popular Southern mains like fried chicken, pork chops, or slow-roasted beef brisket .
You may also enjoy these cornbread recipes:
Mexican Cornbread Recipe by Mama
Keto Cornbread Recipe Southern Plate
Peaches and Cream Cornbread with Maple Sausage
Ingredients
1

pan cornbread

see recipe here or use a package of cornbread mix

1

cup

diced onions

1

bell pepper

seeded and diced

1

cup

diced tomato

15

ounce

can whole kernel corn

drained

1

pound

bacon

cooked until crisp and crumbled

2-3

cups

mayonnaise

I used two

1

oz

Package ranch dressing mix
Instructions
Bake cornbread. Once cool, crumble and place in a large bowl. Add in onions, bell pepper, diced tomatoes, corn, and bacon. Stir until well combined.

1 pan cornbread,

1 cup diced onions,

1 bell pepper,

1 cup diced tomato,

15 ounce can whole kernel corn,

1 pound bacon

In a separate bowl, place mayo and ranch mix (if using). Stir until well blended. Skip this step if just using plain mayo.

Add mayonnaise dressing mixture to salad and stir until fully mixed. Cover and refrigerate at least two hours before serving. ENJOY!
Notes
There are lots of ways to adjust this to suit your own taste by adding or leaving out ingredients. Corn or pinto beans (drained) can be added as can diced pickles or black olives or grated cheddar. I prefer the more plain one but with all that lovely mayonnaise there isn't much that can mess it up.
Nutrition
I'm happier than a bird with a french fry!
~Unknown, but an awfully good way to feel!