Broccoli Salad With Bacon and Raisins
My broccoli salad with bacon recipe is a taste and texture explosion! It's simultaneously creamy, crunchy, sweet, and savory. Just try and resist going back for seconds.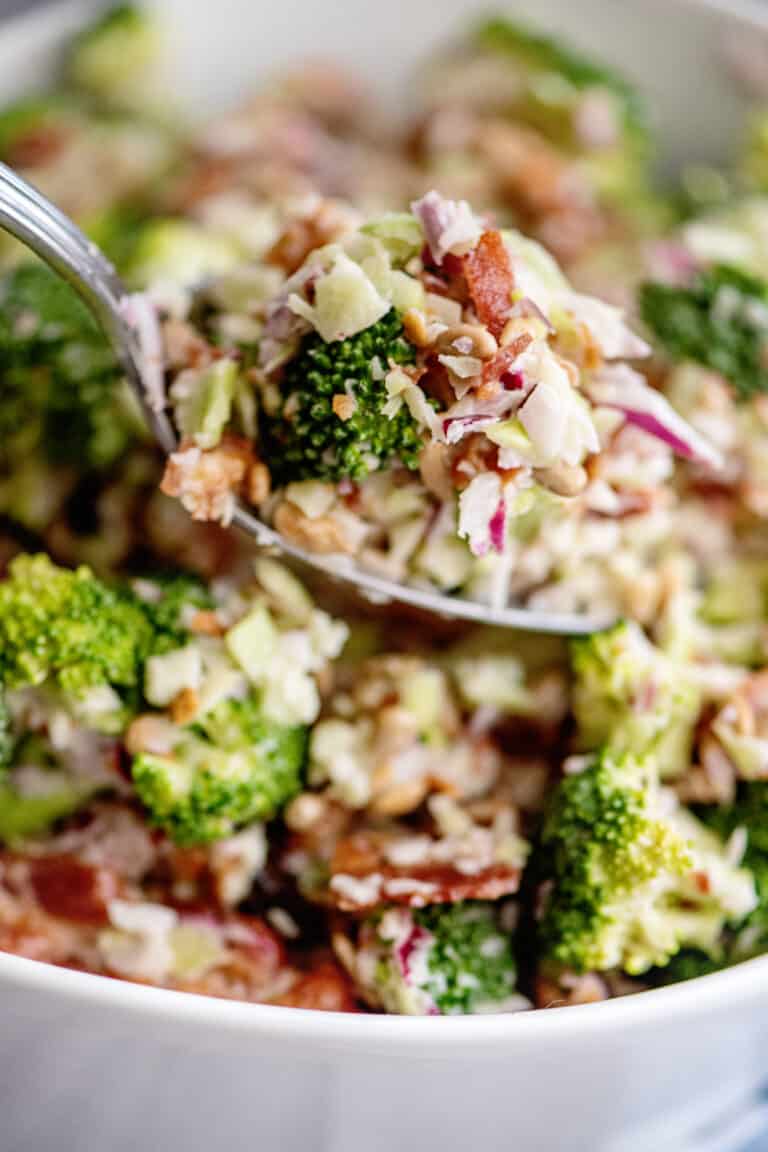 This broccoli salad with bacon is a favorite of mine. It's so simple to make but tastes so unbelievably good. It's filled with crunchy raw broccoli, crispy and crumbly bacon, raisins, sunflower seeds, and red onion. These sensational ingredients are coated in a dressing made from mayonnaise, vinegar, and sugar. Yep, it's a flavor and textural explosion that no one will be able to resist.
One of the best parts is that it's so quick and easy to make, so it's the perfect salad to make ahead and store in the fridge when you have friends or family over or if you're heading to a potluck. You just have to cook the bacon, chop the broccoli, and mix the dressing ingredients. Combine and your bacon broccoli salad recipe is ready to roll!
If you're looking for more great salad recipes, check out cornbread salad, tomato, onion, and cucumber salad, and the BEST German potato salad.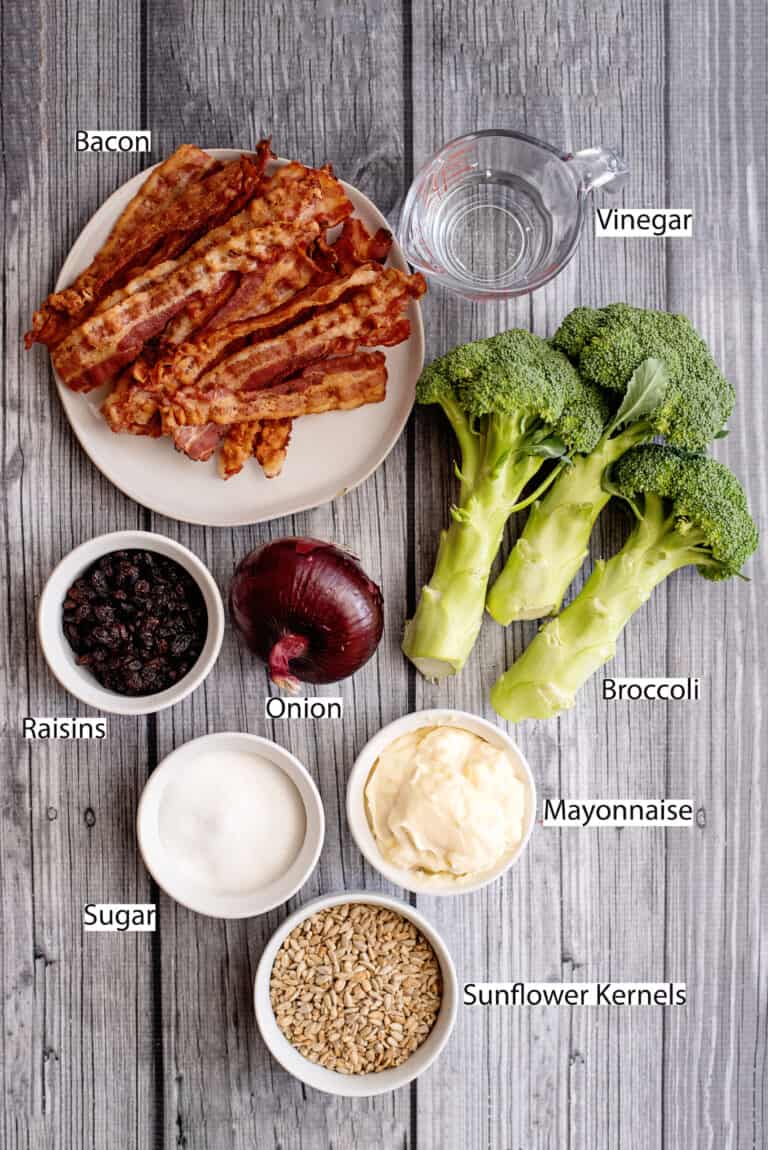 Recipe Ingredients
Fresh broccoli
Onion
Sunflower seeds
Mayonnaise
Vinegar
Raisins
Sugar
Bacon
Helpful Kitchen Tools
Wash and separate the broccoli heads from the stalks.
Start chopping! I use the Hamilton Beach food processor for the stalks and chop the broccoli florets by hand.
Now, place all that broccoli in a large bowl.
Add the finely chopped onion.
Then the raisins.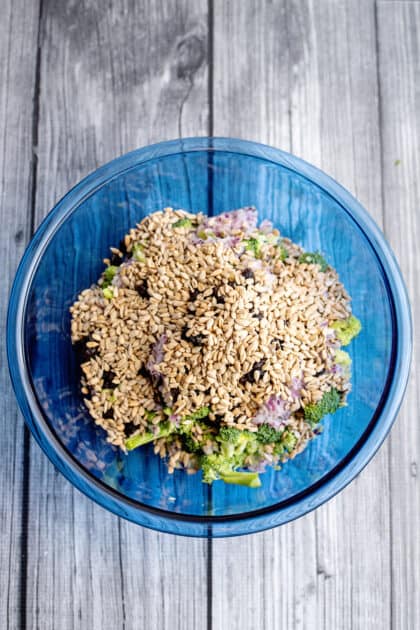 And the kernels of sunflower seeds.
Finely, add the cooked and crumbled bacon bits to the mixing bowl.
Now it's time to mix the dressing. Place the mayonnaise, vinegar, and sugar in a separate bowl and stir well until all ingredients are combined.
Pour the dressing over the salad.
Mix all together and then you're done.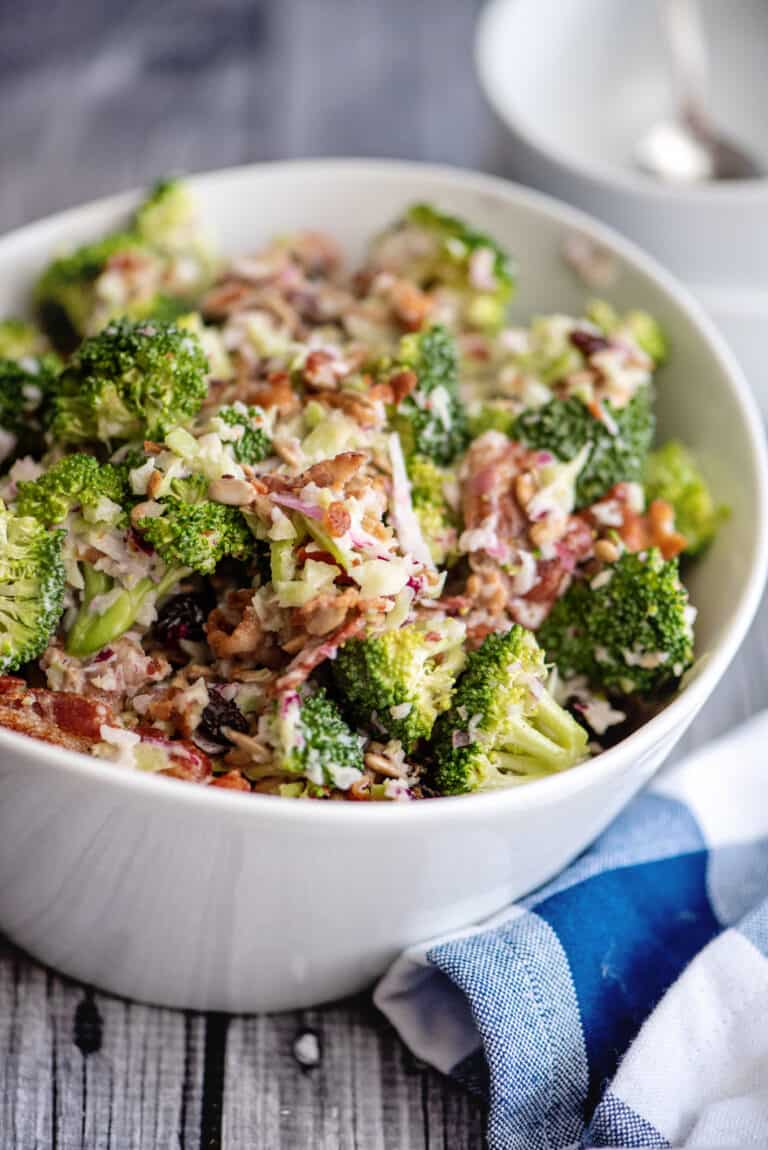 You're lucky you saw this dish all completed… I had to restrain myself from diggin' in!
Refrigerate your broccoli bacon salad until ready to serve. Enjoy!
Storage
This broccoli salad with bacon will last in an airtight container in the fridge for up to 3 days. But it's best to store the salad and dressing separately.
Recipe Notes
Feel free to substitute the vinegar for apple cider vinegar.
Think it's not a salad without cheese? Feel free to add a cup of shredded cheddar cheese or a 1/4 cup of goat cheese to this broccoli salad with bacon. I won't tell!
Here are some fun substitutions:

Swap the sunflower seeds for sliced almonds, pine nuts, chopped pecans, or chopped walnuts.
Substitute the raisins for dried cranberries, dried blueberries, or dried cherries (or a combination).
If you're wanting to go meat-free, substitute the bacon for sundried tomatoes or olives.
To go dairy-free, you'll just need to use vegan mayonnaise.

Insider's tip: if you prefer your salad had a milder onion flavor, soak the chopped onions in ice water for 10 minutes. It removes the onion's "bite" so to speak.
Serve your broccoli bacon salad by itself or alongside a simple main dish like butter roasted chicken, hamburger steaks, or grilled chicken tenderloins.
You may also like these recipes with broccoli:
Homestyle Broccoli Cheese Cornbread
Cheesy Chicken and Broccoli Rice Casserole
Broccoli Cheese Stuffed Chicken Breast
Low Carb Broccoli Cauliflower Salad
Ingredients
4-5

cups

chopped broccoli

1/2

lb

bacon, cooked and crumbled

1

cup

raisins

I half this

1

cup

mayonnaise

1/2

cup

white sugar

1/2

cup

vinegar

1

chopped red onion

1

cup

sunflower kernels
Instructions
Chop the broccoli, stalks and all, and place in a large bowl.

4-5 cups chopped broccoli

Add the raisins, cooked and crispy bacon bits, onion, and sunflower kernels.

1/2 lb bacon, cooked and crumbled,

1 cup raisins,

1 chopped red onion,

1 cup sunflower kernels

Mix the mayo, sugar, and vinegar together in a separate bowl to make the salad dressing.

1 cup mayonnaise,

1/2 cup white sugar,

1/2 cup vinegar

Pour dressing over the broccoli mixture. Stir to coat well and refrigerate until ready to serve.
I've learned that people will forget what you said, people will forget what you did, but people will never forget how you made them feel.
~ Maya Angelou