This creamy Southwest chicken soup recipe is so easy to make and bursts with flavor, thanks to ingredients like tender chicken, salsa, black beans, corn, chicken broth, onion, and cream cheese.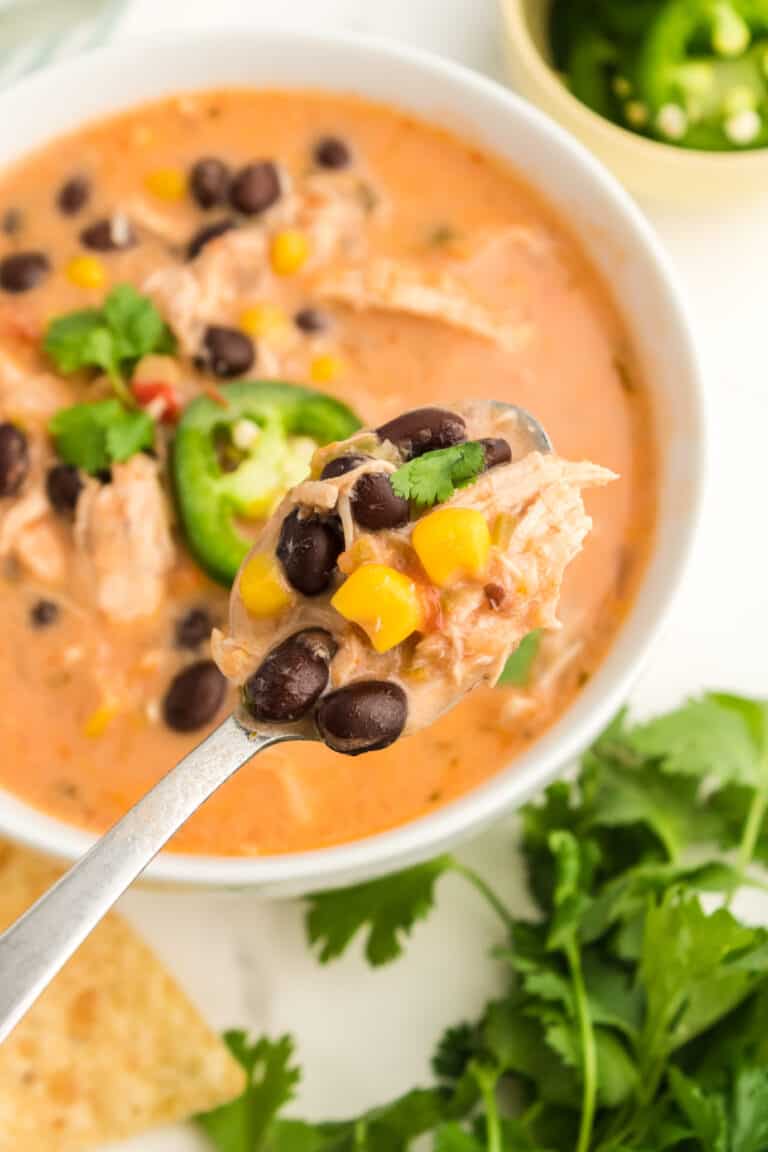 If you're a fan of my taco soup recipe or you like Chili's Southwest chicken soup, you're guaranteed to love my copycat Southwest chicken soup recipe. It's filled with so many delicious Mexican flavors but with a creamy edge thanks to the cream cheese. So, what other ingredients can you expect in your chicken soup? There's rotisserie chicken (of course), sweet onion, salsa, black beans, and Mexicorn. It also isn't a soup without a nice big dose of chicken broth, right?
This skillet Southwest chicken soup couldn't be easier to make, either. In fact, it's one of my favorite quick soup recipes for weeknight dinners because it's on the table in less than 30 minutes. Isn't that music to your ears? We just have to saute the onion, add the remaining ingredients, and let it simmer so all the flavors mingle together.
Now, you can easily serve your Southwestern chicken soup as is. However, I love to add some toppings, like chopped jalapeno and fresh cilantro, with corn chips on the side. I've included more suggestions below.
This Southwest chicken soup makes enough for 6 to 8 servings, so you can freeze leftovers (just leave out the cream cheese), use them as a meal prep option for lunches, or just invite some neighbors over! There are so many reasons to love this recipe, but besides the fact it's quick and easy to make, it's also super flavorful, hearty, and filling. Exactly what you want from soup, the ultimate comfort food dish. Alright, who's ready to start making some soup?
Recipe Ingredients
Olive oil
Diced sweet onion
Salt
Black pepper
Low sodium chicken broth

Salsa
Black beans
Mexicorn
Shredded rotisserie chicken
Cream cheese (here's my homemade cream cheese recipe)
Jalapenos (optional)
Cilantro (optional)
Tortilla or corn chips (optional)
How to Make Southwest Chicken Soup
In a large pot or dutch oven on medium heat, add olive oil and onion and saute until soft (3-5 minutes).
Stir in salt and pepper.
Add in chicken broth, salsa, beans, and corn.
Stir and heat to a slow boil, then reduce to simmer and cover for 5 minutes.
Add shredded chicken and cream cheese and simmer until cream cheese has melted and blended with the soup.
It will look a little bit like this.
How easy was that?!
If you like, serve with jalapenos, cilantro, and corn chips.
Oh my, how good does that look? Be right back, I've got a soup to make!
Storage
Allow the soup to cool before storing it in the refrigerator. Reheat on the stove or in the microwave until hot. Use within 3 days.
The soup is best when not frozen since it contains dairy. If you want to freeze it, leave out the cream cheese and add it once the soup has been reheated. Can be frozen in a freezer-safe container or bag for up to 3 months.
Recipe Notes
It's okay to use regular chicken broth, just omit the salt in the recipe.
Place cream cheese in the microwave for 30-45 seconds and stir before adding it to the soup. This will speed up the melting process and help it blend easier.

There are so many ways to make this Southwest chicken soup recipe work for you and your family:

Substitute the Mexicorn for canned sweet corn or frozen corn kernels.
Use leftover turkey instead or cooked chicken breast pieces.
Add a jar of chopped green chiles if you want more heat or 2 minced chipotle peppers in adobo sauce (Chili's-style).
Substitute the sweet onion for red onion, green onion, or a regular yellow onion.
Saute the onion with 2 minced garlic cloves for added flavor.
Fry onion with other veggies, like 1 cup of chopped green or red bell pepper, 1/2 cup of celery, or 1 cup of green beans.
Add some dried herbs and spices, like a teaspoon of ground cumin or a dash of cayenne pepper/normal or ancho chili powder to bring the heat.
Substitute the black beans for kidney beans, navy beans, or pinto beans.

To make the soup extra filling and more of a Southwest chicken stew, serve it over cooked rice.
Recipe FAQs
How do you serve Southwest chicken soup?
You can add so many toppings to your soup, such as shredded cheese, hot sauce, sour cream, plain Greek yogurt, diced avocado (or guacamole), and a squeeze of lime juice. On the side, you can't go wrong with a handful of corn chips or tortilla strips for extra crunch.
Can you make this soup in the pressure cooker, instant pot, and/or slow cooker?
Yes, you can make this soup using all of these methods. If using a slow cooker, still saute the onion separately in a skillet beforehand, but you can use the saute setting on the instant pot. Then add all of the other ingredients to your instant pot/pressure cooker and use the soup function (or set the timer for 15 minutes). In the slow cooker, you'll want to cook it on high for 2 hours or on low for at least 4 hours.
Can we tempt you with these other sensational soup recipes?
How To Make Chicken Noodle Soup
Ingredients
2

tbsp

olive oil

1

cup

diced sweet onion (about ½ onion)

1

tsp

salt

1/4

tsp

black pepper

6

cups

low sodium chicken broth

1

16-ounce jar

salsa

2

cans

black beans, rinsed and drained

1

11-ounce can

Mexicorn

2

cups

shredded rotisserie chicken

5

ounces

cream cheese, cubed and softened or melted

jalapenos (optional)

cilantro (optional)

tortilla or corn chips (optional)
Instructions
In a large pot or dutch oven on medium heat, add olive oil and onion and saute until soft (3-5 minutes). Stir in salt and pepper.

2 tbsp olive oil,

1 cup diced sweet onion (about ½ onion),

1 tsp salt,

1/4 tsp black pepper

Add in chicken broth, salsa, beans, and corn. Stir and heat to a slow boil, then reduce to simmer and cover for 5 minutes.

6 cups low sodium chicken broth,

1 16-ounce jar salsa,

2 cans black beans, rinsed and drained,

1 11-ounce can Mexicorn

Add chicken and cream cheese and simmer until cream cheese has melted and blended with the soup.

2 cups shredded rotisserie chicken,

5 ounces cream cheese, cubed and softened or melted

Serve with jalapenos, cilantro, and chips (optional).

jalapenos (optional),

cilantro (optional),

tortilla or corn chips (optional)