Chipotle Copycat Guacamole
Looking for a crowd-pleasing appetizer or topping that's bursting with flavor? Look no further than this Chipotle copycat guacamole recipe! With just a handful of fresh ingredients and simple steps to follow, you can make a homemade guacamole that alllmost makes you feel like you're sitting right inside a Chipotle. 😉
This guacamole recipe is not only delicious but also incredibly versatile. Whether you're using it as a dip for chips or veggies, or as a topping for tacos or burrito bowls, this guacamole will add a burst of flavor and freshness to any dish. Plus, with the smoky and spicy flavor of chipotle peppers, this guacamole is sure to impress even the most discerning taste buds.
So grab some ripe avocados, a few simple ingredients, and get ready to make a guacamole that will have your friends and family coming back for more!
No matter how you serve up this easy guacamole, it is going to be a hit. Fresh avocado, onions, and a hint of lime in each bite. This copycat Chipotle recipe is one we make often for Taco Tuesday in our home.
Ingredients Needed
Avocado
Garlic
Onions
Lime
Jalapeño
Cilantro
Little bit of salt (the image has too much salt. I got a little excited filling that little bowl)
How to Make
Step 1: Grab your food processor, and add in the garlic, jalapeño, lime juice, cilantro and a pinch of salt. Mix up until you get a nice creamy texture.
Step 2: Then you will dice up your avocado in a bowl.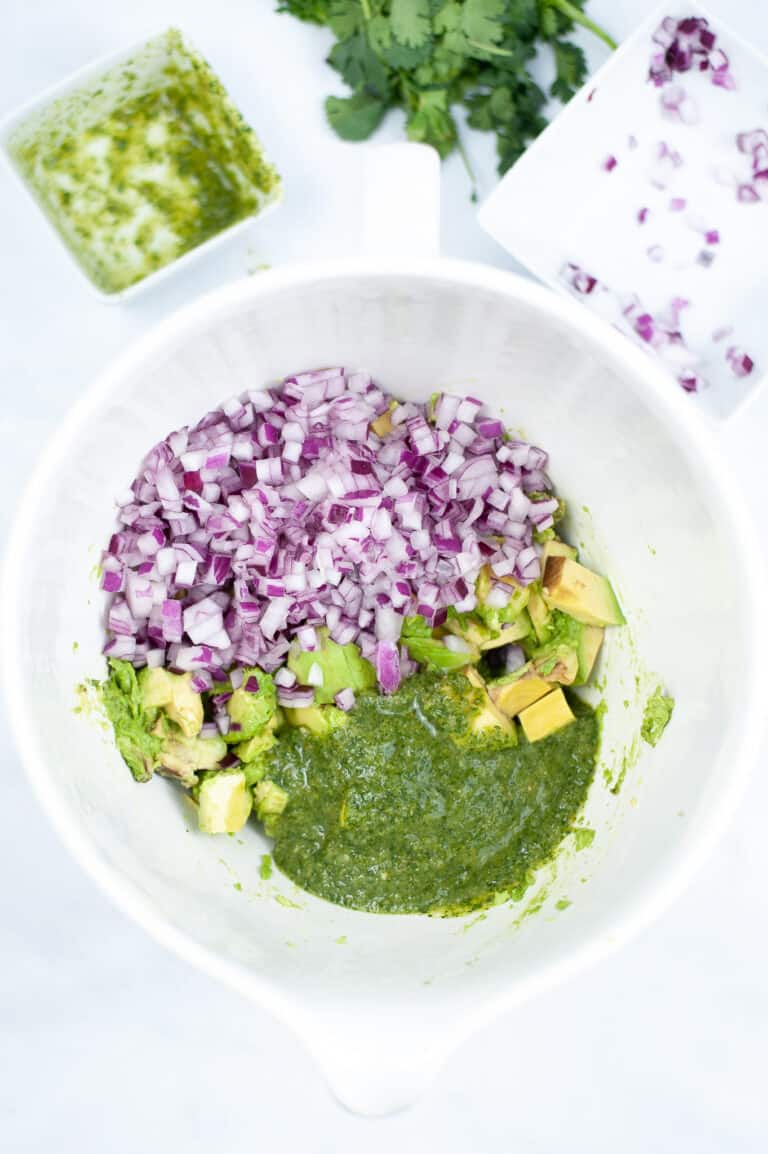 Step 3: And onion. Add the cilantro mix, more lime juice to taste and mix until all combined.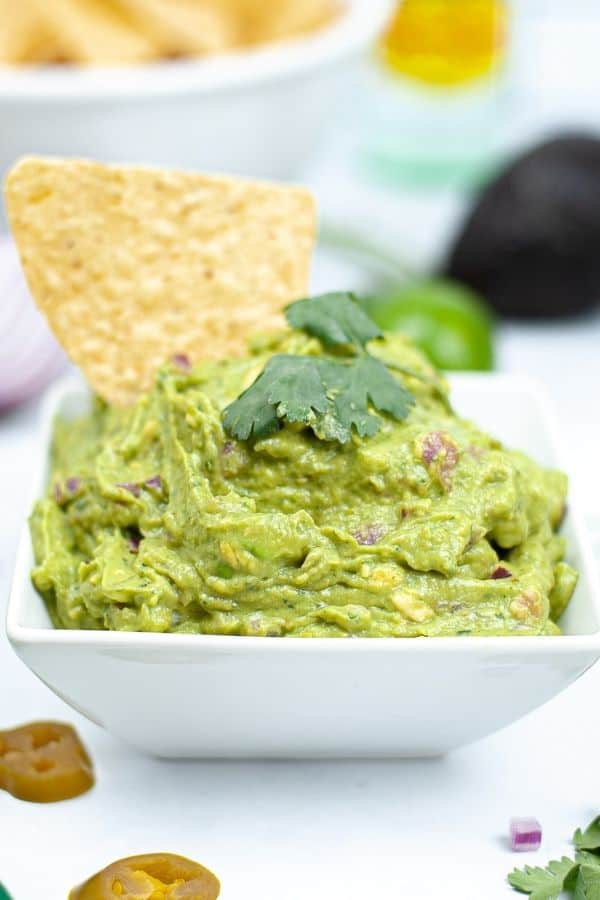 Serve up with chips, veggies, etc.
Storage
Guacamole needs to be stored in an airtight container in the fridge. I love this little contraption to keep it super fresh. You will find it is best served fresh, as it will begin to turn brown as it sits in the fridge. Alternatively you can place plastic wrap right on top of the guacamole so that none of the guacamole is touching any air to help the dip from browning as fast.
Another tip is to place the avocado pit in the bowl with the guac, to help the browning process.
Expert Tips and Variations
Make sure to use fresh ripe ingredients for the best flavor.
The cilantro is an ingredient you can control how much or little you add.
Consider dicing up tomatoes to mix in. Just know it will takeaway from the copycat recipe.
Double or triple the recipe if you want extra to serve a crowd.
If you are not a fan of heat, leave out the jalapeño. Or de-seed peppers to prevent heat.
This guacamole recipe tastes incredible topped on several favorite Southern Plate recipes including:
Cream Cheese Chicken Enchiladas
Instant Pot Beef Barbacoa Tacos
Sweet Potato and Black Bean Tacos
Recipe FAQs
Common questions when making this Chipotle Copycat Guacamole recipe.
How to pick ripe avocados?
Here are a few pointers on how to pick ripe avocados. Grab the avocado, and gently squeeze it and if it is somewhat soft, that means your avocado is riper. If it is very firm, that means it needs more time. The other thing to look for is making sure there is not any bruising or soft spots in your avocado.
How to ripen avocados?
Place your under ripe avocado in a brown paper bag with a banana or even a kiwi. Allow it to sit in the bag for 1-2 days. The natural gasses released will ripen the avocado perfectly.
Can you freeze guacamole?
Guacamole can be frozen, but it will alter the flavor and texture. The avocado dip will lose a lot of the flavor, and the texture will be soggier. I recommend only making what you plan to eat.
How long does this dip last?
3-4 days is the max life of this dip. You will find after a bit it begins to lose the flavor, becomes watery, and spoils. The best flavor is eaten fresh or within the first 2 days.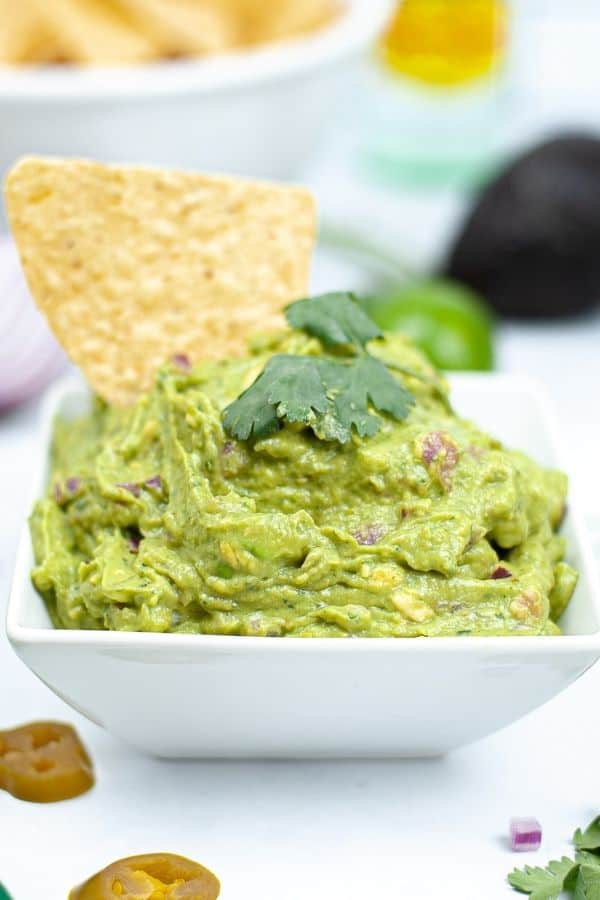 Ingredients
4-5

hass avocados

1/2

cup

of cilantro

2

limes

1/2

purple onion

6-7

jalapeño slices

optional

2

tablespoons

of minced garlic
Instructions
 In a food processor, blend garlic, lime juice, jalapeño, and cilantro into a juice.

  Peel and chop avocados into chunks in a mixing bowl. Add diced onion and cilantro lime juice. Mix until creamy.

Serve with your favorite chips or vegetable sticks.
Notes
Use fresh ingredients for the best flavor. 
Store leftover guacamole in the fridge for 3-4 days. I recommend placing plastic wrap on top of the guacamole to help prevent browning of avocado.