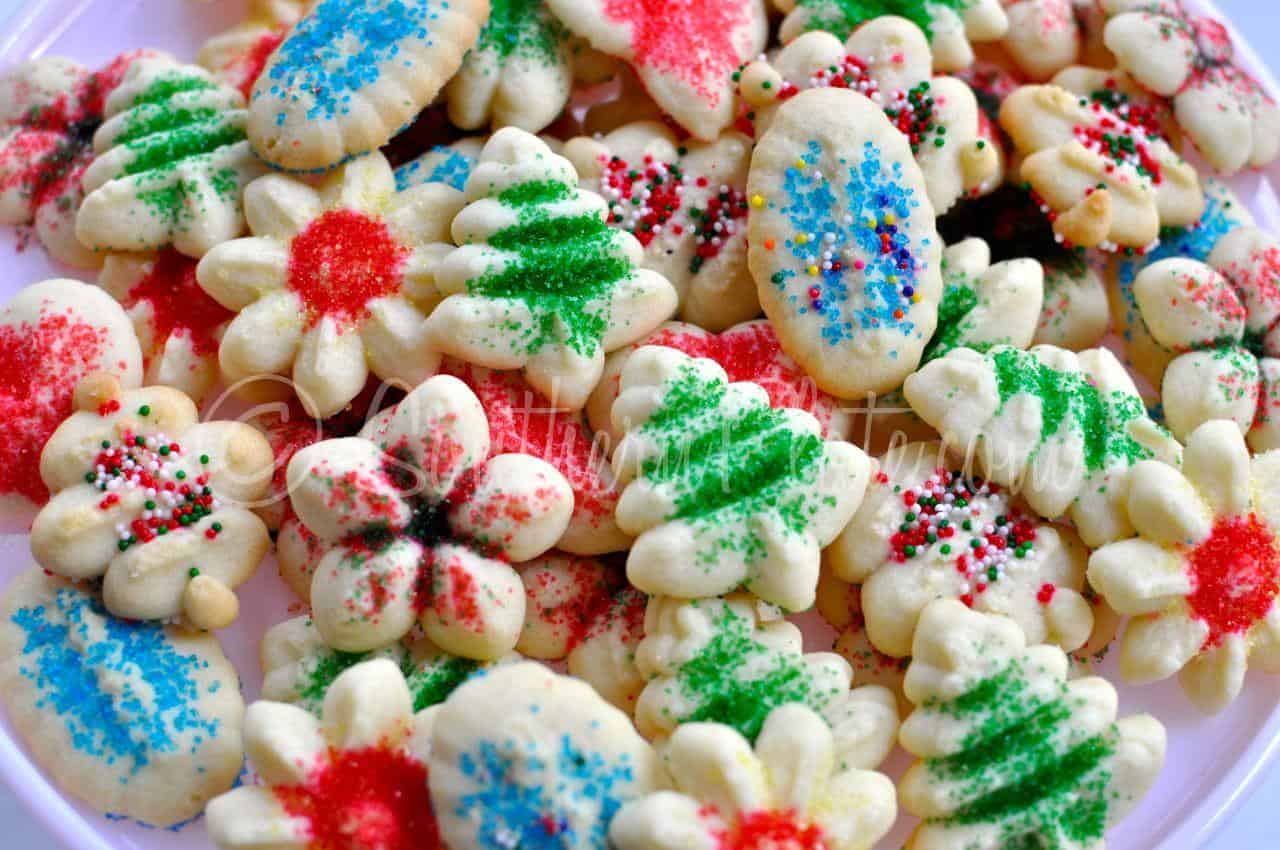 If you have never made these classic Simple Spritz cookies before, you may not realize that these gorgeous little cookies, with all of their different shapes and colors, are some of the quickest and easiest cookies you can make. You may not realize that they take half the time of cut out cookies and only use ingredients you probably have on hand already. You may not realize that changing shapes is as simple as unscrewing a ring and putting a new stencil on – in a matter of a few seconds.
The end result is a clean tasting butter cookie that will bring oohs and ahhs from other folks who may not realize that it is even possible to make cookies like this at home because they're so used to only seeing them in grocery stores.
They will then realize that a whiz you are in the kitchen 🙂
You'll need: Baking Powder, Milk, Egg, Vanilla Flavoring, Butter Flavoring (or almond*), All purpose flour, softened butter, and sugar.
*A lot of spritz cookie recipes call for almond flavoring so if you like almond flavoring you should definitely add it. If you are like me and really and truly dislike almond flavored things, you should skip it and add butter flavoring or another that you like in it's place. Big fan of almonds, but not a cheerleader for the flavoring.
P.S. Speaking of things I'm not a fan of. I ate a snail in the Dominican Republic last week. Considering I've eaten an almond flavored cookie before, it just seemed fair. Won't be doing that again but I had the opportunity and took it. I figure folks who eat snails just must not be good hunters. If you've got to settle for the slowest moving creature ya know…
You're also going to need a cookie press.
There isn't any way around this if you want to make Spritz cookies but I can tell you how to get one pretty cheap 🙂 There are all types available in all price ranges. Personally, I would stay away from anything plastic. This one has plastic parts but the majority of it, the parts that take the pressure, are stainless and that makes it work really well. This one retails for about $25 but if you get it at Michael's Arts and Crafts or Hobby Lobby, you can use a coupon for 40-50% off. Michael's has their coupon available online to print or you can get it on their phone app. Hobby Lobby also has theirs available online and if you're in the store and want to use it you can just pull up their webpage and show the cashier the coupon. I got this one at Hobby Lobby. So I used a coupon and paid a little over $12 for a new one.
I already own a cookie press of course, but I have no idea where it is. Why? Well you see, we moved a little over 3 years ago. You know how, when you move, there are always those few boxes that never get unpacked? Yup. They're in our attic and my original cookie press along with my vintage Davy Crockett coffee mug are in those. ~sighs~ Maybe my old one will be discovered by archeologists someday. If I'm lucky, just for fun, it'll be discovered by archeologists who make up their own history and end up in a museum somewhere, with a sign that says it was the original cookie press of Davy Crockett himself.
You'll want colorful sprinkles and a funnel if you want to do a cute little technique I'm going to show you later. Funnel is optional, cute sprinkles are a must 🙂
Place softened butter and sugar in a mixing bowl.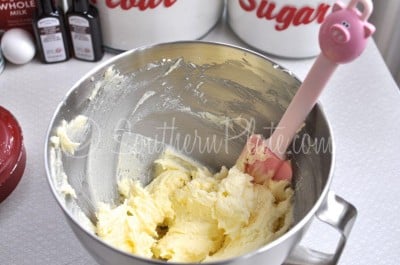 And beat the mess out of it until it's well blended and fluffy.
Add in egg, milk, and flavorings and beat again until well mixed.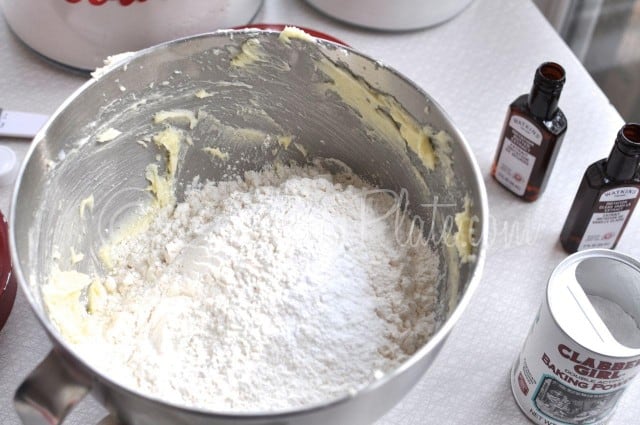 Then add in flour and baking powder.
I sometimes add 1/4 teaspoon salt here as well. The original recipes don't call for it but I find that little bit helps. It's up to you. I add it when I think about it and don't when I forget.
Mix that really well and you have your cookie dough!
Fill your cookie press (it will come with instructions to show you how) and fit it with your first shape stencil.
Press out until your cookie sheet is filled.
This one just has a trigger grip. I squeeze and one cookie comes out. Move it to another spot, squeeze, move it to another spot, squeeze….
It's a pretty fast process.
Decorate cookies with colorful sprinkles before baking.
Oh and here is what I used that funnel for.
I made these little flowers and sprinkled them with yellow sugars first. Then…
I gently placed a funnel on top of the centers and poured in red sprinkles.
When you lift up the funnel it looks like this. It is a cute touch but only took a second or two for each one.
Low Maintenance but beautiful cookies!
Because not once have I ever looked at a recipe and said "Ya know, it looks good and all that, but I just wish it were more complicated!"
Enjoy your beautiful cookies!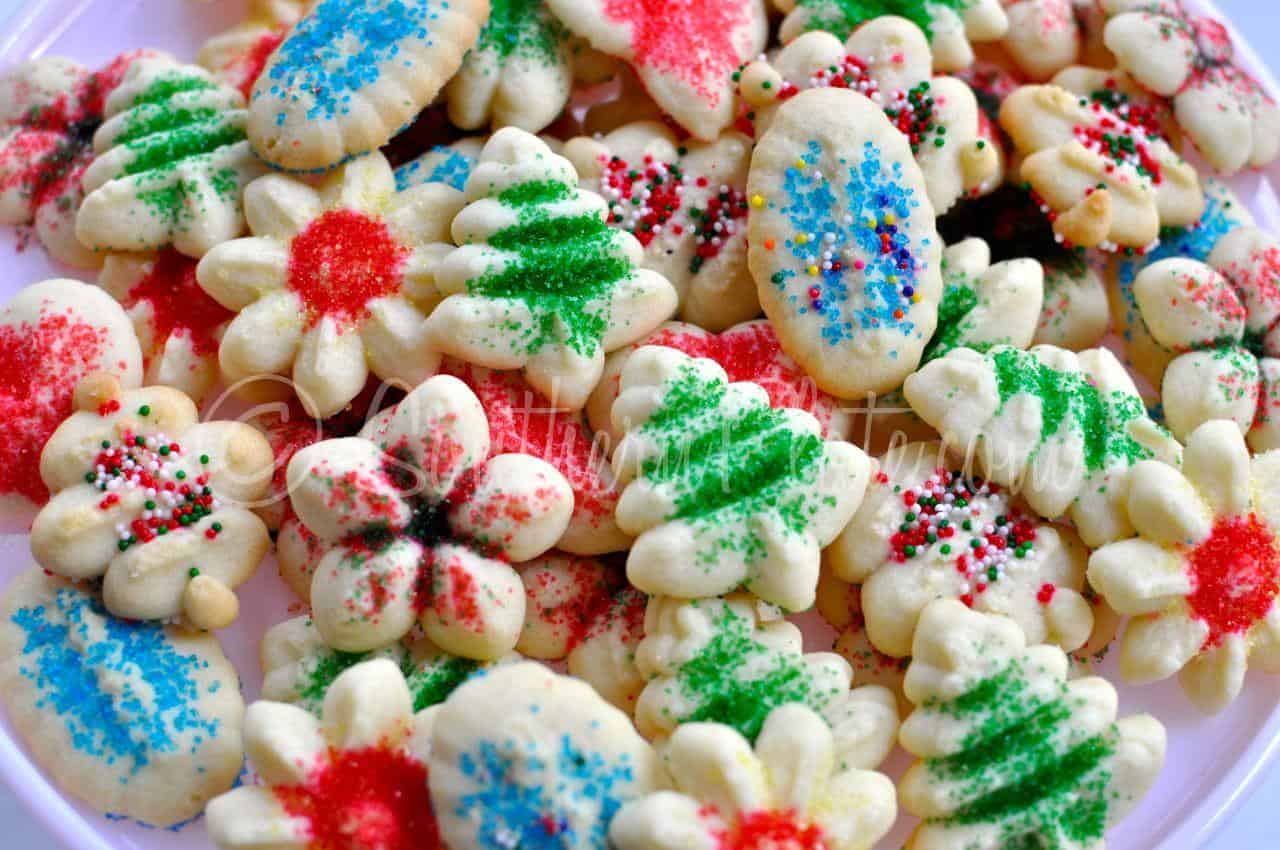 Ingredients
3 1/2

cups

all purpose flour

1

teaspoon

baking powder

1

+ 1/2 cups softened butter

softened at room temp

1

cup

sugar

1

egg

2

tablespoons

whole milk

1

teaspoon

vanilla

1/2 to 1

teaspoon

butter flavoring

or other flavoring of your choice. Almond or Lemon would be nice
Instructions
In mixing bowl, place butter and sugar and beat with an electric mixer until light and fluffy. Add egg, milk, and flavorings and beat again until well combined. Add in flour and baking powder and beat once more until a good dough is formed (will only take a minute or so), scraping down sides as needed.

Place dough in cookie press and add a stencil to the bottom according to cookie press directions. Pipe out onto ungreased cookie sheets and sprinkle with colored sugars. Bake at 375 for 8-10 minutes or until just lightly browned around the edges. Repeat until all dough is used.
*Most spritz cookie dough has to be refrigerated to firm up before use but this one doesn't.
Follow me on Instagram for behind the scenes photos!
Yum