I have so many family Christmas recipes that I tend to rotate them each year, never making all of them in one particular season but some this year, and different next. There are a few, though, that are absolute must makes every holiday season. These must make cookies are the ones I'm sharing with you today.
How I do my Christmas baking
I don't do all of my baking at once, but spread it out instead. I've been working on Holiday baking for well over a month now. I'll bake treats and give them to different folks here and abouts as they get made. What friends and family get all depends on when I happen to catch them and we have a constant fun variety around home. There isn't ever a whole table of a variety of cookies or anything like that, because I make different cookies throughout the season and wait until we've enjoyed those (or given them away) until I make the next batch. This keeps our holiday baking a light and fun experience and it never seems like a chore or work because we don't ever have that one day where we feel like we have to bake ourselves to death in order to make a cookie tray look nice :).
These cookies were a very important part of my childhood. So important, in fact, that I just couldn't wait to make them with my firstborn. The fact that he was just shy of six months old when his first Christmas rolled around didn't deter me, either! I had my husband hold him up on the counter (he couldn't even sit up on his own yet) as I rolled out the dough. I'd place a cookie cutter down on the dough and use his little hand to gently press it in. Brady would light up and laugh with each new cookie, even though he had no idea what we were doing!
As important as they were to my childhood, I think they have become even more so to my own children. Decorating these cookies is the last thing we do each year on Christmas Eve, before they head off to bed. My husband's parents come over from Georgia and we all get in on the action. I give everyone a dozen or so cookies and line up bowls of colored icings (the icing is the quickest part to make), sprinkles, and various decorations I've acquired throughout the year (I use this activity to clean out my sprinkle pantry) and stand back and take pictures. Even though I've come to expect it, I'm always taken aback at how much fun the generations have together decorating these cookies. You've never seen young and old have so much fun!
This is always a hectic time of year. For me, though, commercialism isn't to blame – I finished my Christmas shopping a few months back. It is just that there is so much to celebrate and so many wonderful things to do in such a short time. If I had my way, the Christmas season would last twice as long. But it doesn't and last I checked no one was interested in my opinion on the matter :). That is why these cookies are such a wonderful lifesaver. For that day when you planned on coming home and making cookies with your kids but just found yourself one thread short of being completely frazzled, these cookies make life easy again – without sacrificing taste, beauty, or the fun of getting into the kitchen with your younguns.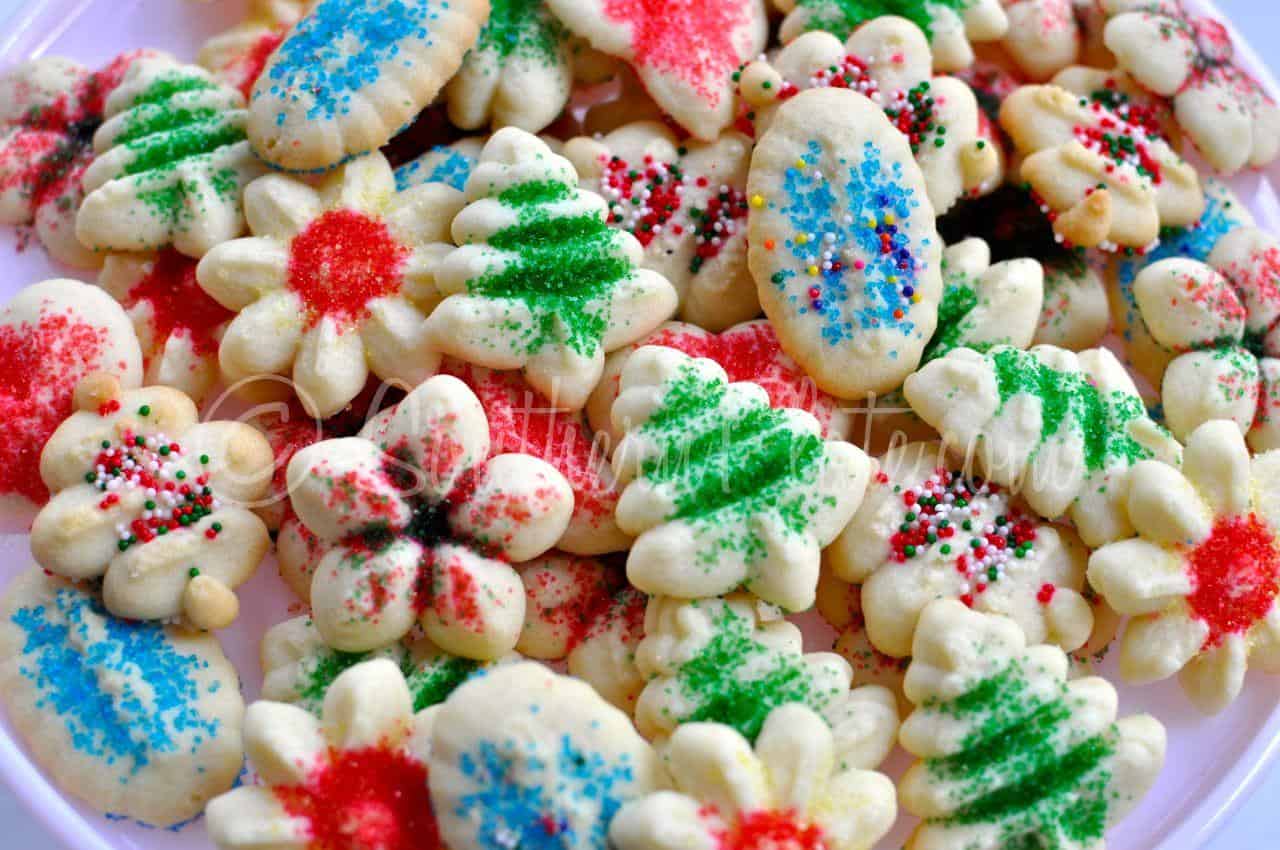 In my younger days, I thought these beautiful Spritz cookies looked so painstakingly perfect that they could surely only be made in factories. Then I purchased my first cookie press and was surprised to find they were  the easiest shaped cookies I'd ever made! All it takes is mixing up the dough, chilling it, and then spooning it into the press. A light sprinkling of candies or colored sugars gives that magical Christmas look that has folks veering to the cookie platter first thing!
There is something about taking a bite out of the soft crunch of a meringue cookie and having it instantly melt in your mouth. When you add in studs of chocolate, these cookies get even better. My nephew likened the experience to eating clouds the first time I made them for him, thus the name. Meringue cookies are surprisingly simple to make, too!
Wanna see me break out into a big grin? Mention these cookies! You'll have to read the story of how Mama crushed the candy canes in the post to see why. Add to that the fact that they are absolutely delicious and cute as can be and you know why these are on my "must make" list!
I'm not a fruitcake gal, especially the liquor soaked ones that you can smell long before you even have a chance to take a bite. But I love these deliciously spiced, moist, fruit studded bars. They take fruitcake to a whole new level for me. It helps that they start out with baking mix, are stirred together by hand in just one bowl, and then patted into a pan to keep the low fuss momentum going.
And here is the secret about these cookie bars – you can switch up the ingredients and morph them into pretty much any cookie you want. Check out my chocolate chip version or oatmeal scotchies to get ya started. Try peanut butter chips, M&M's, or even cinnamon chips for a fun switch up!
Later this week, I'll be sending out my Must Make Christmas Candy recipes! Make sure you subscribe to my emails so you won't miss it. There is a box to sign up in red below entitled "Enjoy this post? Never miss another!". I am the only person who will ever see your email and I generally send out 3-4 emails a week, but I sometimes send out one or two more during the holiday season.
Yum