Cheesecake Toppings & An Easy Cheesecake Recipe
This post features lots of different (and delicious) ideas for cheesecake toppings, plus the easiest cheesecake recipe ever!
Today I thought I'd combine an easy cheesecake recipe with a little extra bonus: ideas for cheesecake toppings. From canned pie filling to whipped cream and a super easy pecan praline sauce, the topping options are endless! If you're a cheesecake lover, I bet one of the above cheesecake slices is just screaming out for you to reach into the computer and pick it up, right?
One of my favorite things to do when I have friends and family over is to set up a cheesecake toppings bar. That way everyone can take their pick and create a dessert they love.
But before we dive into the cheesecake toppings, I'm going to show you how to make your own low-maintenance and easy baked classic cheesecake at home. Yes, I just said low maintenance and we're even doing it all from scratch! Are you ready?
Tips for Making Cheesecake Recipes Easy
See, where cheesecake throws the most people is you think you have to have a special springform pan for it because just about every classic cheesecake recipe known to man calls for one. Now I want my cheesecake recipe to be easy so today, we're just gonna make us a good old home-grown country cheesecake and I will give you some topping ideas that are just as easy to love. I don't know about you, but right about now I feel like I'm doing a real public service by making it in my old 9×13 baking pan.
Recipe Ingredients for the Easy Cheesecake
Crust Ingredients
Graham cracker crumbs
Butter
Sugar
How to Make an Easy Cheesecake
To make the crust, melt your butter in a bowl and add your sugar.
Then dump in your crumbs.
Stir that up until it's pretty well blended.
Tip for the Crust
You can add a little more melted butter if you like, but don't worry if it's still a little crumbly, it'll be just fine.
Now press that into the bottom of a 9×13-inch baking pan.
Bake at 350 for about 10 minutes, or until lightly golden.
Okay, now put your cream cheese in a mixing bowl with your sugar and mix that up until it gives in to your will.
Tip about the cream cheese filling
It's important that you soften your cream cheese and butter at room temperature for a while. This is the one thing I really do recommend. The absolute best thing to make your life easier is to just put it out on the countertop and let it soften for a few hours.
It's just that this requires advance planning though and therein lies my problem.
It will become all creamy like the picture above.
Add in your eggs, vanilla, and lemon juice.
Beat your cheesecake batter until it's all smooth and creamy, or until you get tired of fooling with it – whichever comes first.
Smear the cheesecake filling into your pan, spreading it over your crust.
See how it covers all the crust in the above photo?
Place this in a 300-degree oven and bake for 55 minutes, or until set in the center.
You then want to refrigerate your cheesecake for several hours before serving it alongside the selection of cheesecake toppings below.
Cheesecake Toppings
Here are some ideas for cheesecake toppings I came up with, but the possibilities are limitless.
Any type of canned pie filling. Top options include blueberry, strawberry

(who can resist

?)

, cherry, and raspberry.
Fresh fruit slices. Yep, both canned fruit and fresh fruit make great cheesecake toppings. You can opt for whatever fresh fruit you like, such as peach, mango, bananas,

slices

, or blueberries. I also love to dust them with powdered sugar once on the cheesecake.
Canned mandarin oranges. Drain the juice first before you place your mandarin slices on top.
Caramel topping. To make a salted caramel topping, simply mix some salt into the caramel sauce or sprinkle some sea salt over the caramel sauce on your cheesecake.
Super easy pecan praline sauce. Keep reading for the recipe!
Chocolate syrup. Go one step further and pop some Oreo cookie crumbs or crushed Thin Mint cookies on top of your cheesecake along with the chocolate syrup.
Chocolate chips. You can either add chocolate chips straight from the bag or melt them before drizzling the homemade chocolate sauce over your cheesecake.
Chocolate shavings. Because two chocolate options aren't enough, another idea is to simply sprinkle chocolate shavings over your cheesecake.
Whipped cream. Check out my recipe for homemade whipping cream using evaporated milk.

. Go simple with

as your

. Bonus point for combining a scoop of

with any of the other toppings mentioned in this post, like strawberries or

.

Candies. Why not add your favorite candy on top of your cheesecake? I highly recommend Reese's peanut butter cups or crushed candy cane pieces

are the

during the holidays.
Matcha. If you have a green tea fan in your life, they'll love the addition of matcha on their cheesecake slice.

. For a tangy

, you'll want to whisk together

, a small amount of

, and a drop of

to make a

.
How to make praline
(a super
)
Place pecans in a jar, filling to about halfway.
Pour in some caramel topping.
and there ya go!
Now for the cheesecake and its toppings. Aren't they beautiful?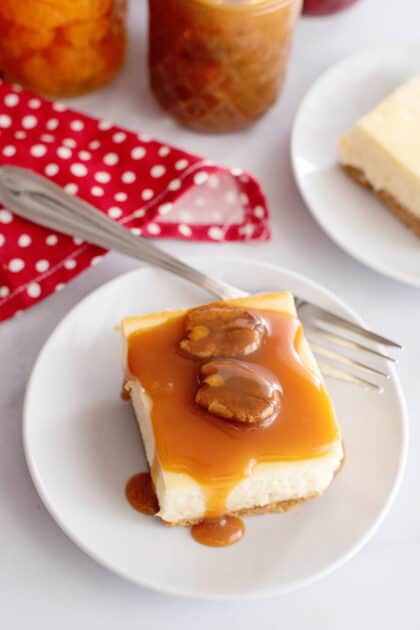 This is our pecan praline sauce.
Cherry pie filling
Blueberry topping
Mandarin oranges
They are just canned ones that I drained, but they look really pretty and taste delicious on top of cheesecake.
Storage
Your baked cheesecake without topping will last up to a week when stored in an airtight container in the fridge.
Recipe Notes
I'm using a Mexican vanilla extract for this cheesecake recipe because it's pretty cheap and you can find it on the aisle with all of the yummy Mexican food ingredients.
Here are some helpful tips to prevent your cheesecake from cracking:

Place an oven-safe dish of water beneath it in the oven.
Hit the pan gently a few times on the counter to get out any air bubbles that might have gotten trapped while you were mixing it.
Make sure your cream cheese is really softened because if there were lumps in it (you know, those little bumpy things you see in my picture right above here) they may cause a crack to form as well.
You may also like these cheesecake recipes:
Ingredients

2

cups

graham cracker crumbs

1

stick

butter

melted

4

packages

cream cheese

8 ounces each, softened

1 1/4

cups

sugar

1/4 cup for crust

2

tablespoons

lemon juice

1

teaspoon

vanilla

4

eggs

Instructions

Combine melted butter, crumbs, and 1/4 cup sugar. Stir until well combined and crumbly. Press into the bottom of a 9x13-inch baking pan and bake at 350 for 10 minutes, or until very lightly browned.

2 cups graham cracker crumbs,

1 stick butter,

1 1/4 cups sugar

In a separate mixing bowl, combine the softened cream cheese and sugar. Beat at medium speed until light and fluffy. Add eggs, lemon juice, and vanilla. Mix the cheesecake batter until well combined and creamy.

4 packages cream cheese,

1 1/4 cups sugar,

2 tablespoons lemon juice,

4 eggs,

1 teaspoon vanilla

Pour the cheesecake filling over the crust and bake at 300 for 55 minutes or until set in the center. *Notice I lowered the temperature from when I baked the crust - that's one of those important steps!

Cool and then refrigerate for several hours before serving. Cut into twelve squares.

Serve alongside your toppings bar for a dessert everyone is sure to love!

Nutrition

Louise submitted a great quote that seems just like something my mother would say

and is definitely something my Mama has always taught me to live by.