Bacon Breakfast Casserole
Load your flaky crescent roll dough with hash browns, crispy bacon, egg, and melted cheese to make the bacon breakfast casserole of your dreams.
This bacon breakfast casserole is part of my Oh My Bacon Grease! series. To see how it all began, click here.
I'm working on filling up my bacon grease jar today so I followed my mother's advice and decided to make her breakfast pizza, starring bacon. In its original form, this recipe could feed an army. Literally. Mama made it on those mornings my dad or brother had friends over getting ready to go fishing, camping, canoeing, you name it. I made it a bit smaller but still large enough to feed company. If you like, you can use the small can of crescent rolls and half everything else to make it an 8×8 baking pan.
The basic ingredients for my cheesy bacon breakfast casserole recipe are hash browns, shredded cheddar cheese, eggs, bacon, and crescent roll dough. But you can go wild and add your favorite breakfast toppings. I've included lots of variations below. This easy breakfast casserole recipe is perfect to make during the holidays, as it only takes 10 minutes to prep and you can even do that the night before. Then you can pop it in the oven the next day and it will be ready in under an hour.
Let me show you just how easy it is to make.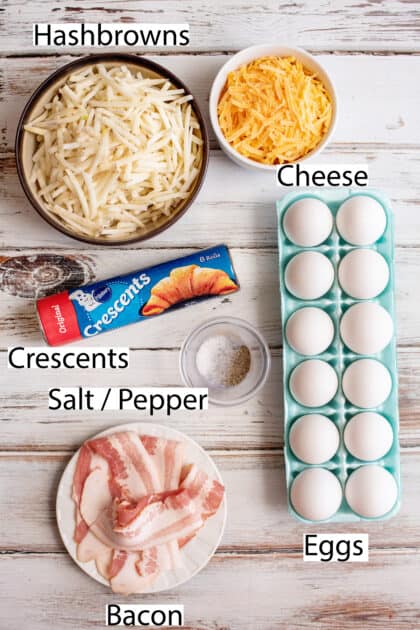 Recipe Ingredients
Frozen shredded hash browns (can use cubed hash browns)
Shredded cheddar cheese
Eggs
Bacon
How to Make Bacon Breakfast Casserole
Go ahead and fry the bacon first.
You know, you can cook up a few packages of bacon at once and store the cooked bacon in the refrigerator to make meal prep easier. When I do this, I try to use mine within a few days.
Open your can of crescent rolls and place them evenly in the bottom of a greased 9×13-inch casserole dish.
Eh, that looks even enough for me.
Spread your hash browns over them. The hash browns are still frozen, don't worry about thawing them.
Salt and pepper to taste if you like. I'd start with about 1/2 teaspoon of each.
Crack all of your eggs in a bowl and beat them up well.
Pour the eggs over your hash browns.
Now that your bacon is done, crumble it up a bit and sprinkle it over the top of your eggs.
Bake this in an oven at 350 for about 45 minutes, or until set in the center.
Sprinkle shredded cheese over the top and return to the oven just until cheese melts.
Storing the Bacon Grease
Now for the good part! Let's preserve all of that miraculous substance that is bacon grease or bacon drippings if you prefer.
I let mine cool in the skillet first, then pour it into a mason jar.
Now a lot of people strain off their grease but I actually scrape the pan just to get all of the little bits in mine. Then, when I'm making cornbread and such I dip my spoon waaaaaaaaaaay down to the bottom so I have the yummy bits in my batter.
A lot of folks have asked how I store my bacon grease. While my family stores theirs right on the counter, I started storing mine in the refrigerator a few years back to prolong its shelf life. It solidifies but it's just fine, you can scoop it out and put it right in the pan when you need it. I find that refrigerated bacon grease is a lot more convenient because there is no worry of messy drips when you spoon some out of the jar. If you need liquid bacon grease, you can scoop out what you need and heat it for a few seconds in the microwave.
Tipnut says you can even freeze bacon grease, which I hadn't thought of before. I guess because I tend to use mine up before I have a surplus. Now that I think about it, though, my goal is to have TWO mason jars full and put one in the freezer. Oh my, what a bounty that would be!
This is my bacon grease jar straight from the fridge, right after I added the new grease on top of the old. We're getting there!
I think I need to cook some more bacon though…
There you have it! Bacon breakfast pizza or casserole, all ready to serve up!
To see the final post in this series, click here.
Storage
Store casserole leftovers in an airtight container for up to 4 days. Reheat in the microwave, oven, or air fryer.
You can also freeze leftovers for up to a month. It's a great recipe for meal prep when you need breakfast on the go!
Recipe Notes
Here are some variations and additions to make this bacon breakfast casserole recipe your own:

Substitute the frozen hash browns for frozen diced potatoes or tater tots.
Dice and saute onion, mushrooms, and/or bell pepper after you cook the bacon.
Other vegetable options include ripe Roma tomatoes, corn kernels, or diced zucchini.
Crumble some breakfast sausage in the casserole along with the bacon.
Substitute the bacon for leftover ham if making it as a holiday casserole, or use a combination of both.
Use a different type of cheese, like sharp cheddar cheese, Monterey Jack cheese, or mozzarella cheese.
Soak some bread cubes in the bacon grease and add them to the top of your casserole so it's similar to a strata cake.
For more flavor, add half a teaspoon of garlic powder and onion powder to the egg mixture.
For a creamier casserole, add 1 cup of heavy cream or milk (or 1/2 cup each of cream and milk) when you beat the eggs and pour this over your hash browns.
Serve with diced avocado, tomato, and chives.

To test whether your egg casserole is done, stick a toothpick in the center. When it comes out clean and not wet, it's ready to eat.
Recipe FAQs
Can I make this bacon breakfast casserole in advance?
Absolutely. I'd just store the egg mixture separately and pour it over the top just before you bake it in the oven, so it doesn't make the dough soggy. You can refrigerate your casserole up to 24 hours in advance.
Check out these other breakfast casserole recipes:
Hash Brown Casserole With Sour Cream
Jiffy Cornbread Casserole With Ham and Cheese
Cracker Barrel Cheesy Hash Brown Casserole (Copycat Recipe)
Overnight Stuffed French Toast
Ingredients
1

can

crescent roll dough

8-count

3

cups

shredded hash browns

can use cubed hash browns

12

eggs

1

cup

shredded cheddar cheese

6

slices

bacon

more or less, depending on what you have on hand

salt and pepper to taste
Instructions
Cook bacon and set aside.

Spray a 9x13-inch baking dish with cooking spray. Place the crescent roll dough in the bottom of the pan, pinching seams together to seal. Spread frozen hash browns over dough. Salt and pepper to taste (I start with 1/2 tsp of each). Beat all eggs in a bowl and pour over hash browns. Sprinkle crumbled bacon over.

1 can crescent roll dough,

3 cups shredded hash browns,

12 eggs,

salt and pepper to taste

Place in oven at 350 degrees for 40-45 minutes, or until set in the center. Sprinkle cheese over top and return to oven just until melted. Serve warm.

1 cup shredded cheddar cheese
While we try to teach our children all about life,
Our children teach us what life is all about.
~ Angela Schwindt. Submit your quote here.
Subscribe to Southern Plate and receive an email from me each time I post something new! Click here