Overnight Stuffed French Toast
Featuring a cream cheese and strawberry preserves stuffing, this overnight stuffed French toast will have your sweetie or little munchkins drooling at the sight of it. And if you are looking for the perfect breakfast for Valentine's morning, well then here it is!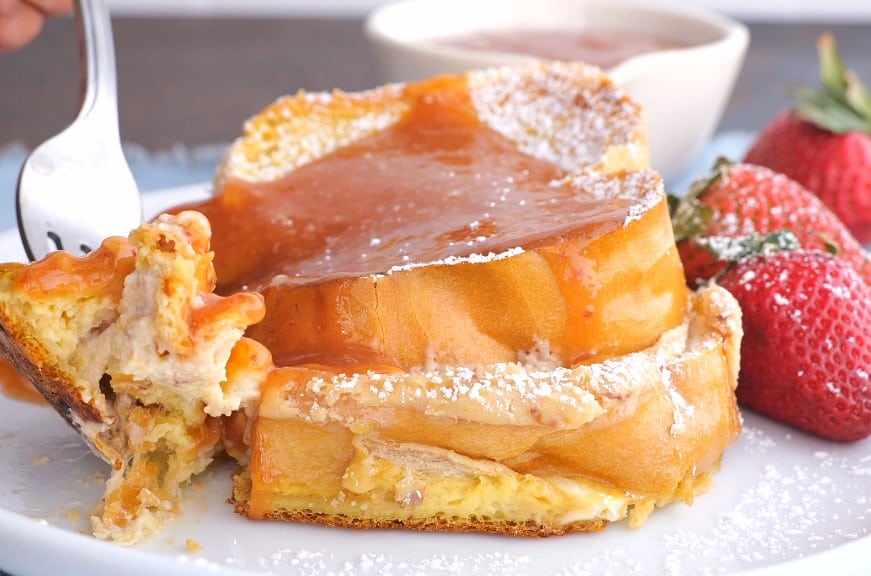 Take your French toast to the next level with this overnight stuffed French toast . The perfect indulgent weekend brunch, when you try it once you're guaranteed to never go back to a basic French toast recipe. I mean, who can resist not spending your morning by the stove? Just grab some pantry staples and French bread and you can easily assemble this stuffed French toast the night before. The next morning, simply pop it in the oven and breakfast will soon be served! Now, how much better does that sound?
So, what's in the sweet stuffing? A melt-in-your-mouth strawberry preserves and cream cheese mixture. But don't worry, you can use your favorite preserves if you like! Then it's topped with an egg and milk combo, which it soaks up overnight to resemble a custard similar to a bread pudding. After you bake your breakfast dish, you're rewarded with overnight French toast that's golden brown and crunchy on the outside and sweetly melty on the inside. To take it one step further, I top mine with delicious strawberry syrup.
Recipe Ingredients
Eggs
Strawberry preserves
Cream cheese (click here for our homemade cream cheese recipe)
Vanilla
Milk
A loaf of French bread
How to Make Overnight Stuffed French Toast Step by Step
Make sure your cream cheese is good and soft and place it in a mixing bowl with about three tablespoons of strawberry preserves.
Mix that up with your electric mixer until good and blended.
Like this.
Now, take your loaf of French bread and cut some big old honking slices out of it.
We want our slices to be anywhere from an inch and a half to two inches thick.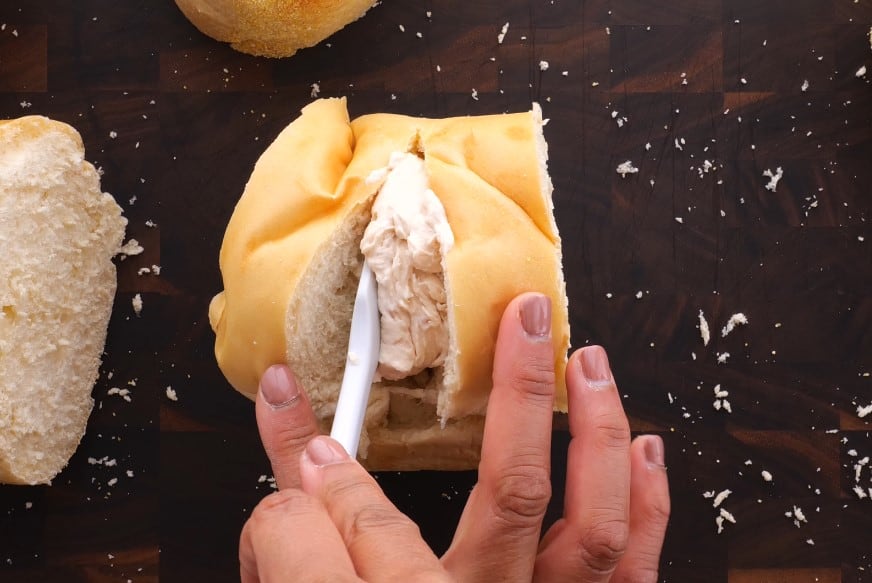 Using a knife, cut a little pocket into each bread slice. Make sure you don't cut all the way through to the bottom or all the way through to the sides. We just want a little pocket in the very center that we can stuff our cream cheese mixture into.
Spray a 9×13 baking dish with cooking spray.
Place the bread slices all on their sides in the baking dish.
In a separate bowl mix egg, milk, and …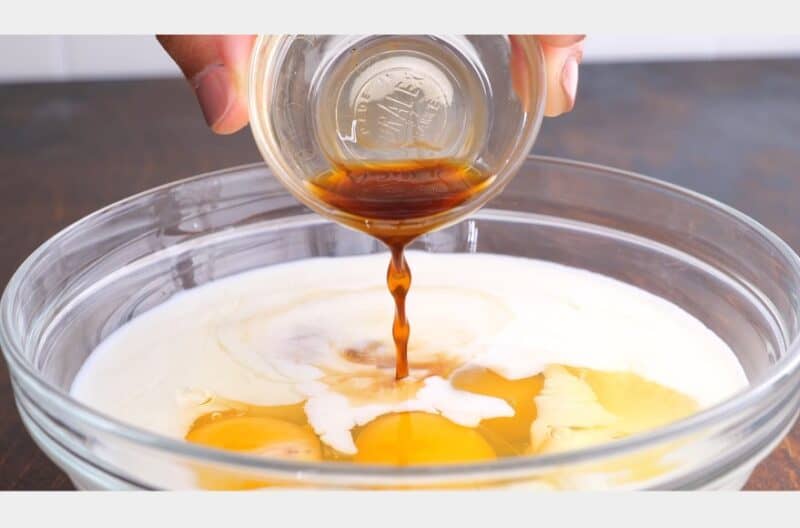 Don't forget the vanilla extract.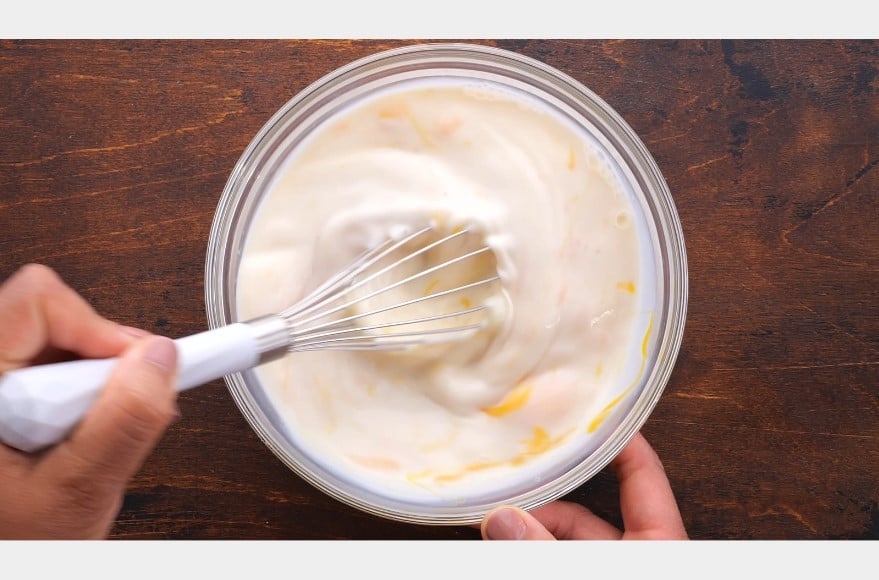 Slowly pour the liquid over the bread slices. I pour a little over the top of each one until I run out.
Cover and place in the refrigerator overnight.
Sometimes I make this as a special treat as part of our supper. In that case, I just assemble it in the morning and let sit in the fridge, covered, all day.
When ready to bake, remove the cover and bake at 350 for 30 to 40 minutes, or until golden brown.
To prepare your strawberry syrup, simply take some strawberry preserves and place them in a microwave-safe cup or small pitcher and follow the instructions in the recipe below. This makes a delicious and super easy syrup!
Sprinkle powdered sugar or confectioners' sugar over the top if you like.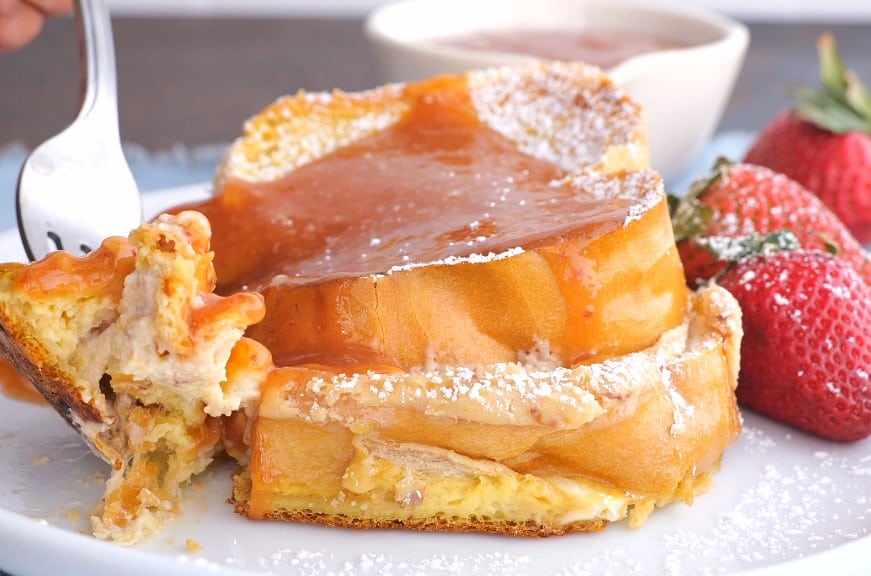 And enjoy this delicious cream cheese-stuffed French toast!
Storage
If you want to freeze this baked stuffed French toast, do every step up to assembling the egg mixture. When ready to cook, pull the french toast out of the freezer to thaw at room temperature for at least 30 minutes. Then pour the egg, milk, and vanilla mixture on them and bake.
To reheat leftover French toast, bake on a greased baking sheet at 350 degrees for about 10 to 15 minutes until heated through. Watch it to make sure it doesn't burn and flip after about 5 to 7 minutes. I also sometimes put them in a buttered skillet over medium heat and cook until golden (kinda like a grilled cheese sandwich) but just until it's cooked through.
Recipe Notes
If you aren't crazy about strawberry preserves just get your favorite. Raspberry or blueberry French toast is a treat as well!
You can also serve your overnight French toast with maple syrup, whipped cream, a scoop of vanilla ice cream, or some fresh fruit

and

.
To take this recipe to the next level, top your with a cinnamon streusel topping before baking. Visit this apple pies muffin recipe for instructions on how to make an easy cinnamon streusel topping.
Recipe FAQs
Can you make this into a French toast with less sugar?
If you want to make this stuffed French toast recipe less sugary, opt for low-fat cream cheese and sugar-free strawberry preserves.
What's the best bread to use for French toast?
While I use French bread, baked French toast is commonly made with brioche bread. Another option is challah bread.
Why is my French toast soggy?
Your baked french toast might become soggy if you use too much egg mixture (stick to the recipe), the oven temperature is too low, or you pull your baked French toast out of the oven too early.
Other French toast recipes you may enjoy:
Waste Not, Want Not French Toast (And How To Freeze It)
Cinnamon Roll French Toast Bake
Banana French Toast with Pecans From Mama's Kitchen
Ingredients
1

loaf French bread

8

ounce

cream cheese

one package, softened

3

tbsp

strawberry preserves

plus more for syrup

4

eggs

1

cup

milk

1

tsp

vanilla extract
Instructions
To make the cream cheese filling, place softened cream cheese and 3 tablespoons of strawberry preserves in a mixing bowl and beat with an electric mixer until well combined and creamy. Set aside.

8 ounce cream cheese,

3 tbsp strawberry preserves

Cut French bread into six 1 1/2 inch to 2-inch slices. Reserve end pieces for another use. Cut a pocket into the side of each slice, being careful not to go all the way to the bottom.

Stuff each pocket with cream cheese mixture.

Spray a 9 x 13 dish with cooking spray. Arrange slices flat in the dish.

In a bowl, beat together eggs, milk, and vanilla until well blended. Pour the egg mixture over the top of the bread in the baking dish. Cover and refrigerate for several hours or overnight.

4 eggs,

1 cup milk,

1 tsp vanilla extract

Remove cover and bake in a 350-degree oven for 30 to 40 minutes, or until golden brown.

Serve with strawberry syrup
To make syrup
Place 1 cup of strawberry preserves in a microwave-safe bowl. Microwave at 30-second intervals, stirring in between each, until melted and pourable consistency. Serve warm over warm stuffed french toast.
Make this sugar-free by using sugar-free preserves!
Nutrition
~~~~~~~~~~~~~~~~~~~~~~~
~The Wolf Within~
An old Grandfather, whose grandson came to him with anger at a schoolmate who had done him an injustice, said, "Let me tell you a story. I too, at times, have felt a great hate for those that have taken so much, with no sorrow for what they do. But hate wears you down, and does not hurt your enemy. It is like taking poison and wishing your enemy would die. I have struggled with these feelings many times."
He continued, "It is as if there are two wolves inside me; one is good and does no harm. He lives in harmony with all around him and does not take offense when no offense was intended. He will only fight when it is right to do so, and in the right way."
"But the other wolf, ah! He is full of anger. The littlest thing will set him into a fit of temper. He fights everyone, all the time, for no reason. He cannot think because his anger and hate are so great. It is hard to live with these two wolves inside me, for both of them try to dominate my spirit."
The boy looked intently into his Grandfather's eyes and asked, "Which one wins, Grandfather?"
The Grandfather solemnly said, "The one I feed."
A Native American tale told many times around the Sacred Fire.
Author Unknown