I hope you enjoy this easy to make Cornbread Casserole recipe packed with protein.
Make this Cornbread Casserole with Whatever Protein You Choose
As all southerners know there are a million different ways to make cornbread and usually only one way is the best. And that's the one that we make which was likely handed down from Mama, and her mama, and her mama and well you get the point. So I wasn't too excited to try this 'new' cornbread casserole recipe with ham. I just wasn't sure I would like it but I tell you what, it was really good! I felt fuller afterward, I think due to the protein and I have since made it with salami and even brisket and have enjoyed them both. You could even chop up some beef cocktail smokies if you like from our Pigs In A Blanket recipe here.
For this Cornbread Casserole recipe you'll need:
An onion
Two packages of corn muffin mix*
Spicy Brown Mustard (or when I chopped up some Beef Smokies instead of ham I used barbecue sauce)
5-6 slices of cheese (I use grated cheddar cheese now instead of the slices)
Few slices of ham or some other meat of your choice (beef slices (i have sliced up beef smokies), salami, or whatever other meat you would like to try).
See printable recipe card further down for all the quantities and instructions.
Check Cornbread Muffin Mix Ingredients
*You're also going to need whatever the corn muffin mix package calls for but I'm not listing that here because between all of us, there is no telling what brands of corn muffin mix we may come back with so the instructions will be different. I used Jiffy and this is the package size that makes six cornbread muffins so that is the size you should try your best to get. Then we'll prepare that mix according to package directions.
How to Make This Simple and Savory Cornbread Casserole Step by Step
Mix up cornbread muffin mix according to Jiffy package directions.
This one calls for milk and 2 eggs but follow the directions of the mix you have.
Mix that up til smooth.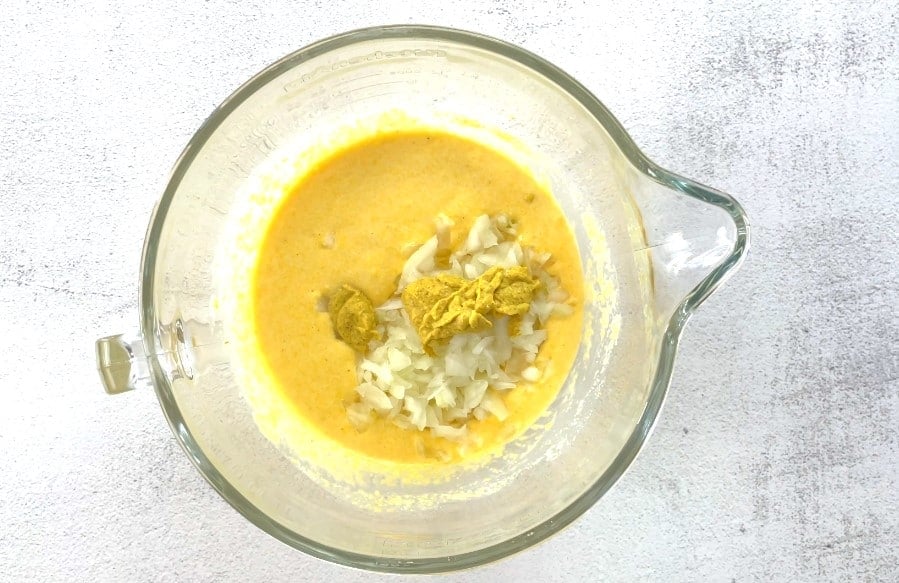 Chop your onion, and add it and the spicy brown mustard.
Stir that up really well.
Spread about half of the cornbread muffin mix in the bottom of a greased 8×8 or 9×9 pan and start adding meat of your choice. I find slices work well.
It will look like this when you covered the first layer with your meat selection.
Top with your cheese. Then add second layer of batter.
Pour the rest of your batter over the top and…
Spread it to cover everything.
Bake this cornbread casserole at 400 for 25-30 minutes or until nice and golden brown on top.
Allow to cool for 5 minutes before cutting.
Serve warm.
Enjoy !
Ingredients
2- 8

ounce

corn muffin mix

the size that makes 6 muffins, plus ingredients called for on package to make batter. In this recipe it was 2 eggs and milk.

10

oz

Sharp Cheddar cheese

shredded

5-6

slices

Ham

or preferred lunch meat protein

1

onion

small

2

Tablespoons

Spicy Brown Mustard

or sauce that you like with your lunch meat
Instructions
Preheat oven to 400. Prepare corn muffin mix batter according to package directions.

Add chopped onion and spicy brown mustard to batter, stir until well mixed.

Spread half of batter into a greased 8x8 or 9x9 baking dish. Top with meat followed by cheese slices, cutting them to fit if needed.

Top with remaining batter and gently spread to cover.

Bake for 25-30 minutes, or until cornbread is golden. Allow to cool 5 minutes before cutting.

Serve hot and enjoy!
Notes
I have used salami or beef smokies in place of the ham and both have turned out great.
Nutrition
Calories:
304
kcal
|
Carbohydrates:
24
g
|
Protein:
14
g
|
Fat:
17
g
|
Saturated Fat:
9
g
|
Fiber:
2
g
|
Sugar:
7
g
You may enjoy these other cornbread recipes:
Hot Water Cornbread Only 2 Ingredients
Mexican Cornbread Recipe by Mama
Keto Cornbread Recipe; Southern Plate
Country Cook: Cornbread Waffles with Chili & Fixins!
"God whispers to us in our pleasures, speaks to us in our conscience, but shouts to us in our pains. It is His megaphone to rouse a deaf world."
~ C. S. Lewis
Submitted by Debbie Strum, thanks Debbie! Submit your quote by clicking here.