Biscuit Pretzels beat out store bought soft pretzels by a mile! Warm, soft, chewy, with that perfect kick of salt, every bite of these feels like pretzel heaven. Me and Katy try to reserve them for special occasions when the whole family is here because we can hardly be left alone with them! These are not just a "good substitute" for a soft pretzel in a pinch. After you taste these, you'll find yourself reaching to make these over anything you could buy. They are that good!
If you want to hop right to the recipe, click the red "jump to recipe" button at the top of this page or scroll down to see the tutorial – with expert pretzel forming photos! If you have time to visit a spell, keep reading.
I've received a lot of emails and comments from long time readers wondering where all the stories about my kids went. They're all still here on SouthernPlate, but new installments are a rare thing these days because little Brady and Katy are now 20 and 15. As kids grow up, their stories become their own and, to a great extent, are no longer mine to tell. Ricky and I have moved into a new season of our lives. Y'all have been with us through a few of those seasons so far, from the spring of our family when the kids were just tots to the summer of their youth and now you're here in the Fall. Brady is living on his own at college and Katy is learning to spread her wings. That leaves me and Ricky getting to spend lots of uninterrupted time together doing what we love to do – and we are enjoying every moment of it. Truth be told, all of the seasons have been great blessings and we are grateful that we can look back and see that we lived them to the fullest.
Last week was no different. On Thursday I called a friend and asked what they were up to. "Watching the ocean" was the reply. Having not realized they were going to the beach, I was surprised. After that conversation I called Ricky and said "Why aren't we at the beach?". Now, Ricky is a planner and he also has a lot of responsibility at work. Truth be told, I had a million reasons why a last minute trip wasn't very responsible as well. Of course Ricky immediately rattled off a list off the top of his head as to why we couldn't possibly jump in the car and head to the beach the following day. At the forefront was "We have responsibilities, there are things I wanted to do on the house this weekend, it just seems reckless." I countered with "We are at the age where we need to take an impromptu trip to the beach every now and then. Responsibilities will wait and we won't remember what we did on the house twenty years from now but we will remember this weekend."
After over twenty years together, we've learned to recognize when the other is speaking wisdom that is louder than our own. We left the next morning, pulling the RV, for a super short trip to the beach. Heading down Friday, coming back Sunday. Brady was visiting and both kids decided they wanted to stay home. So this is how we spent our weekend 😁
A last minute quick trip to the beach with just the two of us. Somehow, we managed to cope. 😁Now, let me show you how to make the MOST DELICIOUS SOFT PRETZEL YOU HAVE EVER TASTED.
I'm going to show you how to make the pretzels and also a from scratch cheese sauce for dipping. I'll put the recipes in two different cards at the bottom so you can print just one or both.
For the pretzels, you'll need: an 8 count can of Pillsbury Grands Southern Homestyle biscuits, baking soda, butter, and some coarse salt.
For the cheese sauce you'll need: shredded sharp cheddar cheese (from a block*), milk, flour, butter, and salt and pepper to taste.
*You want to buy this cheese in a block and shred it yourself because pre-shredded cheese is coated in cellulose, that prevents it from sticking together, but also prevents it from being as smooth as it could be in a sauce. It will certainly work if you want to use what you have on hand, but shredded from a block is the ideal.


Now we get to use those kindergarten play-doh skills. Roll each biscuit into a rope, about 12-15 inches long. Then, fold the rope into a pretzel, as shown, pinching the overlapping pieces together.


Place these on a parchment lined baking sheet and freeze for 1-2 hours. You don't need to cover it, just put it in the freezer like this. Now, if you don't want to make these right away, after that 1-2 hour freezing time, remove them from the parchment paper, place them in a zipper seal freezer bag, and return them to the freezer until you want to make your pretzels.

Bring to a boil about 3 -4 cups of water in a medium sized saucepan over medium high heat. Stir in baking soda. It will foam up and then go clear again and that is how you know you're ready. Boiling the pretzel in this baking soda water before baking is going to help it brown fully without having to cook for very long, which allows the inside texture to be nice and chewy.
Drop the pretzels, one at a time, into boiling water and let boil for just one minute, no longer. Remove with tongs and put back onto parchment lined baking sheet. Brush with melted butter and sprinkle with coarse salt.
Bake these at 450 for 12-15 minutes, or until golden.
Oh my, look at those beauties! Let's make our cheese sauce:

To make cheese sauce: Melt butter in a sauce pan over medium heat. Stir in flour and cook for about a minute, stirring the entire time. Whisk in milk, salt, and pepper and stir constantly until thickened, about 3-5 minutes or so. Remove from heat and stir in cheese until melted. If it's too thick for your liking, you can stir in more milk to thin it a bit.

Serve pretzels warm with homemade cheese sauce.
Oh goodness gracious!
Yum!
Enjoy this fun and easy treat!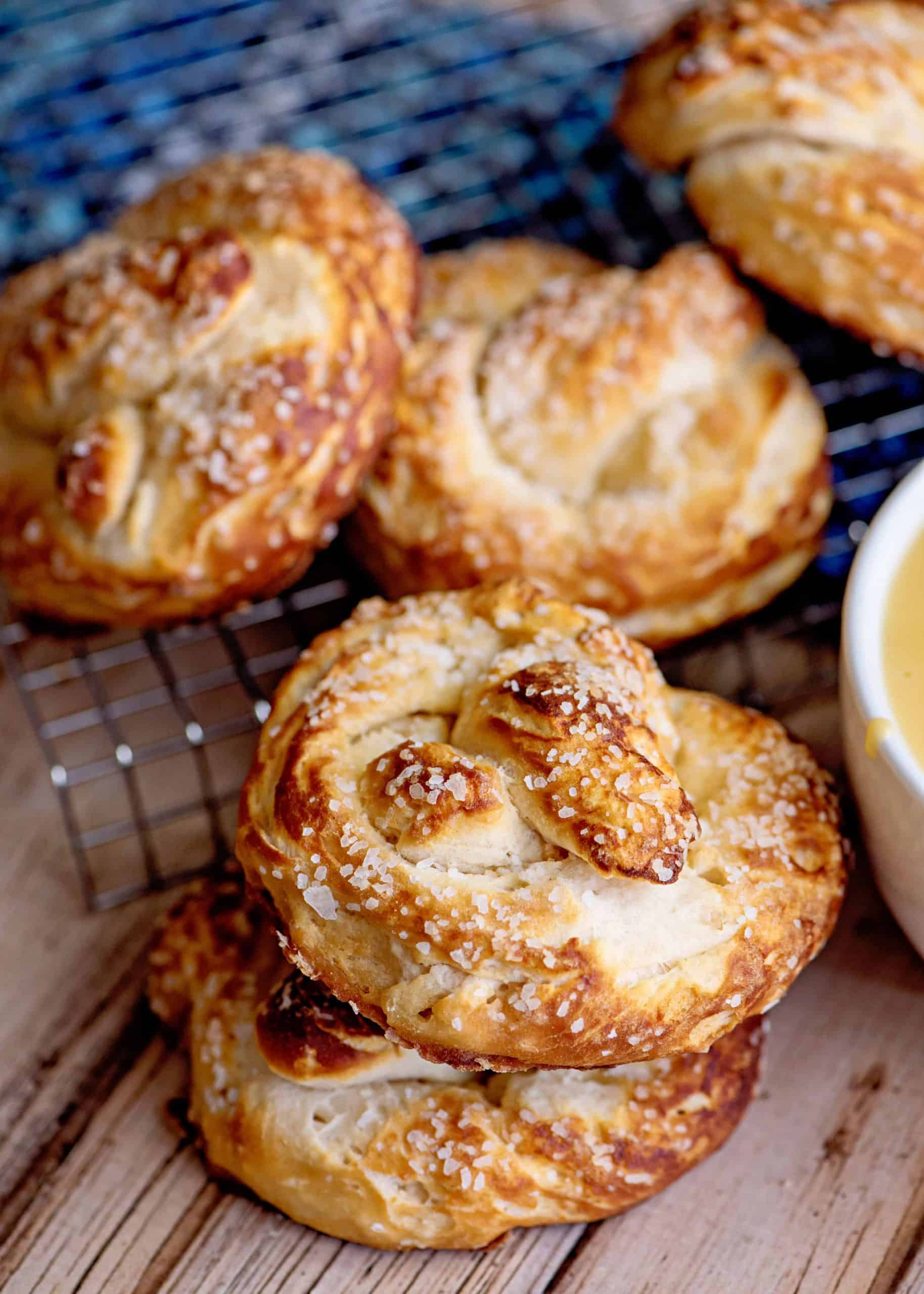 Ingredients
1

8 count can

Pillsbury Grands Southern Homestyle Biscuits

3-4

cups

water

3-4

tablespoons

baking soda

2

tablespoons

butter

melted

1

tablespoon

coarse salt
Instructions
Line a baking sheet with parchment paper. Spray lightly with cooking spray. Roll each biscuit into a 12-15 inch rope. Twist into a pretzel, as demonstrated in photos. Arrange on baking sheet.

Place uncovered baking sheet in freezer for 1-2 hours.

Bring 3-4 cups water to a boil in a medium sauce pan over medium high heat. Stir in baking soda. Place pretzels, a few at a time, in boiling water and boil for one minute. Remove and return to prepared baking sheet. Repeat until all are done.

Brush pretzels with melted butter. Sprinkle with kosher salt. Bake at 450 for 12-15 minutes or until nicely browned all over. Serve warm and enjoy!
Notes
Scroll down for printable cheese sauce recipe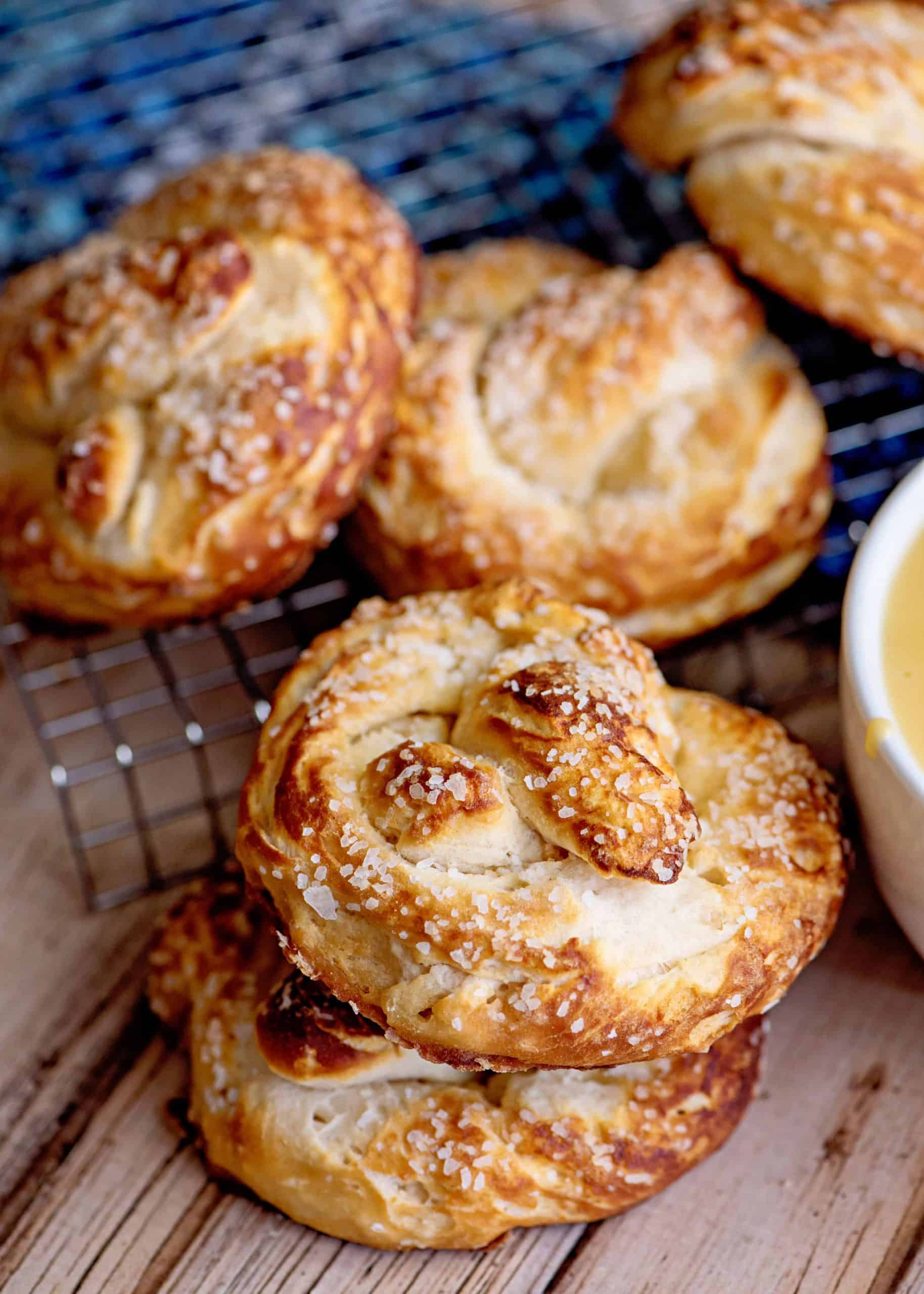 Ingredients
1 1/2

cup

shredded sharp cheddar cheese

fresh shredded from a block of possible

1

cup

whole milk

2

tablespoons

all purpose flour

2

tablespoons

butter

salt and pepper to taste
Instructions
Melt butter in a small saucepot over medium heat. Add flour and cook, stirring constantly, for about one minute. Slowly whisk in the milk, salt, and pepper, and cook until thickened, stirring often, 3-5 minutes. Remove from heat and stir in cheese until smooth.

If sauce is too thick, add a little extra milk. Enjoy!



This post featured on Meal Plan Monday and Weekend Potluck!
Yum