Biscuit Pretzels beat out store bought soft pretzels by a mile! Warm, soft, chewy, with that perfect kick of salt, every bite of these feels like pretzel heaven. Me and Katy try to reserve them for special occasions when the whole family is here because we can hardly be left alone with them! These are not just a "good substitute" for a soft pretzel in a pinch. After you taste these, you'll find yourself reaching to make these over anything you could buy. They are that good!
If you want to hop right to the recipe, click the red "jump to recipe" button at the top of this page or scroll down to see the tutorial – with expert pretzel forming photos!
Homemade Pretzels and Cheese Sauce from Scratch
I'm going to show you how to make the pretzels and also a from scratch cheese sauce for dipping. I'll put the recipes in two different cards at the bottom so you can print just one or both.
For the homemade pretzels the ingredients you'll need are:
an 8 count can of Pillsbury Grands Southern Homestyle biscuits
Baking soda
Butter
Coarse salt
For the homemade cheese sauce the ingredients you'll need are:
Shredded sharp cheddar cheese (from a block*)
Milk
Flour
Butter
Salt and pepper to taste
Important Note About The Cheese
*You want to buy this cheese in a block and shred it yourself because pre-shredded cheese is coated in cellulose, that prevents it from sticking together, but also prevents it from being as smooth as it could be in a sauce. It will certainly work if you want to use what you have on hand, but shredded from a block is the ideal.
How to Make Homemade Pretzels

Now we get to use those kindergarten play-doh skills. Roll each biscuit into a rope, about 12-15 inches long. Then, fold the rope into a pretzel, as shown, pinching the overlapping pieces together.

Place these on a parchment lined baking sheet and freeze for 1-2 hours. You don't need to cover it, just put it in the freezer like this. Now, if you don't want to make these right away, after that 1-2 hour freezing time, remove them from the parchment paper, place them in a zipper seal freezer bag, and return them to the freezer until you want to make your pretzels.

Bring to a boil about 3 -4 cups of water in a medium sized saucepan over medium high heat. Stir in baking soda. It will foam up and then go clear again and that is how you know you're ready. Boiling the pretzel in this baking soda water before baking is going to help it brown fully without having to cook for very long, which allows the inside texture to be nice and chewy.
Drop the pretzels, one at a time, into boiling water and let boil for just one minute, no longer. Remove with tongs and put back onto parchment lined baking sheet. Brush with melted butter and sprinkle with coarse salt.
Bake these at 450 for 12-15 minutes, or until golden.
Oh my, look at those beauties!
How To Make Cheese Sauce from Scratch

Melt butter in a sauce pan over medium heat. Stir in flour and cook for about a minute, stirring the entire time. Whisk in milk, salt, and pepper and stir constantly until thickened, about 3-5 minutes or so. Remove from heat and stir in cheese until melted. If it's too thick for your liking, you can stir in more milk to thin it a bit.

Serve pretzels warm with homemade cheese sauce.
Oh goodness gracious!
Yum!
Enjoy this fun and easy treat!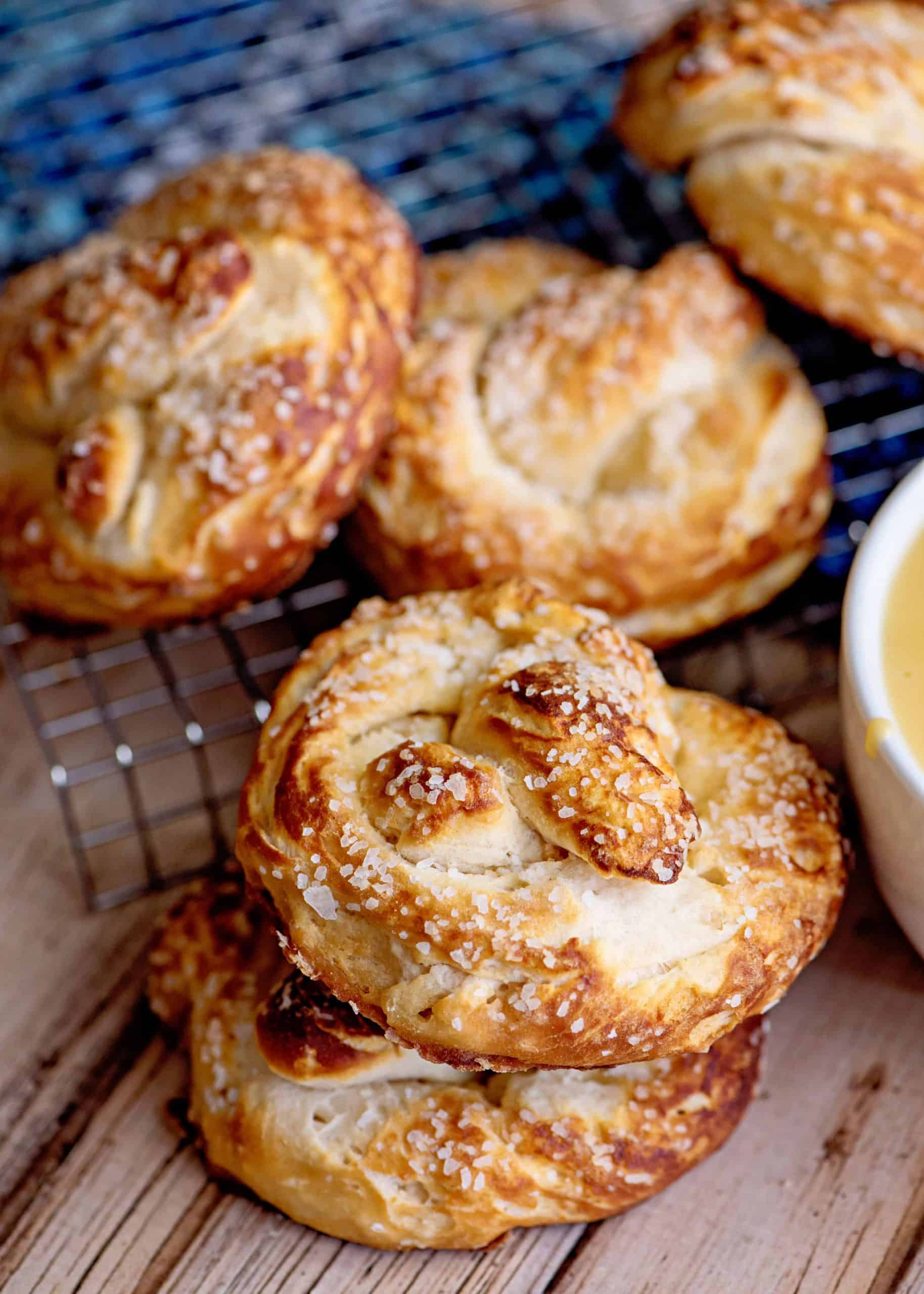 Ingredients
1

8 count can

Pillsbury Grands Southern Homestyle Biscuits

3-4

cups

water

3-4

tablespoons

baking soda

2

tablespoons

butter

melted

1

tablespoon

coarse salt
Instructions
Line a baking sheet with parchment paper. Spray lightly with cooking spray. Roll each biscuit into a 12-15 inch rope. Twist into a pretzel, as demonstrated in photos. Arrange on baking sheet.

Place uncovered baking sheet in freezer for 1-2 hours.

Bring 3-4 cups water to a boil in a medium sauce pan over medium high heat. Stir in baking soda. Place pretzels, a few at a time, in boiling water and boil for one minute. Remove and return to prepared baking sheet. Repeat until all are done.

Brush pretzels with melted butter. Sprinkle with kosher salt. Bake at 450 for 12-15 minutes or until nicely browned all over. Serve warm and enjoy!
Notes
Scroll down for printable cheese sauce recipe
Nutrition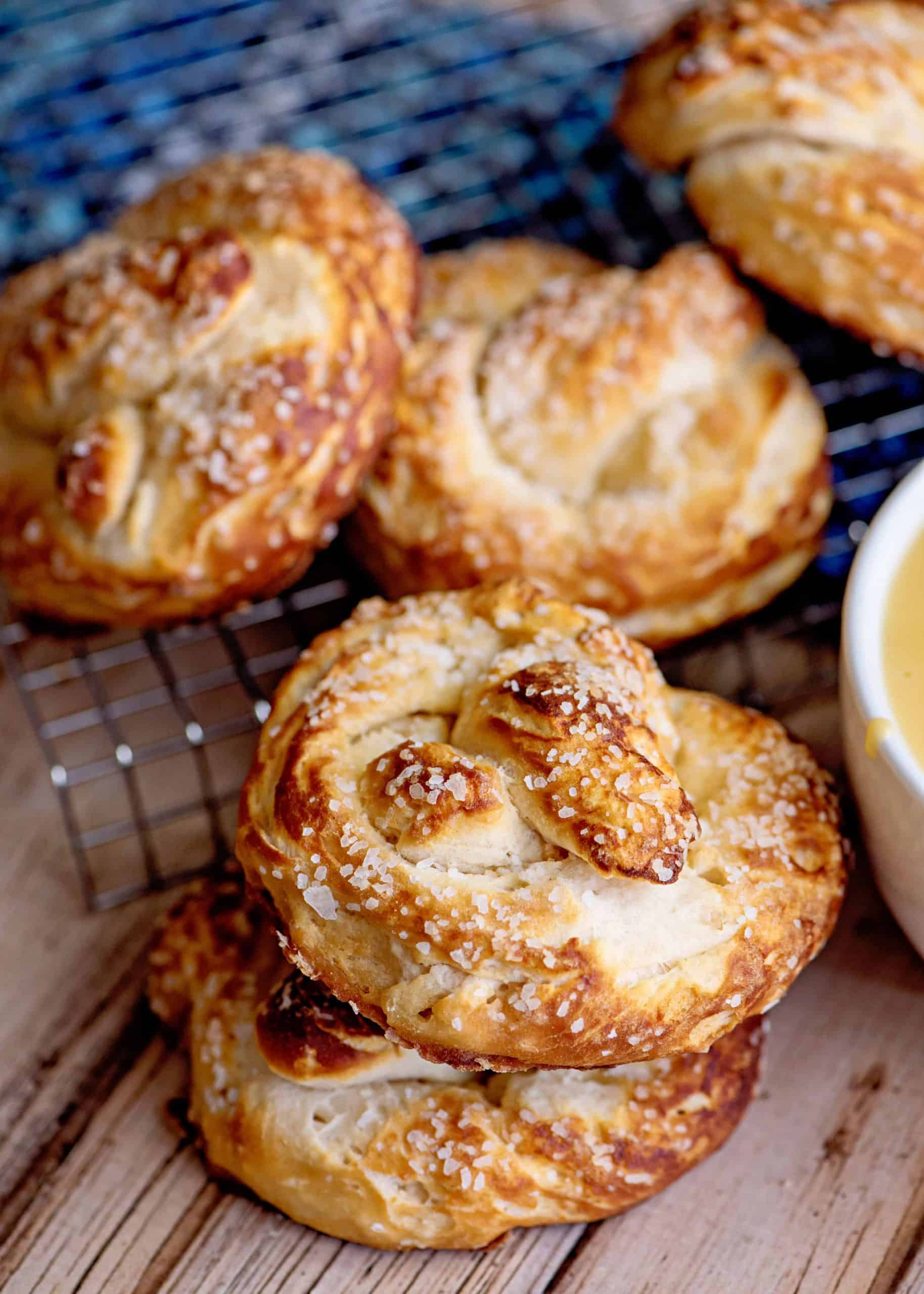 Ingredients
1 1/2

cup

shredded sharp cheddar cheese

fresh shredded from a block of possible

1

cup

whole milk

2

tablespoons

all purpose flour

2

tablespoons

butter

salt and pepper to taste
Instructions
Melt butter in a small saucepot over medium heat. Add flour and cook, stirring constantly, for about one minute. Slowly whisk in the milk, salt, and pepper, and cook until thickened, stirring often, 3-5 minutes. Remove from heat and stir in cheese until smooth.

If sauce is too thick, add a little extra milk. Enjoy!



Nutrition
You may also like these recipes:
How To Make Homemade Doughnuts
Broccoli with Homemade Cheese Sauce
Pimiento Cheese Dip Good N Gooey
This post featured on Meal Plan Monday and Weekend Potluck!