This Good N Gooey Pimiento Cheese Dip can be made low carb or regular.
Read on to find tips on how to reduce the fat and keep this dish yummy.

Who doesn't love a melty, gooey pimiento cheese dip?
This one takes that to the next level because using Pimento Cheese gives it a whole new (an unexpected) burst of flavor. Since this dip is flavorful and cheesy, but not spicy, it makes the perfect hors d'oeuvre to take to get togethers with family and friends.
How to Make It A Low Carb Dish
My Pimiento is pictured with bread cubes (which my kids love). I just bought a large loaf of Italian Bread for the whopping price of $1 and cut it into cubes. Keto lovers could use pork rinds are their scooper. Tastes amazing with a great crunch at the end! Pork Rinds do have higher levels of sodium (salt) so be careful with your portions.
Another idea for keeping this Pimiento cheese dip low carb is using sticks of celery or carrots for dipping.
Making this pimento cheese dip is as simple as stirring three things together and baking it in the oven.
So lets head on into the kitchen and get this party started!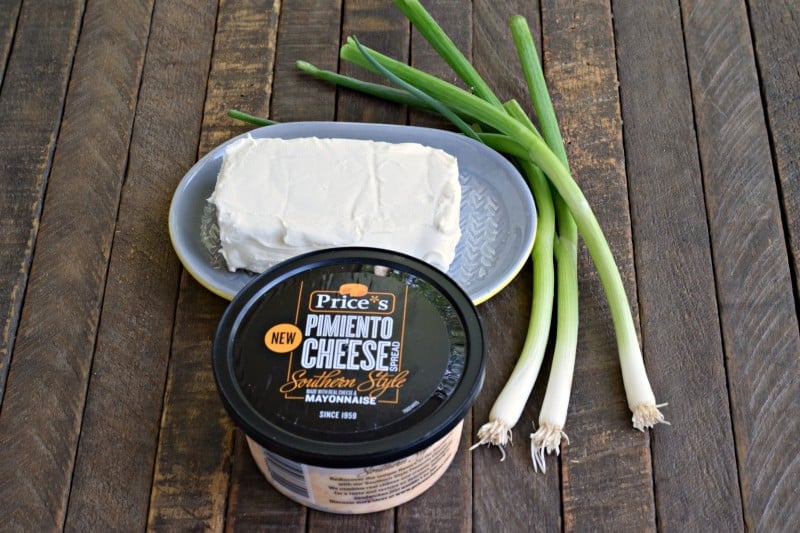 Recipe Ingredients:
A container of Pimiento Cheese (I'm using Price*s Southern Style Pimiento Cheese because it's awesome). You can make it yourself by visiting our Pimiento Grilled Cheese Sandwich post here.
Two or three green onions
A brick of cream cheese
Important note About The Cream Cheese
Your cream cheese needs to be room temperature. Seriously, it really does. I set mine out before I go to bed at night and make this the next morning so that tells you how long this may take to happen. You can also place in hot water for awhile to get it to room temperature too.
Place all ingredients for your pimiento cheese dip in a mixing bowl.
Mix with an electric mixer (or elbow grease, but I prefer electric mixer) until fully combined.
Spread this into a small baking dish. Bake at 350 for 20-25 minutes, or until nice and melty with a wee bit of browning around the edges.
That was it. If you blinked you might have missed it!
Now comes the fun part, the eating…
Serve with bread cubes, crackers or chips. To keep it keto try a few pork rinds instead.
Or are looking low carb in general? Use carrot and celery sticks for your dipping.
This stuff is so good. I think this is what Pimiento Cheese Lovers eat in Heaven.
Come to think of it, I've been good all day so we just might call this supper tonight!
Instructions
Place both cheeses in large mixing bowl. Chop up onions and add to cheeses.

Blend with an electric mixer until fully combined.

Spoon into small baking dish and bake at 350 for 20-25 minutes, or until lightly browned around the edges.

Serve warm with crackers, bread cubes, veggies, etc.
Notes
Low Carb Note: To make this dish low keto friendly, serve with pork rinds in place of bread cubes. Or if you are not concerned about keto but want to keep it low carb? Serve with carrot or celery sticks.  It's a good way to sneak in those veggies for the youngins.
Nutrition
You may also enjoy these cheesy recipes
Cheesy Baked Vidalia Dip – and how to stay sane 🙂
Low Carb Broccoli Cheese Stuffed Chicken
Chicken Broccoli Skillet with Pimento Cheese Sauce