This baked easy buffalo chicken dip recipe features everything you love about buffalo chicken wings (including all the cheesy goodness you could possibly want), without the bones. It's still just as tasty and even more delicious.
Up until about eight years ago, my mother had never left the South in her life. Then Daddy got elected as president of our state Fraternal Order of Police and the traveling commenced. You see, the FOP has conferences throughout the year in different states and such and Mama and Daddy go to a great many of them as part of Daddy's job. We've benefitted a lot from her travels in terms of neat souvenirs and interesting stories, but today you're going to benefit from a recipe Mama got at a police conference in Virginia Beach a few years back.
She took one bite of this baked buffalo chicken dip recipe and immediately hunted down the caterer who graciously offered the recipe. This dip combines the best of both worlds with the taste of buffalo chicken wings and that delicious cheesy goodness, but none of those little annoying bones! Serve it up warm with your favorite chips and it will disappear like...umm…Okay, I'd really like to put a football analogy here but I'm not actually into football so it'll disappear like umm…ok like the best buffalo chicken dip ever!
The best part is, it takes just minutes to prep and 20 minutes to bake this four-ingredient dip. In no time at all, you get to enjoy this easy buffalo chicken dip recipe and you won't miss any of the Super Bowl 😉.
Recipe Ingredients
Hot sauce (like Franks, Texas Pete, or generic – get whatever is cheapest)
Cream cheese (check out our easy-peasy homemade cream cheese recipe)
Chicken
Shredded cheddar cheese
Helpful Kitchen Tools
Let's make the buffalo sauce! First, place your cream cheese in a bowl and soften it by putting it in the microwave for thirty seconds or so.
I just love a recipe that doesn't require me to soften my cream cheese at room temp. I'm not into planning ahead like that anyway!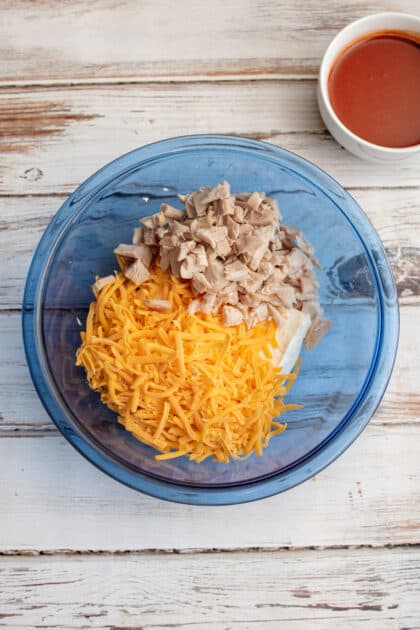 In that same large bowl, add your cheese and shredded chicken.
Add in your hot sauce.
I promise this isn't going to be zingy hot.
Mix all of that up in a bowl with a fork or spoon.
Whichever one you happen to grab first, we're not particular here.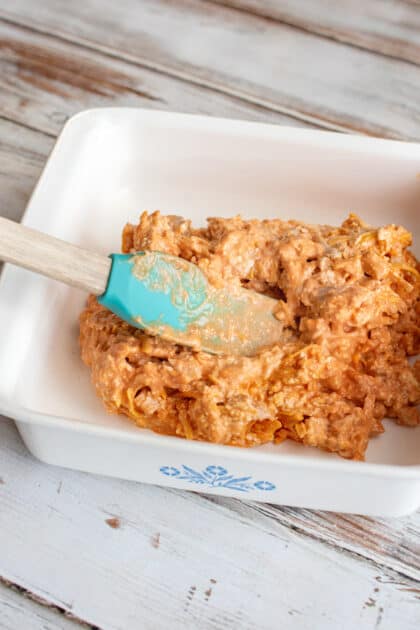 Spread the chicken mixture into the baking dish and bake at 350 for twenty minutes.
Your baked buffalo chicken dip will look a little something like this when it's done.
Serve warm with pretzel chips, tortilla chips, crackers, or veggies like celery stalks.
Storage
Fortunately, your buffalo chicken dip leftovers will last up to 4 days in an airtight container in the fridge. Reheat either in the microwave or in the oven briefly.
Recipe Notes
You can use any cooked chicken in this buffalo dip recipe, whether it's leftover shredded chicken breast

,

,

or rotisserie chicken.
Okay, now I know you're seeing hot sauce here and thinking this is going to be spicy but it's really not. The hot sauce adds a lot of flavors but the cream cheese and other ingredients really cut out the zing and just leave you with a very flavorful dip that won't scorch your mouth. It's mild enough for everyone. Honest!
If you don't want to go for baked buffalo chicken dip, you could also put all of the ingredients in the slow cooker on low until heated through (about an hour) to make . Keep your on warm until you're ready to serve.
If making ahead of time, you can combine the ingredients and leave the prepared pan in the fridge for a few hours before baking.
Feel free to use a combination of shredded cheese, like cheddar cheese, blue cheese,

,

and Monterey Jack cheese.
Some buffalo chicken dips also include 1/2 cup of ranch dressing to enhance the creaminess, so you can definitely do the same if you prefer.
Serve with a sprinkle of freshly chopped chives

,

, or

.
Greek yogurt can also sub for cream cheese in a pinch.
Here are some more delicious dip recipes:
Ingredients
8

ounces

cream cheese

1-1/2

cups

cheddar cheese

3/4

cup

hot sauce

1

chicken breast

cooked and shredded (or a large can of chicken)
Instructions
In a large bowl, soften the cream cheese in the microwave for about thirty seconds or so.

Add the shredded cheese, cooked chicken, and hot sauce. Stir well to combine.

1-1/2 cups cheddar cheese,

3/4 cup hot sauce,

1 chicken breast

Spread into an 8x8 baking dish and bake at 350 for twenty minutes.

Serve warm with pretzel chips, tortilla chips, or veggies.

*You can also put all of this in the slow cooker on low until heated through (about an hour) and then keep on warm to serve.
When life gives you lemons, you make lemonade.
So when the Lord gives you snow… you build a snowman!