Buffalo Chicken Quesadilla Recipe
Loaded with melted cheese, tender chicken, and homemade buffalo sauce, this quick and easy buffalo chicken quesadilla recipe is a great game day appetizer or lunch treat.
I am all for versatile recipes and this one for buffalo chicken quesadillas ticks that box. They're so quick and easy to make (ready in under 30 minutes and even quicker if you use my shortcuts below) and you can enjoy them as a game day snack, appetizer, or for lunch.
All you need is soft flour tortillas, chicken, cheese, cream cheese, and hot sauce. The instructions are as easy as can be (sensing a theme here?). Just cook the chicken, combine it with the homemade buffalo sauce (the cream cheese and hot sauce mixed together), and add it to one-half of a tortilla alongside the cheese. Then we just fold it in half and cook until the cheese is melted and the exterior is golden brown.
Crunch into the toasted tortilla and you'll get a burst of buffalo flavor, along with melted cheese goodness and tender chicken pieces. I've included some optional serving suggestions below, but they obviously taste perfect as is.
Now, who's ready to make a buffalo chicken quesadilla or 4 (or 5 or 6)?
Recipe Ingredients
Boneless skinless chicken breast
Cream cheese (here's my recipe for homemade cream cheese)
Hot sauce
Soft taco tortillas
Colby Jack cheese, shredded
Shredded lettuce (optional)
Ranch or blue cheese dressing (optional)
How to Make Buffalo Chicken Quesadillas
Cook chicken breast in a medium-sized skillet on medium heat until fully cooked (about 3-4 minutes on each side).
Transfer chicken to a cutting board and chop it into bite-sized pieces.
Chicken breasts vary in size, which can affect cook time. Cook until the internal temperature is 165 degrees and the inside is no longer pink.
While the chicken is cooking, prepare the sauce by combining cream cheese and hot sauce in a microwave-safe bowl. Heat for about 30 seconds and whisk until creamy.
Add chicken to sauce, stirring to coat. Set aside.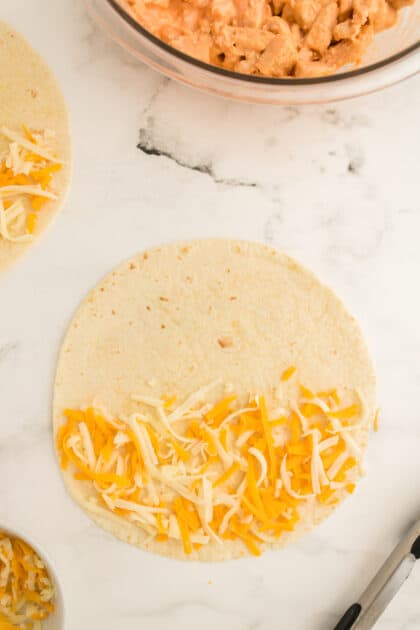 Lay tortillas flat. Sprinkle a small amount of cheese onto half of the tortilla.
Top with chicken, then sprinkle it with more cheese.
Fold in half and continue with the remaining tortillas.
Place 2 prepared tortillas in a medium or large skillet and cook on medium heat until brown.
You may need to add oil to the skillet unless you're using a non-stick pan.
Flip and cook until quesadillas have browned.
Cut into triangles with a pizza cutter.
It's totally optional, but you can serve them with lettuce and dressing. I recommend ranch dressing or blue cheese dressing.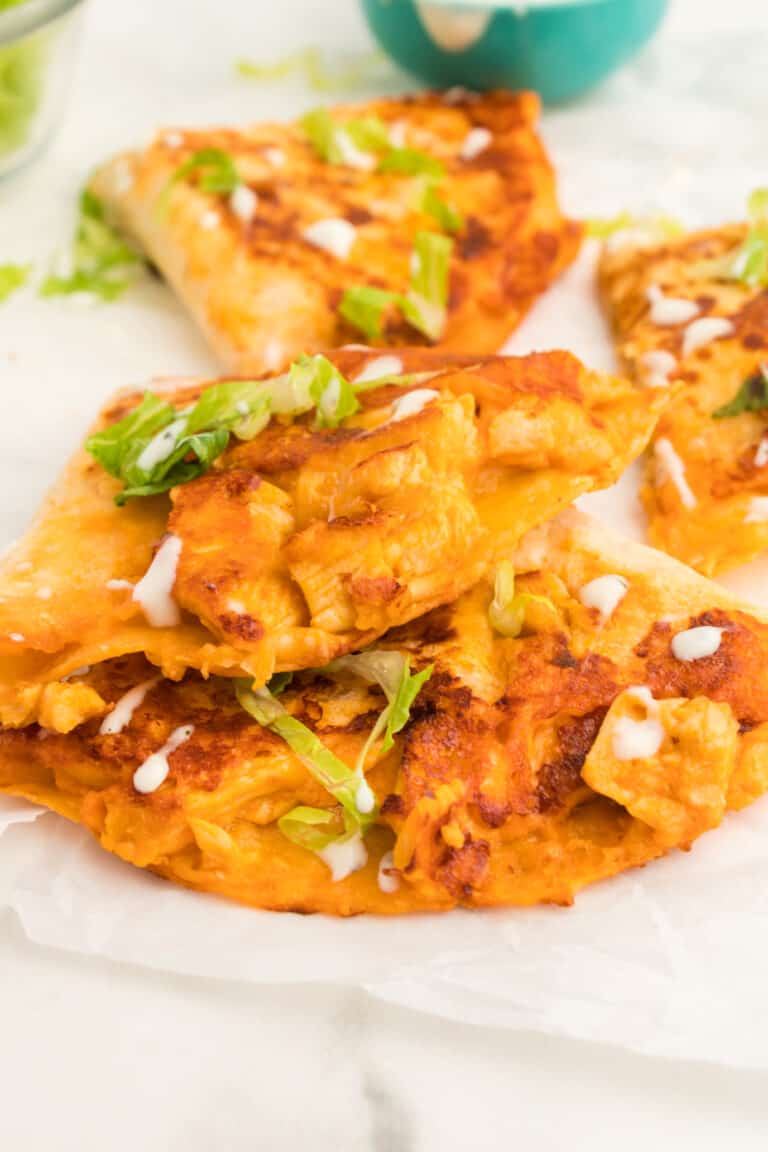 Enjoy!
Storage
Leftovers can be refrigerated in an airtight container for up to 2 days. Reheat in skillet for crispiness or microwave for 30 seconds.
Recipe Notes
As a shortcut, you can use pre-cooked or leftover chicken for this recipe. Just heat and chop.

Another shortcut is to use pre-shredded cheese.

Oh wait, another shortcut? Yep! If you don't want to make homemade buffalo sauce, you can just use your favorite store-bought buffalo sauce instead.

I like Frank's hot sauce but just use your favorite.

Use a griddle to cook all 4 at the same time.

Here are some variations to make this buffalo chicken quesadilla recipe work for your family:

Use a different type of cheese, like simply shredded cheddar cheese, shredded mozzarella cheese, crumbled blue cheese for that buffalo flavor, shredded Monterey Jack cheese, or a Mexican cheese blend.
Add cilantro or sliced green onion.
Dip it in sour cream instead.
Add some veggies, like shredded carrot, finely chopped celery, or thinly sliced bell pepper.
Check out these other tasty recipes:
Low-Carb Cauliflower Buffalo Bites
Ingredients
1

pound

chicken breast

3

ounces

cream cheese

2

ounces

hot sauce

4

soft taco tortillas

4-6

ounces

Colby Jack cheese, shredded

1

cup

shredded lettuce (optional)¼ cup

1/4

cup

ranch or blue cheese dressing (optional)
Instructions
Cook chicken breast in a medium-sized skillet on medium heat until fully cooked (about 3-4 minutes on each side). Transfer chicken to a cutting board and chop it into bite-sized pieces.  

While the chicken is cooking, prepare the sauce by combining cream cheese and hot sauce in a microwave-safe bowl. Heat for about 30 seconds and whisk until creamy.  

3 ounces cream cheese,

2 ounces hot sauce

Add chicken to sauce, stirring to coat. Set aside.

Lay tortillas flat. Sprinkle a small amount of cheese onto half of the tortilla. Top with chicken, sprinkle with more cheese, and then fold in half. Continue with the remaining tortillas.

4 soft taco tortillas,

4-6 ounces Colby Jack cheese, shredded

Place 2 prepared tortillas in a medium to large skillet and cook on medium heat until brown. Flip and cook until quesadillas have browned. Cut into triangles with a pizza cutter.

Serve with lettuce and dressing (optional).

1 cup shredded lettuce (optional)¼ cup,

1/4 cup ranch or blue cheese dressing (optional)