Warning: this is ridiculously delicious. A family favorite, this quick and easy chicken noodle casserole recipe has no right to be this simple and taste this good.
This easy chicken noodle casserole recipe is a kid favorite wherever it's served, and your partner will probably get just as excited! The ingredients are simple so it's a great last-minute supper for busy evenings. What are the simple ingredients I hear you ask? Well, it's not chicken noodles without egg noodles and cooked chicken. Then you need milk, cream of chicken soup, and butter and crackers for a delectable topping
Simple ingredients and a simple set of steps too! All you have to do is mix the ingredients together, pop them in a casserole dish, add the cracker topping, and bake. That's it! Your chicken noodle casserole will be ready to enjoy in no time. It's a hearty and filling main dish.
I love that it's reminiscent of our favorite comfort food, chicken noodle soup, but it's been transformed into a creamy casserole. It's also a great meal for serving a crowd, as you can easily get six filling portions from one casserole. With so many things to love about this chicken noodle casserole, I think it's time we get cooking!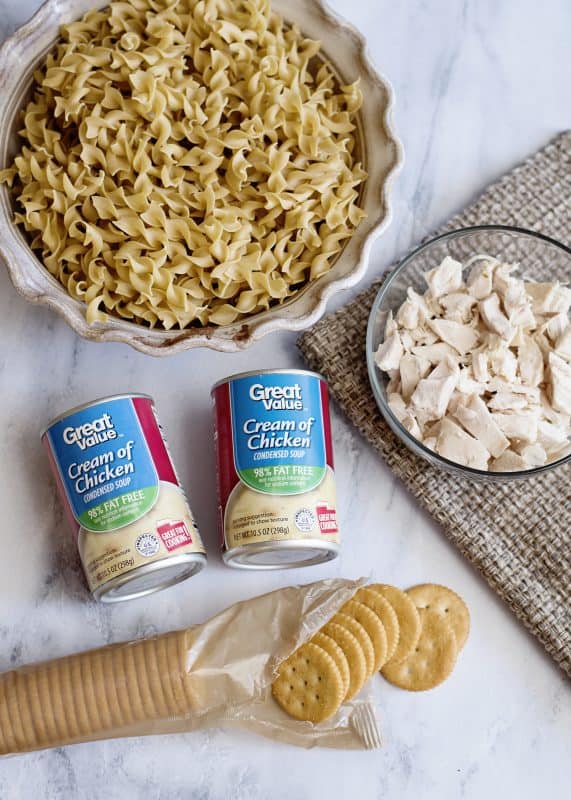 Recipe Ingredients
Egg noodles
Cooked chicken
Milk
Cream of chicken soup
Optional topping: round crackers and butter
How to Make Chicken Noodle Casserole
Cook egg noodles until just done, being careful not to overcook. Drain well.
Place soup, chopped or shredded chicken, milk, and cooked pasta in a large bowl.
Stir that all up really good.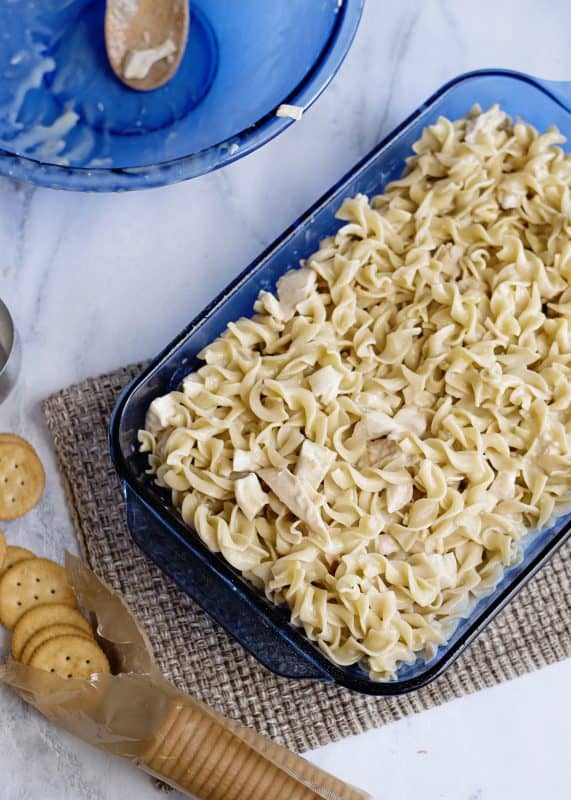 Spoon into a 9×13 casserole dish that has been sprayed with a little cooking spray.
If you want to add a little topping to make it prettier, stir together 1/2 a sleeve of crushed crackers and 1/2 a stick (1/4 cup) of melted butter.
Sprinkle this over the top. Bake at 350 for about 20 minutes.
Serve warm and enjoy this quick and easy chicken noodle casserole.
I like to serve my chicken casserole with a low-carb veggie such as roasted asparagus or fresh green beans.
Storage
Store leftover casserole in an airtight container in the fridge for up to 3 days. Simply reheat in the microwave.
You can also freeze leftovers for up to 3 months. Thaw overnight in the fridge before reheating in the microwave.
Recipe Notes
You can use fat-free, regular, or even homemade cream of chicken soup.
Use any type of cooked chicken you like. I sometimes pick up a rotisserie chicken for a quick lunch and save the rest of it for this creamy chicken noodle casserole. You can also just use a large can of cooked white meat chicken in water, drained.
If you want to sneak some veggies into this chicken casserole, add two cups of thawed frozen vegetables, like frozen peas and carrots or corn and broccoli. Alternatively, add a cup of finely chopped fresh bell pepper.
For added flavor, add 1/2 teaspoon each of onion powder and garlic powder and add 2 tablespoons of chopped fresh parsley.
Instead of the crackers, sprinkle shredded cheddar cheese or mozzarella cheese on top of the casserole. You can also substitute the crackers for panko

or crushed

. Alternatively, combine the crackers, shredded cheese, and butter for a delicious topping!
Recipe FAQs
Can I make this chicken noodle casserole ahead of time?
Yes, you can store the baked casserole in the fridge for up to 3 days. Another option is to store the unbaked casserole in the fridge for up to 4 hours before baking in the oven. If you choose this method, add about 15 minutes to the cooking time.
You may also like these other comforting chicken casserole recipes:
Chicken Tortilla Casserole (Cooked in the Microwave)
Cheesy Chicken and Broccoli Rice Casserole
Chicken and Wild Rice Casserole
Ingredients
1

package

egg noodles

2

cans

cream of chicken soup

1/2

cup

milk

fresh or canned

2

cups

cooked chicken (or a large can of chicken)
Optional
1/2

sleeve

Ritz crackers, crushed

1/4

cup

melted butter
Instructions
Cook egg noodles according to package directions until just done, careful not to overcook (I like to undercook them by a minute or two). Drain.

In a large bowl place the hot egg noodles, cream soup, milk, and chicken. Stir until combined. Pour into a greased 9x13 casserole dish.

1 package egg noodles,

2 cans cream of chicken soup,

1/2 cup milk,

2 cups cooked chicken (or a large can of chicken)

Optional topping: crush 1/2 sleeve of Ritz crackers and stir these crumbs together with 1/4 cup of melted butter. Sprinkle over the top of the casserole in the baking dish. 

1/4 cup melted butter,

1/2 sleeve Ritz crackers, crushed

Bake, uncovered, for 20 minutes at 350. Serve hot. 
Notes
To make this a shelf stable meal: 
Place 2 cans of cream of chicken soup, a 12.5 ounce can of chicken, a 4 ounce can of evaporated milk, and a package of egg noodles into a large zipper seal bag along with a printed copy of this recipe. Click here to read about my Bags To Dishes meals.
Nutrition
Bloom where you're planted, even if you don't get to pick the field.
~Shared with me by my friend, Karen Terry.