Filled with chicken, cheese, vegetables, and cream of chicken soup, this easy country casserole recipe is so creamy and filling, it's destined to be your family's new favorite.
In my family, if you die, get sick, have a car accident, have a baby, have a potluck, have a family reunion, have a picnic, get bad news, get hungry, or get last-minute dinner guests… you get a country casserole!
Also known as Lancaster country casserole, this is our standard family casserole. It shows up everywhere! Why? Because we love it!
This country casserole recipe is a quick, easy, and filling main dish that's great tasting, an inexpensive way to feed a crowd, a complete meal in one, and freezes AMAZINGLY well. Plus, it can be made even easier by using canned chicken when you're not in the mood to cook the chicken ahead of time, and more importantly, it's my husband's personal favorite.
So, besides chicken, what can you expect in my country chicken casserole? There's pasta, cream of chicken soup, shredded cheddar cheese, fried onions, seasonings, and some frozen vegetables. It's so hearty, deliciously creamy, and total comfort food. Your family is guaranteed to try and go back for seconds!
There! Are you ready for the recipe now? Let's get ready to rumble!
Recipe Ingredients
Small shell pasta (or pasta of your choice)
Chicken
Cream of chicken soup
Garlic powder (just a bit)
Milk
Shredded cheddar cheese
Canned French fried onions
Frozen mixed vegetables
Salt and black pepper
How to Make Country Casserole
First, cook the pasta according to the package directions and drain. Then cover the frozen mixed veggies with water and bring that just to a boil, boil for a minute or two, then drain those.
Next, place the cooked plain chicken, pasta, veggies, canned soup, salt, pepper, garlic powder, milk, half your cheese, and half your onions in a large bowl and stir well.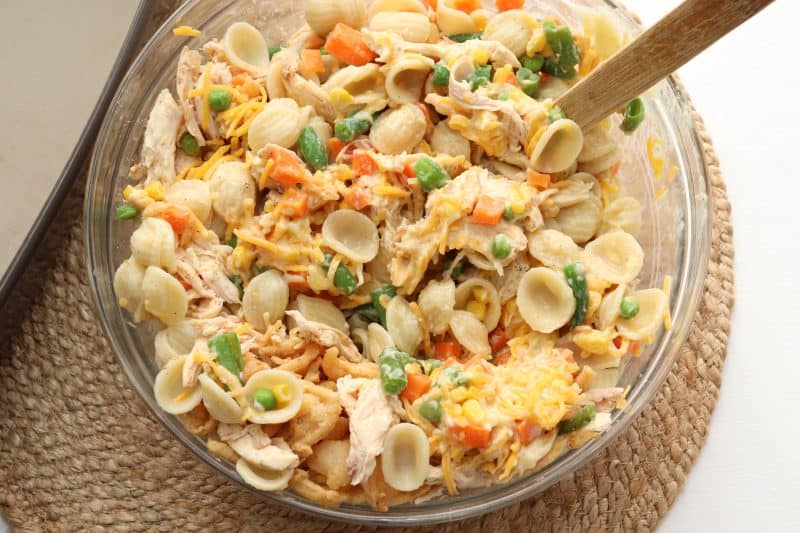 It will look like this.
Spoon this into a 9×13 baking dish and bake at 350 for about thirty minutes.
Remove the casserole dish from the oven and top with the remaining French fried onions and cheese.
Return to the oven for a few minutes until all of the cheese melts.
Oh, this country casserole is so good!
Enjoy my family's favorite casserole!
Storage
Store casserole leftovers in an airtight container in the fridge for up to 4 days and the freezer for up to 3 months.
Freezing options: Prepare up through step #2 and then simply spoon it into a gallon ziplock bag. Lay the bag flat so that it will thaw out quicker and place it in your freezer. On the day you want it, take it out the night before and refrigerate it or place it in the fridge that morning.
If you forget to do all of this, no sweat! Just microwave the bag until it thaws just a bit, pour into your casserole, and bake! To bake a casserole that is still frozen, simply place it in the oven while the oven preheats. This allows the casserole to thaw quickly and then bake to perfection!
Recipe Notes
I'm warning you: I never make just one of these casseroles because they freeze so incredibly well. With the effort of a single casserole and just a little more cost-wise, you can have an extra casserole any time you need it!
Use whichever pasta you like in this casserole recipe. Some people like using wide egg noodles, while others like Fusilli pasta.
You can also use whichever vegetables you like in this country casserole. While I like the ease of frozen mixed vegetables, use whatever you have on hand. Broccoli, mushrooms, potato, and zucchini would all taste great.
If you add mushrooms, why not also substitute the cream of chicken soup for cream of mushroom soup?
For an even crunchier topping, add 1/4 cup of breadcrumbs when you add the remaining cheese.
Speaking of cheese, feel free to use whatever cheese you like. Some Colby Jack cheese or mozzarella cheese on top sounds delicious to me!
This casserole recipe is different from an Amish country casserole, which is usually tomato-based (it uses a can of tomato soup typically) and uses ground beef or ground turkey instead of chicken. It's also topped with parmesan cheese, but feel free to do that with this casserole too!
Check out these other comforting casserole recipes:
Cracker Barrel Cheesy Hash Brown Casserole
Stuffed Pepper Casserole Recipe (Easy and Delicious)
Sloppy Joe Casserole (Deep Dish Recipe)
Cheesy Chicken and Broccoli Rice Casserole
Ingredients
2

cups

small shell pasta

cooked and drained

3

cups

frozen mixed vegetables

cooked and drained

2

cups

shredded cheddar cheese

divided

2

cups

French fried onions

divided

2

cups

shredded cooked chicken

can use canned chicken or rotisserie chicken

1

can

cream of chicken soup

¼

cup

milk

1

teaspoon

pepper

1

teaspoon

garlic powder

½

teaspoon

salt
Instructions
Preheat oven to 350 degrees.

Combine all of your ingredients in a large bowl, reserving half of the cheddar cheese and half of the onions for the topping later. Stir well to combine.

2 cups small shell pasta,

3 cups frozen mixed vegetables,

2 cups shredded cheddar cheese,

2 cups French fried onions,

2 cups shredded cooked chicken,

1 can cream of chicken soup,

¼ cup milk,

1 teaspoon pepper,

1 teaspoon garlic powder,

½ teaspoon salt

Spoon the casserole mixture into a 9x13 casserole dish. Bake for 25-30 minutes. Top with the remaining onions and cheese and return the casserole to the oven until the cheese has melted, about five minutes more.

2 cups shredded cheddar cheese,

2 cups French fried onions
Nutrition