In my family, if you die, get sick, have a car accident, have a baby, have a potluck, have a family reunion, have a picnic, get bad news, get hungry, or get last minute dinner guests…You get a Country Casserole!
This is our standard family casserole. It shows up everywhere! Why? Because we love it! This casserole is quick, easy, filling, great tasting, an inexpensive way to feed a crowd, a complete meal in one, freezes AMAZINGLY well, can be made even MORE easy by using canned chicken when you're not in the mood to cook chicken ahead of time, and more importantly, its my husband's personal favorite.
There! You ready for the recipe now?
Let's Get Ready To Rumble!
You'll need: small shell pasta (or pasta of your choice), chicken, cream of chicken soup, garlic powder (just a bit), milk, shredded cheddar cheese, canned french fried onions, and frozen mixed vegetables.
Also some salt and pepper.
I'm warning you: I never make just one of these casseroles because they freeze so incredibly well. With the effort of a single casserole and just a little more cost wise you can have an extra casserole anytime you need it! I go into some nifty reheating instructions as well as convenient storage instructions for the extra casserole later in this post.
Cook pasta according to package directions and drain. Cover frozen mixed veggies with water and bring that just to a boil, boil for a minute or two, then drain those.
Place chicken, pasta, veggies, cream soup, salt, pepper, garlic powder, milk, half your cheese, and half your onions in a large bowl and stir well.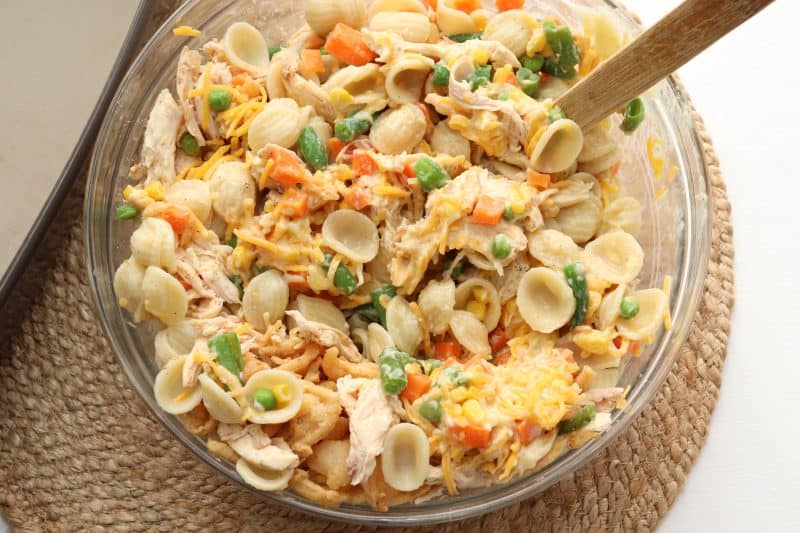 It will look like this.
Spoon this into a 9×13 baking dish and bake at 350 for about thirty minutes.
Remove from oven and top with more french fried onions and more CHEESE!!!
Return to oven for a few minutes until all of the cheese melts.
Oh this is so good!
Enjoy my family's favorite casserole!
Ingredients
2

cups

small shell pasta

cooked and drained

3

cups

frozen mixed vegetables

cooked and drained

2

cups

shredded cheddar

divided

2

cups

French fried onions

divided

2

cups

shredded cooked chicken

can use canned chicken or rotisserie

1

can cream of chicken soup

¼

cup

milk

1

teaspoon

pepper

1

teaspoon

garlic powder

½

teaspoon

salt
Instructions
Preheat oven to 350 degrees.

Combine everything in a large bowl, reserving half of the cheese and half of the onions for topping later. Stir well to combine.

Spoon into 9x13 casserole dish. Bake for 25-30 minutes. Top with remaining onions and cheese, return to oven until cheese is melted, about five minutes more.
Nutrition
Freezing options: Prepare up through step #2 and then simply spoon it into a gallon ziploc bag. Lay the bag flat so that it will thaw out quicker and place it in your freezer.
On the day you want it, take it out the night before and refrigerate or place in fridge that morning.
If you forget to do all of this, no sweat! Just microwave the bag until it thaws just a bit, pour into your casserole, and bake!
To bake a casserole that is still frozen, simply place in the oven while the oven preheats. This allows the casserole to thaw quickly and then bake to perfection!