Slow Cooker Tacos With Ground Beef
My scrumptious slow cooker tacos recipe includes kidney beans, tomatoes, rice, taco seasoning, and ground beef slow-cooked and served with your favorite taco toppings.
Looking for a budget-friendly and ridiculously easy weeknight main dish to serve up to your family this week? Well, my slow cooker tacos definitely tick both of those boxes… and then some!
All you need is kidney beans, diced tomatoes, rice, taco seasoning, and ground beef. And all we're going to do is add all of these ingredients to the crockpot and leave it to slow cook as we go about our day. In the end, we'll have deliciously seasoned slow cooker ground beef that's ready for tacos.
Then it's up to you how you serve your slow cooker tacos. This is more of a concept post that's going to help you use what you have on hand to pull together an effortless meal that your family will love while saving you money on meat. I've included lots of possibilities and suggestions below, but my family and I serve our crockpot taco meat differently every time. One of my favorite ways is to set up a taco salad bar with all of our favorite toppings.
Alright, who's ready to make delicious taco meat and the easiest weeknight supper ever?
Recipe Ingredients
Kidney beans
Diced tomatoes
Rice
Taco seasoning
Fully cooked ground beef that I dehydrated.
How to Make Slow Cooker Tacos
So basically I dump it all into my slow cooker along with taco seasoning.
I don't drain any of my vegetables but you certainly can if you like to. I'm trying to be more conscious of all the nutrients I'm tossing down the drain when I do drain them.
After adding everything to the slow cooker, you need to add the amount of water required for the rice (check the package). I'm also adding 3/4 of a cup of water for the dehydrated ground beef.
Then, stir that up really well. Anytime you add dry rice it is important that you stir it really well because if not you'll end up with pockets of uncooked rice.
Keep in mind that rice grows! I'm adding less than 1/2 a cup here and the end product will be very rice-filled! The one thing you are going to need to really gauge is at what point you want to add an additional packet of taco seasoning. This recipe could have been done with one or two packets. I used one this time.
Now put the lid on this puppy and let it cook on low for 7 to 8 hours or high for 3 to 4 hours (or until the rice is done).
When it's ready, this is what it will look like after a good stir. Enough taco gorp there to easily feed an army.
Now at this point, taste it and if you want to add more taco seasoning, just stir another packet in there real quick.
Serve in crispy shells, tortillas to make burritos, or as a taco salad with corn chips or tortilla chips. Top with your favorite toppings (more of those below).
Storage
Store ground beef leftovers in an airtight container in the fridge for up to 3 days and reheat in the microwave or on the stovetop.
You can also freeze leftovers for up to 3 months. Thaw in the fridge before reheating as above.
Recipe Notes
If you don't have dehydrated ground beef (I don't expect ya to), you can cook it fresh for this or even put it in raw as long as it is very lean ground beef. Just make sure you break it up beforehand and cook it a good bit. You can also use shredded chicken, pork, shredded beef, or no meat at all.
Instead of ground beef, you can use ground turkey. You can also add raw boneless skinless chicken breast to the slow cooker and shred it at the end. If you have leftover bbq meat, skip the slow cooker and make tacos with shredded beef or pulled pork.
Substitute the kidney beans for any kind of bean you have on hand. This might be black beans, navy beans, refried beans, or pinto beans. You can also add two cans of beans for a vegetarian meal or to make the recipe more filling.
Speaking of, you can also add more vegetables. Canned corn kernels are a good choice, as are diced onion or chopped green chiles.
Another option is to swap the canned tomatoes for a jar of salsa.
Now, let's talk about taco toppings. The world is your oyster, but here are some suggestions: salsa or pico de gallo, chopped fresh cilantro, sour cream, avocado or guacamole, shredded lettuce, sliced jalapenos, black olives, a squeeze of lime, and shredded cheddar cheese or Mexican cheese blend.
Recipe FAQs
Can I cook raw ground beef in the slow cooker?
Yes, you can cook raw ground beef in the slow cooker. You just want to make sure it's lean ground beef, as normal ground beef will cook up to too greasy.
Can I cook ground beef tacos on the stovetop instead?
Yes, you can! What you want to do is combine everything and bring it just to a boil. Reduce heat, cover, and simmer until rice is fully cooked (about 20-30 minutes), stirring every now and then and checking to make sure more water doesn't need to be added. More water will evaporate on the stovetop than it will in the slow cooker.
How do you make shredded beef slow cooker tacos?
You'll need a 2-pound boneless chuck roast. Brown all sides quickly in a frying pan, then add it to the slow cooker along with the other ingredients. The cook time remains the same, but once done, you'll want to remove the roast, shred the beef, then add it back to the slow cooker to soak up all those flavors before serving.
How can I serve my slow cooker taco meat?
There are so many ways to serve your slow cooker taco ground beef:
In taco shells or homemade tortillas for hard or soft tacos.
Wrapped in flour tortillas to make burritos.
As a taco salad (also called a burrito bowl or taco bowl) on a bed of corn chips or tortilla chips.
As a pizza topping.
Wrapped in a flour tortilla with cheese and toasted to make a quesadilla.
Baked in the oven to make enchiladas.
Check out these other tasty taco-inspired recipes:
Taco Tater Tot Casserole Recipe
Sweet Potato and Black Bean Tacos
Taco Soup (The World's Easiest Supper)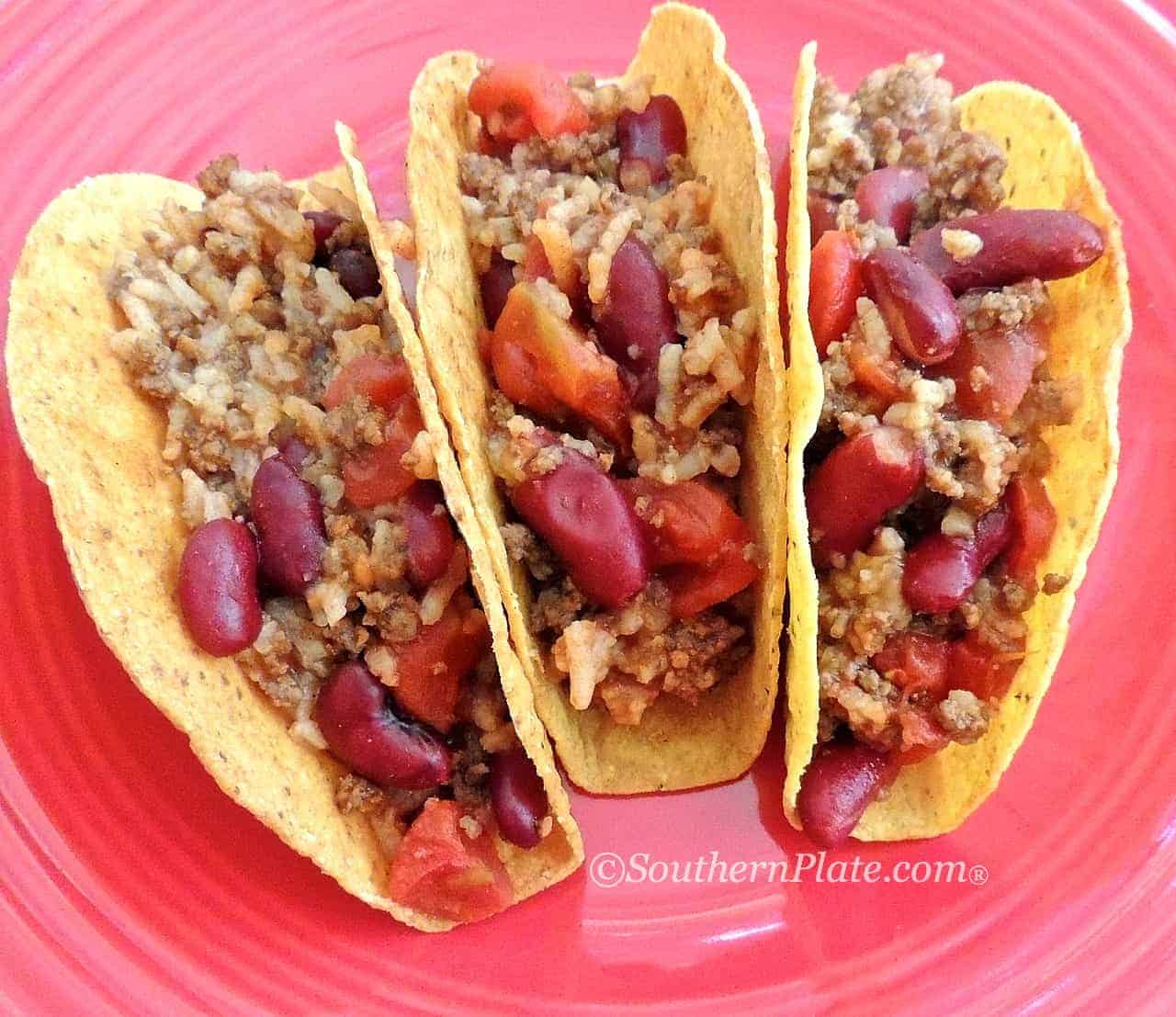 Ingredients
1

14.5-ounce can

kidney beans

1

14-ounce can

diced tomatoes

1/2

cup

rice, optional

1

cup

ground beef

1-2

packets

taco seasoning to taste

1

cup

water
Instructions
Place all ingredients in the slow cooker and stir very well. Cover and cook on low for 7-8 hours or on high for 3-4 hours.

1 14.5-ounce can kidney beans,

1 14-ounce can diced tomatoes,

1/2 cup rice, optional,

1 cup ground beef,

1-2 packets taco seasoning to taste,

1 cup water

Serve in taco shells, tortillas, or as a taco salad. Top with favorite toppings.
Notes
If using dehydrated beef, I add equal parts water and beef to the mixture to allow it to reconstitute.
Nutrition
"Whenever possible this summer, enjoy it with your kids.
Work is important, work is necessary, work is required…but work is not living.
Home is where the sweetness of life is stirred."
~Christy Jordan