I had planned on this being a prettier post photography wise but I ended up needing to run to my doctor's office and get some stitches in my head about halfway in (More on that later).
So this morning I was faced with the option of writing it using the photos I had or re-doing the entire thing – and I really didn't want to rephotograph it- so I decided to take Tammy Warr's advice on Facebook when she said "Girl, just roll with it…. Time is too precious to waste it worrying over the small stuff…. You can't un-ring a bell and none of us expect perfection anyway. Just think of everything else you could be doing to enjoy today rather than worrying about the pictures for your post…. "
 I thought of deadlines I needed to meet and having time to write this week's email newsletter. I thought of drinking just one more diet dr pepper while I looked out to watch the squirrels get into mischief in my back yard. Did I mention my squirrels?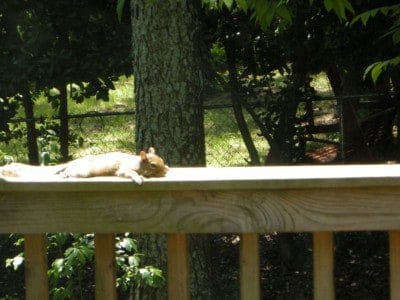 We have tons of them here. They're pretty bold, too, sunning on our back deck.
My kids have named them all Henry.
When people come and eat in our sun room they will always inevitably comment on the Henry's and y'all know how I like to mess with people, right?
So I got this sign and put it right on the door leading out to where the squirrels play.
~giggle~
I've had a good bit of fun with that one.
Okay so on to my post. This past weekend while I was at the National Cornbread Festival, I got to try a cornbread omelet. It didn't sound all that good at the start but my curiosity was piqued and I was won over at first bite!
If you like omelets with all the goodies inside and you love that delicate crispness around the crust of cornbread, you've just met your new best friend (that'd be me–or this omelet). This is a great way to throw together a quick supper or lunch and you can use whatever you have on hand as filling options. It also cooks up in just a few minutes.
Oh and it's good. I mentioned that, right? Yup, I got to eat a few bites of this one before I headed off to my doctor, but we'll get into that later in the post. Let's get cooking!
You're gonna need: Milk, egg, a little bit of vegetable oil, and self rising corn meal mix.
If you follow me through this entire post, you'll soon need:
A. Stoneware plate on a shelf about six feet or so up in the air
B. A towel to stem the blood flow of your newly acquired head wound
C. A cell phone
D. A family doctor
E. Car keys and a baseball cap so you don't freak people out driving down the highway.
But we're not to that part yet so let's just focus on the cornbread ingredients.
For the filling, use whatever you like in your omelets or whatever you have on hand.
Veggies, leftover ham, turkey, chicken, anything will do.
I'm using some frozen pepper and onion blend and bacon.
The only thing you really need for your filling is *cheese* because that is what holds this whole shenanigan together.
Place all of your cornbread batter ingredients in a bowl.
Mix that up well.
Basically this is just a thin cornbread batter, kind of the consistency of pancake batter.
So the problem is that at this point I decided to go look through my prop closet and find the plate and table linens that I wanted to photograph this with.
For me, food photography just seems a little silly. I understand fully the need for it and the benefit of it, but I have always felt it was silly with regards to my cooking because I'm cooking to feed people, not to dazzle them with how pretty something is once it's cooked. That's just not my thing. Cooking is far too practical to me.
I should have gone with my gut on that.
As I was looking through a pile of linens in the bottom of the closet, a stoneware plate on the top shelf, about six feet above my head, got curious and wanted to see what I was up to (My friend Jason pointed out that the irony in this is that I was attacked by a Southern plate ;).
A stack of plates fell down on my head and I just took a deep breath and sat there a minute thinking "Okay, that hurt."
It didn't stop hurting so I lowered my head and pressed the part that was smarting into the carpet for a few seconds, waiting on it to pass. When I lifted my head, I saw that I was going to have to now clean up the plates and the carpet as well. That's when I noticed a broken stoneware plate on the floor beside me. My first thought was "Crud. I gotta clean the carpet."
I had put my veggies in to sauté a bit and forgot about them so I grabbed a towel, pressed it to my head, and hurried into the kitchen to take the very blurry picture below…
So please pretend this is a clear picture. I mean, hey, it's peppers and onions in a  skillet. Good enough to demonstrate that, right?
Take a small nonstick pan and sauté your filling ingredients. I sprayed mine with nonstick cooking spray but you can use a pat of butter or a wee bit of oil if you'd like to cook them in or if your pan isn't as nonstick as you'd like for it to be.
Cook this over medium to medium high heat until veggies are just tender. 
Set your veggies aside and then spray the pan again with cooking spray, or add a tablespoon of butter or oil to it.
Place pan over medium heat again. If you opted for butter or oil, let it heat up a minute or two. 
Balance a towel on your head so you can use both hands to take this shot and go ahead and call your friend Jyl on speakerphone because she used to be a paramedic. When she answers, give her a minute to stop laughing after you say "So not all head wounds end up needing stitches, right?" 
Go into the bathroom and take the photo she requested and send it to her and wait for her to call back laughing harder.
We're really good friends that way.
Pour a very thin layer of batter into the bottom of the skillet and immediate tilt your skillet all around a it in order to spread it out over the whole bottom. Cook for a minute or two, until bubbles form on top and the bottom is browned.
Bite the bullet and call and leave a message for your doctor because you know if you go to the hospital in your town it will end up taking all day, possibly two, and even then you're not guaranteed medical treatment (Been there, done that).
Then flip.
Cook this for a minute or so until it lightly browns on the bottom.
Flip it over again and add in your filings, beginning with cheese and ending with cheese. 
Answer your phone when the doctor calls back and tells you that you definitely need to come into the office. Tell him you'll be right there and then hurry and finish up the omelet because you've gotten this far and you're kinda hungry and don't know how long you'll be gone…
Flip that over and let it cook just until the cheese begins to melt. 
Take a quick photo, take a quick bite, and head to the doctor. 
Managing all of this and still being back home in time to take a shower, fix your hair so the stitches don't show, and cook supper = pretty cool.
Seeing the look of surprise on your husband's face when you answer his question of  "What did you do today?"  = Priceless.
Cornbread Omelets – and the terribly treacherous adventure of being me 🙂
Ingredients
1 Cup Self Rising Corn Meal Mix
1 Cup Milk
1 Egg
2 Tablespoons Oil
2 Cups cheddar cheese
2-3 Cups of Filling ingredients of your choice (onions, bell peppers, mushrooms, cooked bacon, cooked ham, cooked chicken, etc)
Instructions
Place small omelet skillet over medium heat.
In a medium mixing bowl, place milk, egg, oil, and corn meal mix. Stir until well combined and smooth.
Add filling ingredients to your skillet and sauté until tender. Remove from skillet and wipe skillet out before returning to stove eye. Spray skillet again with nonstick cooking spray or add a tablespoon of oil or butter. Allow to heat. Pour a thin layer of cornbread batter into skillet, tilting skillet around until it coats the bottom. Cook until top is bubbled and bottom is browned. Flip and cook until just lightly browned on the other side. Top omelet with ¼ cup of cheese, ½ cup filling ingredients, and another ¼ cup cheese. Fold over and press down lightly with spatula to help seal. Cook just until cheese begins to melt. Remove to plate and make remaining omelets.
Makes 4 Cornbread omelets and 2-4 happy stomachs 🙂
"I've always thought that a big laugh is a really loud noise from the
soul saying, 'Ain't that the truth.'"
~Quincy Jones
Yum