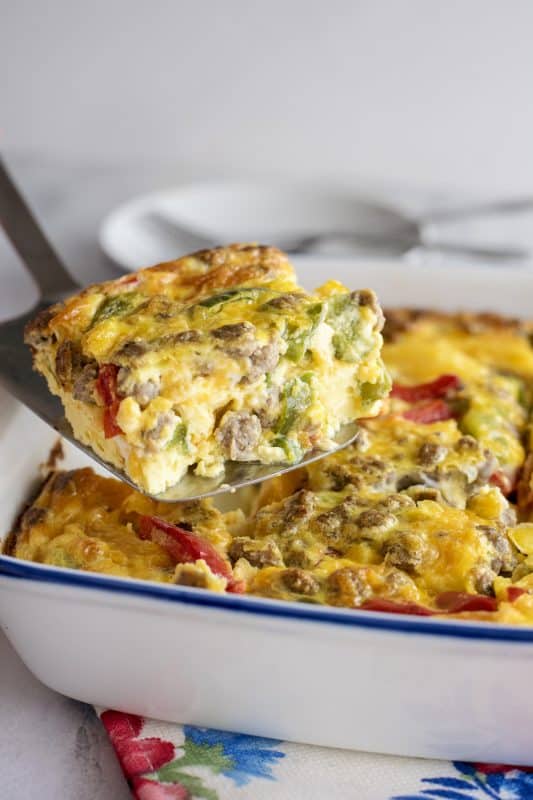 Back in my younger days, one of my favorite things to do with friends was head over to Shoney's on Wednesday nights because that was the night where they served their breakfast buffet for dinner. To a teenager this was pure bliss – all of my favorite foods and no one had to get up early to enjoy them. Of course there was never a shortage of volunteers to join our breakfast group and our night out became a tradition I carried forward after I got married. We kept it up for quite some time, until babies and schedules slowly took precedence and squeezed out our beloved french toast sticks. I'm still a huge fan of breakfast for dinner, though. In fact those two ingredient Banana Pancakes have become one of the go-to quick meals in my house. Today I thought I'd show you my favorite omelet – and the super easy way to make it.
To make my omelet you'll need: Eggs, Cheese, Turkey Sausage, Milk, and frozen Pepper/Onion blend.
My ingredients are really simple, but you can customize your omelet to your own tastes. Isn't that the cool thing about omelets? I love onions and bell peppers – I also love shortcuts, so sometimes I just buy just buy this bagged mix of them unless I already have the peppers on hand. You can often find a mix of onions and bell peppers in the freezer section under the name of seasoning mix or pepper and onion blend.
I'm using cheddar cheese but you can also substitute your favorite cheese as well. I think an omelet with roast beef, peppers, and mozzarella would be divine. I gotta get around to do that one day.
Crack all your eggs into the bowl.
Now listen, I know this recipe calls for eight but if you only have six, just go ahead and make it with six, don't go running out to the store to get more eggs just for this. I think the best dishes are the ones you make do with, that is how all of the good recipes came about anyhow.
Pour in your milk.
I'm using whole buy 2% or even skim milk will work just fine.
Whip it, whip it good!
If you just smiled and did a little dance when you read that, you dated just dated yourself!
~smiles and does a little dance~
dump in cheese
and meat
Add in your peppers and onions. I use about a cup of the mixed variety.
Mix that up as well.
Here is my 8×8 pan, already sprayed with cooking spray.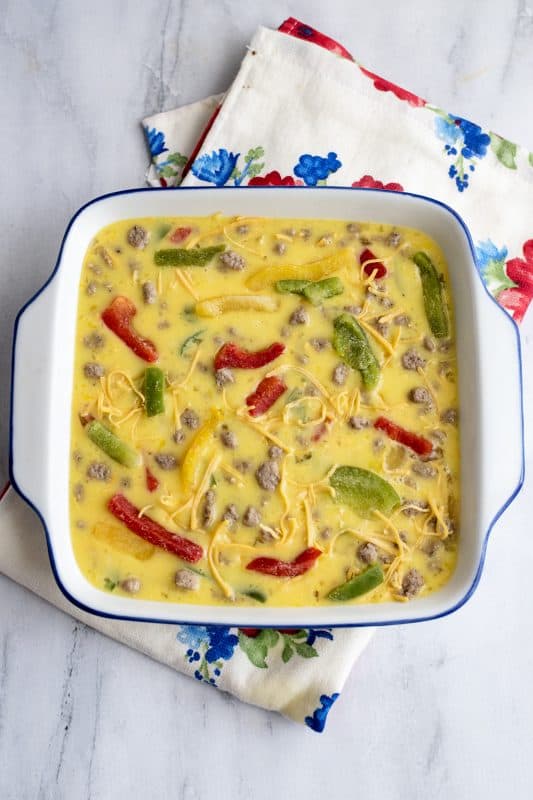 Pour that all in. Wasn't that easy?
Now, instead of standing over the stove and watching this cook in a skillet, all we have to do is pop it in the oven and go about our day.

Bake in a 350 degree oven for about forty minutes, or until it no longer wiggles in the middle when you shake it a bit.
Dinner's ready! I like to have mine with a dollop of sour cream on top.
Yumm!
Customize your omelet: Substitute a cup of your favorite veggies for the onion and bell pepper blend, use your favorite shredded cheese in place of the cheddar, and add in leftover meat in place of the turkey sausage.
Ingredients
8

eggs

1

Cup

shredded cheddar cheese

1/2

Cup

milk

1

Cup

cooked and crumbled turkey sausage

1

Cup

diced onion and bell pepper blend
Instructions
In large mixing bowl, beat eggs. Add milk and all other ingredients. Beat until well combined and pour into 8x8 baking dish. Bake in a 350 degree oven for about forty minutes, or until it no longer wiggles in the middle when you shake it a bit.
This post was originally published in 2010. I updated the photos in 2020. If you'd like an individual sized version of this that is freezer friendly, click here to get the recipe for my Muffin Tin Omelets.
This recipe is featured on Meal Plan Monday and Weekend Potluck 😁
Yum