Combining crunchy cashews with moist tender chicken and teriyaki sauce, you won't want to miss this easy crockpot cashew chicken recipe.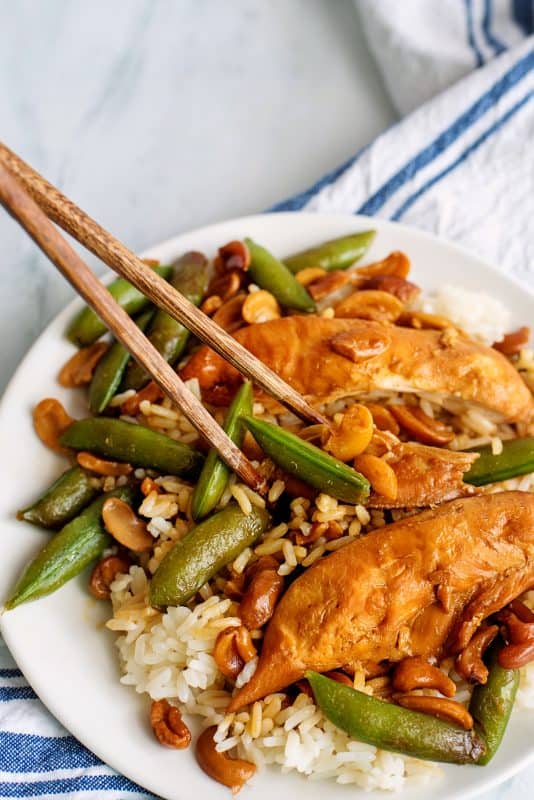 Slow cooker cashew chicken is another takeout favorite made easy at home, like my chicken teriyaki, chicken lettuce wraps, veggie lo mein (PF Chang's copycat recipe), and beef lo mein. I love chicken teriyaki and I love cashew chicken. So a combination of my favorite ingredients creates cashew chicken in the crockpot. It's a slow cooker recipe you'll want again and again for supper.
While many consider slow cookers to be for fall and winter dishes, I think most of us LOVE our slow cooker in the summertime. There is nothing like having supper ready on a day when it's 100+ degrees outside and not having to turn on your oven. A slow cooker sure does keep your kitchen a whole lot cooler!
Okay, back to my crockpot cashew chicken recipe. Did I mention that all you need is 4 ingredients? Chicken (either tenderloins, chicken breast, or chicken thigh), cashews, sugar snap peas (or the veggies of your choice), and teriyaki sauce. We simply slow-cook the chicken in the teriyaki sauce to make it super tender and flavorful. Then 30 minutes before serving, we add in the veggies and cashews so they retain their crunch for that hint of added texture. Serve over rice and supper is done!
I love easy and healthy supper recipes, especially for weeknights, and this slow cooker cashew chicken certainly fits the bill. So let's get cooking!
Recipe Ingredients
Chicken tenderloins
Teriyaki marinade and sauce
Unsalted cashews
Rice
Some type of veggie (I'm using steam in-bag sugar snap peas from the frozen foods section).
How To Make Crockpot Cashew Chicken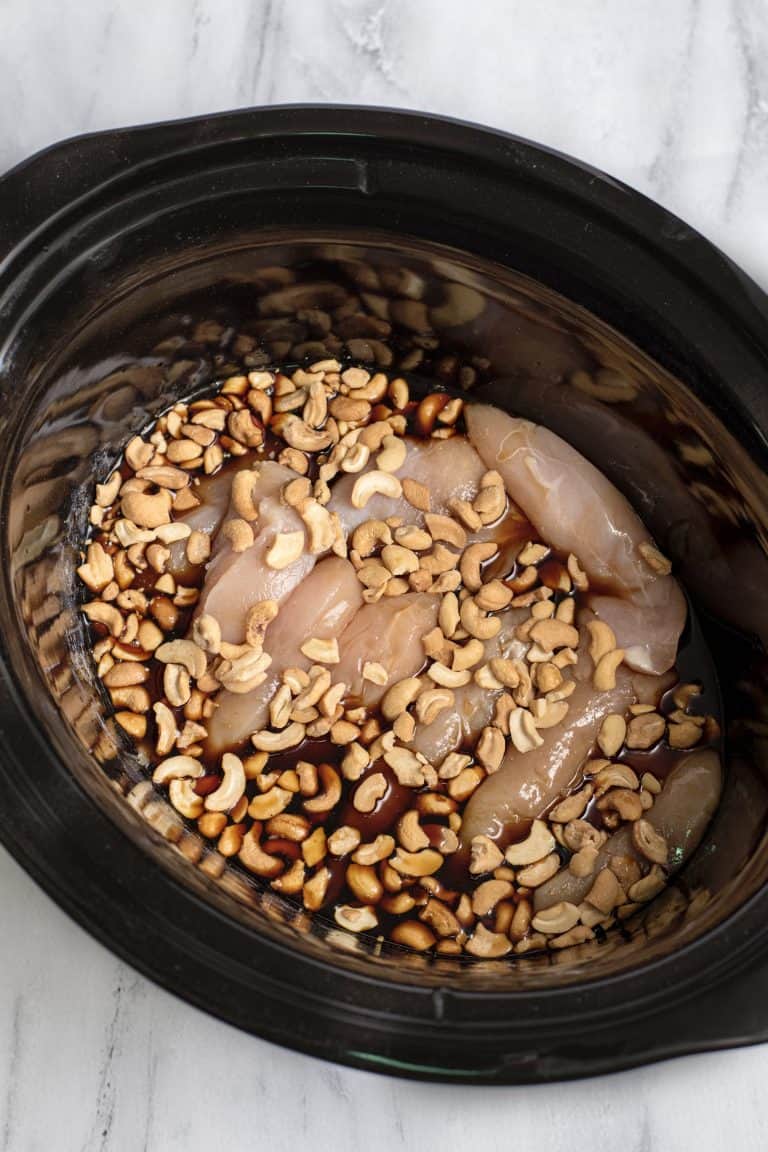 Place your chicken in your slow cooker.
Pour in one cup of teriyaki sauce and add in your cashews if you want them to be cooked and tender.
If you prefer your cashews to stay crunchy, add them in the next step.
Cover and cook on low for 7 for 8 hours or on high for 3 to 4 hours.
After your chicken is fully cooked (about 30 minutes before serving) add in the sugar snap peas or other vegetables.
This is when you add in your cashews if you like them to stay crunchy.
Stir that up and cover the slow cooker again, until your veggies are tender. Serve over rice and enjoy!
This supper is easy, delicious, and easily customizable for your family.
Storage
Store leftovers in an airtight container in the fridge for up to 5 days and simply reheat in the microwave.
You can also freeze leftovers for up to 3 months. Thaw overnight in the fridge before reheating in the microwave.
Recipe Notes
You can substitute the cashews for peanuts if you like.
I'm using chicken tenderloins, but boneless skinless chicken breast or even chicken thigh works just as well. Besides chicken, you can use pork or tofu for vegetarian cashew chicken.
Here are some other great stir-fry vegetables: broccoli, zucchini, bok choy, celery, mushrooms, edamame, and red or green bell pepper.
Is it not a stir-fry without some heat? Go ahead and add 1/4 teaspoon of crushed red pepper flakes.
You want to use unsalted cashews in this crockpot recipe.

If you got your hands on

, try and remove as much salt as possible before adding them to this

.

To make a traditional cashew chicken sauce, this is what you'll need. Just mix the ingredients together

in a

before adding them to the slow cooker: 1/4 cup of soy sauce (or tamari), 2 tablespoons of rice wine vinegar, 2 tablespoons of ketchup, 1 tablespoon of brown sugar, 1 minced garlic clove, and 1/2 teaspoon of ground ginger

or

.
Recipe FAQs
Can you make crock pot cashew chicken nut-free?
Yes, if you like, simply substitute the cashews for water chestnuts instead.
What kind of rice should I use?
This is my favorite rice. You can get it near the Asian foods section (it usually isn't near the regular rice). It's kind of almond-shaped and a Korean friend of mine refers to it as "sticky rice".
How else can I serve my crock pot cashew chicken?
Besides white rice, serve your cashew chicken with brown rice, cauliflower rice, zoodles, ramen noodles, or quinoa. You can also serve it with a green onion garnish.
Can I make cashew chicken on the stovetop?
Absolutely! Pan-fry the chicken first, then add the sauce, veggies, and cashews and let it simmer, covered, for 20 or so minutes. Then simply serve with rice. You can also follow these same instructions to make cashew chicken in the instant pot. Saute the chicken first, then add the remaining ingredients and cook for 20 minutes.
Can I make crockpot cashew chicken ahead of time?
Yes, leftovers will last up to 5 days in the fridge, so feel free to make this slow cooker recipe in advance. When it comes time to serve, just reheat it quickly on the stovetop or in the microwave.
You may also like these chicken and rice recipes:
Cheesy Chicken And Rice (Crockpot Version)
Cheesy Chicken and Broccoli Rice Casserole
Chicken and Wild Rice Casserole
Crockpot Fiesta Chicken and Rice
Ingredients
2

lbs

chicken tenderloins

1

9-ounce package

frozen sugar snap peas or veggie of your choice, thawed

1

cup

teriyaki marinade and sauce

1

cup

cashews

can substitute for water chestnuts or peanuts
Instructions
Place chicken and sauce in the slow cooker. Add in nuts if you prefer them tender but if you want them crunchy wait until step #3.

2 lbs chicken tenderloins,

1 cup teriyaki marinade and sauce

Cover and cook on low for 7 to 8 hours or on high for 3 to 4 hours.

30 minutes before serving, add in thawed vegetables and nuts (if you didn't add them in step #1). Cover and cook for another 30 minutes.

1 9-ounce package frozen sugar snap peas or veggie of your choice, thawed,

1 cup cashews

Serve over rice and enjoy!
Nutrition
Enjoy this moment, for this moment is your life.
~Omar Khayyam