Teriyaki Chicken Stir Fry With Brown Rice
My quick and easy teriyaki chicken stir fry recipe is a healthier version of this takeout favorite, with tender teriyaki chicken served with fresh vegetables on a bed of brown rice.
Two weeks ago I shared my beef and broccoli recipe with y'all. It used to be one of our favorite takeout meals until I started making it at home, and then it quickly became one of our favorite homemade meals. I love being able to make healthier versions of our takeout favorites, that are as quick, easy, and simple as getting takeout, you know?
Well, this teriyaki chicken stir fry recipe is at the top of my personal list of "things I really like to eat". I usually make a double recipe for supper (the recipe serves 4) so I can put some in lunch-sized servings and enjoy it throughout the week. In fact, I had some for breakfast this morning. I know I know, it doesn't look like breakfast but if this chicken teriyaki is sitting in your fridge it will be calling your name until you finish it off too.
This is a fast and fresh chicken teriyaki recipe that comes together faster than a prairie fire with a tailwind! You can use whatever veggies you have on hand or prefer in place of the ones I have chosen. Sometimes I add squash, mushrooms, zucchini, and even tomatoes, but the fallback for teriyaki chicken stir fry is always broccoli florets and carrots. Then all you need is garlic powder and teriyaki sauce for flavor and some chicken breast.
I prefer to serve my teriyaki chicken with brown rice because we're a low-carb household. However, you can use whatever rice you like. You might also want to try keto-friendly cauliflower rice. Alright, let's get cookin'!
Recipe Ingredients
Broccoli florets
Matchstick cut carrots
Boneless skinless chicken breast cut into bite-sized pieces
Vegetable oil (just a scant amount)
Garlic powder
Teriyaki sauce
Salt
Brown rice
How to Make Teriyaki Chicken Stir Fry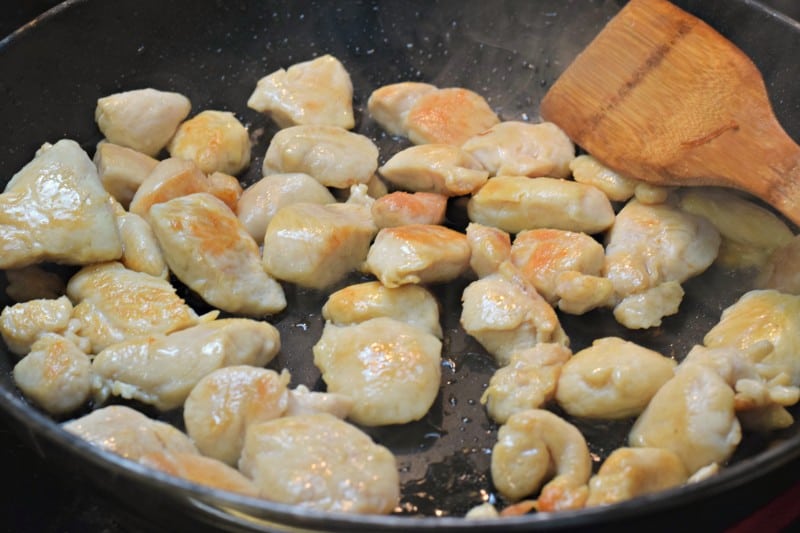 Place oil in a large skillet over medium-high heat.
Add chicken pieces and cook, stirring often, until lightly brown and no longer pink in the center (about 5 to 7 minutes).
Stir in all veggies, garlic powder, and sauce.
Reduce heat to medium and continue cooking, stirring frequently, until veggies are tender (about 10 minutes).
Serve over hot cooked rice and top with additional sauce if desired.
Storage
Store leftovers in an airtight container in the fridge for up to 4 days and easily reheat them in the microwave. Told ya, make double as it's great for meal prep!
Recipe Notes
Other vegetables that work well in chicken teriyaki stir fry include onion (cut into wedges), sliced green bell pepper or red bell pepper, green beans, chopped asparagus, water chestnuts, and/or sugar snap peas. I'd shoot for adding about four cups in total but you can add more or less if you like.
For added flavor, substitute the vegetable oil for sesame oil.
You can also substitute the chicken breast for skinless boneless chicken thigh fillets if you prefer.
Instead of garlic powder, add a minced garlic clove.
Garnish the stir fry with green onion or sesame seeds.
Instead of brown rice, serve the chicken teriyaki stir fry with jasmine rice, udon noodles, rice noodles, or zoodles.
For vegetarian stir fry, substitute the chicken for tofu or double the vegetables.
Recipe FAQs
Can I double this teriyaki chicken stir fry recipe?
Yes, it's so easy to double this chicken teriyaki recipe! If feeding a larger or hungrier crowd, double the amount of rice and load up on veggies. If you double the veggies, double the sauce and garlic powder as well.
What is teriyaki sauce made from?
Traditional teriyaki sauce is made with a combination of soy sauce, mirin (Japanese rice wine), and brown sugar. However, Westernized versions and homemade teriyaki sauce usually include these ingredients as well as honey, garlic, and ginger for added flavor.
You may also like these other easy dinner recipes:
Asian Pork Tenderloin Skillet (Quick & Budget-Friendly)
Garden Skillet Supper (a.k.a Ground Beef and Vegetables)
Veggie Lo Mein (PF Chang's Copycat Recipe)
Easy Crock Pot Chicken Lettuce Wraps
Ingredients
2

cups

uncooked brown rice, cooked according to package directions

1

tbsp

vegetable oil

1

pound

boneless skinless chicken breasts, cut into bite-sized pieces

2

cups

broccoli or veggie of choice

2

cups

matchstick carrots or veggie of choice

1/2

tsp

garlic powder

1/3

cup

teriyaki sauce
Instructions
Place oil in a large skillet and heat over medium-high heat. Add chicken pieces and cook, stirring frequently, until chicken is lightly brown and no longer pink in the center (5-7 minutes).

1 tbsp vegetable oil,

1 pound boneless skinless chicken breasts, cut into bite-sized pieces

Add vegetables, garlic powder, and teriyaki sauce to the skillet. Reduce heat to medium and cook, stirring often, until vegetables are tender (about 10 minutes).

2 cups broccoli or veggie of choice,

2 cups matchstick carrots or veggie of choice,

1/2 tsp garlic powder,

1/3 cup teriyaki sauce

Serve over hot cooked rice.

2 cups uncooked brown rice, cooked according to package directions
Nutrition
"The greatest weapon against stress is our ability to choose one thought over another."
~William James