Easy Crock Pot Chicken Lettuce Wraps
This easy and healthy crock pot chicken lettuce wraps recipe includes tender shredded chicken breast slow-cooked in a positively delectable honey, soy, and garlic sauce.
If you like san choy bow or PF Chang's chicken lettuce wraps, you're going to love this recipe. Now, I know I know, I'm a bit of a chicken lettuce wrap fanatic and yes, I already have one chicken lettuce wrap recipe on my blog, but this is a different recipe.
This one is amazingly easy and we cook our chicken in a different Asian-inspired sauce. We're also using chicken breast instead of ground chicken. I've come to love this easy dump-it-all-in-the-crockpot recipe even more lately because it takes me all of 5 minutes to throw together. Talk about the perfect weeknight meal. Just pop the ingredients in the slow cooker in the morning and it'll take you 5 minutes to assemble the chicken lettuce wraps for supper.
Now, I hear you asking what these ingredients are. Well, it's simple really. Besides the chicken breast, all you need is honey, minced garlic, soy sauce, and sesame oil. You'll also need iceberg lettuce to make the wraps and I like to top mine with green onion and crunchy chow mein noodles, but I've included more ideas below.
The chicken is just so tender and tasty after slow cooking for so long. I just know you'll try this flavorful main dish once and make it all the time just like me. I can't get enough of these crock pot chicken lettuce wraps. Did I mention this recipe is also suitable for a ton of diets? But it doesn't feel at all like diet food and I just eat them because they are stinking delicious.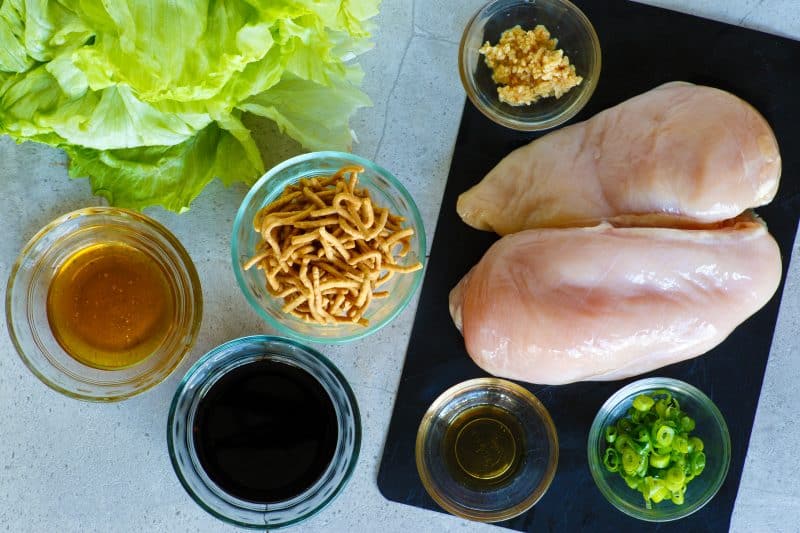 Recipe Ingredients
Honey
Soy sauce
Minced garlic
Sesame oil
Boneless skinless chicken breasts
You'll also need some iceberg lettuce, chopped green onion, and crunchy chow mein noodles for serving (optional).
How To Make Crock Pot Chicken Lettuce Wraps
In a small bowl, stir together the soy sauce, honey, garlic, and sesame oil.
Place the chicken breasts in the bottom of the slow cooker.
Pour sauce over.
Cook on low for 6-7 hours or on high for 2-3 hours.
That's it! Now let me show you my tip for shredding chicken in a jiff, just in case you've missed it when I shared it before.
Place the hot cooked chicken breasts in a mixing bowl and using your electric hand or stand mixer…
Turn it on medium for a minute or two and VOILA!
Perfectly shredded chicken AND I got to put those two years of high school French to use!
Merci beaucoup!
Return your shredded chicken to the slow cooker and stir to coat in the sauce. These amazing chicken lettuce wraps are almost done!
Place your deliciously seasoned chicken in lettuce leaves and top with green onions and crunchy chow mein noodles, if desired.
These chicken lettuce wraps are just delicious!
Storage
Store chicken leftovers in an airtight container in the fridge for up to 3 days or in the freezer for up to 3 months. Reheat in the microwave before assembling as instructed.
Recipe Notes
Sesame oil makes an amazing difference in the flavor here! You can leave it out if you like but if possible I encourage you to try it. The difference it makes just perfects this recipe for me.
Here are some additions to bulk up these Asian chicken lettuce wraps:

Add veggies! Choose one or more from these options: 1 diced bell pepper, 1 cup shredded carrot, 1 diced onion, 3 finely chopped celery stalks, 1 cup of sliced snow or sugar snap peas, 1 cup of bean sprouts, and 1 cup of minced Baby Bella mushrooms. Add them to the slow cooker along with the other ingredients. Another option is to add a can of drained and chopped water chestnuts to the slow cooker just before serving.
Stir in cooked brown rice or quinoa when you return the shredded chicken to the slow cooker.

You can use any kind of lettuce, as long it has larger leaves to make the wraps, like butter lettuce, iceberg lettuce, or romaine lettuce.
Now let's move on to serving suggestions:

Top your lettuce wraps with fresh herbs rather than green onion, like cilantro, basil, or mint.
Substitute the chow mein noodles for chopped nuts like cashews, peanuts, or almonds.
Add fresh veggies to the top or on the side, like grated carrot, bean sprouts, or edamame.

For added flavor, add 1 tablespoon of rice wine vinegar and/or 1/2 teaspoon of freshly ground ginger to the sauce.
If you like your Asian food with a healthy amount of heat, add 1/2 teaspoon of crushed red pepper flakes to the sauce.
Check out some of my other favorite crockpot recipes:
Ingredients
½

cup

soy sauce

½

cup

honey

1

tablespoon

minced garlic

1

tablespoon

sesame oil

4

boneless skinless chicken breasts
For serving
iceberg lettuce

a bunch of green onions

chow mein noodles

crunchy kind that comes in bags, optional
Instructions
In a small bowl, stir together the soy, honey, garlic, and sesame oil. Place chicken breasts in the bottom of the slow cooker and cover them with the sauce.

½ cup soy sauce,

½ cup honey,

1 tablespoon minced garlic,

1 tablespoon sesame oil,

4 boneless skinless chicken breasts

Cook on low for 6-7 hours or on high for 2-3 hours.

Take the chicken breasts out of the slow cooker and place them in a mixing bowl. Beat with an electric mixer on low to shred. Return shredded chicken to the slow cooker and stir to coat in sauce.

To serve: place a good spoonful of chicken in the center of a lettuce leaf and top with diced green onion and some crunchy chow mein if desired. Roll it up like a burrito to eat.

iceberg lettuce,

chow mein noodles,

a bunch of green onions
Nutrition