Elvis Presley Cake is said to have been his favorite. Whether it was or not, it's sure to become one of yours!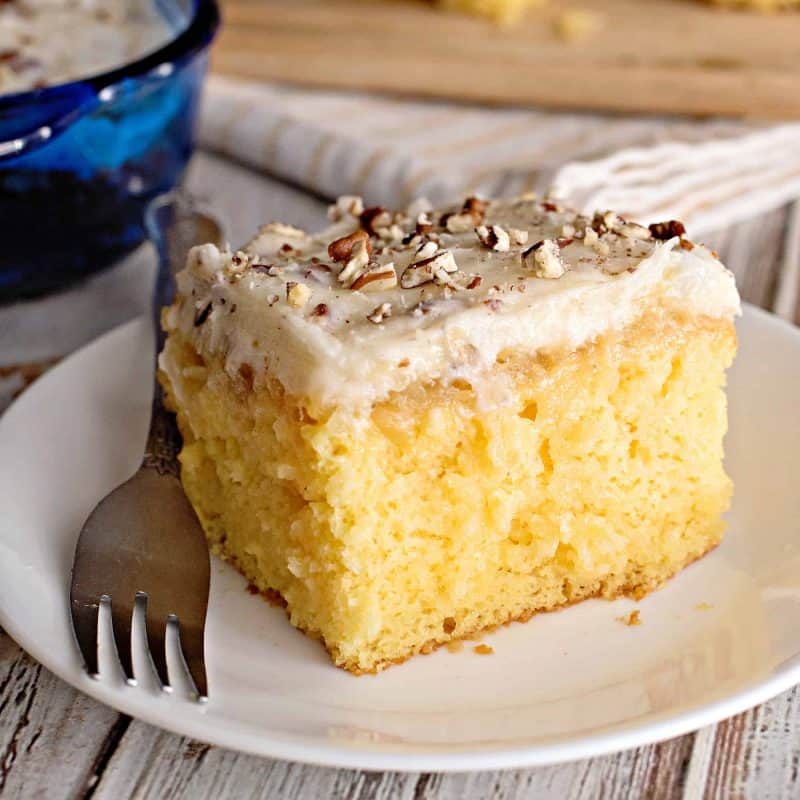 This post is dedicated to Su, one of my readers from Australia. Several years back, Su and her mother (A huge Elvis fan) came to the US to visit Graceland and I went and met up with them during their time here and we all had a grand day together!
I can't even count how many times my family visited Graceland as a child. It was a pilgrimage of sorts for my parent's generation – and I understand why. I knew Elvis more through his movies on AMC back when I was growing up, but it was easy to see to anyone that he was something special, something rare.
This cake is said to have been one that Elvis's cook made for him on a regular basis.
This is what we call an "Ice Box Cake". Many in the greatest generation still refer to their refrigerators as ice boxes. Ice Box cake recipes and pies are good any time of the year because they keep so much longer than regular cakes.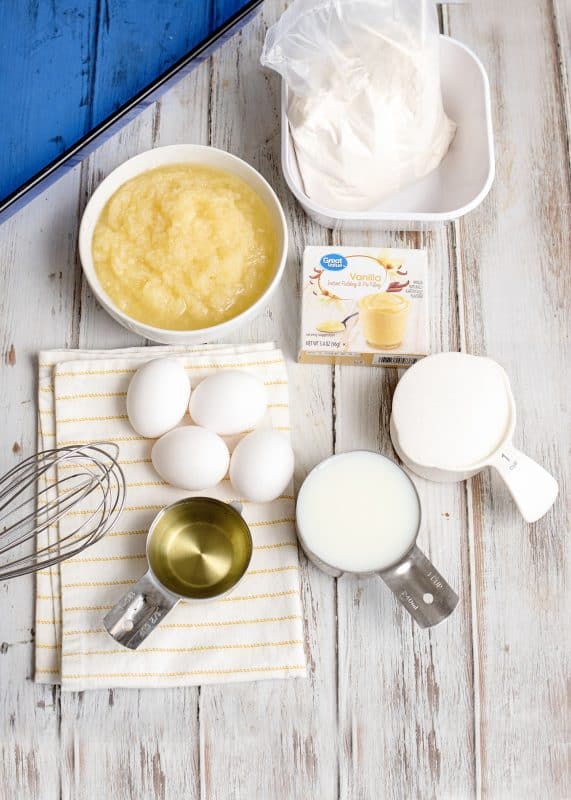 For this Ice Box Cake recipe aka Elvis Presley cake, you will need these ingredients:
Sugar
Oil
Milk
Crushed pineapple
Eggs
Vanilla instant pudding
A box of yellow cake mix.
In the South, we have an unnatural fixation with Duncan Hine's cake mix. Icing ingredients are coming up in a few photos but of course the entire recipe is in printable format at the bottom of this post.
How to Make Elvis Presley Cake
A Version of an Ice Box Cake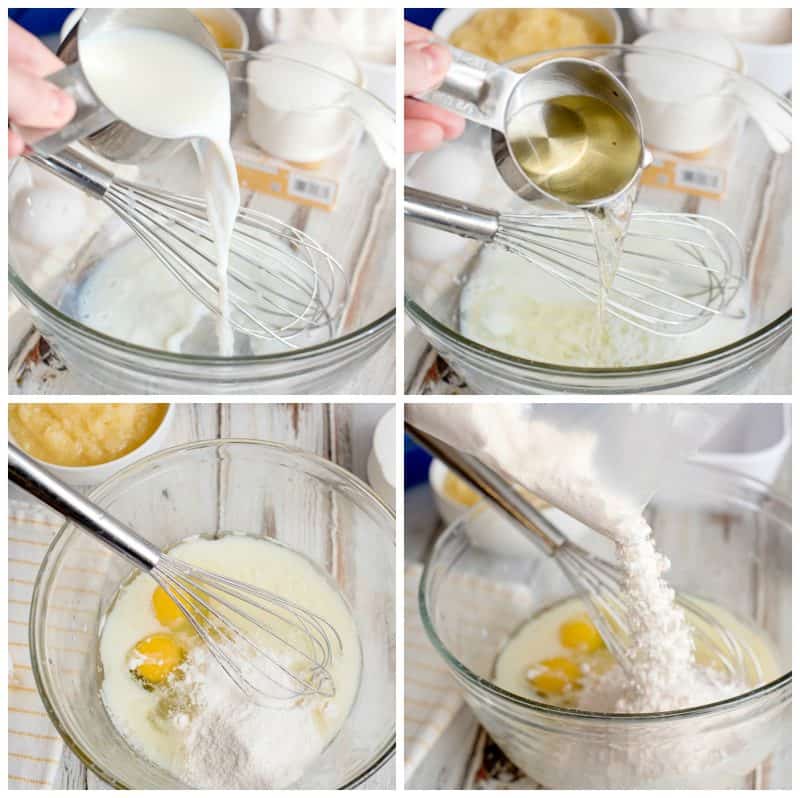 Pour milk into mixing bowl. Add oil, eggs, pudding mix, and cake mix.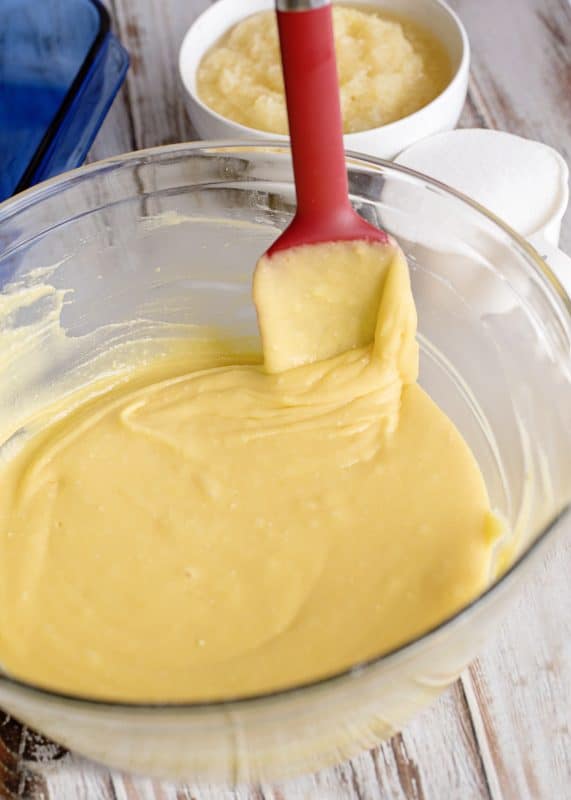 Beat with an electric mixer for about a minute, then stop and scrape down sides. Continue mixing about two more minutes, until smooth. Try not to taste of this batter. Seriously, try really hard not to taste it. If you do, there may not be any left to actually bake. It's that stinking good!
Spray your 9×13 inch cake pan with nonstick cooking spray.
Pour batter into pan and bake at 350 for thirty to thirty five minutes, or until toothpick inserted in center comes out clean.
While that is in the oven, pour pineapple into a sauce pot, juice and all.
Add sugar and stir to combine. Bring to a boil over medium heat and then remove from heat.
While hot, poke a whole bunch of wholes in the top of the cake with a fork. You could use the tip of a wooden spoon too if you like for a traditional poke cake.
Don't stop until it looks like a swarm of four fanged mosquitoes took hold of it!
Spoon pineapple and juice over hot cake, letting it soak in.
It should look like the picture above.
Now let's make us some icing while that's a coolin'!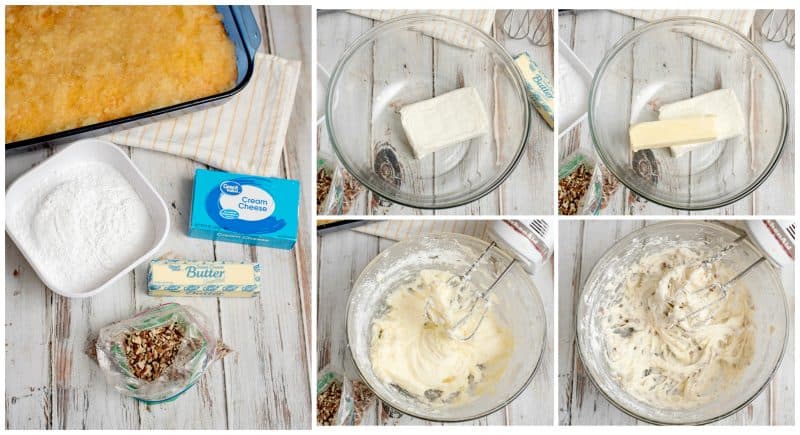 For the icing, you will need: Cream cheese, butter, confectioner's sugar, and pecans.
Place softened cream cheese in a mixing bowl. Toss in butter and mix until light and fluffy. Add confectioner's sugar and beat with an electric mixer until well incorporated and creamy, scraping down sides as need be.
Add in pecans and mix just until incorporated.
Once your cake has cooled, drop the icing in dollops onto the top of it.
We are doing this to keep from stirring up all of our pineapple into our icing.
Spread and smooth to ice cake. Top with additional pecans, if desired.
NOW, take a BIG OLD KING SIZED BITE in honor of Elvis!
Ingredients
CAKE:
1

box yellow cake mix

1

3-ounce box vanilla pudding (not sugar free!)

4

eggs

1/2

cup

oil

1

cup

milk

16-

ounce

can crushed pineapple

undrained

1

cup

sugar
FROSTING:
8-

ounce

package cream cheese

room temp

1/2

cup

butter

room temp

3

cups

confectioners' sugar

1/2

cup

chopped pecans

optional
(you can also add a teaspoon of vanilla to frosting if you like)
Instructions
Please cake mix, pudding, eggs, oil, and milk in a large mixing bowl. Beat with an electric mixer for one minute. Scrape down sides and beat again for about two minutes, or until smooth.

Pour batter into greased 9x13 baking dish and bake at 350 for 30-35 minutes, or until golden and toothpick inserted in center comes out clean.

While cake is baking, place pineapple and sugar into a medium saucepan on stovetop and bring just to a boil, over medium high heat while stirring constantly, until sugar is dissolved. Remove from heat.

Once cake is done, remove from oven and poke holes all over the top with a fork. While still hot, pour hot pineapple mixture over top and spread to cover. Let cool.

For frosting, place butter and cream cheese in large mixing bowl and beat with an electric mixer until smooth and creamy. Add confectioner's sugar gradually, scraping down sides as needed, while beating with an electric mixer. Stir in pecans, if desired.

Drop by dollops onto top of cooled cake. Slowly spread dollops together to cover the cake, being careful not to disturb the pineapple topping. Sprinkle finished cake with additional pecans, if desired.
Nutrition
Rhythm is something you either have or you don't have. But when you have it, you have it all over.
~Elvis Presley
You may also enjoy these cake recipes:
Hoe Cake Recipe Southern Style From Mama
Vanilla Wafer Cake Recipe From Mama Reed