This quick and easy Italian cucumber salad recipe only needs 4 ingredients: fresh tomatoes, cucumber, and red onion in an Italian dressing. This salad is fast, fresh, and so flavorful.
Whenever the weather is warmer I'm just itching for fresh food and sunshine. Depending on when you read this it may be a little early for produce from your own garden but thanks to the marvels of our modern grocery stores, I can get all I need to whip up this salad in a jiff. This serves as a delicious side dish bursting with garden flavor and can be kept in the refrigerator for several days.
My mouth is watering just thinking about it.
When you see how quick and easy it is, this may very well end up being your favorite salad of the summer! My quick and easy Italian tomato cucumber salad recipe is made with just 4 ingredients: fresh tomato, crisp cucumber, red onion, and Italian dressing. All we're going to do is chop up the vegetables, add them to a bowl with the Italian dressing, give it a good stir, then refrigerate the salad for several hours to let the flavors meld together.
It's fresh, it's fast, and that Italian dressing means it's also so flavorful. You can't go wrong with this Italian cucumber tomato salad and it's the perfect dish to bring to your next potluck or picnic. Now, let's take a closer look at the ingredients and instructions. But don't blink because you might miss them!
Recipe Ingredients
Tomatoes (I'm using Roma tomatoes, but cherry tomatoes also work well).
Red onion
Cucumbers
Italian dressing
How to Make Italian Cucumber Salad
Chop or slice your cucumber.
I'm leaving my skin on but you can peel it if you prefer.
Place that in a large bowl.
Do the same with your tomato.
Toss that in there too.
If you want you can just use a can of diced tomatoes and drain them.
Chop up your onion.
Add that in.
Pour the whole bottle of dressing into the bowl.
Ugh. I made this last week and ate every last bit of it. As soon as I press send on this post I'm heading to get the stuff to make it again!
Lawdy it's good.

Stir.
Cover with a lid and place in the refrigerator for several hours to marinate.
Serve as the perfect side to BBQ, grilled burgers, or whatever your heart desires!
I just plop it in a bowl and dig into it all on its own!
Storage
Leftover salad will last, covered, in the fridge for up to 5 days.
Recipe Notes
You can use any raw veggie you like here really, just go with what you like. Be sure to wash them well before using them though.
You can also use either original or zesty Italian dressing. However, I'm a big fan of Kraft Italian dressing because, in my personal opinion, it tastes exactly like what they use at Olive Garden.
Want to make homemade Italian dressing? You'll need ingredients like white or red wine vinegar, olive oil, freshly grated parmesan cheese, sugar or honey, Italian seasoning (dried basil, dried parsley, and/or dried oregano work as well), and garlic powder.
Add a garnish of freshly chopped parsley

or

leaves to your .
For an extra Italian touch, add some chopped olives.
Salt and black pepper to taste.
Recipe FAQs
How do you serve Italian cucumber salad?
Serve your salad as a side dish with any kind of main meal, such as:
It also wouldn't be an Italian salad without a serving of crusty bread on the side as well, right?
Can I make Italian cucumber salad in advance?
Yes, I'd recommend making it up to 24 hours in advance to let all those flavors marinate together.
Here are some more summer salad recipes:
Tomato, Onion, and Cucumber Salad
Recipe for Caprese Salad with Chicken and Avocado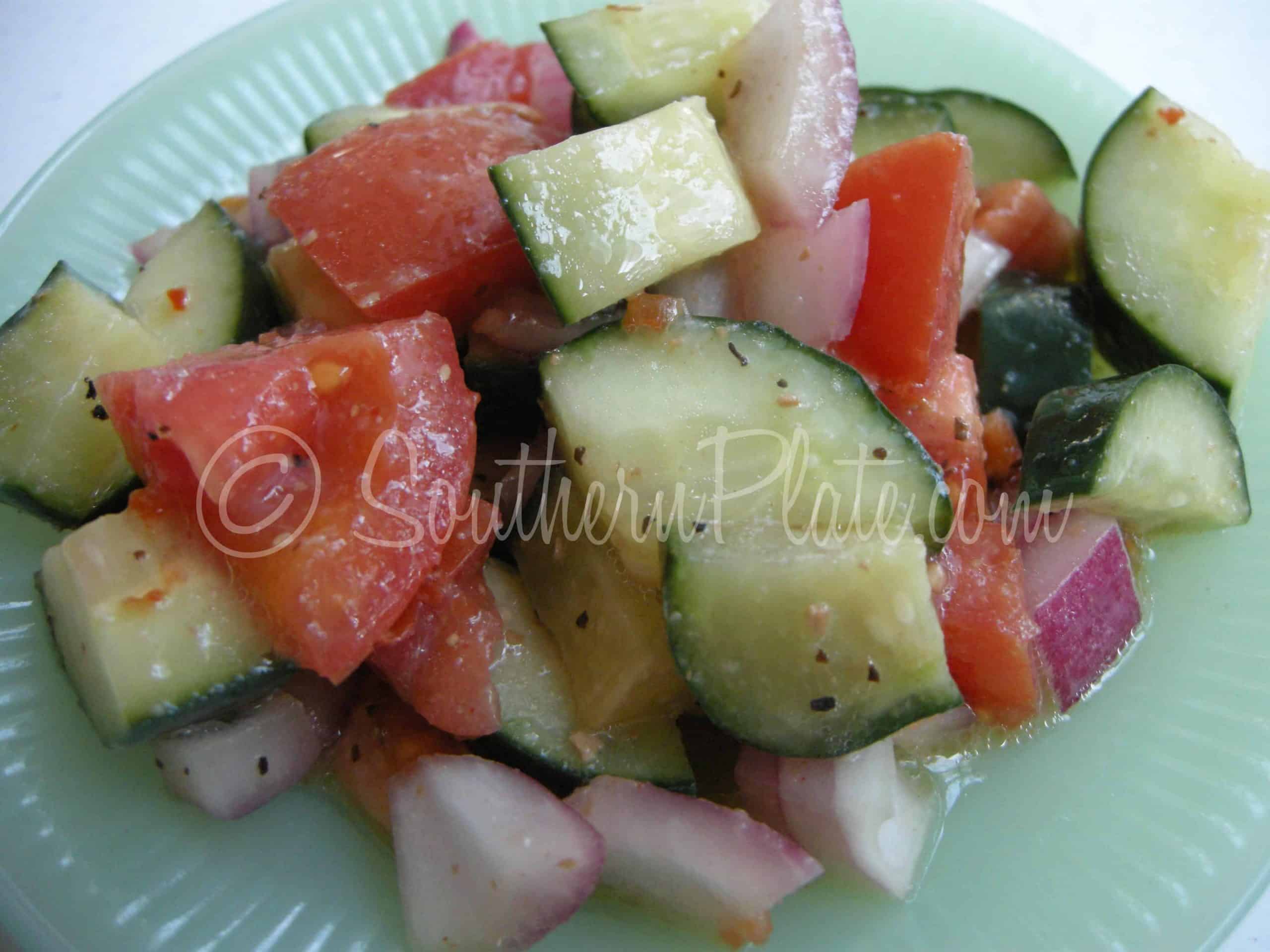 Ingredients
3-4

chopped Roma tomatoes or your choice

(about 1.5 cups)

1

large red onion, diced

2

cucumbers, chopped

1

bottle

Italian dressing or your choice
Instructions
Place all vegetables in a large bowl. Pour in the entire bottle of dressing and stir.

3-4 chopped Roma tomatoes or your choice,

1 large red onion, diced,

2 cucumbers, chopped,

1 bottle Italian dressing or your choice

Cover and refrigerate for several hours before serving.

Can be kept in the refrigerator for several days.
I'm an angel and if someone breaks my wings
I continue to fly on a broomstick…I'm very flexible.

Submitted by Iplayoutside the box. Submit your quote here.