This creamy cucumbers salad recipe is a very light and refreshing spring/summer side dish with the taste of cucumbers in a creamy smooth sauce.
Do you see that old-fashioned creamy cucumber salad up there? I ate every bit of that. Sure, not in one sitting. It took me a couple of tries, but I'm no quitter and I stuck with it until the bowl was empty. And I'd do it again, too, given half the chance. Creamy cucumbers salad is just that good!
Ever since I showed it on a plate with crunchy chicken I've had tons of comments and emails from folks asking me what it was. It's a light and creamy side dish that is perfect for summer picnics, potlucks, and grilling. You only need 6 ingredients too: cucumbers, sour cream, vinegar, sugar, dill, and salt. Mix these ingredients together and you have a cucumber salad that's slightly tangy, slightly sweet, and very creamy. Plus, it lasts for up to a week in your fridge, so it's the perfect salad to make ahead of time.
This creamy cucumber salad recipe is quick, easy, and so versatile. So yeah, it ticks all of my boxes! It pairs great with your favorite grilled dishes, like grilled chicken, grilled corn on the cob, and grilled asparagus. I also love to serve it alongside fish, like my beloved fried catfish. Another option is to serve it with pulled pork in place of coleslaw. Once you try it, you may never make coleslaw again!
Now let's make creamy cucumbers. This one comes together fast so don't blink because you'll miss it.
Recipe Ingredients
Cucumbers
Sour cream
Vinegar
Sugar
Dill
Salt
Helpful Kitchen Tools
How to Make Creamy Cucumbers Salad
Stir all ingredients together except the cucumbers.
Peel and slice your cucumbers kinda thin-ish.
Cucumber Chunks or Slices?
It really doesn't matter. If you like thicker cucumbers or even cucumber chunks, knock yourself out. I set out to slice thin slices and then I start going down my mental to do list and my slices get progressively thicker, then I remember what I'm supposed to be doing and they get thin again. And it works.
Put cucumber slices in a bowl and pour sour cream dressing over.
Stir well to coat.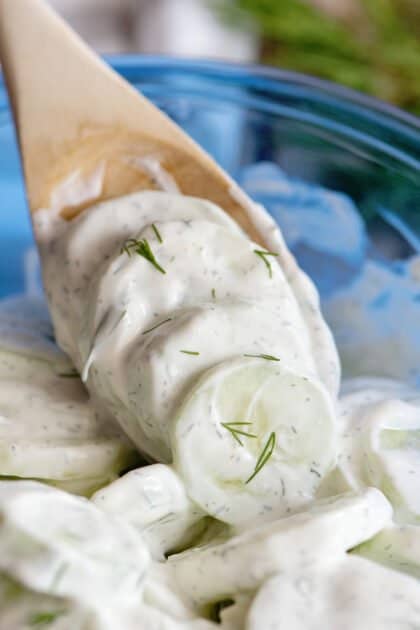 How good does that look?
Serve immediately or cover and refrigerate to serve later.
Storage
Leftovers will last in an airtight container in the fridge for up to 1 week, so this is a great salad recipe to make in advance. Because of the sour cream, I don't recommend freezing this salad.
Recipe Notes
Substitute the sour cream for plain Greek yogurt, ranch dressing, or a combination of Greek yogurt and mayo.
If you want to add more veggies, I recommend adding 1 cup of finely sliced red onion (or white onion/sweet onion/green onion), small chunks of avocado, or diced fresh tomato.
You can use either dried or fresh dill or substitute the dill for another fresh herb, like mint, parsley, or basil.

Use any kind of

, such as an

or American

, and peel or leave the skin on, the choice is yours.
For added flavor, add a teaspoon of garlic powder or 1 minced garlic clove.
Wondering what to do with leftovers? Grab your favorite protein, this creamy cucumber dill salad, and make a delicious sandwich.
You may also enjoy these scrumptious salad recipes:
Tomato, Onion, and Cucumber Salad
Low Carb Broccoli Cauliflower Salad
Ingredients
3-4

cucumbers

1

cup

sour cream

2

tablespoons

white vinegar

1

tablespoon

sugar

1

teaspoon

salt

1

teaspoon

dried dill
Instructions
Peel cucumbers and slice thin. Place in a medium bowl.

In a small bowl, stir together all other ingredients.

1 cup sour cream,

2 tablespoons white vinegar,

1 tablespoon sugar,

1 teaspoon salt,

1 teaspoon dried dill

Pour the dressing over the cucumber slices and stir to coat. Serve immediately or cover and refrigerate for two hours or more.
Nutrition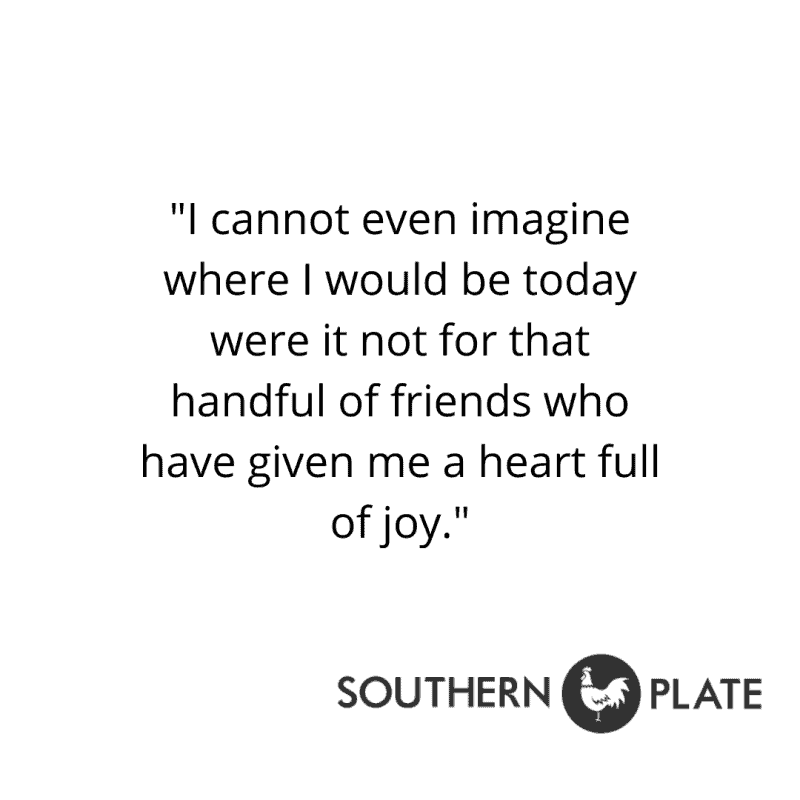 ~Charles Swindoll