Fun Meals & More With Frozen Bread Dough
If you haven't been following me on the Southern Plate Family Facebook page you may be wondering why you haven't heard from me in a few days. I have a good excuse, honest. I just got home from a little road trip to Savannah, Georgia, where I spent a day filming with Miss Paula Deen. I'll be in an upcoming episode of her "Paula's Best Dishes" show on the food network. We had a wonderful time together and I have to tell you, that is one hard working lady and as good hearted as the day is long. She actually left her house before we did to fly to New York and host the Today Show the next day!
I can't post pictures until I have permission from the Food Network but I'll be telling you more about my time filming and cooking with Miss Paula in an upcoming post.
Yesterday Susan Hatcher asked on Facebook: Help me out on bread dough. I bought some frozen from Kroger for the first time and don't have a clue what to do with it.
Well boy howdee Susan, do I ever have a post for you! I have a lot of fun with frozen bread dough and post some of my favorite recipes using it on Southern Plate from time to time. I have tons more I'll post over the next few years but today I wanted to bring you (and Susan) a compilation post of all of the great Frozen Bread Dough posts on Southern Plate so far.
This convenient wonder can help you turn out beautiful kitchen creations for dinner, dessert, and beyond in no time flat! Enjoy!
These are delicious as a snack or even a fun meal for your family! Customize them to your own family's tastes.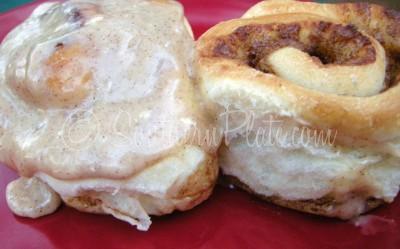 You could pretty much control the world if you kept these babies coming, warm from the oven and slathered in cinnamon cream cheese icing.
Another easily customizable recipe with a gorgeous outcome!
Half dinner roll, half sweet cinnamon treat, these are one of my fun favorites to make with the kids.
Not in a Mardis Gras mood? Just ditch the sprinkles and you have a DELICIOUS cream cheese filled coffee cake ring.
I have many more recipes using frozen bread dough but these will get you off to a great start. Subscribe by email to never miss a single recipe and be sure and join us over on Facebook to keep up with day to day happenings. As soon as I have permission to post photos from my visit with Paula I'll let ya know!
Stay tuned for the Air Date. You'll know as soon as I do!
Gratefully,
Christy
"For every minute you are angry you lose sixty seconds of happiness."

― Ralph Waldo Emerson

Submitted by Jenny (thanks, Jenny!). To submit your quote, please click here to visit our Give A Penny Page.