This is a recipe I posted eight years ago. I updated the photos but kept some photos of my daughter and the precious story of Jesus in a Snuggie – make sure you read that!
This is the busiest time of year for most of us but we really want to bake and prepare treats for those we love and appreciate!
I prefer, whenever possible, to give a homemade gift rather than a storebought, but sometimes I just don't have the time in the kitchen that I'd like. Ironically, the time of year I'd like to cook the most is also the time of year I have the least amount of time to do it in. Holly Jollies come to the rescue! My kids love making these with me and you can easily turn out a customized candy in very little time and using very little money. Chances are, you may even have some of the ingredients on hand already.
For this tutorial, I made enough Holly Jollies to send to twelve teachers and staff members of my kid's schools in about half an hour, start to finish! Could it get any better than that? It sure can – I only had one bowl and one spoon to wash when I was done! ~grins~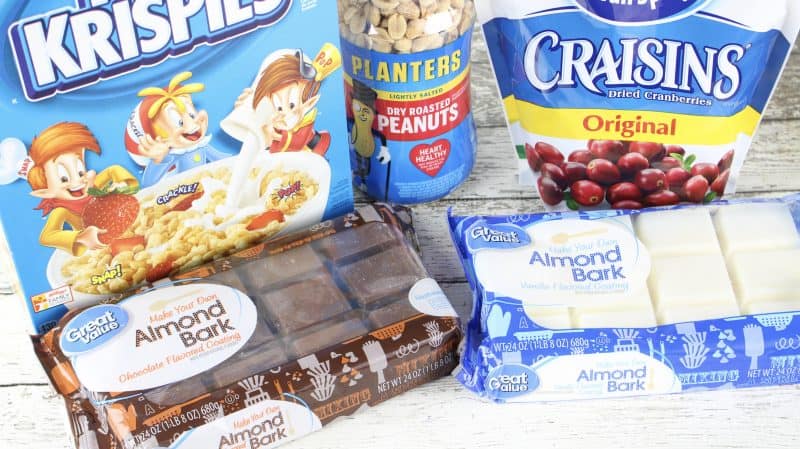 Ingredients are mostly up to you but they start with mini muffin papers and almond bark. I like to get a different color or pattern mini muffin paper for each variety, and then give an assortment to folks that they can easily tell apart. I love using almond bark in these because it is just a little over two dollars a package and each package, with add ins, will make about 36 mini muffin sized treats.
The kids really like rice krispies added in there but Ricky's favorite is salted peanuts.
Now some folks will tell you to melt this big old hunk of chocolate in a double broiler but last I checked, not many of us had a hankering to make something difficult when it could be easy. So what we're gonna do instead is plop this thing in a large mixing bowl and stick that puppy in the microwave.
Microwave it at 60 second intervals, stirring after each, until melted and smooth.
While that is melting, put your mini muffin papers in your mini muffin pan.
Stir in your choice of add-ins. Then, divide your candy batter among the paper cups in your mini muffin pan.
This is where I call in the experts. Everyone knows that candy tastes better if you let kids do it.
They're just naturally sweeter than us 🙂
Getting my kids in the kitchen is extremely important to me. If I'm making something for them to give, I want them to enjoy the happiness
(and learn the importance) of giving something you personally had a hand in making. In my mind, this is one of those activities that helps them to grow up with their heads in the right place.
I use several things in these Holly Jollies, but I only do one ingredient per batch.
Peanut holly Jollies, with salted peanuts stirred in (Ricky's favorite)
Rice Krispie Holly Jollies, with rice krispies stirred in (kid's favorite)
Raisin Holly Jollies, with raisins stirred in (one of my favorites)
Cranberry Holly Jollies with dried cranberries stirred into white almond bark. (My top favorite)
The sky is truly the limit with these.
Speaking of Katy Rose…
She goes to preschool in a church and brought this coloring picture home. She took it out of her backpack and brought it to me and asked:
"Mama, is Jesus wearing a Snuggie?"
~snickers~
Allow those to harden, it won't take long.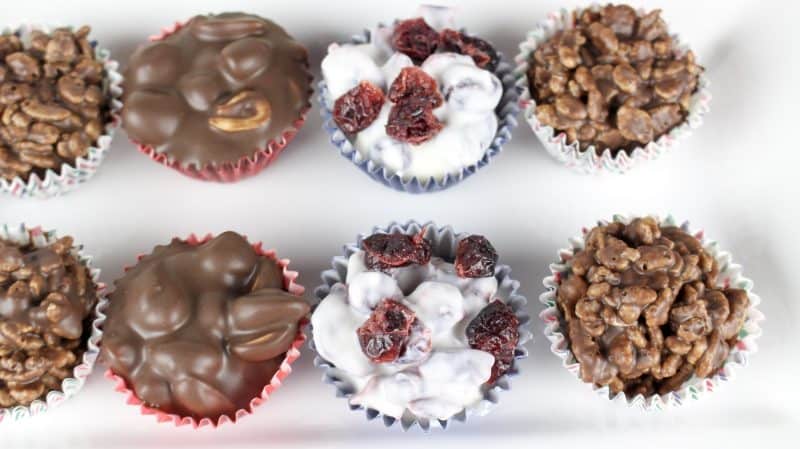 Once you get your chocolate melted you can have these babies done from start to finish in about five minutes and it only dirties up one bowl.
This is the most fuss free holiday recipe I have!
In about half an hour, I was able to turn out enough Holly Jollies for twelve teacher's gifts.
I packaged them in the little clear cellophane party favor bags you get in the party section at Wal Mart or the grocery store (my Dollar General has them, too). You get about twenty for a little over a dollar. I LOVE THOSE THINGS, especially this time of year. I use them for so many things. They are perfect for candy, cookies, and even miniature loaves of bread. They are also pretty enough to just tie with some curling ribbon and deliver as is. I found these little tin buckets at Target for $1.00 each, and picked up a few. I normally don't spend that much on packaging, though.
Holly Jollies are so quick, easy, and economical that you can afford to give treats to all of the kind people you encounter regularly throughout the year.
We always think of teachers, but what about the school's support staff? Does your child eat in the lunchroom – what about the lunchroom ladies and the school janitor? All of these are folks who can make your child's day with a smile and a kind word. I'll just bet that if you sent them some Holly Jollies, you'd make theirs, too.
Ingredients
1

Package Almond Bark

white or chocolate

36

mini muffin papers

2

Cups

of one or more of the following

get creative!: Salted Peanuts, Rice Krispie Cereal, Dried Cranberries, Raisins, crushed candy canes, Other salted nuts,Your favorite dried fruit, chopped to the size of raisins
Instructions
Line a mini muffin tin with mini muffin papers. Place almond bark in a large microwave safe bowl. Microwave at one minute intervals, stirring after each, until smooth and creamy.

Remove from microwave and stir in two cups of your choice of add in. Spoon into mini muffin papers and allow to sit until cool and hardened. You can put them in the refrigerator to speed up the process if you like.

Package and give with a smile on your face and a grateful heart.
Notes
*Note: Take special care not to allow even the tiniest drop of water to get into the bark as it will clot up if you do.
Yum