How To Make Candy Apples
I'd dearly love it if you could use one of the Pinterest or Facebook buttons above – Thank YOU! Now, let's make some Old Fashioned Candy Apples!!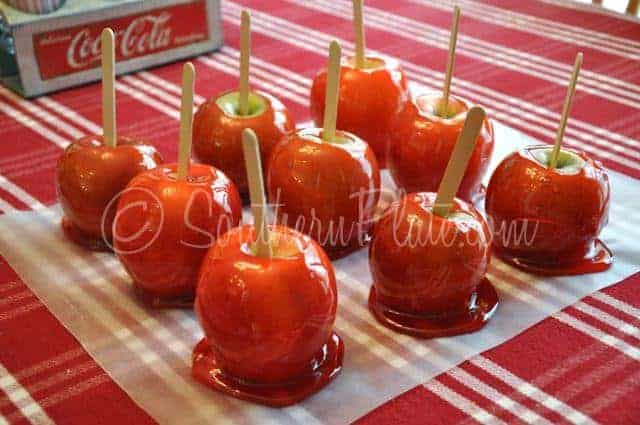 When we were little, Mama made these wonderful old fashioned candy apples for us from time to time, it didn't even have to be fall! She always made extra for our friends, too.
Homemade Candy Apples better than store bought and easy to make
These Old Fashioned Candy Apples are really very simple to make and don't require any fancy ingredients but so few people seem to make them nowadays, I guess because they are sold in grocery stores and such ready made. Those still don't hold a candle to these though.
Ingredients for Candy Apples
(See full recipe card below)
You'll need:
8 apples
Sugar
Light corn syrup or golden syrup
Red hots (or cinnamon candy like red hots)
Red food coloring
A candy thermometer
Wooden sticks such as popsicle sticks
In a medium sized heavy sauce pot, place sugar.
Add corn syrup
Also add water, red hots, and red food coloring.
Stir that up a bit.
Place over medium high heat and cook, without stirring, until it reaches 290 degrees.
This is gonna take a while, probably anywhere from 20-25 minutes or so, depending on how hot your eye is.
While that is cooking, remove the stems from your apples but holding the stem in one hand and the apple in the other and twisting.
Now stick your sticks in each apple.
If you have a hard time finding Popsicle sticks for these Old Fashioned Candy Apples, just go to the kid's craft section and they have all sorts of wooden craft sticks that work very well. You can also use wooden skewers from the grilling section.
I've even used forks from my kitchen drawer before 🙂 They work great and when you're done just stick 'em in the dishwasher. Either way you go, there isn't a need to go buy anything special or go on a wild goose chase because there is surely something on hand that will work just fine.
This is what it will look like when it's ready but the most important thing is to just watch that thermometer…
I'm hoping you can actually read your candy thermometer. I've never really been able to so I kinda go on gut and hope – and continually vow to get one of those digital candy thermometers I can actually read.
Now that our candy coating is done remove it from the heat and place it on a hot pad because it is H O T.
This is like one of those "Coffee-is-hot McDonald's warnings". While I'm at it, might as well go full on public service message and add that irons are hot, needles are sharp, cyanide pills aren't for snacking on, and rattlesnakes don't make good pets for cuddling.
Whew. I feel like I just saved some lives here.
Quickly dip an apple in it and swirl it around a bit until it is evenly coated.
Like this.
Remove the apple and hold it over for a few seconds to allow excess to drip off.
Complete with remaining apples and place onto greased or buttered waxed paper (or a greased baking sheet) to cool completely before eating.
These Old Fashioned Candy Apples are best if eaten within two days.
If you have sensitive teeth you can do what I do and make these for the kids and click here to get the candied apples I can eat with all the flavor but none of the dental bills.
Ingredients
3

Cups

Sugar

1

Cup

Water

1/2

Cup

Light Corn Syrup

1/4

Cup

Cinnamon Red Hot Candies

1/4

teaspoon

red food coloring

I just give it a good splash

8

wooden ice cream sticks

8

small apples
Instructions
In heavy saucepan combine the sugar, corn syrup, candies, red food coloring, and 1 cup of water.

Place over medium heat and bring to a boil without stirring.

Set a candy thermometer on the side of the pot, making sure the tip doesn't touch the bottom and continue cooking, without stirring, until the temperature reaches 290 F, about twenty minutes.

Meanwhile, grease a cookie sheet. Remove stems from apples and insert a popsicle stick partway through each apple.

When candy is ready, remove pan from heat and remove thermometer. Swirl each apple into candy syrup until it is coated and then hold over the pot for a few seconds to allow any drips to fall off.

Place candied apples on a cookie sheet to cool. If the syrup begins to stiffen while you're still dipping apples you can place the pan over very low heat while you finish.

Let apples cool at least an hour before eating. You can speed this up by placing them in the fridge if you like.

Best if eaten within two days.
Nutrition
You may also like these apple recipes:
Ten Best Apple Recipes For Fall
Caramel Apple Cheesecake Unbelievably Blissful
With laundry and life,

You can iron out more wrinkles with warmth

than you can with pressure.

~Anonymous